1973 – 1979 L82 Corvette Engine Ultimate Guide
By the mid-1970s, the Corvette had returned to its roots, in regards to available engine options. Throughout the latter half of the 1960s, much attention had been placed on the design, development, and continual refinement of big-block powerplants, intended for fitment beneath the Corvette's hood. However, newly enacted federal emissions standards soon halted such development in its tracks.
Finally, in 1973, consumers were left with only three available engine options to choose from, two of which were of a small-block configuration. The third of these three engines, the 454 cubic-inch LS4, would only survive for two years, serving as the final big-block to grace the Corvette's engine bay. By 1975, the Corvette was only offered with one of two available engines, of which, the 350 cubic-inch L82 was the most formidable.
L82 (350CI) History
Like most GM small-blocks, the 350 cubic-inch L82 evolved from the 265ci V8, which first made its appearance beneath the Corvette's hood in 1955. Upon its release, the 265 cubic-inch small block not only proved instrumental in enhancing the Corvette's overall appeal, but also served as the initial point of origin for numerous iconic Corvette powerplants to come.
Over the course of the next two decades, the 265ci small-block would undergo several revisions, finally settling into a 350 cubic-inch format. This higher displacement small-block would become one of General Motors' flagship engines, ultimately being used in a wide range of applications.
By the mid-1960s, GM had also begun offering big-block power beneath the Corvette's hood, on an optional basis. This was a trend that would continue for nearly a decade, running in parallel with small-block production.
However, the 1970s sent a wave of change sweeping throughout the automotive industry. The universal implementation of newly enacted emissions standards rendered further production of many big-block engines unviable. By the mid-1970s, engines of this nature had disappeared from the Corvette's option sheet.
As a result, the Corvette design team recentered its focus solely on small-block production, though even these engines suffered at the hands of the era's emissions mandates. Subsequent modifications were made to bring GM's long-standing 350 cubic-inch V8 into compliance. For the 1973 model year, two variants of the 350 cubic-inch small block were offered, the most powerful of which was the L82.
L82 Specifications and Technical Configurations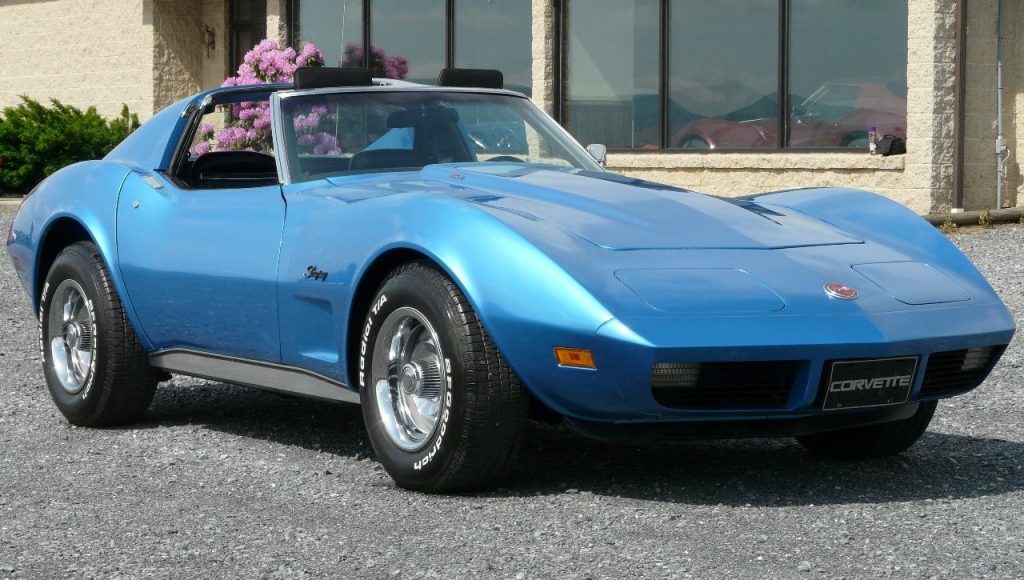 The L82 V8 featured a forged engine block of a four-bolt main configuration, which housed a forged steel crankshaft. Attached to this crankshaft, was a set of 5.700" forged connecting rods, often referred to as GM's "pink" rods by many in the automotive community, due to a specialty pink marking that they received.
Attached to the opposing end of these connecting rods, were forged aluminum pistons, which reciprocated within 4.00" cylinder bores, with a stroke of 3.48". Also of note, was the L82's 9.0:1 compression ratio, which was noticeably decreased, in comparison to the LT-1 small-block before it.
The L82 utilized a high-performance hydraulic lifter camshaft, which featured an intake duration of 346 degrees, and an exhaust duration of 360 degrees. This camshaft also had an intake lift of .450", and an exhaust lift of .460".
Atop the L82's block, resided a pair of cast cylinder heads, which featured 2.02" intake and 1.60" exhaust valves. These valves were similar in diameter to those featured in the prior LT-1 small-block.
The L82 breathed through a dual-plane cast iron intake manifold, which was fitted with a 750 cfm 4-barrel Rochester Quadrajet carburetor. Finned aluminum valve covers also came standard, providing added visual appeal.
All things considered, the 1973 L82 equipped Corvette produced 210 horsepower at 5,500 RPM, which served as a noticeable decrease in performance over past small-blocks within the 350 cubic-inch family. However, the L82 still managed to best the Corvette base engine's output by 30 horsepower.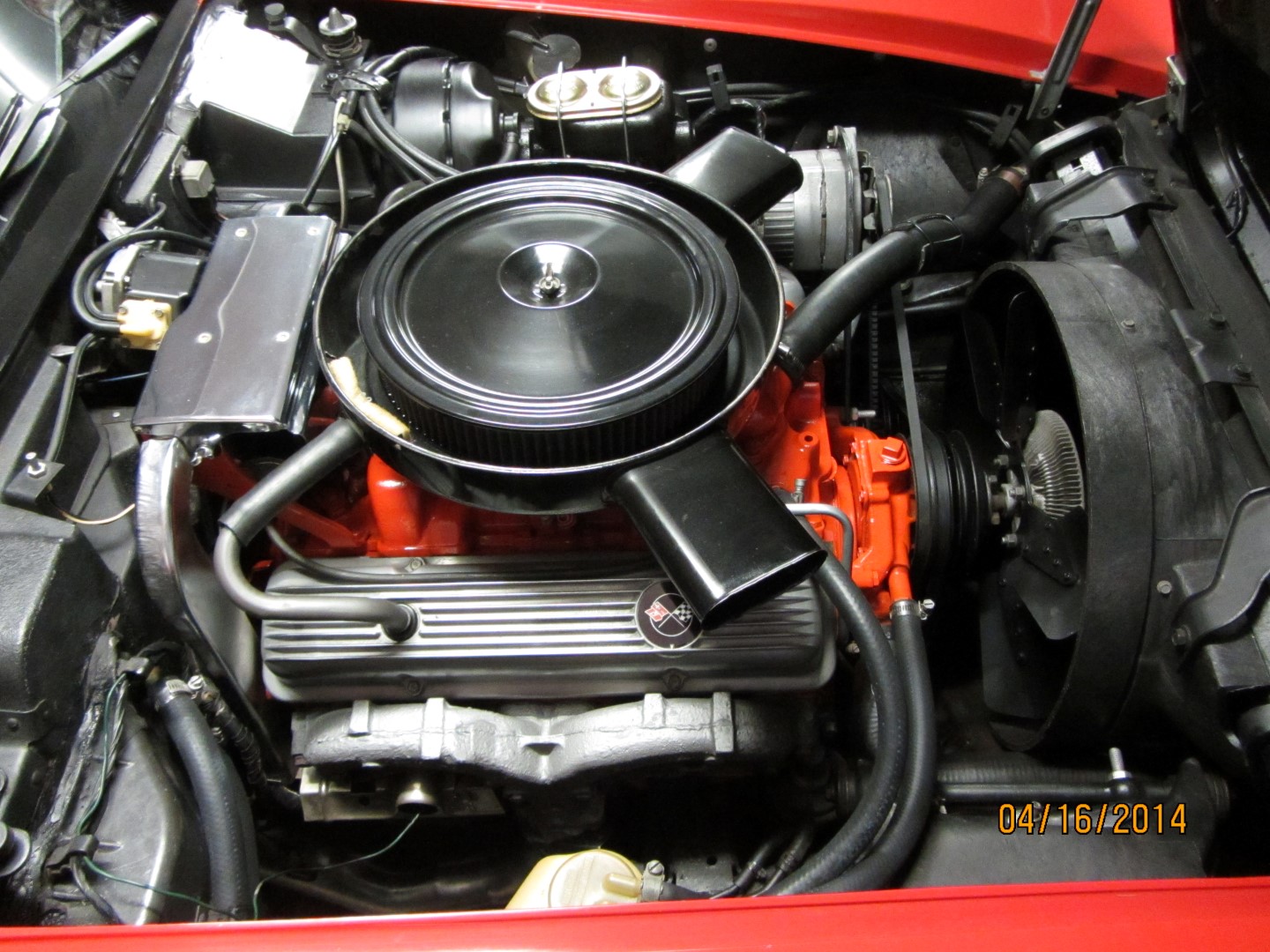 L82 Specs Index
Horsepower: 210 hp @ 5,500 RPM
Torque: 285 lb./ft. @ 4,000 RPM
Compression Ratio: 9.0:1
Displacement: 350 cubic-inches (5.74L)
Cylinder Bore: 4.00 inches (101.6 mm)
Stroke: 3.48 inches (88.39 mm)
L82 Additional Uses
The L82 was rather limited in its uses, having only spent time beneath the hood of the Corvette and Camaro. However, the L82 is often regarded as a workhorse, having proven to be quite durable. This is a fact that was not lost on members of the General Motors engineering team, as the L82 remained a staple of the Corvette line until eventually being retired in 1980. During its tenure, the L82's output fluctuated, in a bid to retain compliance with emissions standards of the day.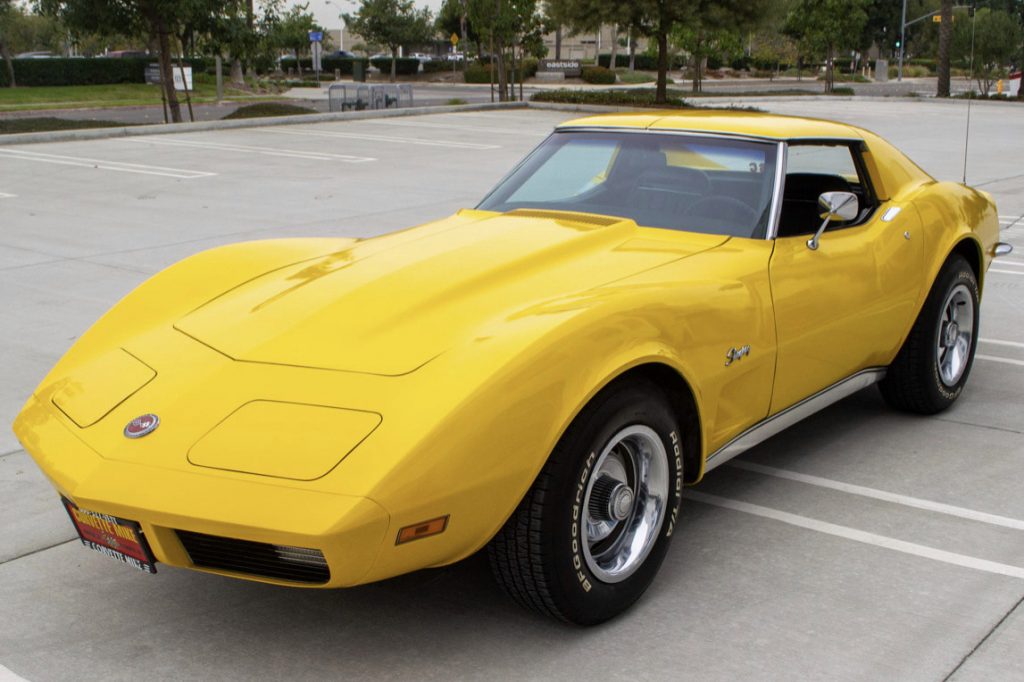 A Worthy, Yet Often Forgotten Powerplant
If you were to poll Corvette enthusiasts regarding their favorite Corvette powerplant, it is quite likely that the L82 would receive few mentions. However, this is not to say that the 350 cubic-inch small-block is any less worthy than its companions.
On the contrary, the L82 was a brilliantly designed engine, which featured enough fortitude to weather a significant amount of abuse. Unfortunately, this engine was never capable of living up to the performance credential of other, more memorable small-blocks, such as the LT-1. Had emissions-related legislation not come into play, the L82 would likely have been just as formidable as any small-block prior to its inception.