I'm in all the corners of the Corvette Internet world, so let me do the legwork for you. Here are the top stories from the Corvette community. This is yet another series of news that will be helpful if you are in the market for a new Corvette.
1) GM Makes Changes to Anti-Flipping Policy
Many of you may recall that GM initiated a policy when the Z06 came out to curtail owners from flipping for profit. We wrote about it here, with some pertinent updates here. In short, GM dangled a carrot for new Z06 owners to retain their vehicle, in the form of My Chevy Rewards Points, 500,000 to be specific. This incentive equated to $5000, so kind of a big deal. The initial retention period was 1 year, but then GM changed it to 6 months.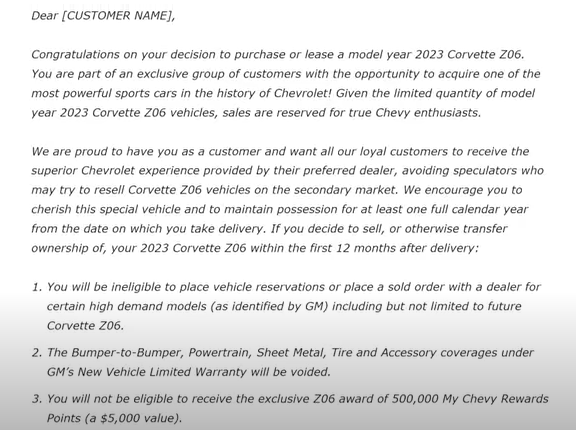 What are the changes? For starters, the E-Ray has been added to the Z06 for model year 2024. But, the big change that is sending ripples in the Corvette community is GM's decision to retract the carrot. 2024 E-Ray and Z06 owners will no longer receive 500,000 My Chevy Rewards Points for resisting the temptation to partake in this crazy Corvette market. But their buyers will still lose the warranty, and many questioned who the policy really penalized, as did I when I published this piece.
Here is the new policy clarification directly from Chevrolet (thanks to Corvette Blogger):
"Chevrolet will not offer special My Chevrolet Rewards award points for MY24 Corvette Z06 purchases. Z06 is still eligible for My Chevrolet Rewards points based on purchase price, in the same way that any other Chevrolet vehicle purchase is eligible for points. In continued efforts to disincentivize flippers, if ownership of a 2024 Corvette Z06 or transferred from the original owner within the first six months of delivery, certain warranties will be voided.
[THE] 2024 Corvette E-Ray will be handled similarly to 2024 Z06 – owners can receive My Chevrolet Rewards points based on purchase price, and if ownership is transferred within 6 months of ownership, certain warranty elements will be voided."
2) 2024 Production Start Date Pushed Back One Week
I know one week may not seem like a long time, but I'm on numerous Facebook pages and come across soon-to-be-owners nearly every day who have been waiting patiently for their new C8, so one week can feel like an eternity (and can also affect the experience).
According to sources familiar with the matter, GM Authority has reported that production of the 2024 Corvette is now scheduled to begin September 12th, 2023, one week later than the September 5th production start date reported earlier. Production for the 2023 Corvette will end on September 12th, and dealers will be able to submit orders for the 2024 Stingray and Z06 starting July 27th, (with the E-Ray opening up on August 17th).
If you're looking to place an order, I did a feature here that should help, including price/build links as well as configurator links for all 2024 models.
I hope you have enjoyed this short but concise recap. We have an active community on our Facebook page, I would love to hear from you!  Douglas B.