When it was first revealed, it is well known that the Corvette C8's styling was a radical departure from previous generations. It was angular, aggressive, and ready to pounce at the next corner in the canyon road you were carving. It was also controversial at first, with many commenting that it "didn't look like a Corvette," based on having the car move from a front engine sports car to a mid-engine supercar.
Many of those voices have been silenced, however, as the Corvette C8 has proven to be one of the most dynamic and desirable American supercars in a long time that is feasibly within reach of a broad customer base. Many of those customers also want to personalize their Corvette; paint options, aftermarket exhausts and wheels, performance upgrades, and the like are high on the list, but only a few look upgrades really make each car look unique and original.
New Products For the Corvette C8 Engine Bay & Exterior
This is where American Hydrocarbon comes in—and just in time for the Holiday season of 2021, they have released a batch of new products. Many of these are C8 Corvette engine bay upgrades that take it from being technically functional to being an unmistakable part of your car's unique aesthetic. Combined with many of their exterior options (such as splitters, skirts, and aero packages), you can really make your own American supercar look just the way you want it to.
Even better, American Hydrocarbon carries that all-important "GM Officially Licensed Partner" pedigree—so you know whatever you buy from them is guaranteed to work and fit the first time, every time with your Corvette C8.
While the C8's engine bay is functional (and, with a few options, even aesthetically pleasing), it just feels like it needs that little extra pop to it. Check out these brand new engine bay aesthetic upgrades below!
LT2 Engine Covers For the C8 Corvette
When you buy your Corvette C8, one of the options you can choose is the "Engine Appearance Package," which takes the normal red engine cover and makes it black. The end. With American Hydrocarbon, however, you can match your engine cover to your C8's paint color—or even, as you will see, make a completely custom engine cover to your personal specifications.

C8 Corvette Accelerate Yellow Engine Cover
Accelerate Yellow is one of those colors that only really matches the Engine Appearance Pack from the standard options, as yellow and red just clash a bit too much. However, the Accelerate Yellow engine cover allows you to make the engine look much sharper, with the Corvette lettering peeking through black inlays.

C8 Corvette Arctic White Engine Cover
Arctic White is a great color if you want contrast, as it is a base color and pretty much any color will look good next to it. If you want your engine bay to match the clean aesthetic of the rest of your C8 Corvette, this cover's silver flashing and red lettering looks incredible with an Arctic White over Red specification.

C8 Corvette Edge Red Engine Cover
Edge Red is a color that can make your Corvette C8's engine bay look subtle but aggressive. It's not a particularly loud shade, preferring to fly a little under the radar until you open the throttle and let all 6.2 liters sing. With elegant black inlays, this engine cover can definitely give your engine bay some class.

C8 Corvette Elkhart Lake Blue Engine Cover
Much like Edge Red, Elkhart Lake Blue is a more subtle color. It's not the one to draw a crowd on its own, but painted on the angular shape of a true American supercar, it'll get more than a few admiring looks. This engine cover has carbon black flashes with Edge Red lettering for a simple but powerful look.

C8 Corvette Rapid Blue Engine Cover
Rapid Blue is true to its name—you'll probably only get to see this color as a C8 Corvette passes you in the left lane with the engine howling its glorious song. Carbon flashes let the bright blue of this cover show through to make a statement that can't be ignored.

C8 Corvette Torch Red Engine Cover
Torch Red is the Corvette color. The very first demonstrator was Torch Red during the Corvette C8 reveal. The first test car was Torch Red when the production-spec model was going through trials and shakedowns. So not much else needs to be said about this Torch Red engine cover with carbon flashes that show the Corvette lettering proudly.

C8 Corvette Build Your Own Engine Cover
This is one of the best parts of American Hydrocarbon's newest line of engine covers. If any of the colors above don't suit your tastes—or you want something specific, like red flashes with yellow letters on a carbon fiber cover—all you need to do is specify it using AH's online tool! Above, you can see exactly what that colorway looks like in a Torch Red Corvette C8.
Price:

$750+ (depending on options)
LT2 Premium Engine Covers & Engine Bay Kits for the C8 Corvette
If the options above are a bit too simple for your taste, American Hydrocarbon has also just introduced their Premium Engine Cover lineup. These covers combine top-tier materials with carbon fiber to give your engine extra power and sophistication.
And for those of you who want to fully dress up your engine bay, American Hydrocarbon has just introduced engine bay kits, which include an engine bay cover and support structure covers to give your C8 that custom look.
You can view the full lineup here, but the newest additions to this lineup are:

C8 Accelerate Yellow Premium Engine Cover
There is something about Accelerate Yellow against glossy carbon fiber that just looks right. Adding in silver inlays with carbon black lettering is just the icing on the cake. This brand new engine cover would be at home in any supercar but is designed exclusively for the Corvette C8. Lucky you.

C8 Rapid Blue Premium Engine Cover
If Yellow is a bit too garish, then Rapid Blue over glossy carbon fiber is just about as subtle and powerful as you can get. This cover is obviously a premium product, but it still manages to project dignity along with its power. This one's for the engine cover connoisseur who appreciates high quality officially licensed products for their discerning tastes.

C8 Rapid Blue Engine Bay Three-Piece Kit
Brand new for this year's holidays, this three-piece engine bay kit not only includes an engine cover, but support structure covers as well! This lets you deck out your Corvette's engine bay both aesthetically and functionally, making your C8 unique among many!

C8 Rapid Blue Premium Engine Bay Three-Piece Kit
Like the idea of a full engine bay kit but want the premium version so you can get all that glorious carbon fiber? American Hydrocarbon has you covered with this newly released Rapid Blue Engine Bay Three-Piece Kit, featuring sleek premium carbon fiber throughout!

C8 Build Your Own Engine Bay Three-Piece Kit
American Hydrocarbon realizes that sometimes you need to mix and match to get your engine looking just right. What if you like the regular Rapid Blue cover but want the Premium Rapid Blue support structure covers? You can do that (and a lot more) with the "Build Your Own" kit configurator. That colorway and pieces are shown in the picture above—and it looks pretty damn awesome.
Price:

$1,595+ (depending on options and colorway/material combinations)
New Products For Your Corvette C8 Exterior
American Hydrocarbon doesn't just make engine bay pieces—they also have a full range of external aesthetic and functional modifications to add that little extra personal touch to your Corvette C8.
While many parts have been available since the end of 2020, there are a few new additions for Holiday 2021 that definitely deserve consideration.

C8 Corvette 5VM Aero Front Splitter
The front of the Corvette C8 is already aggressive, but sometimes you want to have a little extra something to push it right over the top. The 5VM Aero Front Splitter does just that, and because it's officially licensed through GM, it is a guaranteed fit.
Made of automotive grade fiberglass, the splitter is handmade to order, and requires a lead time of about two to three weeks once you can configure the look through the company's online configuration tool.
Price:

$1,595+ (depending on options and colorway/material combinations)

C8 Corvette 5VM Carbon Side Skirts
Add functionality and visual appeal with these carbon fiber side skirts, based off of GM's own 5VM optional aero package skirts. Unlike the official GM fiberglass skirts, however, these ones are made out of high quality carbon fiber and carry a lifetime warranty from American Hydrocarbon against cracking, peeling, and fading when installed correctly. They're also fully customizable and handmade to order!
These side skirts are made from automotive-grade carbon fiber, hand-laid and formed in Florida (all American!), and sealed with 5 coats of PPG UV resistant clear coat. Options include exposed carbon fiber or painted carbon fiber. AH can also add custom logos on the skirting, such as the C8 Jake logos pictured below: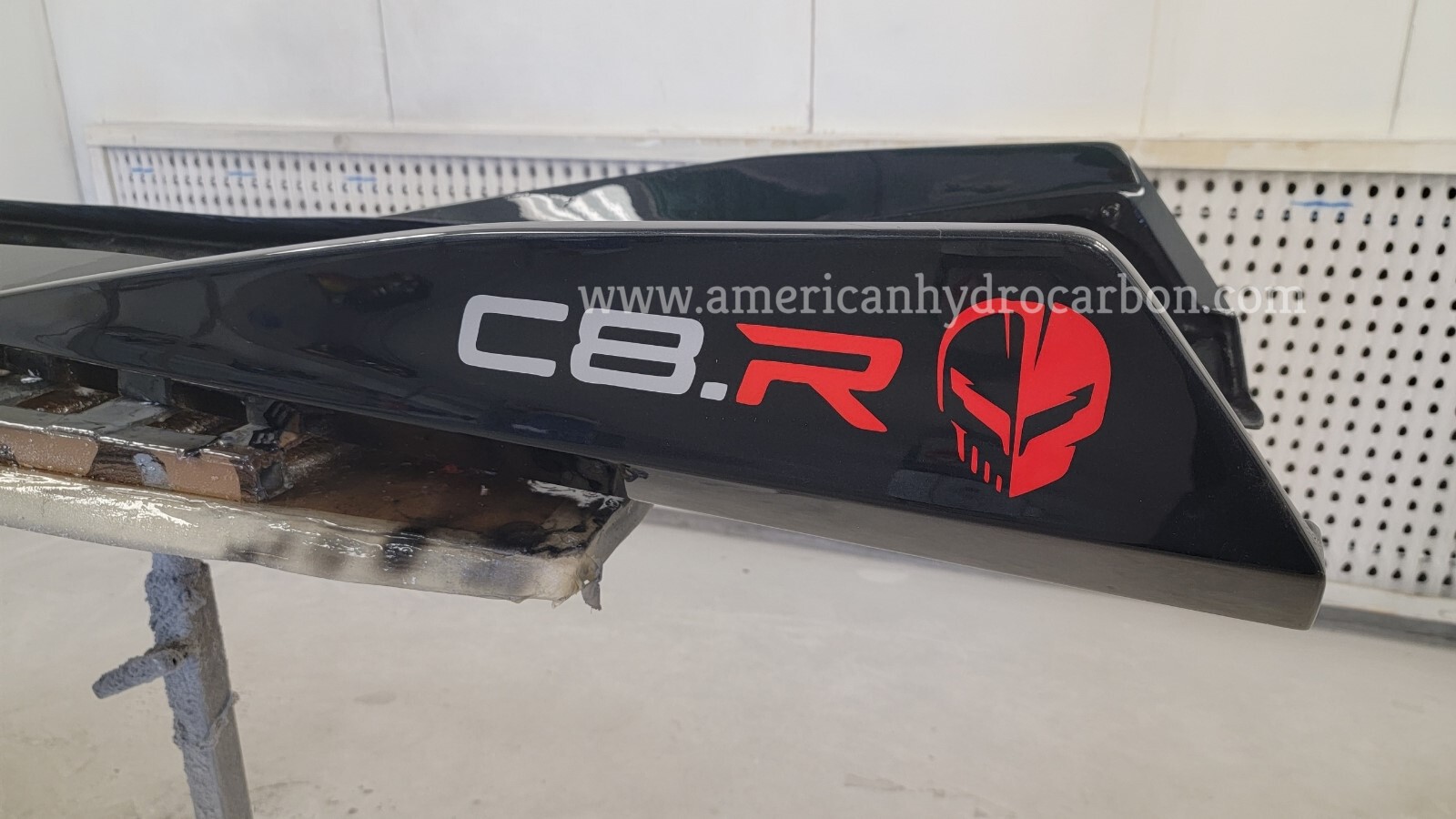 Price:

$1,695+ (depending on options and colorway/material combinations; price is for a pair of skirts—right and left)

C8 Corvette C8.R Edition Aero Package
Let's face it, the Corvette C8.R race car has been pretty dominant in the past couple of years of IMSA and World Endurance races, and is the basis for the newly announced Corvette C8 Z06. However, one thing that you won't get on the new Z06 is a full set of aero parts based on Corvette Racing's own blueprints and design files!
American Hydrocarbon, as an officially licensed GM partner, has gone the extra mile and made a fully functional (but also street legal) aero kit for both the C8 Coupe and C8 Convertible. These parts are guaranteed to fit on each of their respective cars and can be customized to your preferences using the online configuration tool that has just gone up on AH's website in the last month.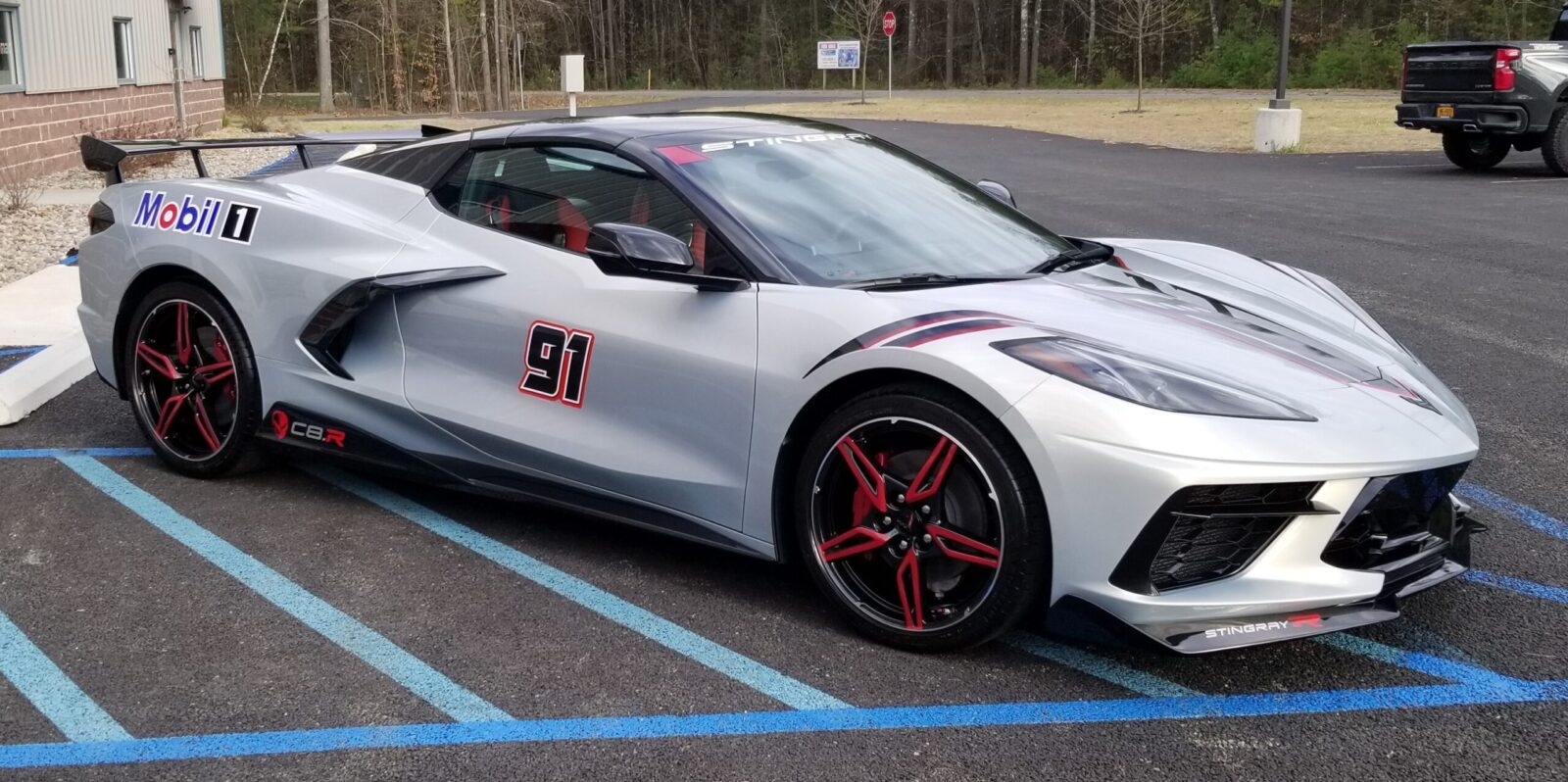 As with all American Hydrocarbon parts, the kit is handmade in Florida and can be made from automotive grade fiberglass, carbon fiber, or a combination of both. When correctly installed, it carries a lifetime warranty against cracking, peeling, or fading. This warranty does not cover improper installation or accidental damage, so drive mindfully with these aero parts.
This kit can make your car look like a C8.R and provide real, functional downforce. Of course, they don't quite make your car into an actual C8.R, because then the already low price for this kit would be a downright steal!
Price:

$3,635 (includes front splitter, high GT wing, left and right side skirts, logos, paint, and accent colors and stripes if desired)
Customizing Your C8 Corvette with American Hydrocarbon
With the holidays just around the corner, we have it on good authority from the guys at American Hydrocarbon that there will very likely be some serious sales coming throughout November and December. In fact, if you visit their website now, you might see that some parts are already on sale—and by over 15% to 30% in certain cases.
Shipping to the continental 48 states is free with any order. If you live in Canada, Alaska, or Hawaii, expect to pay $50 USD or more for shipping and handling, depending on the parts you order.
Remember, American Hydrocarbon doesn't just make parts for the C8—they have a full list of aftermarket, officially GM-licensed parts that are guaranteed to fit everything from the C4 onwards. With their help, this holiday season could be your opportunity to make any Corvette you own into something truly unique.