FOR SALE: A 2008 Corvette Grand-Am Race Car
Today's listing is a little different from the usual lot of cars we present for sale at Corvsport.com.  If we're being completely honest, this is a little outside our normal purview, but we thought some of our readers might enjoy looking at – and maybe even consider purchasing – this 2008 Corvette Grand-Am Race Car!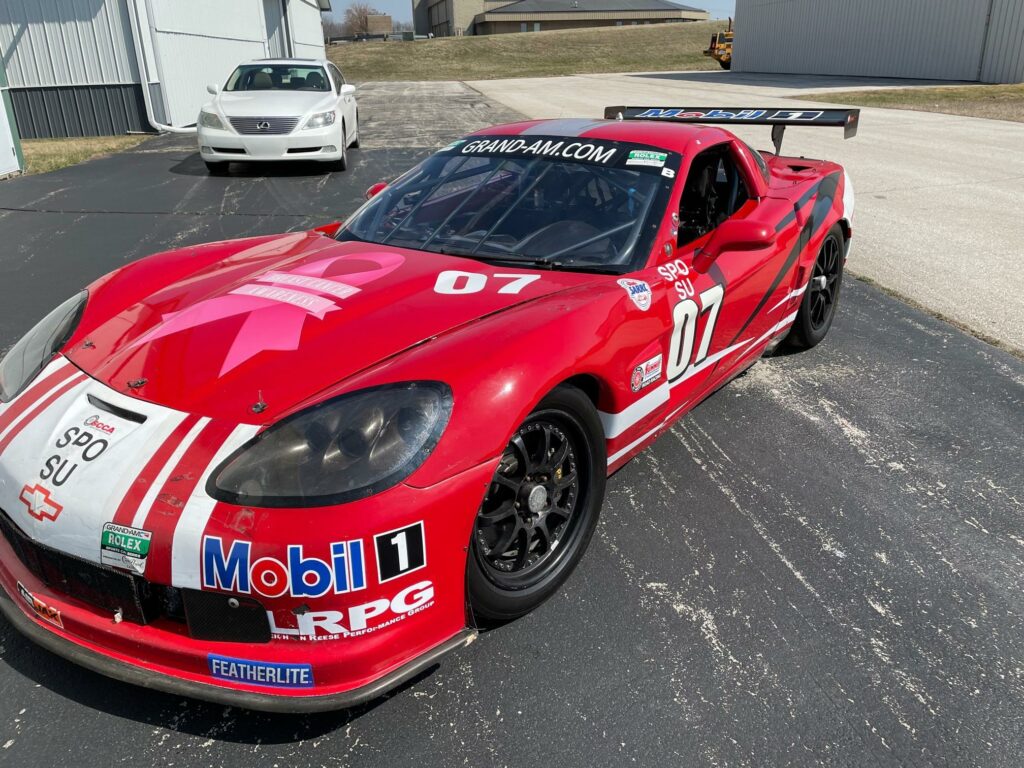 This C6 Corvette racer is currently for sale at bringatrailer.com.  It is a former Grand-Am race car that was originally built on a Pratt and Miller chassis in 2006 for GT-class competition in the Rolex Sports Car Series.  The car was campaigned as a Pontiac G6 GXP by the championship-winning Banner Racing team before being rebodied as a Corvette following the 2009 season.  The car's tube-frame chassis was shortened by Leighton Reese Racing to allow for the installation of carbon-fiber C6 Corvette bodywork.  The car is currently finished in a red racing livery and is badged with Rolex Grand-Am decals.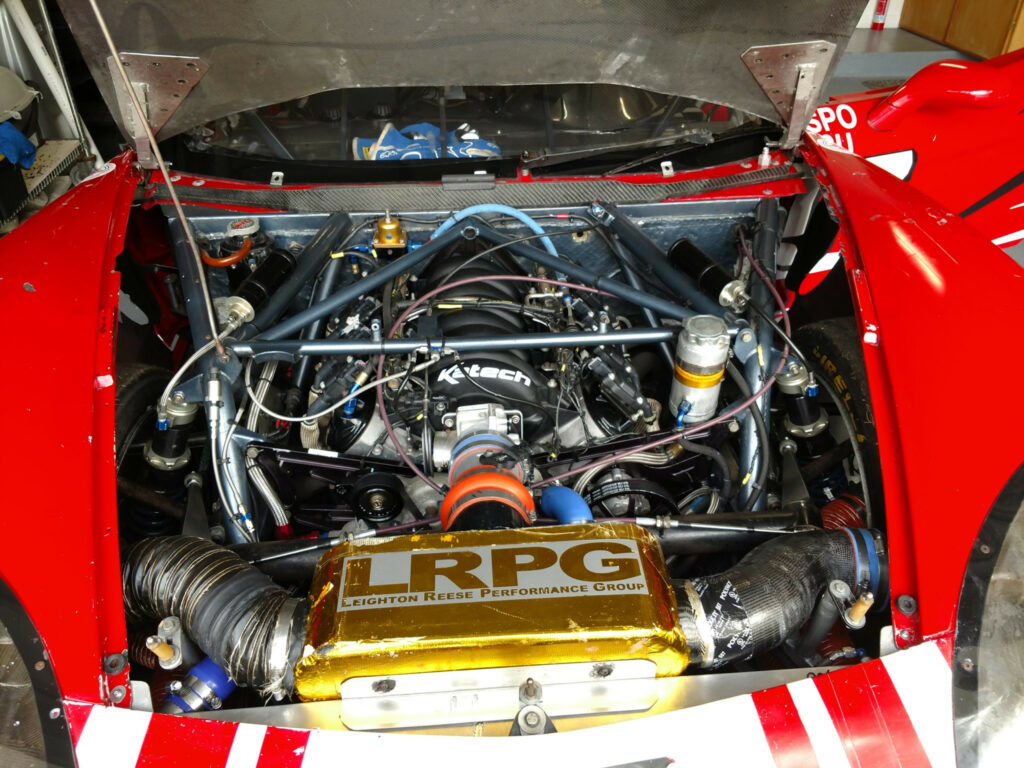 Beneath its hood, this C6 Corvette Race Car is powered by a Katech Performance LS6 5.7 liter V8 engine.  An Xtrac five-speed sequential manual gearbox transfers power to the rear wheels.  Although the transmission is currently configured as a sequential five-speed, it has been reported that a sixth-gear can be added should a future owner wish to do so.  In this instance, we'd strongly encourage anyone considering purchase to contact seller before bidding on this car.   Elsewhere, the car comes equipped with AP Racing four-piston brake calipers and a pneumatic lift jack system for quick pit lane wheel changes.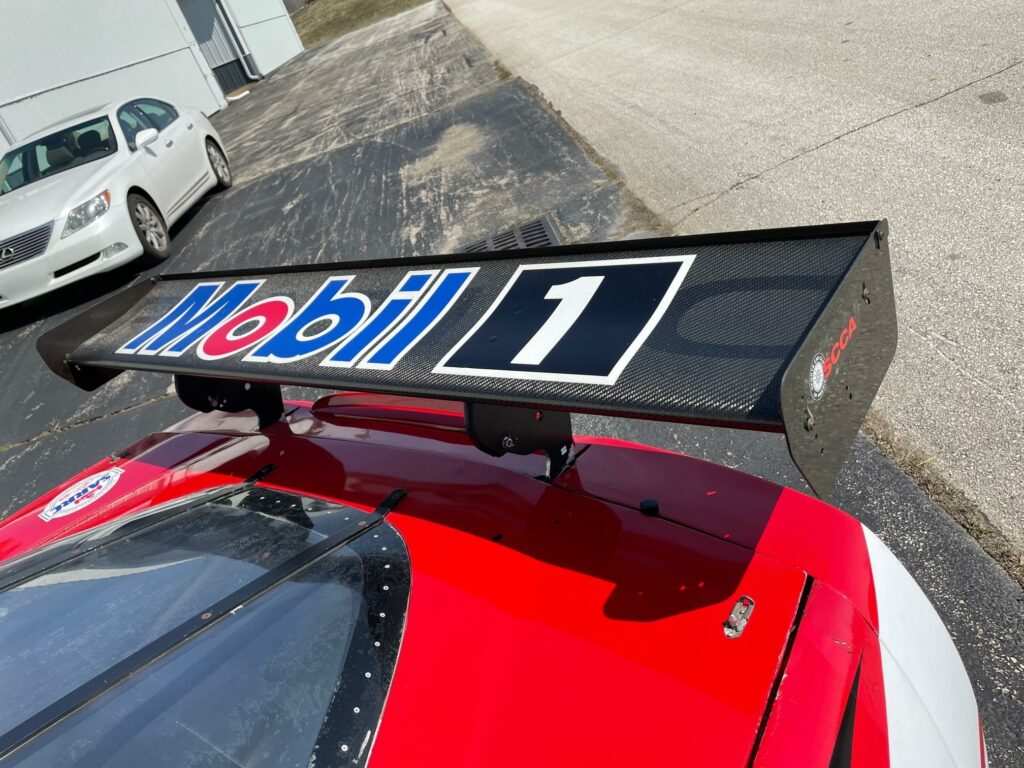 Outwardly, the Corvette comes equipped with a a carbon fiber front splitter, rear wing and diffuser.  It also has NACA ducts in the upper rear quarter panel, exposed body fasteners, and open exhaust pipes faired into the rocker panels.   The car rides on a set of Forgeline wheels with 18″ Pirelli P Zero racing slicks on all four corners.  The seller notes that the body does have chips, rub marks and other blemishes indicative of a used race car.  There is also evidence of prior repair at the car's right rear quarter.  However, the car's overall appearance looks good and ready to race.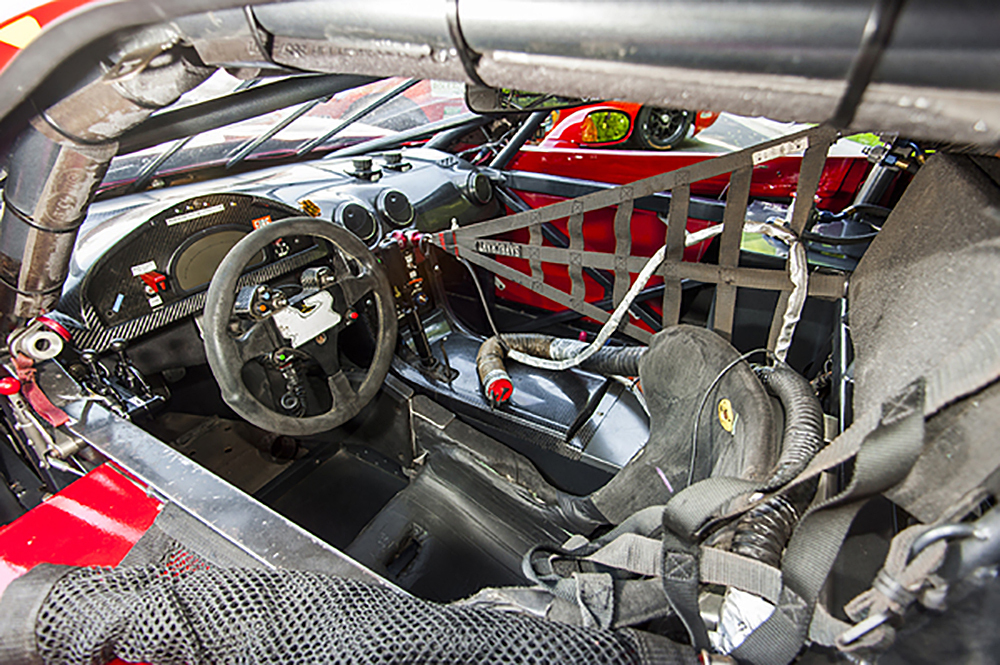 This C6 Corvette includes hinged doors that provide access to the cockpit, which houses a single-seat racing setup wrapped in a steel roll cage with door bars, anti-intrusion boxes and safety netting.  The car is equipped with a quick-release personal steering wheel.  It also features a carbon-fiber G6-style dashboard equipped with a MoTeC digital display and data logger.  The center stack houses toggle switches for lighting and other functions as well as a brake bias adjuster and an extended shift lever with a reverse lockout.  The car includes a plumbed fire suppression system.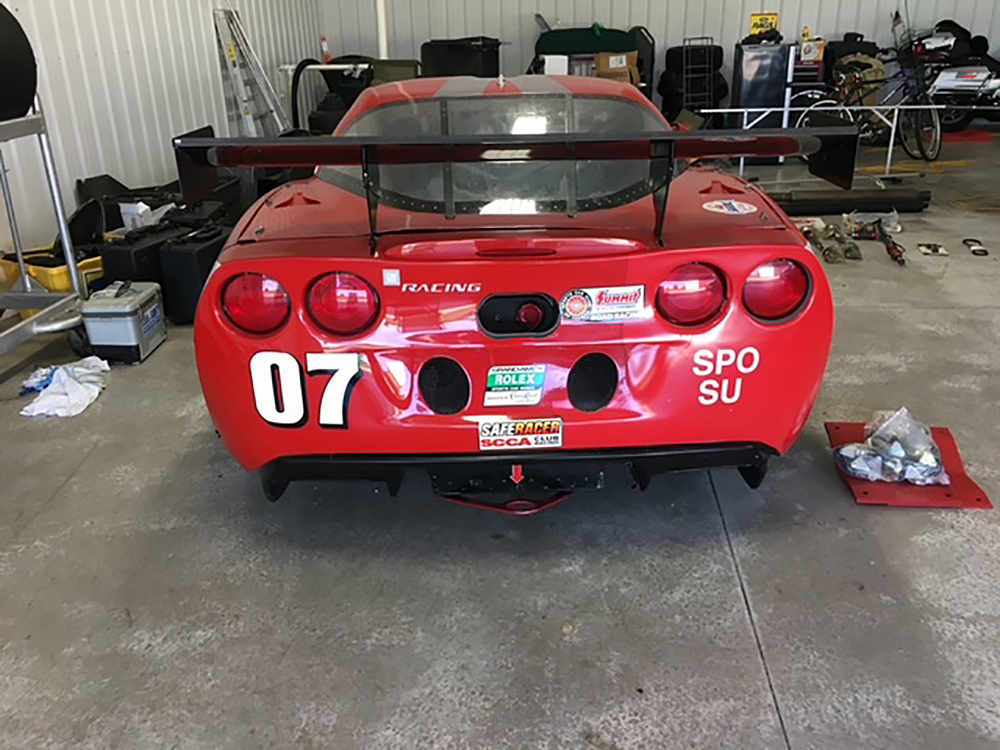 The car is said to have won 2016 and 2017 Florida regional championships in the SCCA SPO class in its current configuration, and has not been driven since being acquired by the seller in 2018. This C6 race car is offered on a Wisconsin bill of sale with logbooks as well as spares including a Katech engine, Forgeline wheel sets and storage racks, body panels, electrical components, suspension setups, and brakes.
Additional equipment includes cool shirt and fire suppression systems, a radio setup, an electrical cutoff switch, the engine oil sump, and a battery.
Spare parts include the following:
Katech LS6 engine
ACP Products rear wide-body kit
Nose panel
New windshield
Four sets of Forgeline wheels with slick and rain tires
Featherlite tire rack
Bosch fuel injection harness
Alternators
Ron Davis aluminum radiator
Exhaust components
Clutch and transmission parts
Brake rotors, hats, and 40 sets of pads
Rolling rack with various front/rear suspension setups
Alignment and setup tools
Cool suit system with two shirts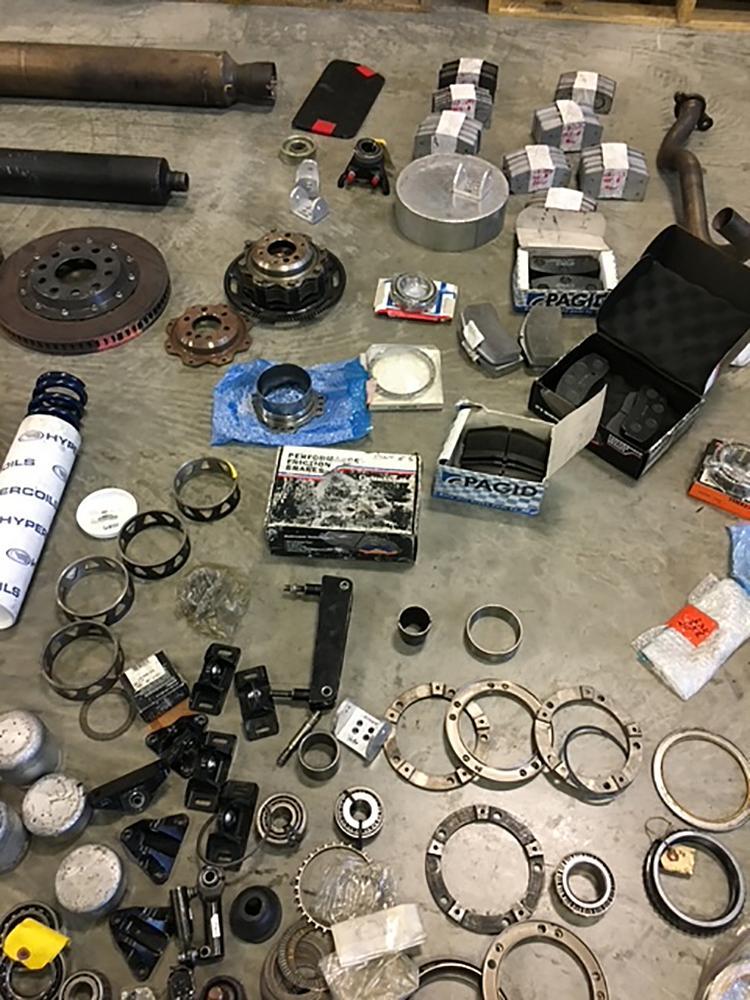 Logbooks and suspension setup sheets are also included in the sale. The car was campaigned by the Leighton Reese Banner Racing team from 2007-2010, with whom it achieved the GT class driver's championship for Kelly Collins and Paul Edwards in addition to the GT class manufacturer's championship for Pontiac in 2008.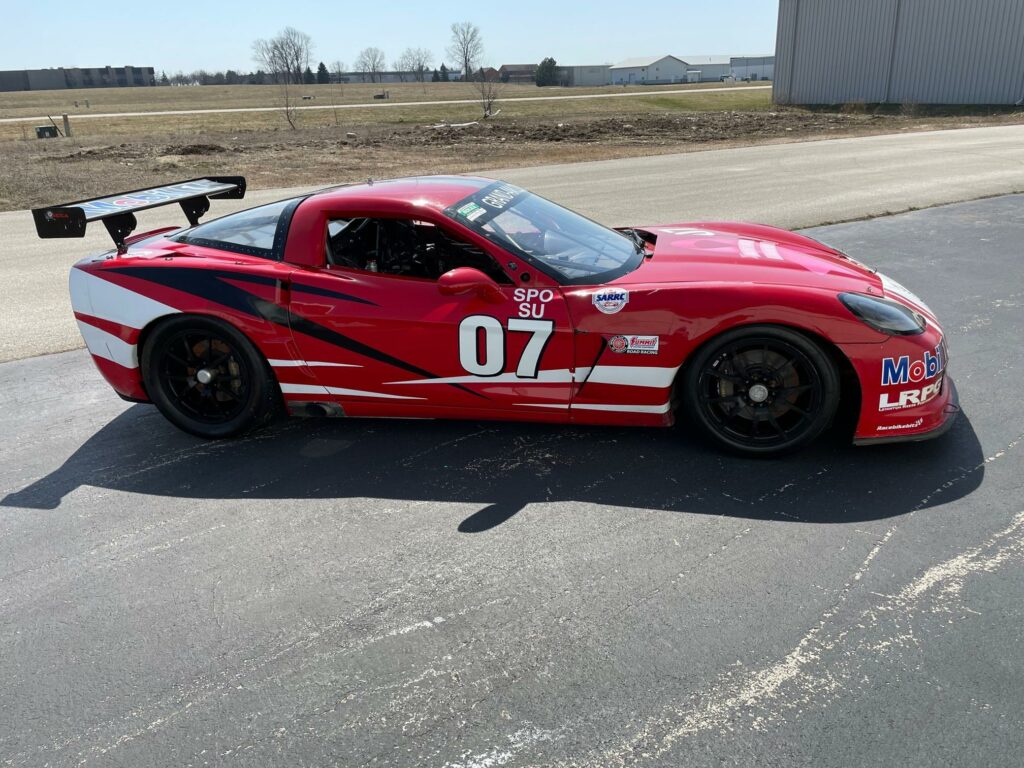 Should you choose to bid on this car, we wish you the best of luck.  Corvsport.com has no professional affiliations with either bringatrailer.com or the seller of this automobile and has not been compensated in any way for sharing this listing.