CorvSport has been diligently following this historic "Stand Up Strike" from the UAW since day one. It's a unique strike because instead of hitting every single Big Three plant at once, select locals were called on to "Stand Up" and walk out on strike, and escalate if necessary. Keeping true to the concept, in the weeks after the strike began on 9/15/2023, UAW president Shawn Fain has been ramping up the rhetoric and pressure as the Big Three automakers fail to fully meet the UAW's demands.
Previous CorvSport UAW Updates:
Initial Plants Affected By The Stand Up Strike:
GM plant in Wentzville, Missouri: (Colorado, Express, Canyon, Savana)
Stellantis plant in Toledo, Ohio: (Gladiator, Wrangler)
Ford plant in Wayne, Michigan: (Ranger, Bronco)
Initial Number of Workers Striking:
12,700 UAW members across the three plants, AND the first time all 3 domestic manufacturers were hit at the same time. At the time of publication, there are a total of approximately 146,000 auto workers who are members of the UAW.
What Was the Next Big UAW Move?
In late September the Bowling Green Assembly Plant, (where Corvettes have been rolling off the line since 1981), was still up and running, BUT the UAW expanded its strike to these GM parts and distribution sites:
• Pontiac Redistribution – Pontiac, Mich.
• Willow Run Redistribution – Belleville, Mich.
• Ypsilanti Processing Center – Ypsilanti, Mich.
• Davidson Rd. Processing Center – Burton, Mich.
• Flint Processing Center – Swartz Creek, Mich.
• Lansing Redistribution – Lansing, Mich.
• Cincinnati Parts Distribution – Westchester, Ohio
• Denver Parts Distribution – Aurora, Colo
• Hudson parts Distribution – Hudson, Wisc.
• Chicago Parts Distribution – Bolingbrook, Ill.
• Reno Parts Dis. Center, Reno Nev.
• Rancho Cucamonga Parts Distribution – Ranch Cucamonga, Calif.
• Fort Worth Parts Distribution, Roanoke, Texas
• Martinsburg Parts Distribution – Martinsburg, W. Va.
• Jackson Parts Distribution – Brandon, Miss.
• Charlotte Parts Distribution – Charlotte, N.C.
• Memphis AC Delco Parts Distribution – Memphis, Tenn.
• Philadelphia Parts Distribution – Lang Horne, Penn.
What Was GM's Next Move?
While other manufacturers were a little less willing to work with Fain and the UAW, GM made efforts over the passing weeks to make progress toward their demands, dodging any big hits. Then, on 10/20/2023, GM made this "record" offer. GM has a positive attitude, with Mike Booth, (vice president of the union's GM department), saying, "All the pieces are there, we just have to glue it together."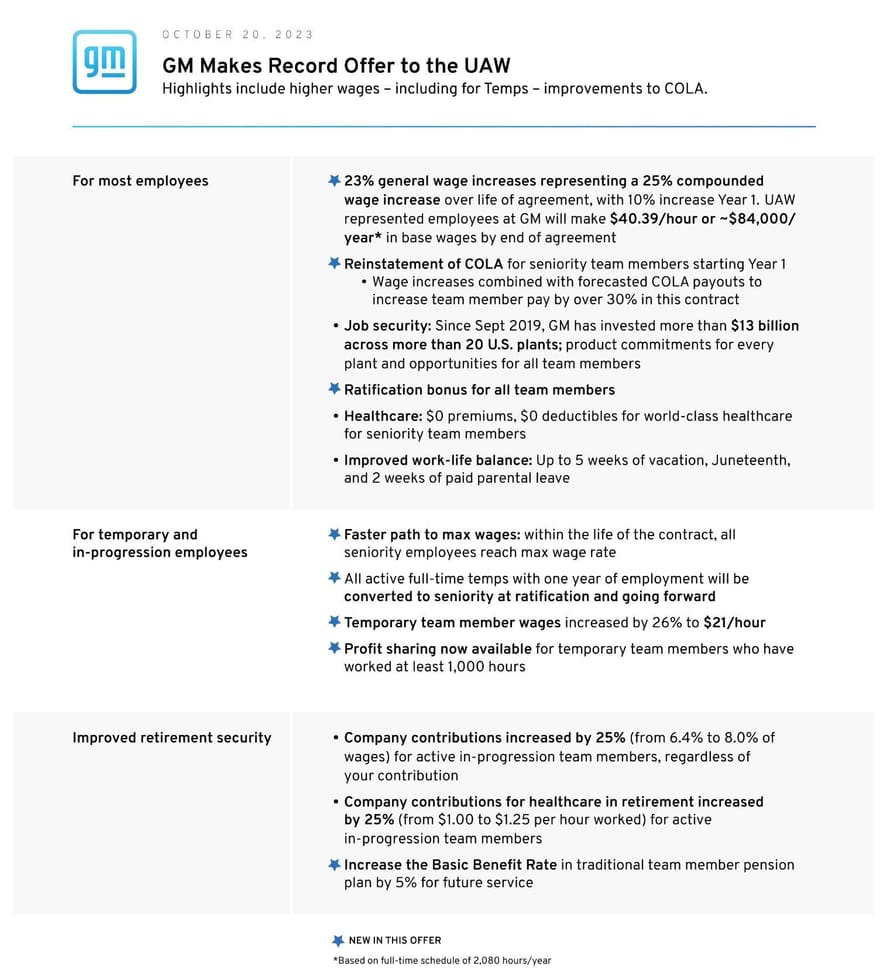 BREAKING: Things Take a Turn for the Worse
On Tuesday morning, 5,000 auto workers walked out of GM's Arlington Assembly plant and joined the UAW picket line. This was big news, because this plant produces the Chevy Tahoe, Chevy Suburban, GMC Yukon, and Cadillac Escalade, AND is GM's most profitable plant in the United States.
Fain and the UAW timed the walkout at Arlington Assembly just hours after GM reported $3.5 billion in third-quarter earnings, and executives said that GM has lost about $800 million since the strike started more than a month ago.
In a statement, Fain said "Another record quarter, another record year. As we've said for months: record profits equal record contracts. It's time GM workers, and the whole working class, get their fair share." [Source]
As a result of the ongoing strike, GM CEO Mary Barra and other executives told investors they are abandoning their goals to produce 400,000 EVs from 2022 through mid-2024, among other EV priorities. [Source]
What is The Latest Tally of Workers on Strike?
There are nearly 46,000 auto workers on strike against GM, Ford, and Stellantis across 22 states, including eight assembly plants and 38 parts distribution centers. [Source]
How is the Corvette Currently Affected?
Thankfully, it is status quo for the production of our beloved Corvette at the Bowling Green Assembly Plant, and everybody here at CorvSport and across the Corvette Community hopes the two sides can come together with a final agreement soon.
We have the fastest-growing Corvette community on our Facebook page, with over 158,000 followers (39,000 since January!). Come join other hardcore enthusiasts and say hello, Douglas B.