The 1986 Corvette Indy
The 1986 Corvette Indy Prototype was developed beyond clay modelling to the point of a fully-functioning, drivable car, though it was clearly understood that this car would never evolve beyond the prototype stage.  Like the clay mock-up before it, development of the mid-engine Corvette Indy prototype began in 1985, pulling most of its design cues from its predecessor.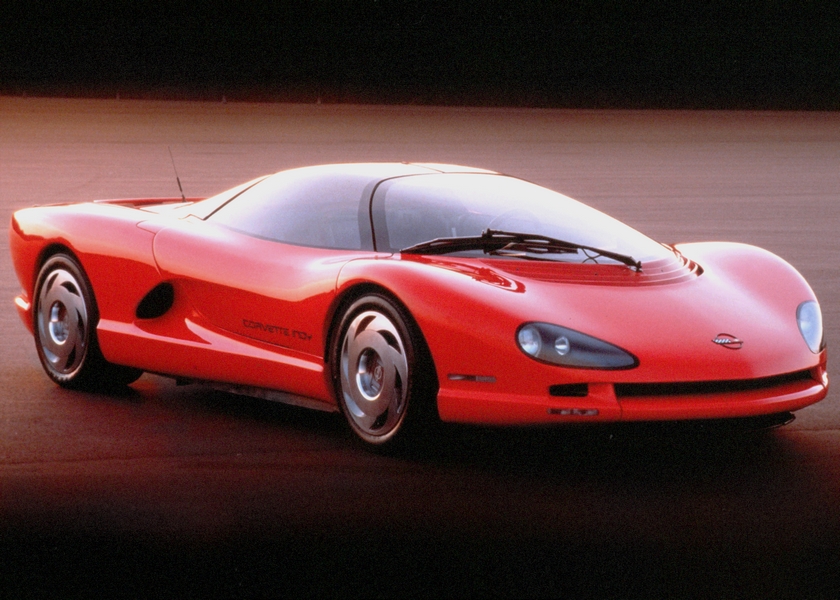 The Ilmor Company, an independent British engine manufacturer which had been established in 1983, began development of a new 2.65-liter IndyCar engine that featured twin-intercooled turbos.  Known as the Ilmor–Chevrolet 265, the engine made its debut at the 1986 Indianapolis 500 with Team Penske driver Al Unser.  Chevrolet engineers adapted a version of this engine for use in the Corvette Indy Concept, which was so-named because it featured an engine that had been designed for use by Indy race cars.
General Motors Vice President of Design Chuck Jordan took an immediate interest in the mid-engine Corvette Indy.  He believed that the car would be an ideal showcase for the emerging electronics and technology markets that were beginning to make inroads into the production car market.  He directed the engineering team (which included then-staff-designer Tom Peters) to integrate these new technologies into the next-generation Corvette. He began the process by using Peter's rendering of the next-generation Corvette concept to determine what (and how much) technology could be packaged into the actual car.  Some of these technologies included satellite navigation (which was significant in that it was introduced before global positioning satellites were approved for the civilian market), a CRT (Cathode-Ray Tube) instrument display and an electronic throttle control system.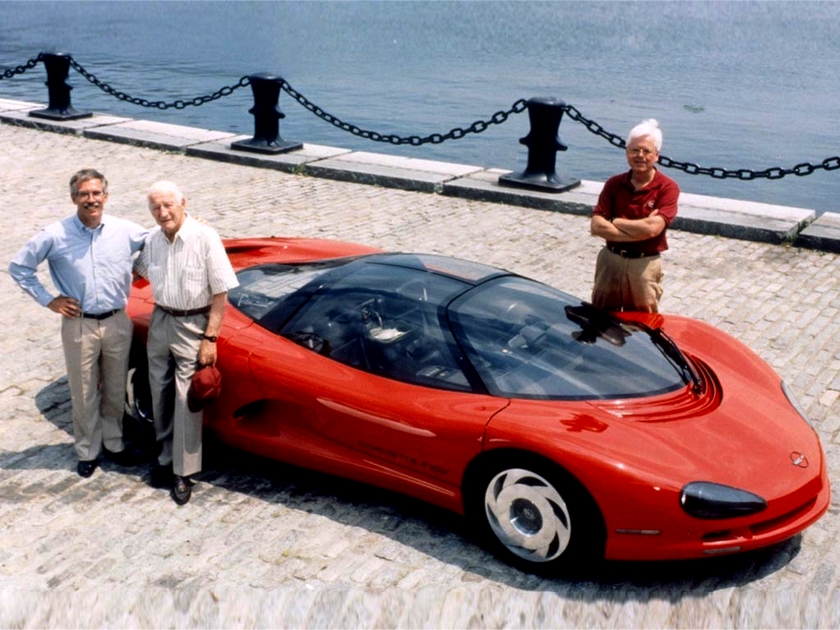 During the same time this car was being developed, General Motors was also in the midst of acquiring Group Lotus.  Jordan recognized that the Corvette Indy presented a unique opportunity to showcase the British automaker's new Active Suspension technology to the American automotive market.  GM also wanted the car to showcase some of its latest home-grown mechanical technologies including their all-new four-wheel steering system along with four-wheel drive.  Perhaps most significant of all, Chevrolet utilized carbon fiber and Kevlar construction materials in much of the car, including a carbon tub and body.  The Indy's carbon fiber and Kevlar construction was revolutionary for its time, and it paved the way for how many supercars are built today.
As the car evolved, the Indy race-engine was ultimately abandoned from the Corvette Indy Concept in favor of a 350 cubic-inch V8 engine.  The V8 engine was developed and tuned by Lotus.  It was installed in the Corvette Indy and, when so equipped, enabled the car to reach speeds in excess of 180 miles per hour and a 0-60 time of under five seconds.  This second engine program was used as the powerplant for the production Corvette ZR-1 from 1990 to 1995.