I was recently reading an article published in the National Corvette Museum's quarterly "America's Sports Car: A Publication of the National Corvette Museum" magazine acknowledging that the C4 Corvette will turn 40 this year! It led me to start thinking about this sometimes overlooked entrant into the Corvette family and compelled me to write the piece you are reading now.
For many Corvette enthusiasts my age (a spry, late-forties-something), the C4 was our first introduction to America's sports car. I had a cousin who had a C3, and I remember that car fondly, but the C4 became the "gold standard" as I was growing up in the eighties, and especially when I started driving in the early nineties. Heck, I went to work for a Chevrolet dealership in 1995, and I was very fortunate to drive a couple examples of the C4 Corvette – including a 1996 Grand Sport – during my time there. Those cars, from 1984 thru 1996 were sleek, they were planted, they were cool, they were…well, CORVETTES.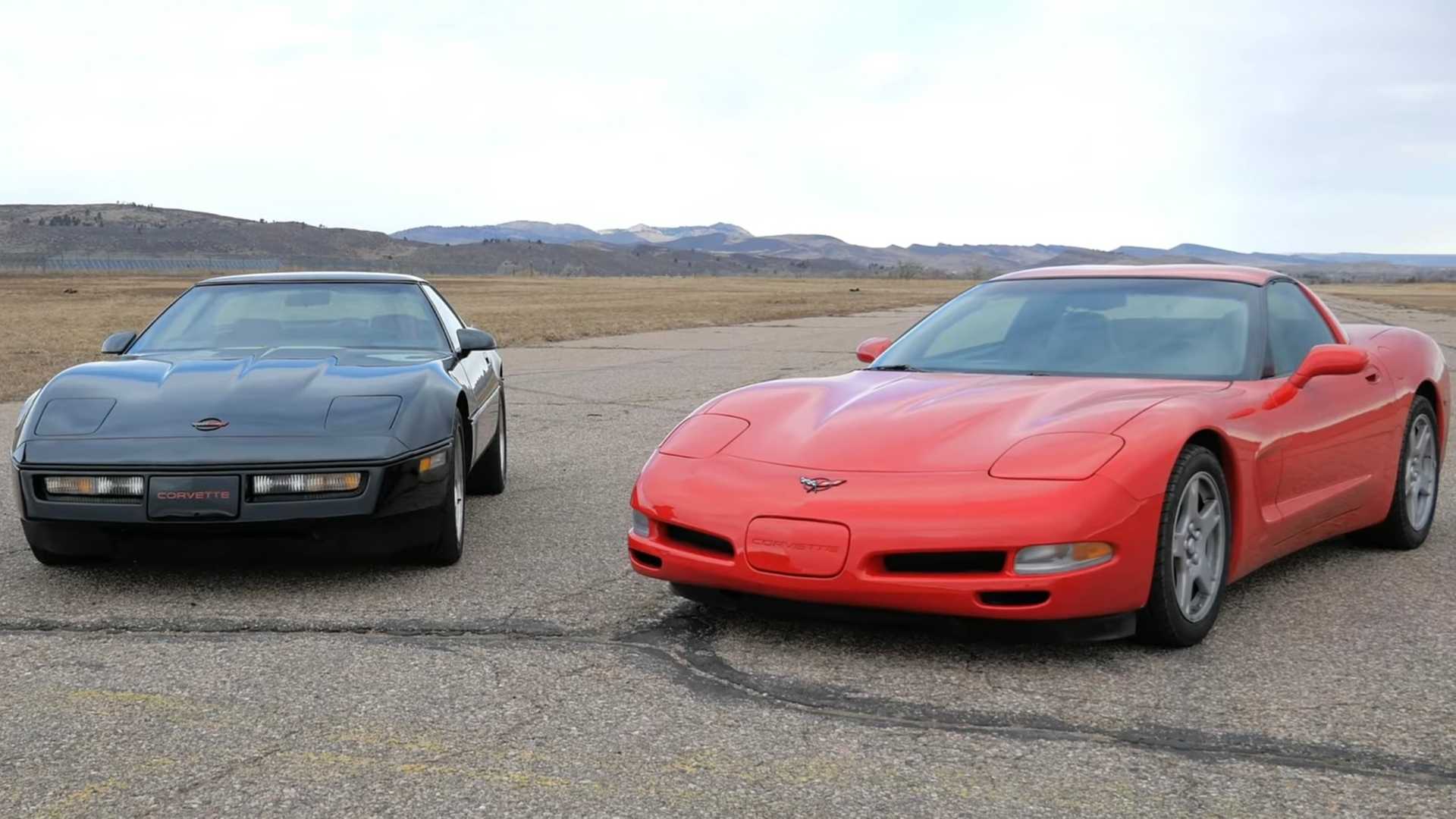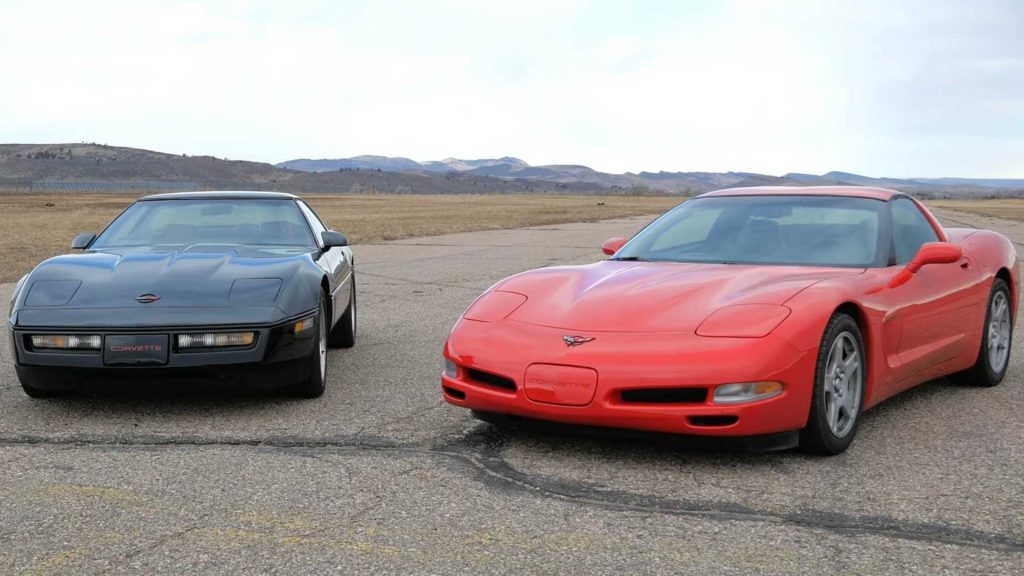 With the introduction of the fifth-generation Corvette, and especially the Z06, along with the increasingly more powerful Corvettes that came after, it seemed that the fourth-generation Corvette lost some of the luster it once had, at least when compared to earlier models (C1-C3) and the later (C5-C8). Yet, the C4 Corvette was anything but lackluster. In its time, it was transformative in terms of handling, cornering, drivability. It changed how automotive enthusiasts perceived America's sports car. It catapulted the Corvette from a respectable American sports car into a vehicle that was considered "world-class."
The American Heritage Dictonary defines world-class as: "Being among the best or foremost in the world; of an international standard of excellence." As the article in "America's Sports Car" magazine points out, there's no organization that places this distinction on anything.  Instead, becoming world class is a collective opinion shared by enthusiasts and owners alike who have discovered someting incredible in a particular automobile.  When the Corvette arrived on the scene in 1984, that's exactly what it did – left jaws on the floor and left would-be consumers vying for their opportunity to own one of these amazing new cars.
Let's pause here a moment.  The title of this article is "the C4 Corvette Turns Forty" but I just said that the C4 Corvette arrived in 1984, right?  Well, not exactly.
The Evolution of the C4 Corvette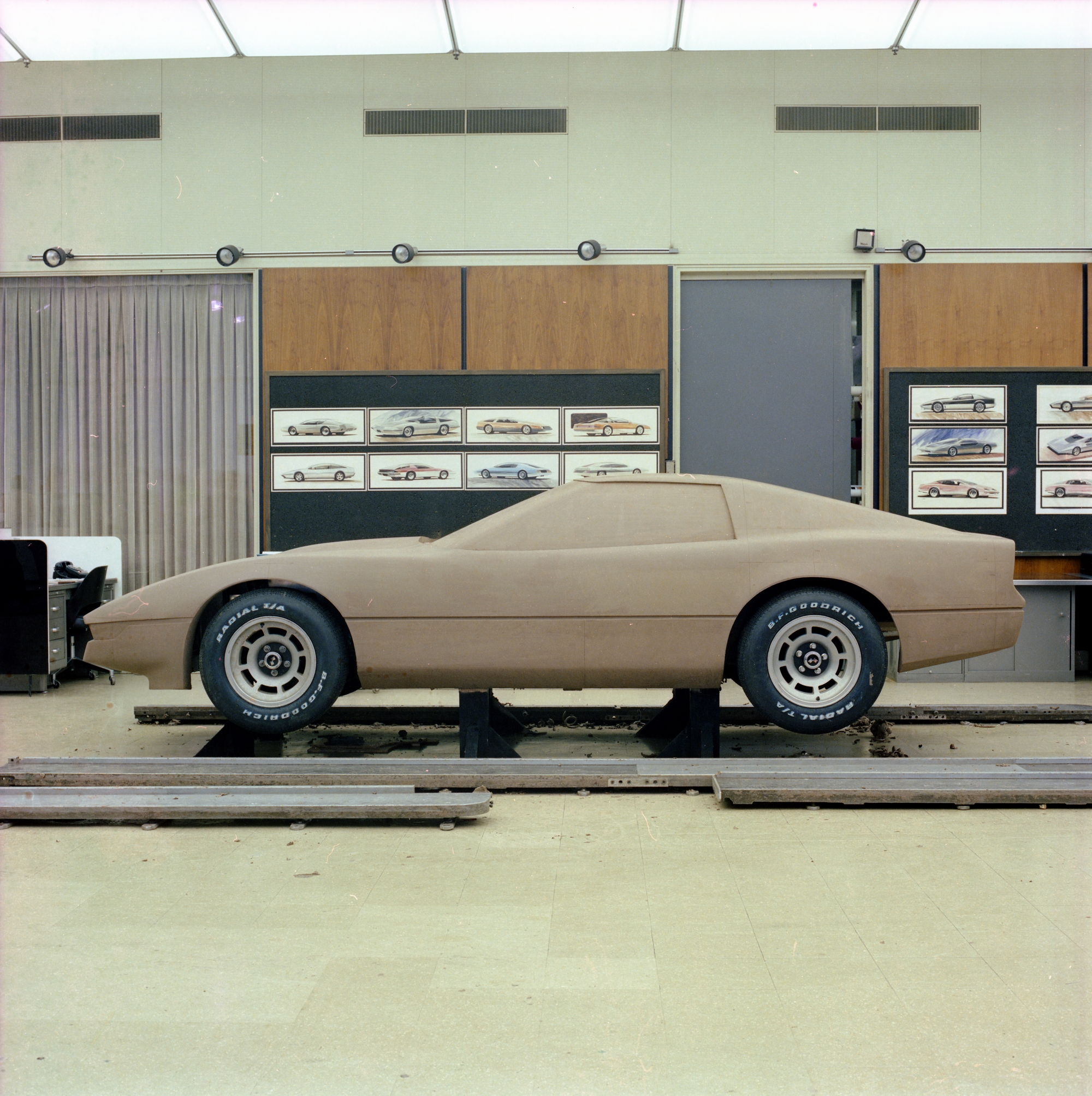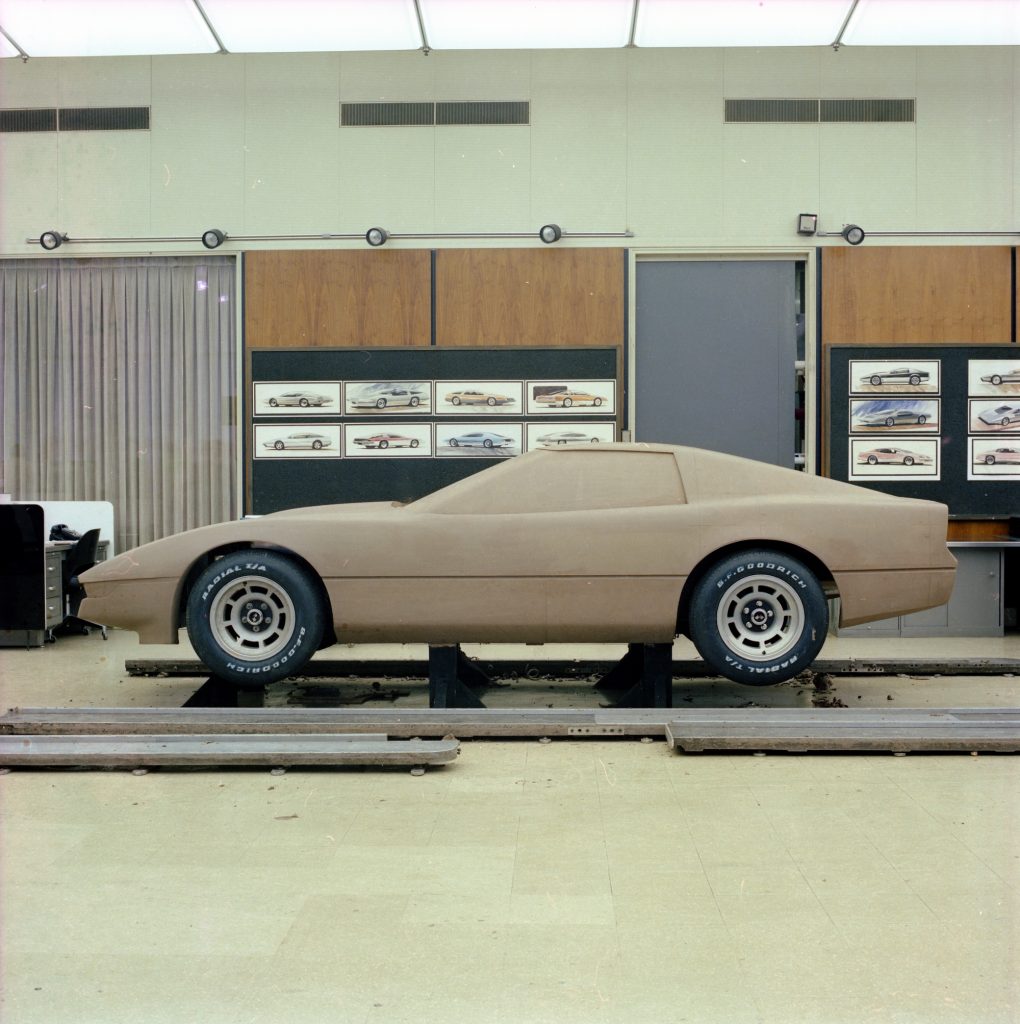 The C4 Corvette went into production beginning in 1984 and became available to consumers in 1984, but GM had originally planned to launch the fourth-generation Corvette in the fall of 1982 for the 1983 model year. In fact, development of the fourth-generation Corvette began in 1979 under the direction of Corvette Chief Engineer Dave McLellan. What's more, much consideration was given (at that time) to transforming the Corvette into a mid-engine platform, a direction that Zora Arkus-Duntov had been working towards with the creation of the Aerovette concept car.
GM Designer Jerry Palmer entered the frey in the fall of 1979 and began working on a series of sketches which defined the look of the next-generation Corvette.  His early designmotifs evolved from a series of CAD drawings developed by Brian Decker.  Decker, who worked in Chevrolet's R&D department, had pioneered the use of CAD to create the first computer-rendered chassis drawings of their kind.  Armed with these, Palmer designed a Corvette with a swept back profile. He used the Aerovette concept car previously developed by former Corvette Chief Engineer Zora Arkus-Duntov and GM executive John DeLorean as one of his key sources of inspiration. He referenced many of the design motifs introduced on the Aerovette in his own design, with one glaring exception.  While the Aerovette had a tail section that was nearly as long as its front end, Palmer elected instead to introduce a "Kammback" rear end on the fourth-generation Corvette.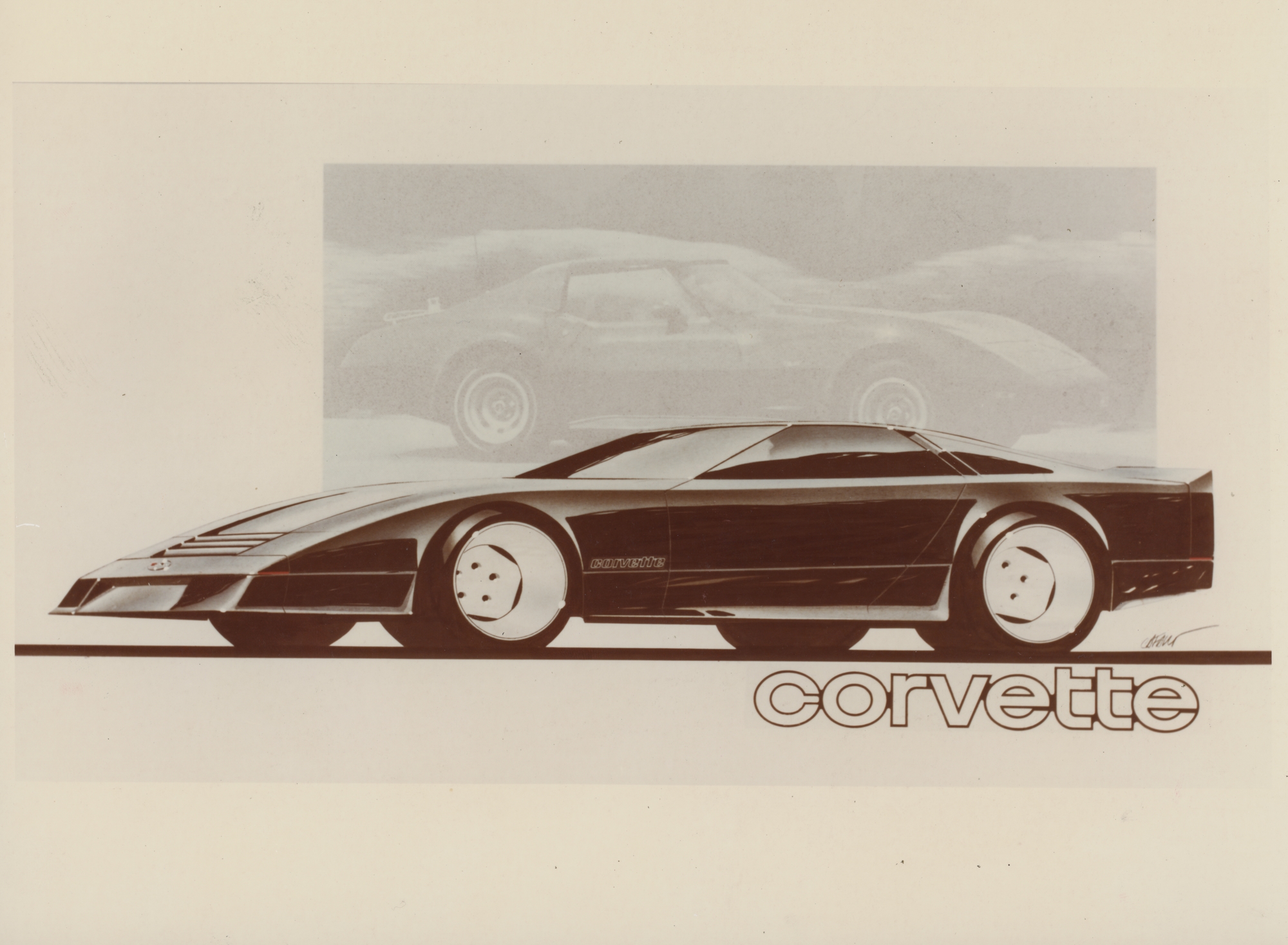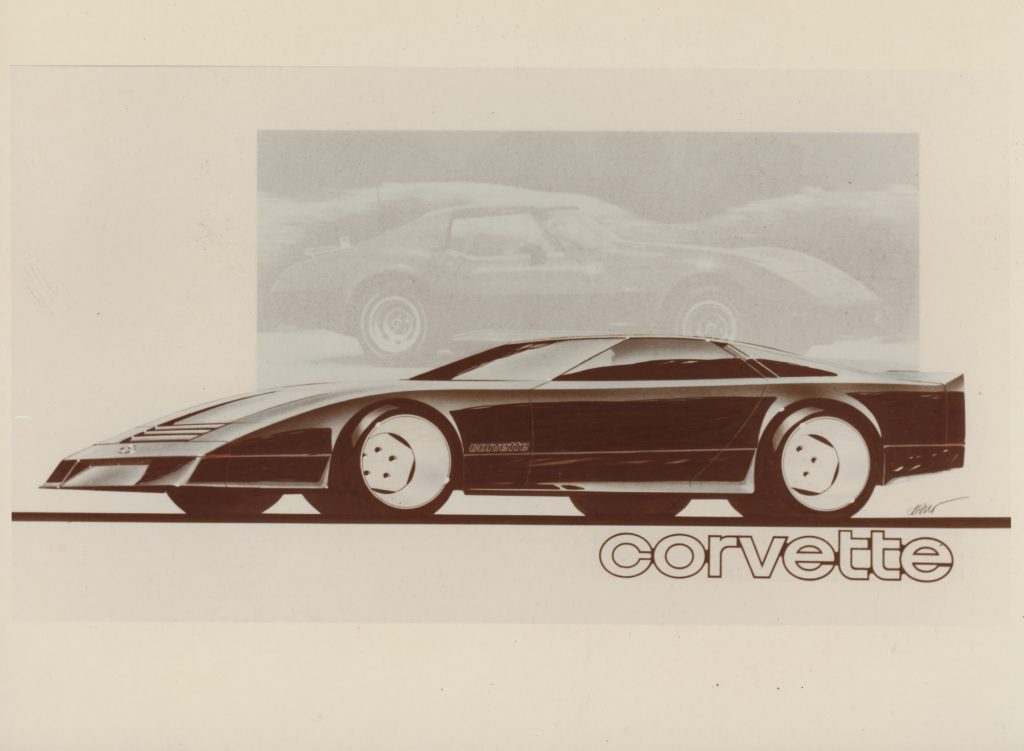 As Palmer's designs evolved, the design department began transforming his two-dimensional drawings into three-dimensional scale models. These quarter-scale models were evaluated in GM's wind tunnels to0 identify which had the most optimal drag coefficents.  Once the correct aerodynamic profile was identified, a full scale model was developed by Palmer and his design team. This model was also subjected to extensive windtunnel testing – reportedly more than 100 different tests total – which resulted in a car profile with an impressive 0.0330 drag coefficient.
Working together, McLellan's engineering group and Palmer's design staff assembled a pre-prototype version of the fourth generation Corvette. This model enabled GM's top brass to greenlight the creation of six test mules (though future budget constraints would reduce this number to just three units.)  Each of these mules incorporated Palmer's then-current designs, which included a T-bar roof assembly, a forward-raked B-pillar, and a series of sharp corners/edges throughout his design.
All of the pre-prototype Corvettes were assembled in McLellan's engineering center.  They were initially fabricated using cardboard and wood, though these early components were eventually replaced with  production components made out of metal, fiberglass, and the like.  Although the aesthetic of this newest Corvette prototype caused most engineers and designers to stop in awe when they saw it, Palmer and McLellan each wondered if the design would meet with the approval of Chevrolet's Product Policy Group (PPG).  The PPG, which was comprised of GM's top officers, had the governance over deciding which designs would move beyond the conceptual phase to become a production vehicle.
They needn't have worried.
From Pre-Prototype to Pilot Car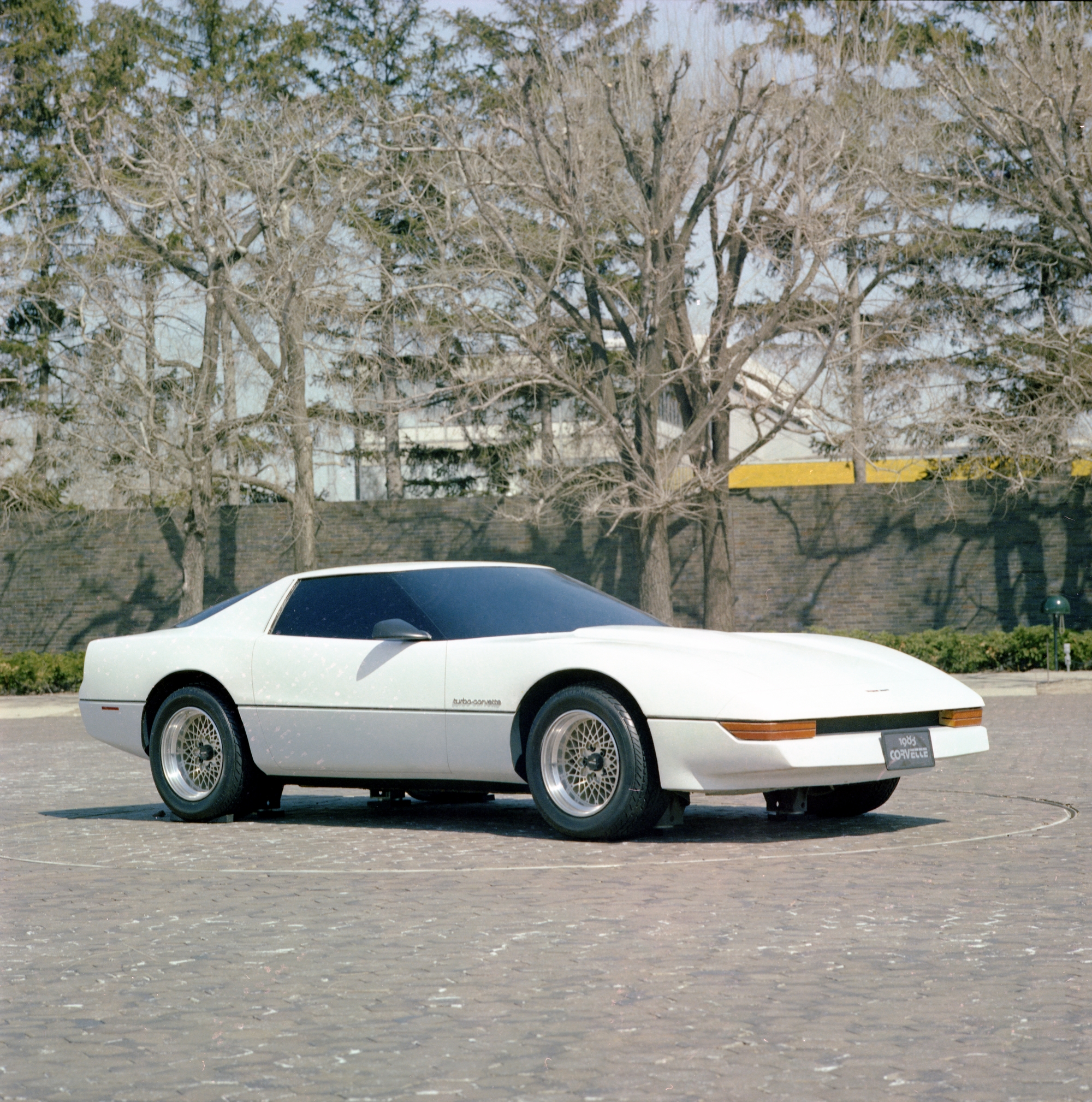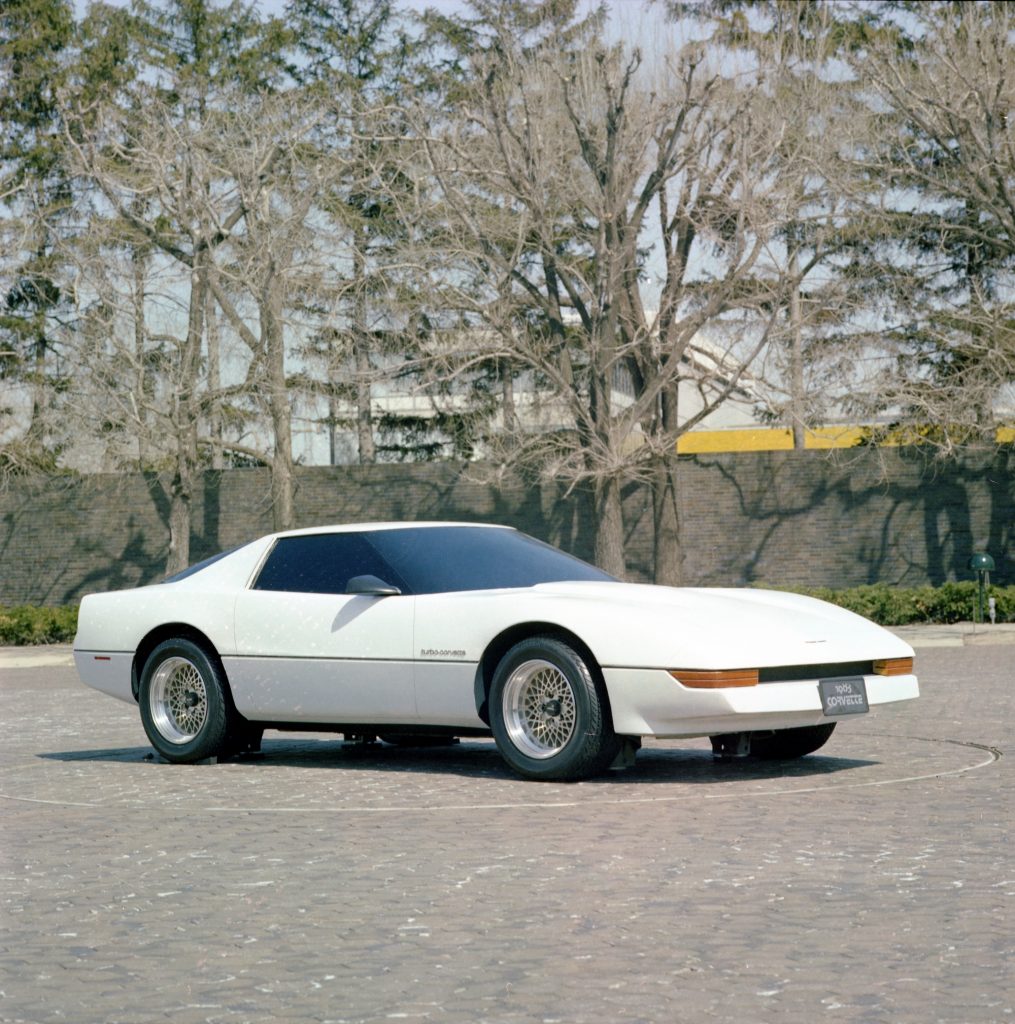 On the morning of April 22, 1980, the PPG met in Jerry Palmer's Chev III studio to evaluate the Corvette pre-prototype models.  The cars were immediately approved as presented.
Even after receiving a formal "notice to proceed" from PPG, the final form and fuction of the fourth-generation Corvette continued to evolve for an additional two years.  Because of the extensive prototyping performed on the fourth-generation Corvette, the engineering team was able to solve a variety of mechanical, structural and performance issues that might have plagued the car in its early years of production had they not been afforded the time.
The fourth-generation Corvette's press reveal was scheduled for fall 1982 at the Riverside International Raceway.  As the date neared, there were still many unknowns about the car, including when production of the new Corvette would actually begin, what it would cost, and how it would be marketed – as a 1983 model or possibly as a 1984 Corvette?   As history has shown, the answer to the model year question was determined not by any internal decision makers, but by the increasingly strict federal emission regulation standards placed on all cars being built at that time.
Each year, the Federal Government establishes new emission certification rules that all manufacturers must adhere to.  Because a variety of testing – including exhaust and emission refinements – was still being completed as 1982 ebbed into 1983, it was decided the engineering team should have the extra time to make the new Corvette the absolute best car that it could be. This meant Corvette would skip a year of commercial production.  It also meant that Chevrolet could build the new Corvette to meet 1984 Federal emission certification standards so long as they started production on/after January 1, 1983, and they could do so without the added (and sizable) cost of having the car re-certified in 1984.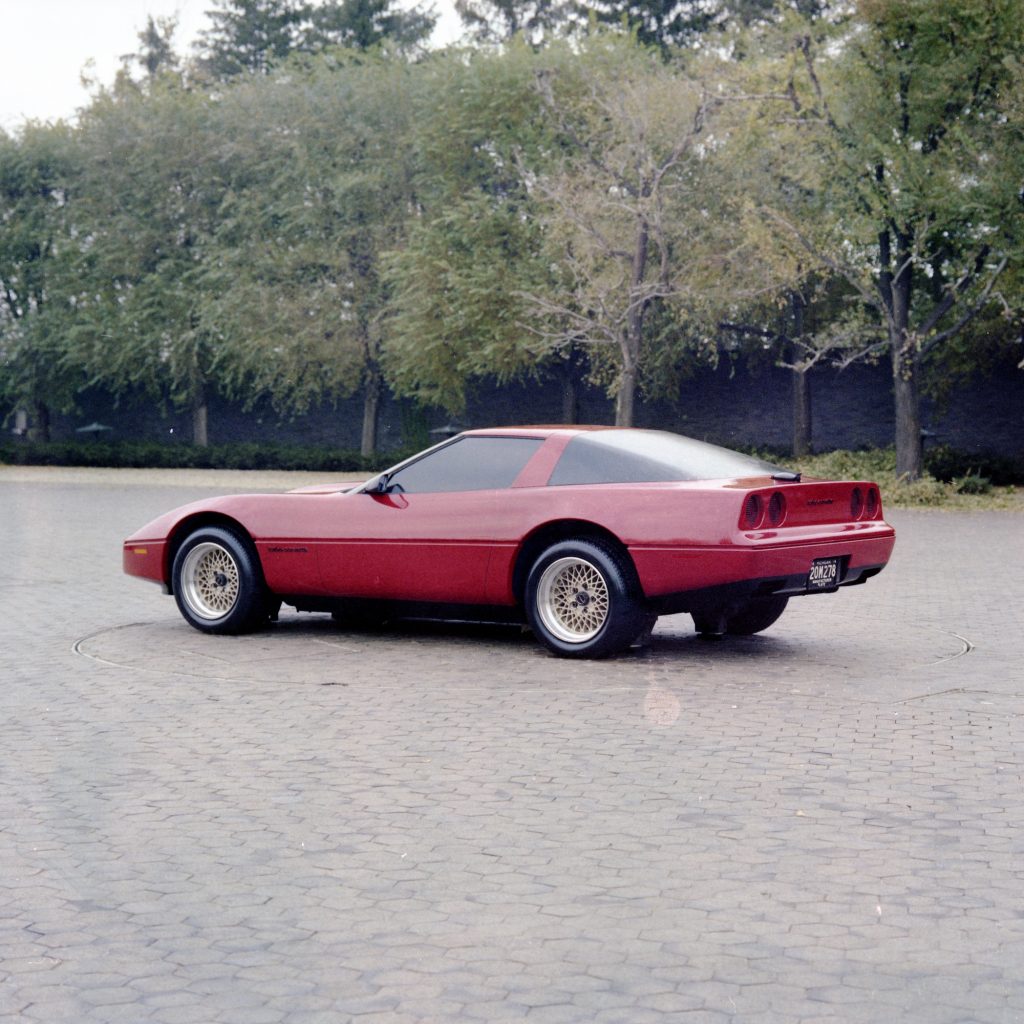 Even with the decision to delay production for a year, Chevrolet produced fourteen test mules and forty-three pilot line cars with 1983 vehicle identification numbers.  These cars were driven extensively to determine many of the fourth-generation Corvette's performance and handling limits.  They were also used at press events and to evaluate consumer opinion of the new Corvette.
1983 Corvette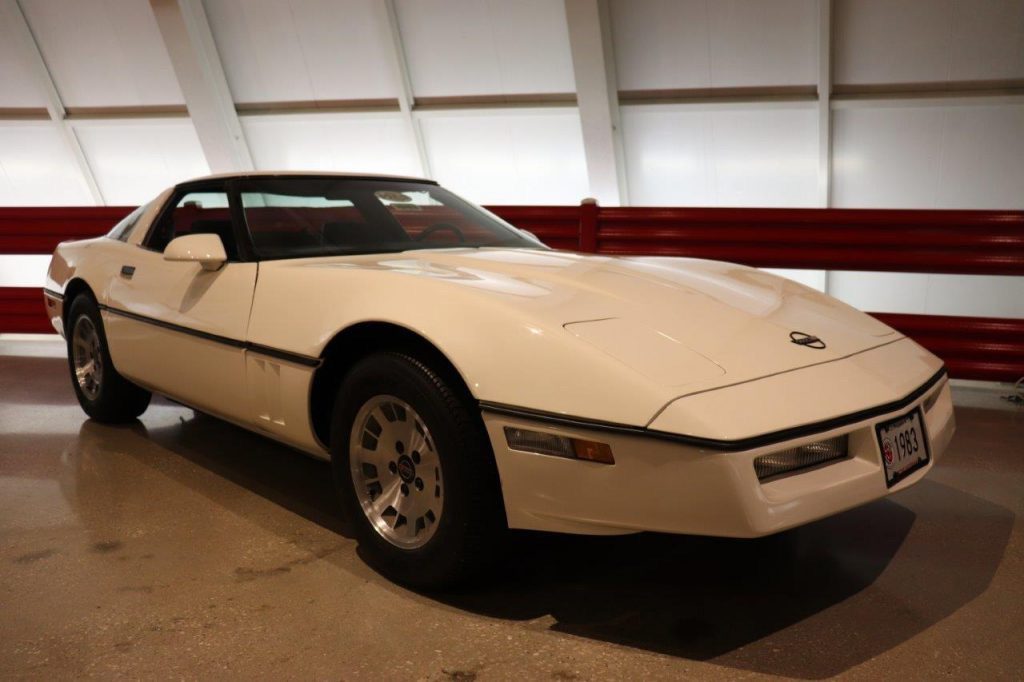 So now we're back where we started.  The fourth-generation Corvette celebrating its fortieth birthday in 2023.   As you've probably summized, the test mules and pilot cars previously mentioned were still considered production vehicles, and each had its own VIN number.  Although these cars came out of the assembly plant in Bowling Green and were tested/driven for a variety of purposes, all but one was destroyed after it was decided that the C4 would begin production as a 1984 MY vehicle.  The only remaining 1983 Corvette  – VIN 1G1AY0783D5110023 – resides at the National Corvette Museum and is known as the "One and Only" by Corvette enthusiasts around the globe.
Happy 40th to the fourth-generation Corvette!