Astro II (XP-880)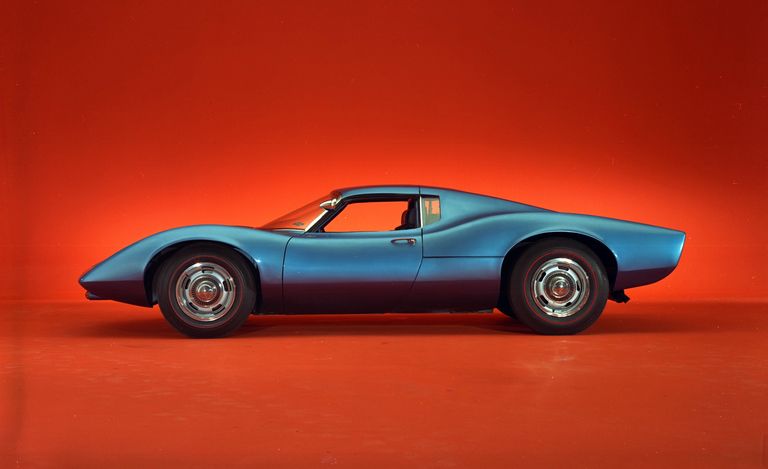 By the late '60s, lead Corvette engineer, Arkus Duntov, had become consumed with the idea of transforming the Corvette into a mid-engine race car, much like those found abroad. However, top Chevrolet brass lived and died by the mantra of "do not fix what is not broken", and such a project was never green-lighted during this era.
This did not stop Duntov from exercising his mid-engine ideology when, and wherever he could. The Astro II was one of the most significant case studies of Duntov's outright refusal to let his mid-engine dreams die, and as such, ultimately entered the history books as a precursor to the eventual mid-engine, C8 Corvettes of today.
The Astro II was designed in a way that was more representative of the Corvette's typical styling cues, than that of The Astro I. Unlike the Astro I, the Astro II featured actual driver and passenger doors, as well as a rear glass. The car was also taller in stature than the Astro I, as it measured 44" at its roofline. The Astro II's rear facade proved to be a point of influence, as production Corvettes began adopting a nearly identical rear design for the 1974 model year.
At the heart of the Astro II was an L36 437 cubic-inch V8, which was paired to a transaxle, as opposed to a standard transmission. The L36 was turned 180 degrees so that its starter and ring gear resided under the Astro II's seatbacks. As monumental as this feat of engineering was, the original two-speed Pontiac Tempest transaxle used during the design process proved to be incapable of handling the 400 horsepower L36's output.
The Astro II was also notable for its use of production parts, which could be found behind virtually every parts counter. Camaro Lower front wishbones, knuckles, spindles, and brake rotors were utilized in the car's design, as were Corvette transverse leaf springs and brake calipers. Additionally, Oldsmobile Toronado universal joints were used at the half shafts inner ends.
The use of these easily obtained components was often thought of as a ploy by Duntov to make the Astro II more viable for production. By all intents and purposes, this plan nearly came to fruition, as the Astro II was not only tested on the track by Duntov himself but made significant waves on the automotive show circuit.
However, this simply was not to be. And the Astro II never reached production. At the time, the new 1968 Corvette had just sold a record-breaking 28,566 units. As a result, GM looked at the Corvette's switch to a mid-engine layout as risky at best. In the end, the Corvette world would have to wait over 50 more years for Duntov's dream to materialize.