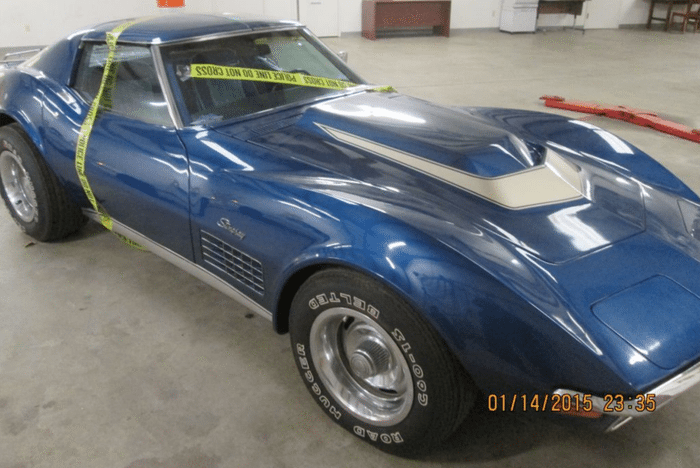 (article originally published on FOXnews.com)
The best news can turn bad so quickly.
Terry Dietrich of Duluth, Georgia, recently got a call from the cops to tell her that her missing Chevrolet Corvette had been found about 178 miles away in Forest City, North Carolina. That's a blue T-top Stingray that was stolen 42 years ago.
Turns out, the 1972 coupe her father helped her buy had been in Forest City since at least 1975, according to local used car dealer Gary Greene, who had his eyes on it all that time and bought it a couple of weeks ago when its owner passed away. Mismatched vehicle identification numbers tipped him off that something might be wrong. Sure enough, police tracked down an old stolen car report, and called Dietrich, who still lives at the home she did way back when, WXIA reports.
"If I could get that car back, it could roll back up the same driveway, pull back into the same carport it left 11-14-72. How awesome is that?" Unfortunately, it might not be so easy.
Dietrich doesn't have the title for the car anymore, and neither does her insurance company, Allstate, which technically became the owner when it paid out the claim. The issue is further complicated by the fact that the Georgia DMV also can't find a copy or record of the title.
The North Carolina authorities won't release the car without one, or at least a court order. An Allstate spokeswoman tells Fox News it has every intention of reuniting Dietrich with the Corvette, but doesn't know exactly if or when they'll able to pull it off. In the meantime, the car is sitting in an Asheville, N.C., impound lot and could end up going to auction.
As for what Dietrich would have to pay to buy the car back from Allstate, that's to be decided between her and the company.  Insurance industry experts tell Fox News that when companies offer to sell recovered goods back to their original owners, they often try to recover some of the payout, but the current value is affected by a variety of factors. In the case of something that's potentially appreciated over time, it's definitely handled on a case-by-case basis.
1972 Corvettes cost roughly $5,000 when they were new, but can be worth many times that today. Greene says this one is in good condition, but has had a few modifications, including a new hood and interior upholstery that could affect its value one way or another. Allstate could just decide to take the hit and hand it over to Dietrich out of goodwill. Dietrich says if she can't get it back, she doesn't even want to see it. No use having to get over it again.
Hopefully for her, she'll receive another call with good news, soon.