One need not look far to see the influences of Bill Mitchell on any number of Corvettes throughout the decades. As a matter of fact, the same could be said for various other lines of GM vehicles as well. In total, Mitchell spent 42 years as an employee within GM's design and development department, serving as the company's Vice President of Design for the final 19 years of his tenure.
Mitchell's views on automotive design served as the catalyst behind a number of the Corvette's most iconic features throughout the year, such as the split rear window design of the 1963 Sting Ray. However, to fully grasp the depth of Mitchell's accomplishments, and the vast influence that his efforts had on subsequent generations of Corvette design, one must delve far deeper into the past.
It Began With A Dream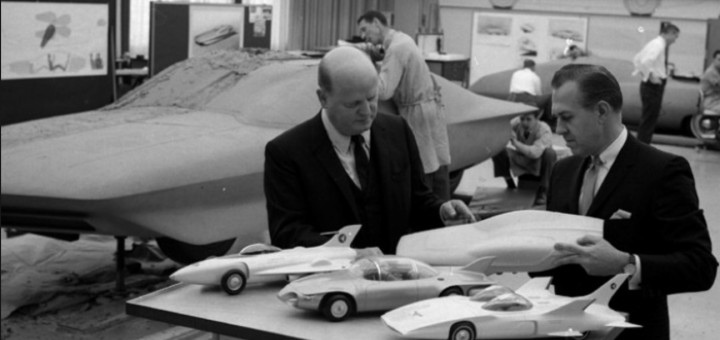 Bill Mitchell was born on July 2, 1912, in Cleveland, Ohio. Mitchell, the son of a Buick dealer, took an early interest in automobiles and spent countless hours sketching vehicles during his formative years. With an eye for art and a passion for all things automotive, Mitchell set out to pursue a career in automotive marketing and design. He attended the Carnegie Institute of Technology in Pittsburgh, Pennsylvania, later finishing his education at the Art Students' League in New York.
Upon completing his formal education, Mitchell took a job with Barron Collier Advertising, where much of his duties involved preparing automotive marketing illustrations. During this era, Mitchell also became the official illustrator of the Automobile Racing Club of America. The sketches that he created for this club eventually caught the eye of GM Head of Design, Harley Earl.
Outwardly impressed by the young illustrator's sketches, Earl recruited Mitchell for a spot within GM's newly formed Art & Colour Section in 1935. This would prove to be a decision that was of immense value to both Mitchell and GM.
Climbing The Ranks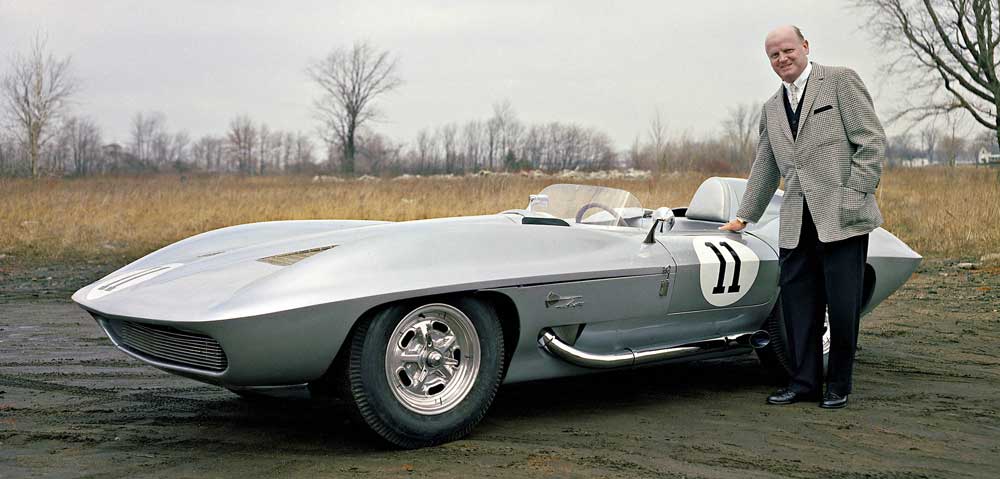 Once employed by GM, it did not take long for Mitchell to begin climbing the ranks. By 1935, the 24-year-old designer was appointed as Chief Designer of Cadillac. Under his design leadership, Cadillac flourished, with the 1938 Sixty Special and 1941 Cadillac being among Mitchell's most renowned early creations.
Upon Harley Earl's mandatory retirement in 1958 at age 65, per GM policy, Mitchell was named GM Styling Vice President. This would be a role that Mitchell would hold until his own eventual retirement in 1977.
At the helm of GM design, Mitchell quickly parted ways with Earl's flamboyant styling cues of old. In the latter portion of his career, Earl had become infatuated with the sculpting of high-rising fins, and inclusion of excessive chrome. This is a look that Mitchell absolutely detested, as he was a proponent of more aerodynamic stylings, which he subsequently referred to as the "sheer look."
One can easily see the aftermath of Mitchell's departure from Earl's over the top styling when comparing designs of the 1958 Corvette, and that of later models to follow. Before his departure, Earl had fitted the 58' Corvette with four total headlights fixed within chrome bezels, chrome trunk lid accents, and a pronounced, toothy chrome grille. Mitchell was having no part of these over the top theatrics, and began stripping chrome from the Corvette the very next year.
The Sting Ray Legacy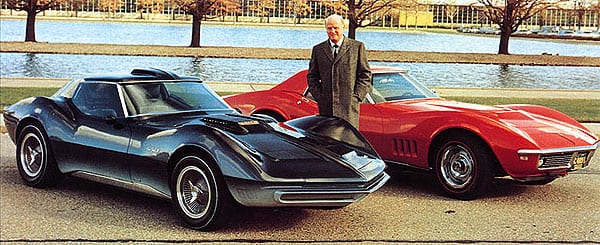 One of Bill Mitchell's greatest contributions to the Corvette line came in the form of the Stingray Racer Concept, which would later go on to heavily influence the design of the Corvette's second and third generations. The original design for the Stingray Racer was loosely based upon photos that Mitchell had taken when visiting the Turin Auto Show in Italy, with initial sketches being rendered by Pete Brock.
Mitchell's XP-87 concept, built atop a Corvette SS chassis, was initially slated for use on the track. However, GM's insistence on complying with the AMA ban on factory-backed racing threatened to stifle these ambitions. Mitchell received word that any racing conducted would be done on his own accord, and out of his own pocket. There was also to be no Corvette badging installed on the racer.
The XP-87 Stingray Racer's on-track debut took place at Marlboro Raceway in Upper Marlboro, Maryland. Driven by Dick Thompson, the Stingray placed fourth overall, and first in its designated division. Thompson later piloted this prototype racer to an SCCA National Championship in 1960.
Though the Stingray Racer was eventually pulled from the track due to increasing pressure by GM, its brief period in the limelight was enough to leave behind an indelible stamp on future Corvette production. Larry Shinoda closely mirrored many design elements for the Stingray Racer when designing the C2 Corvette, which also took place under the directive of Mitchell.
A Legacy Remembered
Throughout the remaining years of his tenure, Bill Mitchell and his team continued to refine and reimagine key styling points of the Corvette. While engineer Arkus-Duntov, proceeded in the direction of technical superiority, Mitchell attempted to bolster the iconic American sports car's aesthetic appeal.
Mitchell resigned from his post as head of design in 1977, after reaching GM's mandatory age of retirement. In the years to follow, he emerged as an outspoken critic of the C4 Corvette, often referring to its design as "bland." Mitchell went on to operate his own private design and consultation firm, William L. Mitchell Design, in the years following his retirement from General Motors.
Ten years after his death in 1988, Mitchell was inducted into the Corvette Museum Hall of Fame, thereby memorializing the immense impact that his design prowess imparted on the iconic sports car line.
Today, Mitchell is often remembered from dual perspectives. Many that worked with Mitchell recall his brash management approach. Reports often state that the renowned designer was quick to ridicule, prone to tirades, and difficult to please. However, most of these same individuals are also quick to point out Mitchell's innate ability to contribute a virtually endless stream of classic automotive designs, in seemingly effortless fashion.