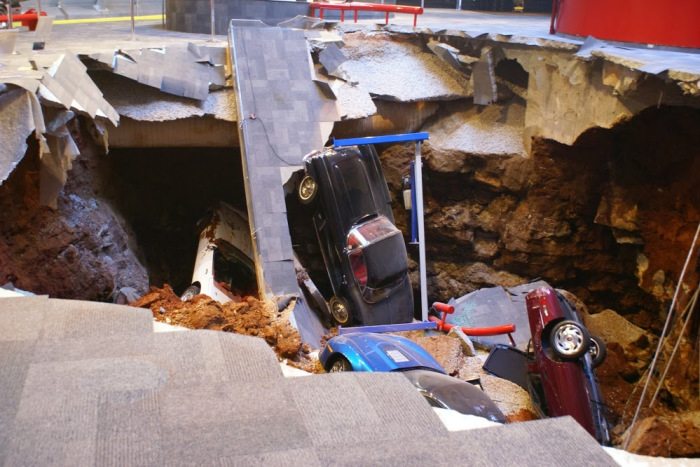 Article Written by Sam McEachern
Today marks the one-year anniversary of when a massive sinkhole opened up in the National Corvette Museum, swallowing up eight display Corvettes in the process. The disaster ended up being a positive turn of events for the NCM, netting them worldwide media coverage and sparking a 67% increase in attendance.
To mark the one-year anniversary of the sinkhole's inception, the NCM will hold a ceremony in which they will recount the discovery of the sinkhole and celebrate the return of the 2009 Corvette ZR1 'Blue Devil' concept to the museum's floor. The Blue Devil was the first of the eight Corvettes to be rescued from the hole and repaired.
Two of the Corvettes which fell victim to the sinkhole were on loan from General Motors, while the other six were owned by the museum. All cars were recovered from the hole, however only three have been deemed good enough for restoration. GM began restoring the Blue Devil last year in time for the 2014 SEMA Show in Las Vegas, while the 1992 'One Millionth' Corvette began restoration at the GM Design Center in January. A private Corvette restoration shop will be making repairs to the third car, a 1962 Tuxedo Black Corvette.
During Thursday's special ceremony, which will be broadcasted live over the internet on YouTube, sinkhole project manager Zach Massey will share details on what work has been performed on the hole to date, and what has yet to be completed. Eventually, a display will be built at the museum to help tell the story of the sinkhole, which will include a camera looking inside the cave and an educational  display board.