We haven't had any notable E-Ray news since we brought you the spectacular quarter-mile performance against some Italian rivals, where the E-Ray punched way above its weight. One interesting reminder about these VIN 001 auctions is that the shiny Corvette under the Barrett-Jackson lights isn't what the buyer will receive, as it's a preproduction model. In this case (and most), it still looks gorgeous. There is also a tax-deductible charity angle with the auction, (which likely drives up prices), and in the case of this E-Ray, the recipient for 100% of the sales price is the education non-profit DonorsChoose.  If you've followed these VIN 001 auctions the buyer's name will not surprise you, as once again notable Chevrolet dealer and Nascar team owner Rick Hendrick grabbed the first production E-Ray. Hendrick will take ownership of the game-changing all-wheel-drive hybrid, built to his specs, as soon as it rolls off the Bowling Green assembly line later this year. And if history repeats itself (see videos below), he'll take delivery to some fanfare at the National Corvette Museum.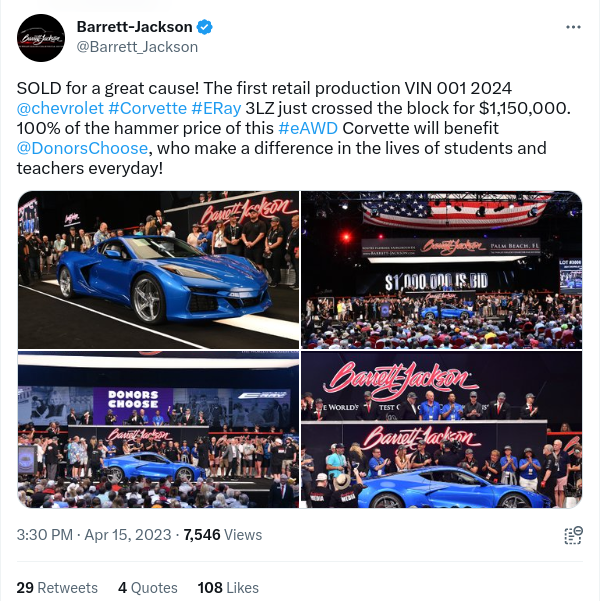 You'll see it's noted in the tweet that the E-Ray crossed the block at Palm Beach for $1,150,000, but it's worth pointing out that the hammer price for Rick Hendrick was actually $1,100,000, and another bidder added $50,000 for the charity.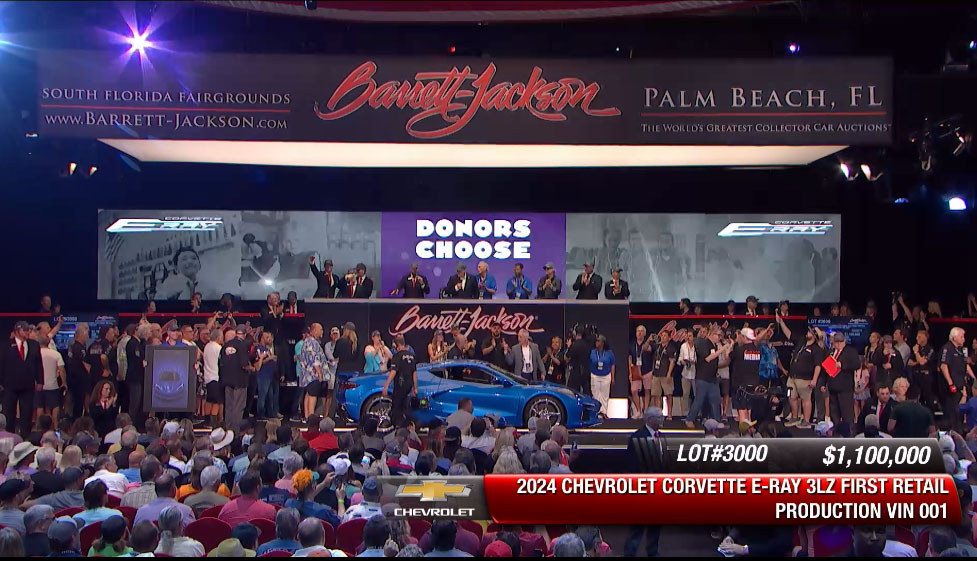 As I mentioned, this is not Rick Hendrick's first rodeo, as the avid Corvette collector is notorious for breaking out the Benjamins to get the first production model of notable Corvettes. Here is just a sampling of the more recent auctions.
$3,600,000 for the first production 2023 Z06!
$3,000,000 for the first production 2020 C8!
Taking delivery of his $1,000,000 C7 Z06
Given the auction price of the first C8 and first Z06, the $1,100,000 for the E-Ray is starting to look like a "bargain". I found many interesting tidbits about Hendrick around the net, but this quote from Dale Ledbetter (who works for Hendrick) sums it up best when he says, "In the collector car world, collectability is always the first one or the last one, and what does a certain collector want… to have the first of something or the last of something. Mr. Hendrick, as you know, chimes in on the first of something. That love of the VIN 001 cars is an expression of Rick's competitive spirit. We like to win every race, and we like to be in that #1 position."
We have an active community on our Facebook page, I would love to hear what you think about these VIN 001 purchases from Rick Hendrick, or whatever else may be on your mind!  Douglas B.