Just as the buzz around the E-Ray was starting to quiet down, Jason Cammisa cranked up the volume with an awesome showdown, pitting the E-Ray against two revered Italian exotics. If you want to take a deep dive into the E-Ray specs, we took an in-depth look here when the reveal broke.
In short, with the help of a front-mounted electric motor in concert with the tried and true LT2, the E-Ray makes 655 horsepower and 595 ft-lb of torque. But more importantly, this setup effectively makes the E-Ray GM's first all-wheel drive Corvette (referred to as eAWD).
The estimated quarter-mile time was 10.5 seconds @ 130 mph. So how did the E-Ray perform based on its expectations, and did it knock off the Z06 as the new quarter-mile King? Without further adieu, here is the exhilarating video from Hagerty and Jason Cammisa.
Spoiler
Well, were GM estimates off the mark? And how did the E-Ray do against the Ferrari and Lamborghini?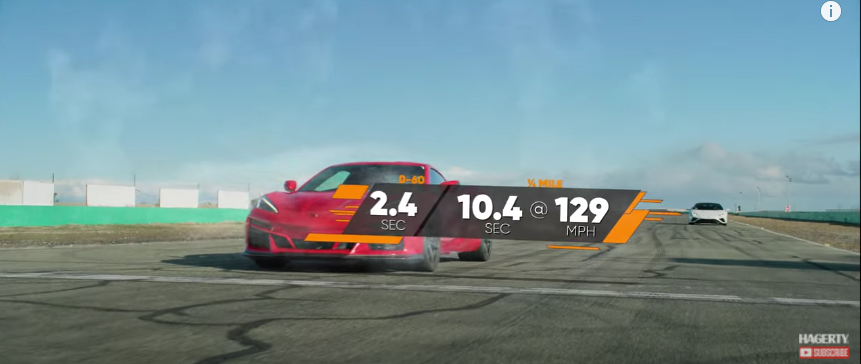 As you can see, the Lamborghini Huracan Evo is way behind on the right side, and while you can't see the Ferrari F8, it is indeed almost as far behind the E-Ray on the other side. And the E-Ray was a tenth quicker than what GM estimated, bravo!
Thanks for joining in today, and I'll leave you with the Cammisa leaderboard so you can see how the E-Ray fares with the other exotics in the playpen. And no your eyes aren't deceiving you, the E-Ray did in fact knock the Z06 off the Corvette King of the Quarter-Mile Hill. As always, we have vibrant discussions on our Facebook page, I would love to see you there!  Douglas B.