The time spanning from 1963 to 1967, was an era of much change and growth for the Corvette. These second-generation Corvettes exhibited ever-continual growth in the performance department, while also showcasing a level of styling that had previously been inconceivable in the automotive world.
The C2 generation of Corvettes was also the first of the line to carry the Stingray monicker. When the 1963 Corvette hit showroom floors across America, prospective buyers and window shoppers alike gazed in amazement at the iconic American sports car's new aggressive look. A vented hood design and deep body lines made the C2 Corvette a hot commodity among automotive die-hards from coast to coast.
The C2 generation of Corvettes also touted notable performance and drivability upgrades as the 1960's progressed. GM sought to shake disparaging remarks pertaining to views toward ride quality and choice of power plant in the previous Gen 1 Corvettes.
With all-new independent rear suspension and big-block engine offerings that rose to prominence during the second-generation production run, the C2 Corvette went a long way to crushing the doubts of nay-sayers.
Although this timeless classic rolled off the assembly line as a true feat of GM engineering, countless C2 owners strive to maximize their Corvette's potential by performing various mods.
The following is a basic guide to modding your C2 Corvette.
Suspension Upgrades
In 1963, the Corvette began its long-lived use of the transverse leaf spring. This benefited the Corvette's ride quality immensely over the C1's primitive solid axle design. Although C2 Corvettes came standard with a notably improved independent rear suspension, there has still been much technological advancement in this realm since the 1960s.
Suspension upgrades offer a number of advantages for any C2 Corvette owner due to their ability to increase stability, improve cornering, and enhance ride quality. While advancements of this nature come with a level of initial investment, the reward is often well worth the effort.
Eckler's Rear Coil Over Kit
Do you have the urge to upgrade your C2's suspension to its maximum potential? If so, then the Eckler's Rear Coil Over Kit might just be what you are looking for.
This kit completely replaces your Vette's stock transverse rear leaf spring components in favor of lightweight and fully adjustable Shark Bite Coil Over shocks. This becomes a noteworthy upgrade, due in part to the ability to fully adjust ride height stiffness while on the vehicle. This allows for a complete level of ride customization that the transverse leaf spring units that came standard on C2s could only dream of.
Perhaps one of the most valued characteristics of this kit is that it is completely bolt-on and no permanent modifications to the vehicle are necessary. This keeps your Corvette's value intact, while also providing ultra-modern suspension that can be set based upon driver preference.
At a price of $1749.99, this kit not only includes all needed components and hardware but also thorough and concise instructions that make installation a breeze as well.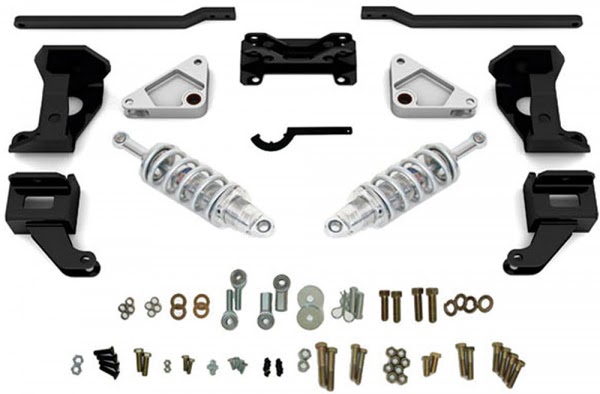 Mid America Motorworks Stage 4 Performance Kit
If worn out suspension components and a less than ideal ride are beginning to wear on you, then Mid America Motorwork's Stage 4 Performance Kit has got you covered.
This kit is a direct replacement for the dated stock components from the days of the C2's release and has everything you need to increase ride comfort and handling capabilities. Part of what makes this kit an ideal choice is that it lowers your Vette's ride height ¾"-1", therefore maximizing stability by redirecting the vehicle's center of gravity.
This Stage 4 Performance Suspension Kit comes complete with matched sway bar and spring rates to maximize steering responsiveness and provide balanced feedback. The kit also includes all necessary hardware, saving additional time and unexpected trips to the parts house when hanging your new suspension components.
Mid America Motorworks offers its Stage 4 Suspension Kit for $1,449.99. This is a steal of a price for the peace of mind and significant gains in drivability that this kit offers.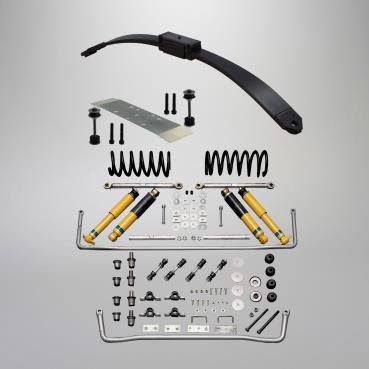 Electronic Ignition Conversions
Another area of automotive technology that has seen great strides since the 1960s is in the electrical department, more specifically with the advent of electronic ignition. Before GM's introduction of the newer Delco HEI system, ignition was derived from the basic points and condenser variety. While the points and condenser systems of old certainly worked, they were the source of yet another additional maintenance task, and any voltage irregularities could spell trouble.
By converting your Corvette over to the use of an electronic ignition system, you gain an install-it and forget-it piece of mind that was simply not true in reference to the former points and condenser units. Electronic ignition systems run off of a magnetic field that is governed by the constant rotation of the distributor cam lobes while an engine is running. This eliminates the need for replacement of corroded or burnt points.
Pertronix Ignitor Conversion Kit
Are you completely dismayed at the thought of performing this year's ignition system maintenance? If so, install this Pertronix Ignitor Electronic Ignition Conversion Kit, and toss your old points and condenser in the trash. What makes this particular mod so appealing is that you can maximize reliability, minimize future downtime for maintenance, and retain your Corvette's stock under-the-hood look, all with a quick installation.
This Pertronix unit shines in its ability to retain the distributor's outward stock appearance. The unit itself is mounted under the distributor cap, and the wiring that runs from the unit is discrete and not easily noticeable. This kit comes complete with everything needed for installation, including detailed instructions.
At a $90.99 price tag, this is a mod that is affordable to the masses.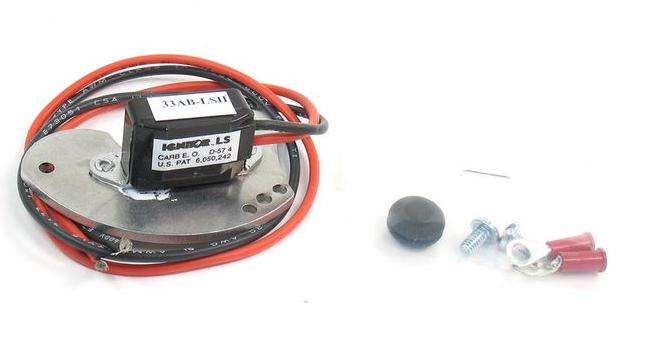 MSD Distributor Kit
The MSD Electronic Ignition Distributor Kit is exactly what you are looking for if a complete electronic ignition conversion is what you are in search of, and keeping a stock look is not essential. This kit offers absolutely everything a discerning Vette owner could want in a complete ignition system overhaul. MSD's kit includes a new distributor, plug wires, individual per-plug-coils, wiring harness, and a state of the art controller.
This kit really shines when a user is seeking to maximize engine performance. The control unit is easily programmable via a mini-USB port and features onboard data logging. This allows you to fully customize timing maps as well as selectively set rev-limiters and launch timing retard. This system also features a built-in MAP sensor and optional temperature input.
At $1,079.96, this feature-rich, full ignition conversion kit yields perhaps the most bang for the buck among the majority of the mods on this list.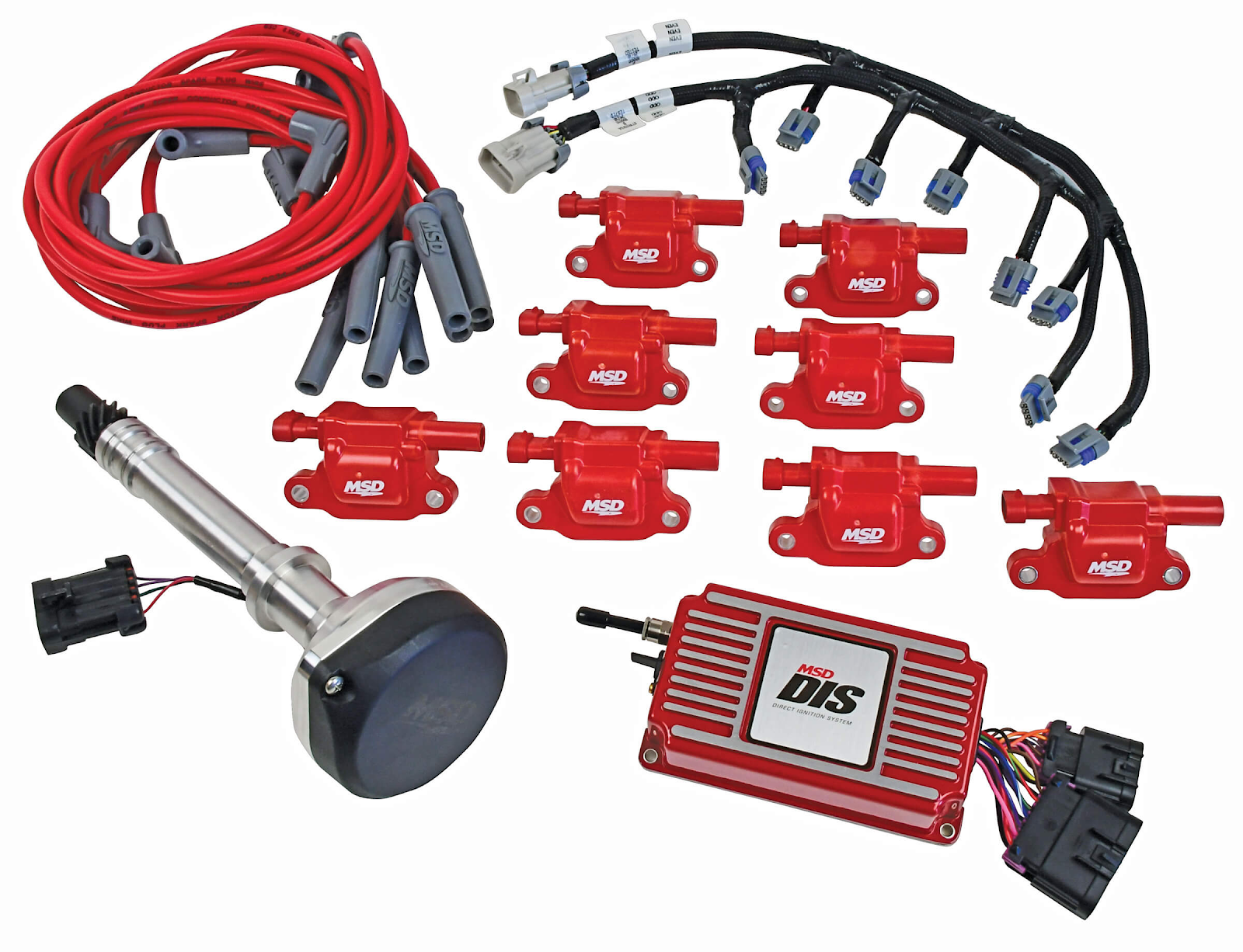 Disk Brake Conversion
If your C2 is a 1965 model or later, GM has already taken care of this conversion for you. If your C2 was produced prior to 1965, well… you have some catching up to do. GM made disk brakes standard on the Corvette in 1965 and hasn't looked back since. This is for good reason. Disk brakes inherently carry much more immediate stopping power than their drum brake counterparts. The reason behind this gets somewhat scientific.
Braking is accomplished when pad or shoe surface media is placed in contact with the surface of a brake drum or rotor. When this occurs, kinetic energy is transferred into heat by way of friction. When brake surfaces have absorbed as much heat as possible and adequate dissipation can no longer occur, brake fade results. Brake fade is characterized by a loss in braking efficiency due to substantial heat. Because of the closed design of drum brakes, they are significantly more prone to the onset of this condition.
Performance Online Front Disk Brake Conversion Kit
Are you ready to bring your Corvette's braking capabilities up to par? Look no further than Performance Online's Front Disk Brake Conversion Kit. This kit has absolutely everything you will need at each front end wheel location to complete your conversion. One of the most appealing features of this kit is that the parts are sourced in a way that allows for easy future replacement of wear items. 1979-1986 Chevy Malibu calipers are utilized with this kit, making locating pads no more difficult than a trip to the corner parts house.
Also of appeal is this kit's direct compatibility with stock spindles, making installation a snap. This kit comes complete with all mounting hardware, as well as the necessary bearings, seals, spindle nuts, and dust caps.
For only $334.39, there is really no way to go wrong with this complete kit from Performance Online.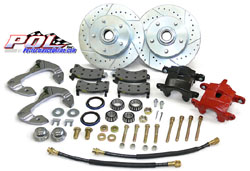 Wilwood Front Brake Conversion Kit
Wilwood is a name that needs no introduction to those well versed in the giants of performance braking. If you are looking for more than just the standard C2 disk brake conversion, and would instead prefer stopping power far more potent than that of many modern production units, this is the kit for you. This Wilwood conversion kit comes with everything you need to make your Corvette stop on a dime in even the most demanding of braking conditions.
This kit features Wilwood's signature 4-piston calipers, as well as drilled and slotted rotors for industry-leading heat dissipation. Willwood's conversion kit comes with all the hardware needed to complete the job in a time-efficient manner and numerous options in finish color are available, allowing you to stop not only efficiently, but in style as well.
This kit retails for a price of $1,038.79 and for anyone who has ever experienced the superior braking qualities offered by Wilwood units, there will be no doubt that this kit is worth every dime.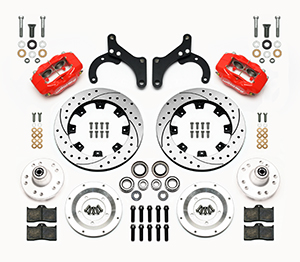 A/C Retrofit Kits
Although GM had started offering air conditioning as an option for the 1963 Corvette, very few buyers seized upon the opportunity. In fact, only 278 of the 21,513 Corvettes produced in 1963 had factory air conditioning. That as it may, the odds are better than not that you are sweating out the sweltering summer heat if you are an owner of an early C2 Corvette.
Lucky for those that have previously done without, A/C retrofit kits are widely available and can be had for any year model C2 that you might have. Although many of the mods on this list have centered on aspects of performance and drivability, let us not forget that a car that is unbearable to drive in the stifling summer heat and humidity is one that will often stay parked more often than its owner would like.
Classic Auto Air Retrofit A/C Kit
The Classic Auto Air Retrofit A/C Kit has you completely covered in the creature comfort department. This system features full electronic controls and industry-leading, separate heat and A/C coils, in contrast to the singular coils featured on most aftermarket units. This alone makes this kit a standout among other market offerings and leads to unsurpassed system performance.
Another compelling characteristic of the Classic Auto Air system is that it is designed as a model year specific offering. This eliminates the need for unnecessary modification of stock components during install.
This kit retails at $1,449.00 and comes backed with a 3-year warranty.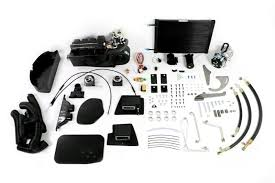 Vintage Air Sure-Fit A/C Retrofit Kit
The Vintage Air Sure-Fit A/C Retrofit Kit is sure to keep you cruising behind the steering wheel of your C2 in comfort even on the most excruciatingly hot July days.
This kit is about as versatile as aftermarket A/C systems come regarding climate control adjustability. Infinite climate control adjustments allow more than just the oversimplified sequential speed adjustments that are standard of other aftermarket offerings. This is thanks to the system's unique microprocessor controls.
Additionally, the Vintage Air Sure-Fit Kit eliminates the need for any vacuum lines to facilitate functionality. All functions are strictly a product of drive-by-wire communication. This is good news for those who seek in-cabin comfort without sacrificing their C2's stock underhood appearance.
The Vintage Air kit retails for $1,500 and is covered under a 3-year warranty.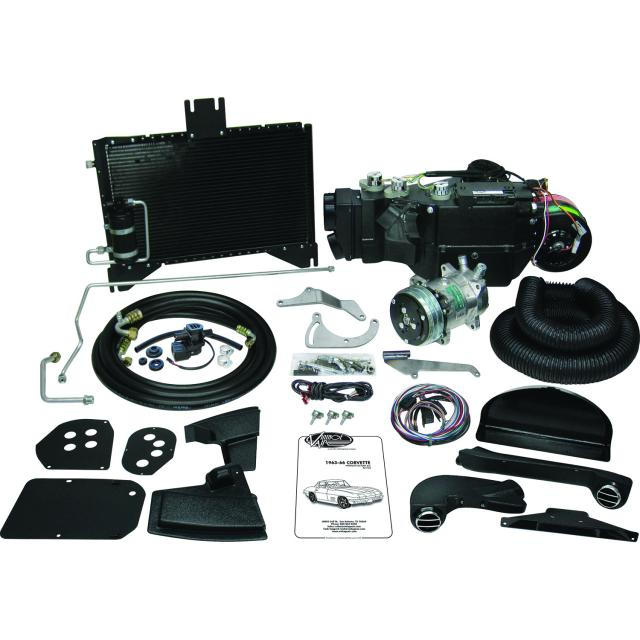 Updated Instrument Panels
To properly protect your Corvette from catastrophic engine failures, you must be able to accurately monitor the status of all pertinent engine functions. An overheating condition that goes unchecked can lead to a blown head gasket or other potential engine failures of the highest degree. Likewise, plummeting oil pressure can lead to a seized engine in mere seconds if its operator does not bring it to a halt.
What do these vital figures, among others, have in common? They are presented to a driver via the instrument panel. Second generation Corvettes utilized mechanical gauges that are widely known for their inaccuracies in any number of different vehicles. A sticking gauge can quickly leave a driver unaware of the state of their vehicle's mechanical well being.
Alas, time has solved this issue as well in the form of modern electronic instrument panels. With a simple bolt-on replacement, you can now gain reliable gauge functionality for the overall benefit of your C2.
Classic Instruments Gauge Kit
Are you tired of sticking or sluggish gauges or wonder about the accuracy of your stock panel? Classic Instruments has you covered with this direct fit, electronic bolt-in replacement. This panel comes equipped with volt, temperature, oil pressure, and fuel gauges, as well as a 140 MPH speedometer and a 7000-RPM tach.
This panel also stands out because it comes complete with new electronic temperature and oil senders. This means that no troublesome searching for compatible gauges is necessary.
This Classic Instruments panel is also designed with a retro look as a nod to purists of the classic C2 stylings. The package also includes all necessary hardware and reuses your stock bezel.
This Classic Instrument's unit is backed by a lengthy 5-year warranty and is priced to sell at a cost of $1.250.99.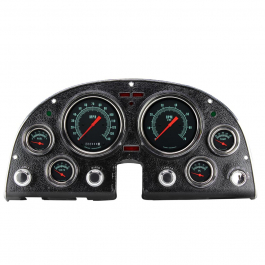 Dakota Digital VHX Instrument Panel
The Dakota Digital VHX Instrument Panel is an excellent choice for Corvette owners looking to rid themselves of the lack of reliability that is common with mechanical gauges, while seeking a modernized display that retains some of the vintage feel. This panel features temperature, oil pressure, fuel, and volt gauges, along with a 160 MPH speedometer and 8000-RPM tach. These gauges also feature interactive backlighting and a digital odometer display.
The Dakota Digital Panel comes as a direct fit for your C2 Corvette and includes all the necessary hardware to fully complete your swap. What really stands head and shoulders above others within this market is Dakota Digital's lifetime warranty. If you ever have an issue, send it back for hassle-free service.
This unit is priced at $1,295.00, and the warranty alone goes a long way toward justifying this purchase.