Every now and again, we "stumble" upon a unique entrant in the world of Corvette customizations that rises above the rest.  Today, we're pleased to introduce you to the 1958 Chevrolet Corvette Fiberfab Centurion.  This car, which was inspired by Bill Mitchell's 1959 XP-87 Stingray prototype, may be one of the coolest looking Corvette "custom fabrication" cars in the history of the brand.  What's more, it harkens back to the "golden age" of the Corvette concept car.  Perhaps best of all, however, is that it helped transform the somewhat lackluster (to some at least) first-generation Corvette into a car that was guaranteed to turn heads wherever it went.
Before we share the backstory of the Fiberfab Centurion however, it is important to review a bit of the history that inspired its evolution – the aforementioned XP-87 Stingray racer prototype.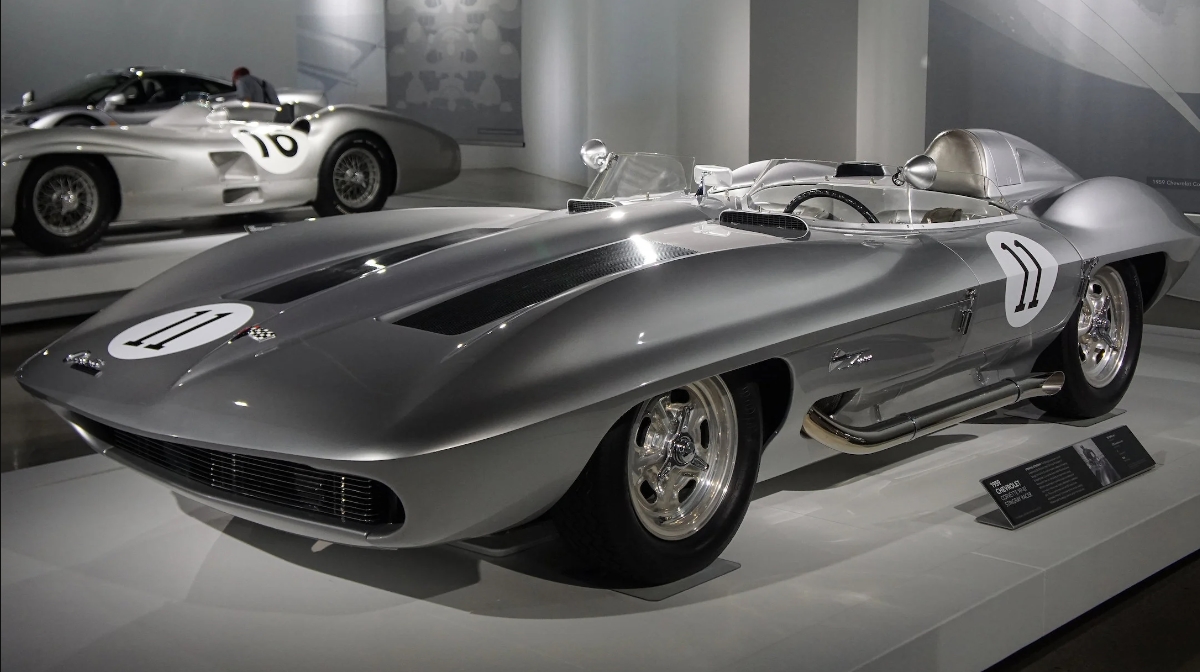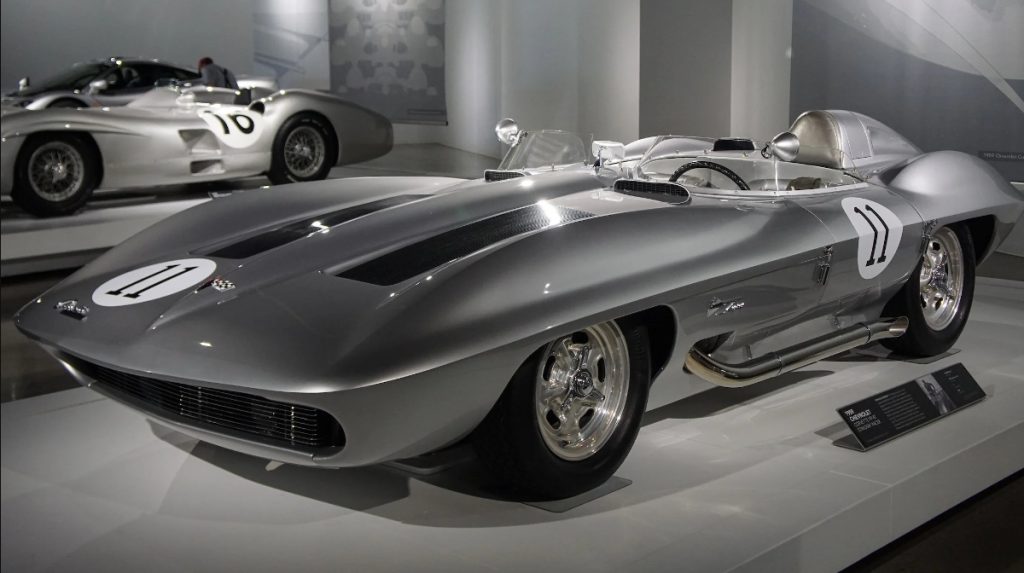 The XP-87 was developed by GM's second VP of Design Bill Mitchell during a time when the Automobile Manufacturers Association (AMA) ban on racing was still in full effect.  Recognizing the importance of keeping the Corvette on the racetrack to entice consumers to buy the fledgling sports car, Mitchell purchased Zora Arkus-Duntov's original Corvette SS test mule, and transformed it into the XP-87 concept car, using his own money and resource to do so.  The car, which was developed in secret by Larry Shinoda and Mitchell, along with a number of other "volunteers" from GM's Design Studios in the afterhours of the day, the car was never offically sanctioned by GM as a Corvette Concept until it started garnering huge crowds and an overwhelmingly positive reputation by spectators wherever/whenever Mitchell took it out in public.  Prior to that, Mitchell had simply called it the "Sting Ray," pandering to the tradition that Chevrolet had followed with other Corvette concepts, including Mitchell's own Mako Shark I, which he'd developed prior to the "Sting Ray."
The Story of the Fiberfab Company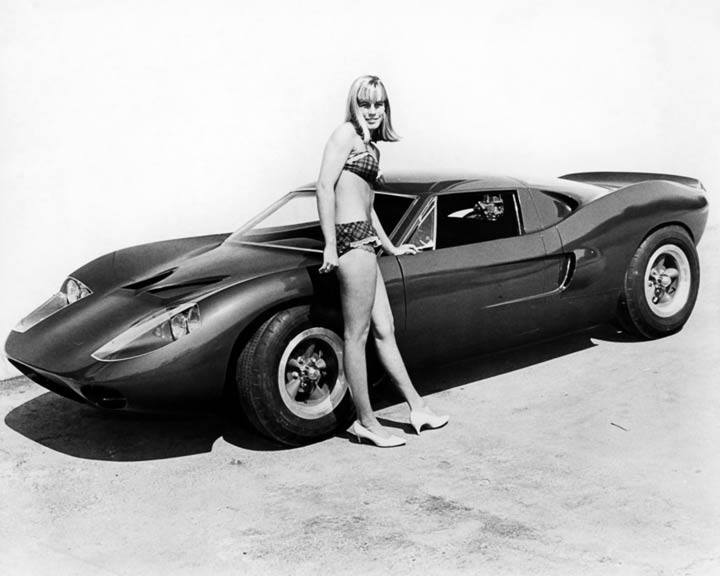 If you've never heard of the Fiberfab Centurion, don't worry – you aren't alone.  The design of the Centurion was developed as a custom bodykit for first-generation Corvettes by the Fiberfab Company.  It was directly inspred by Mitchell's XP-87 Stingray prototype and allowed would-be consumers their best shot at owning the car that they'd previously only seen at race events across the country.
The Fiberfab Centurion was developed as a "fully fiberglass body" kit that could be fitted directly to the chassis of a C1 Corvette.  The company originiated with Warren "Bud" Goodwin, an amateur sport car driver/racer.  Recognizing the potential to build cars in the vein of Mitchell's XP-87 Sting Ray racer, Goodwin established "Sports Car Engineering" in 1957 with the intent of developing his own line of sports cars.  However, as the company started to gain success, Goodwin recognized that he lacked the prowess to run it successfully on his own and reliquinshed ownership to Du Crest Fiberglass for a hefty profit.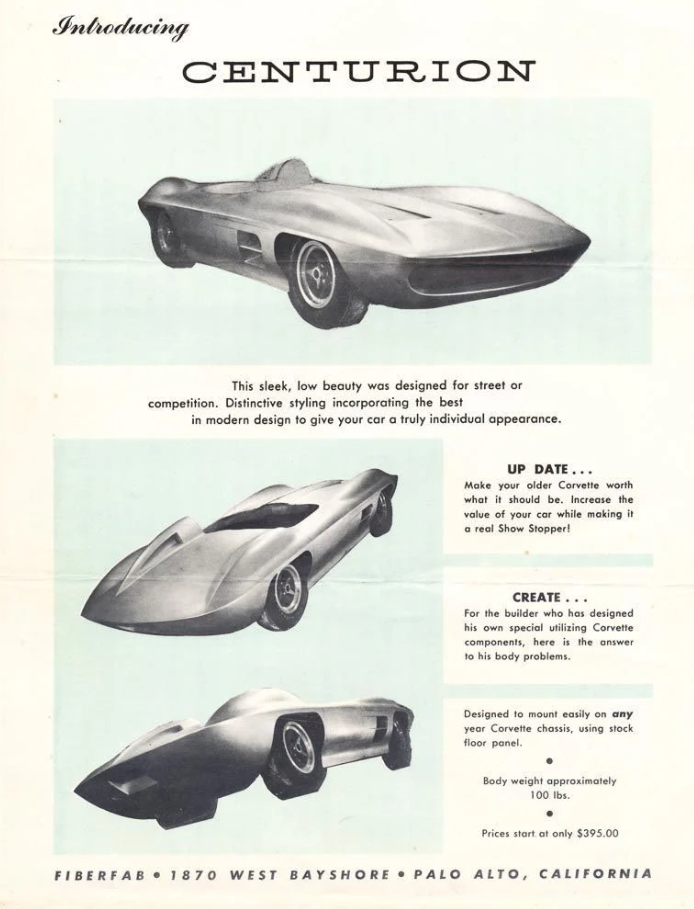 Now equipped with the financial means to fully invest in another venture, Goodwin partnerned with John Hebler in 1964 to form the Fiberfab Company, which they headquartered in Palo Alto, California.  At first, the company specialized in lightweight fiberglass body panels and body kits that were specifically tailored for Corvettes, Mustangs, and Jaguars.  Doing more for function than aesthetic, their earl kits offered would-be consumers improved vehicle performance thru body panels which reduced vehicle weight thru their lightweight construction.
By 1966, however, the company had begun selling complete fiberglass bodykits to consumers which allowed the complete transformation of production automobiles into custom machines that were utterly unique.  In addition to the Centurion, Fiberfab also produced the Apache, Aztec, and the Aztec II.  Then, in 1967, the company introduced their most iconic body kit – the 1967 Valkyrie – a kit car which had been modeled after the original Ford GT40 racer.  Whats more, Fiberfab claimed that the car not only looked like a GT40, but that it ws "the fasatest car in the world" at its time, capable of achieving a top speed of 180 miles per hour.  Each car even came equipped with a standard-issue parachute, though most experts have since claimed said parachutes were solely a merketing campaign and not necessary for vehicle operation.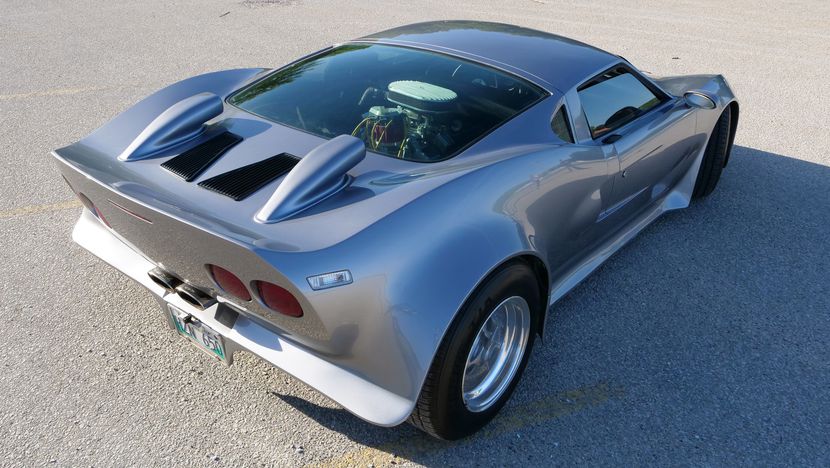 In 1967, Goodwin was convicted of killing Jamaica Goodwin, his 28 year old wife, after he allegedly found her in bed with his chief mechanic.  Although the specifics surrounding her death are unclear, Goodwin was convicted of manslaughter and sentenced to twelve months in prison.  While still incarcerated, Goodwin died in the fall of 1968 of a massive heart attack.
Despite these tragedies, the Fiberfab company continued to operate.  In 1968, the company introduced the Fiberfab Jamaican, a car that had been "designed" by Chris Bebee (though many claim that the car's aesthetic was "heavily influenced" by the Lamborghini Miura.)  Over the next fifty-plus years, the company would continue to operate, changing hands from time to time but never disappearing off the map entirely.  Although its products never became household names for many automobile enthusiasts, those in the know enjoyed some of the many custom fabrications the company had to offer.  Today, the company claims that they're under new ownership and are now preparing to begin manufacturing "new, turnkey cars."  We guess time will tell.
The Corvette Fiberfab Centurion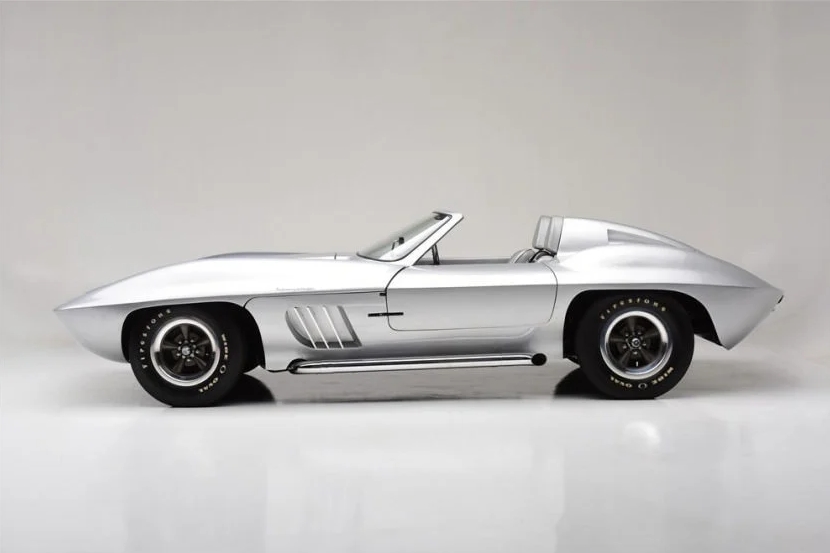 As stated previously, the Fiberfab Centurion was developed to pay homage to Bill Mitchell's 1958 XP-87 "Corvette" Sting Ray Concept race car.  The original car, which had been designed by Pete Brock and Larry Shinoda, served as the prototype for the second-generation Corvette Sting Ray, and it helped establish Bill Mitchell's reputation as a viable successor to the enormously successful Harley Earl after Mitchell took over Earl's position as GM's second VP of Design.
When he learned that Chevrolet would not transform the Sting Ray concept into a production racer, Warren Goodwin decided he would take matters into his own hands.  Recognizing that a second-generation Corvette was still a few years into the future, Goodwin decided he would develop his "Sting Ray" body kit around the chassis of a first-generation Corvette.  And that's exactly what he did.  The car was developed to closely resemble the XP-87 concept with only minor exceptions to its overall aesthetic.  It was designed to mount on any first-generation chassis and it even re-purposed the donor car's floor panels.  When first introduced, the Centurion body kit cost a whopping $395.00.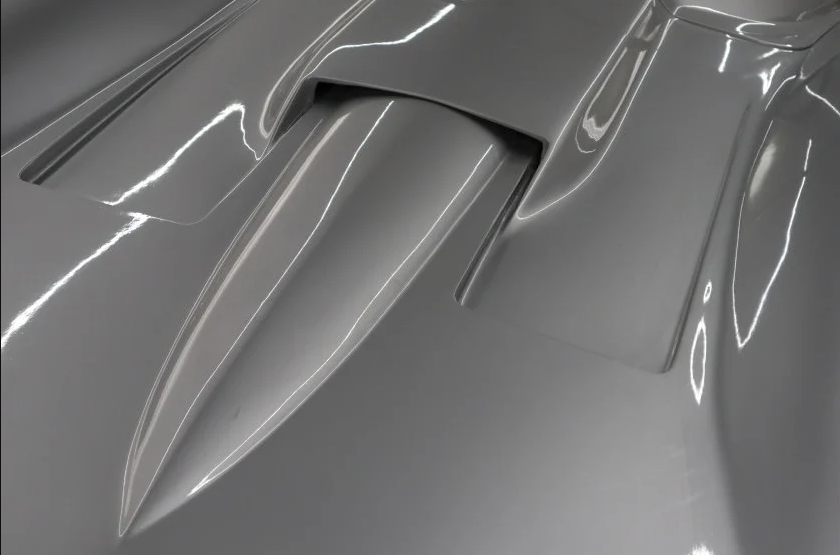 Interestingly, there is not a lot of information available beyond this regarding how many of the Centurion kits were sold by Fiberfab or how many finished Fiberfab Centurions ever saw the light of day.  Given the car's rarity, it is assumed that not many of these kits were ever sold/installed, which is really a bit of a shame given the car's overall aesthetic – which does closely resemble Mitchell's remarkable XP-87 concept.  One report claims that just 5 to 12 examples of the Centurion were ever manufactured.
Fast-forward to today.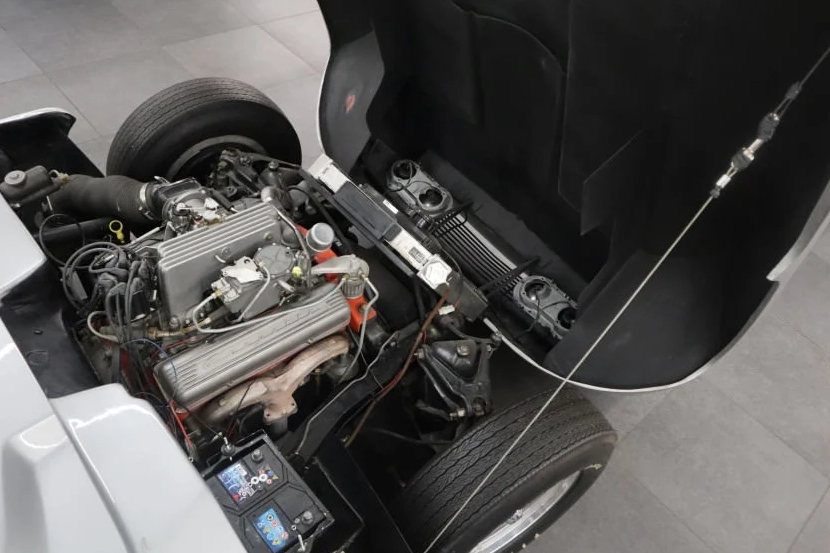 On June 30, 2023, an example of the 1959 Fiberfab Corvette Centurion is scheduled to cross the auction block with Artcurial at their Classic Le Mans sale.  Based on the available price guide, the car is expected to sell for between $27,000 and $37,700 dollars.  Listed as a "particularly original model," this body kit is mounted to Corvette chassis J58S104541. It was previously auctioned at the 2018 Barrett-Jackson sale in Scottsdale, Arizona and then exported to Europe, where it has remained to this day.  Its current owner has kept the car in his private collection in the principality of Andorra, which is located just south of France.  It is generally agreed that this Centurion is the only one of its kind in Europe, making it especially rare for would-be collectors looking for a one-of-a-kind piece to add to their Corvette livery/stable.
The car comes equipped with a 283 horsepower, 4.6-liter V8 engine fitted with a Rochester fuel-injection and a manual gearbox.