FOR SALE: A Beautiful 1957 Chevrolet Corvette
We are pleased to present this beautiful 1957 Chevrolet Corvette that we found for sale via auction on bringatrailer.com.  This car, which is located in North Kingston, Rhode Island is being sold by a private party seller.  We present it here as a beautiful example of a mid-model C1 Corvette and the last of the first-generation single-headlight models.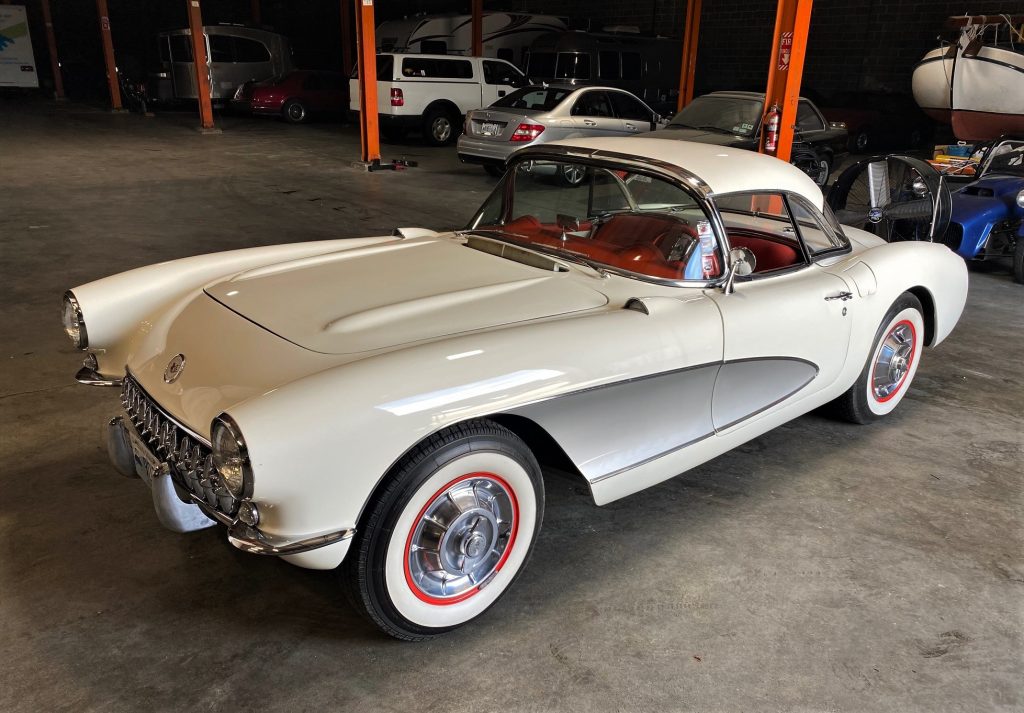 This 1957 Chevy Corvette is finished in white with silver side coves.  According to the listing, this Corvette's fiberglass body was repainted several years back.  It features a chrome driver-side mirror, bumperettes and trim.  All of the chrome appears to be in good-to-great condition.  Additionally, the seller states that the black soft top was replaced.  This car includes both the soft and factory hard tops with this sale.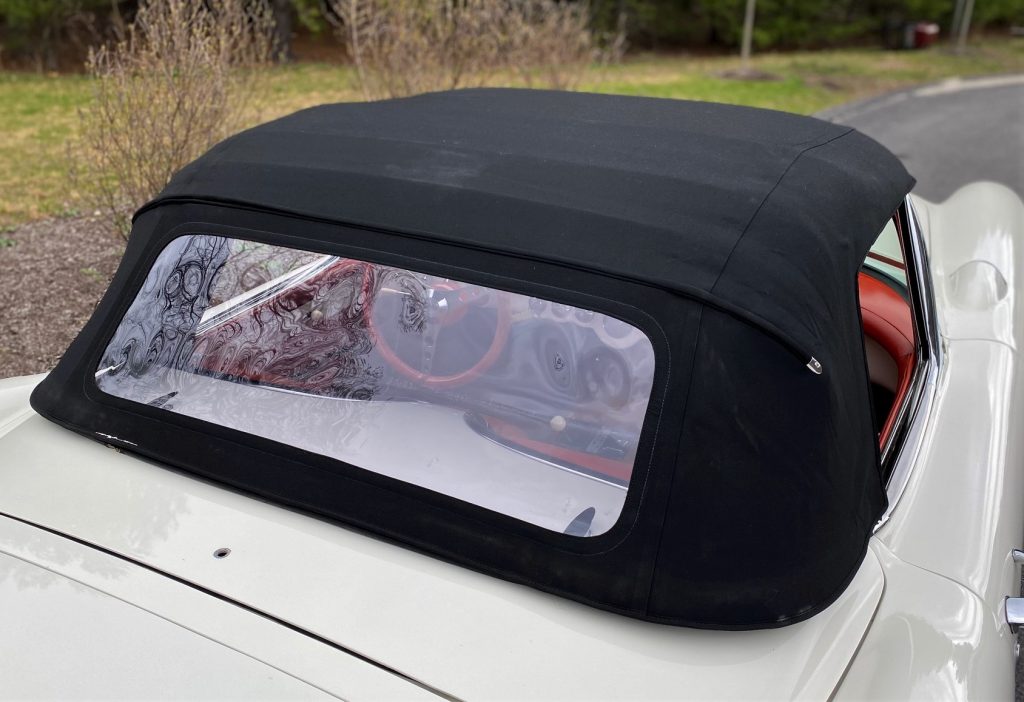 This car rides on red-painted 15″ steel wheels which are finished with stock hubcaps with faux spinners.  The wheels are wrapped in Coker Classic wide whitewall radial tires.  The factory drum brakes behind these wheels have been replaced with disc brakes at all four corners of this car.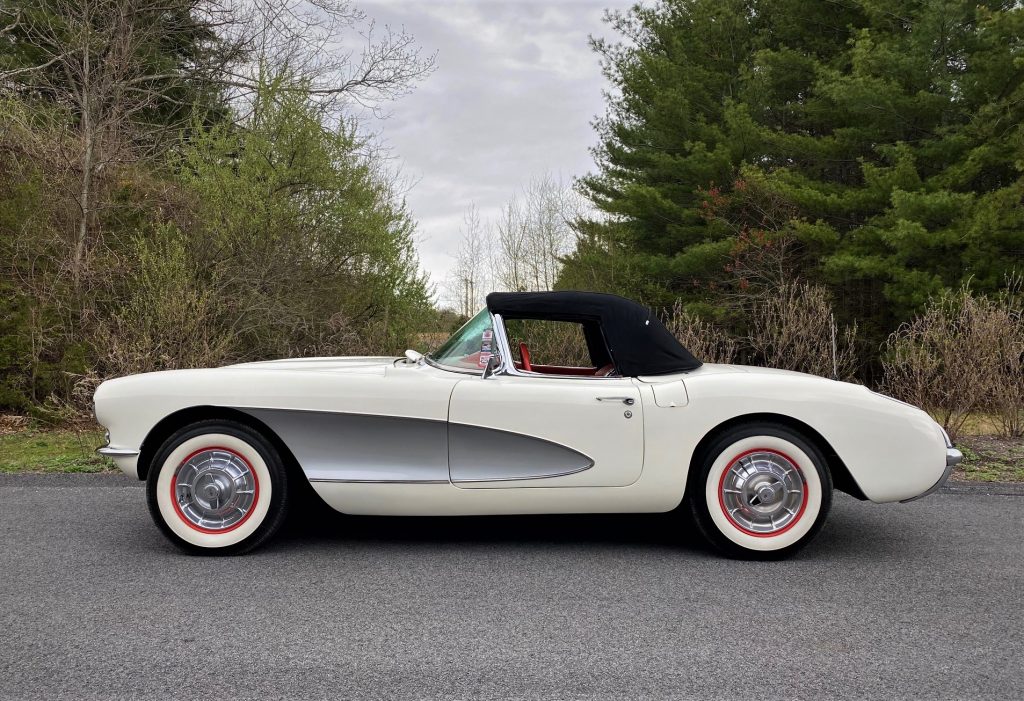 Mechanically, this car features a 350 cubic-inch, ZZ4 crate engine that was installed under previous ownership (not by the current seller).  The engine, which is rated at 355 horsepower, features Corvette-branded valve covers.  The engine received a fresh oil change and replacement sparkplugs in October, 2019.  The owner also has all service records since 2016.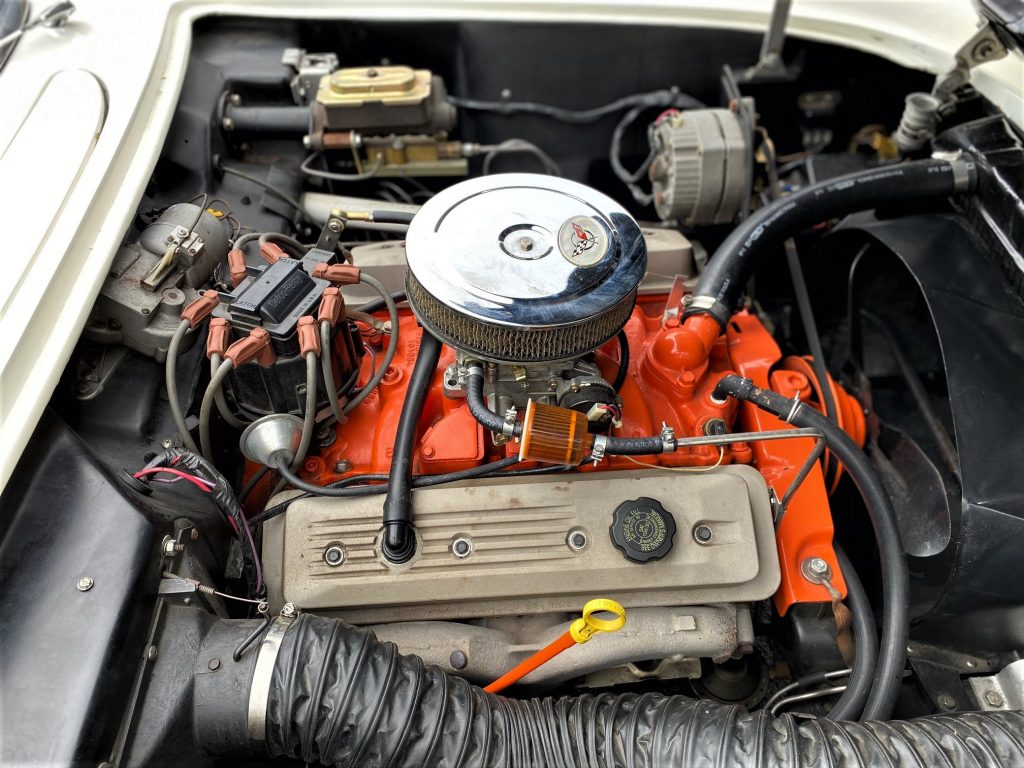 The 350ci engine is paired to a two-speed Powerglide automatic transmission.  The seller does not that there is a leak coming from the transmission but does not offer any additional detail in the listing.  Fortunately, there are plenty of gasket/seal kits available via aftermarket parts companies, so correcting the leak should be a relatively straight-forward and inexpensive repair.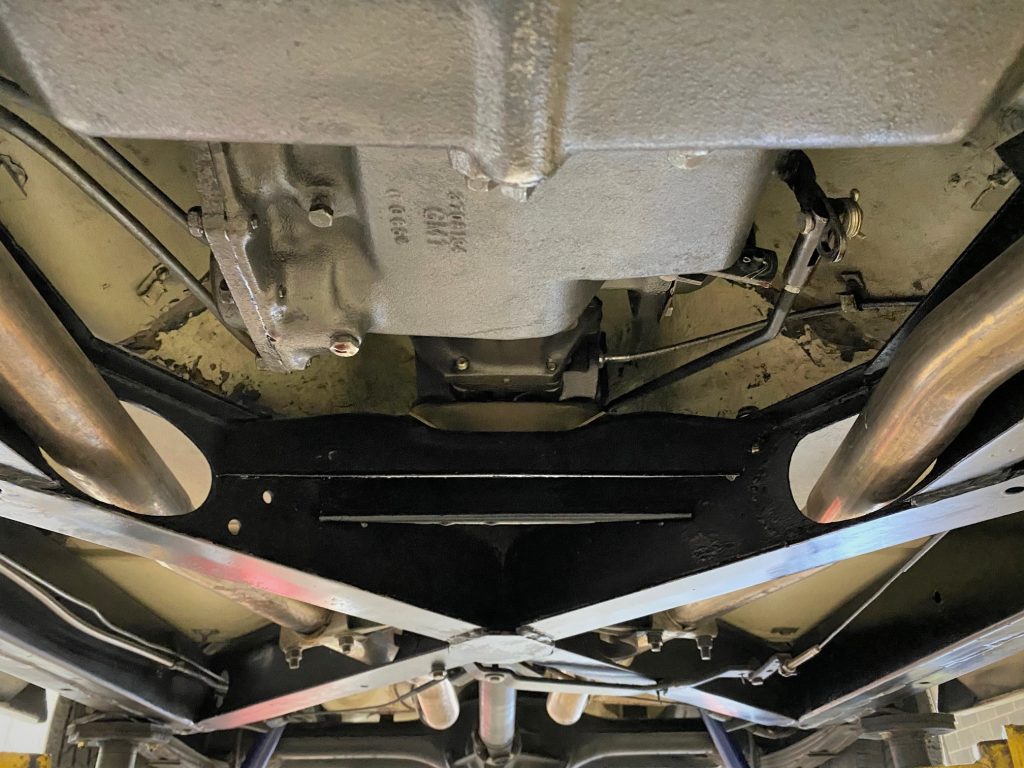 The car's interior is trimmed in red vinyl with matching door panels and carpeting.  The car features a three-spoke steering wheel that shows normal wear.  The dashboard houses a 140-mph speedometer, a centrally-mounted tachometer, an analog clock and gauges for fuel level, coolant temperature, amperage and oil pressure.  The car's odometer shows just under 70,000 miles (although actual miles are not verified).  Approximately 1,200 miles have been put on the car since being purchased by the current owner.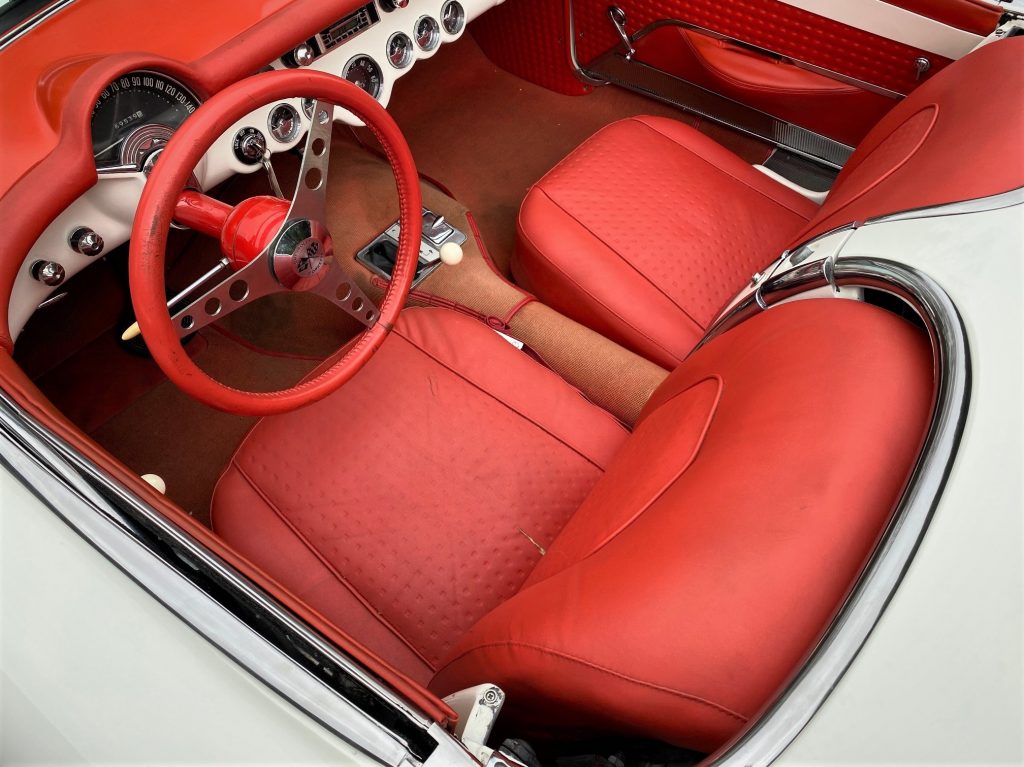 An aftermarket Chevrolet-branded cassette stereo radio has been installed in the dashboard.  The seller notes that there is a tear on the driver's seat cushion.  They also indicate that there is some fading on the carpets (which is visible from the interior pictures of this car.)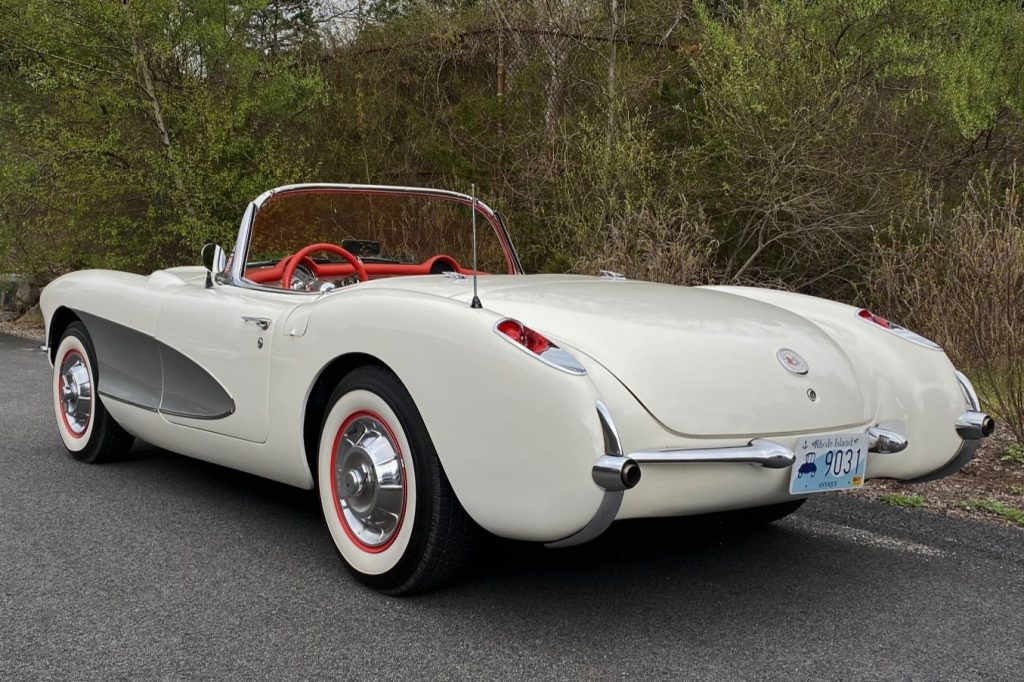 Admittedly, this is not a perfect-condition 1957 Corvette.  However, with a current bid price of $38,250 (at the time of this listing), there is no argument that this is still an incredible deal on an iconic example of America's Favorite Sports Car.  Additionally, for anyone who has considered purchasing a C1 Corvette as a possible project car but doesn't want to devote years to a full-on restoration project, this example is in very good condition and would not require a lot of work to make it show quality.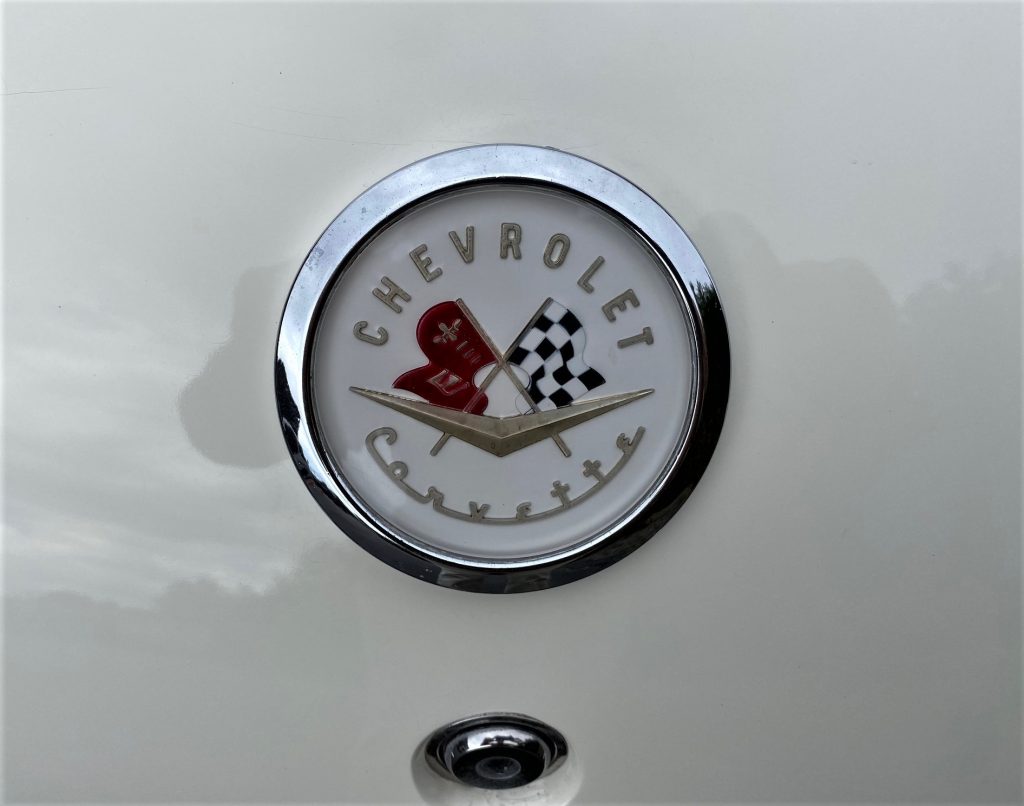 Should you choose to bid on this car, we wish you the best of luck.  Corvsport.com has no professional affiliations with either bringatrailer.com or the seller of this automobile and has not been compensated in any way for sharing this listing.