For Sale – A Beautiful, Low-Mileage, 1996 Collectors Edition Corvette Coupe
With summer just a few, short months away, now is the best time to be shopping for your first – or next – Corvette.  While each generation of Corvette offers a different fusion of horsepower, handling, drivability and overall aesthetics, the fourth-generation Corvette is often considered one of the best "entry level" Corvettes because of its unique blend of power and affordability.  Today, we are pleased to present one of the pinnacles of the C4-era, a 1996 Collectors Edition Corvette!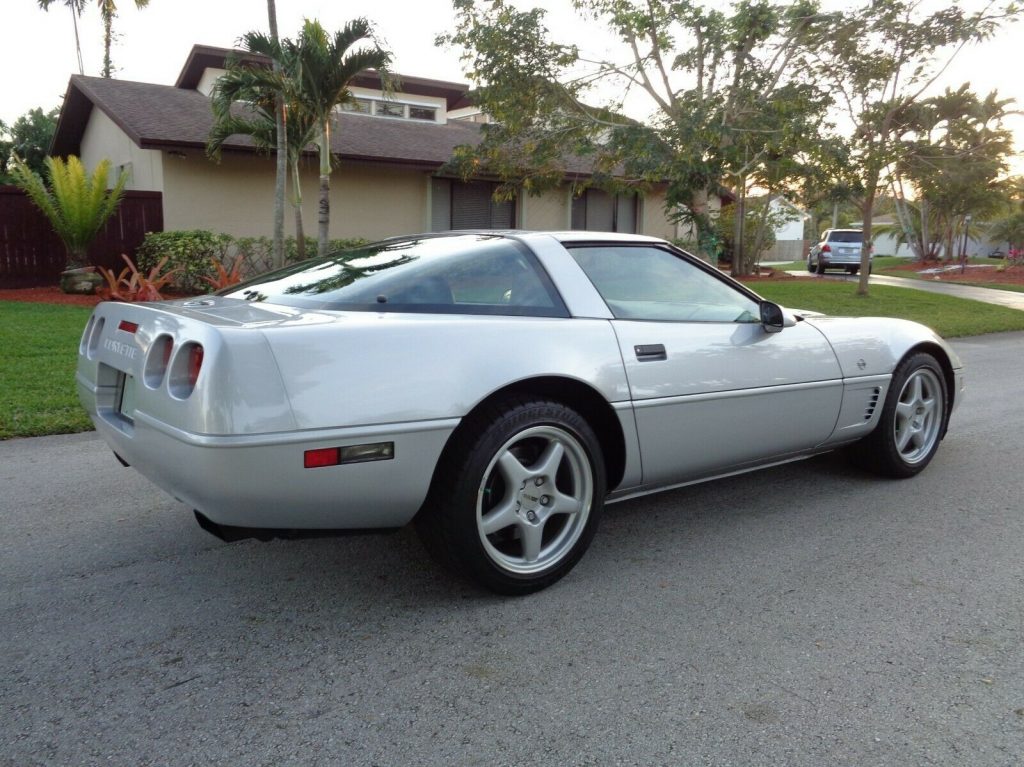 We found this beauty for sale by owner on
Ebay (click here to see original listing)
.  The seller describes the car as being
"mint and original"
and further states that "the car has been stored in an air-conditioned garage." 
This 1996 Collectors Edition Corvette – VIN No. 1G1YY2250T511329 – shows just 16,000 miles on the odometer.
  While we haven't confirmed the mileage with the seller (an Auto Check report is available to any would-be buyers), we can attest that this car is incredibly clean (based on the pics provided.)  More than that, given the car's mileage and condition,
the seller's asking price of $17,500 (or best offer) definitely makes this Corvette one to look at!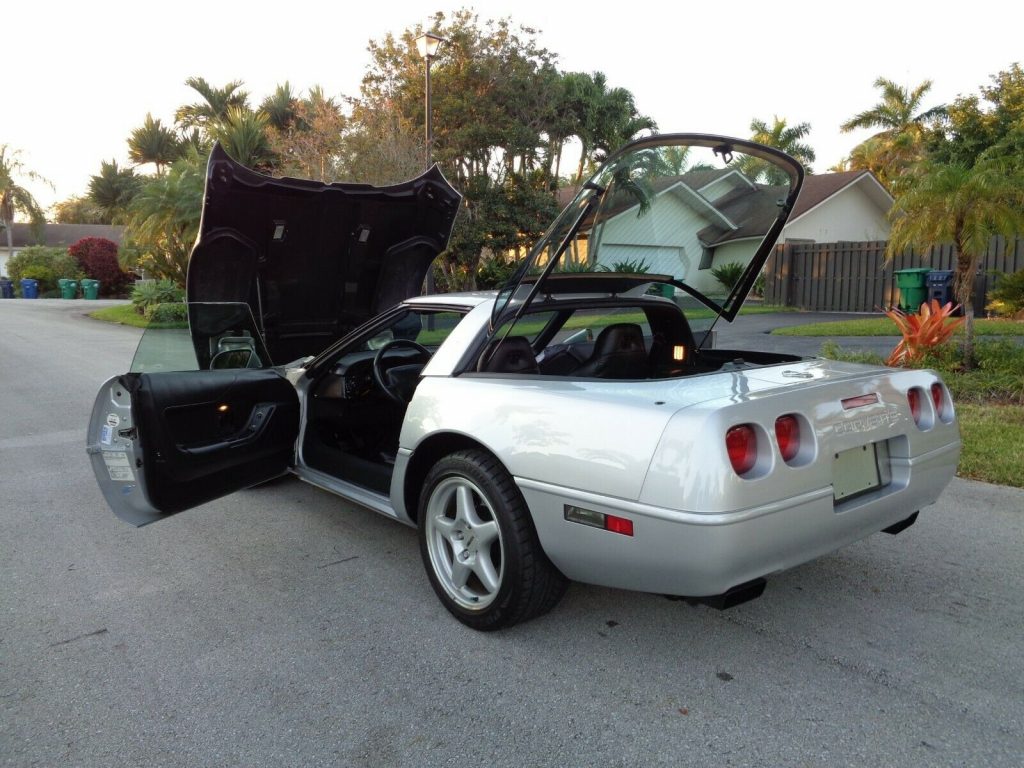 This
1996 Collectors Edition Corvette
is an excellent example of the
C4
era.  Like all Collector Edition models, it featured the rare and powerful LT4 engine and a six-speed manual transmission. 
The LT4 is a heavily sought-after engine because it features a higher compression ratio of 10.8:1 and 330 horsepower
 (both of which were commonly believed to be understated by
GM
when the car was first introduced.)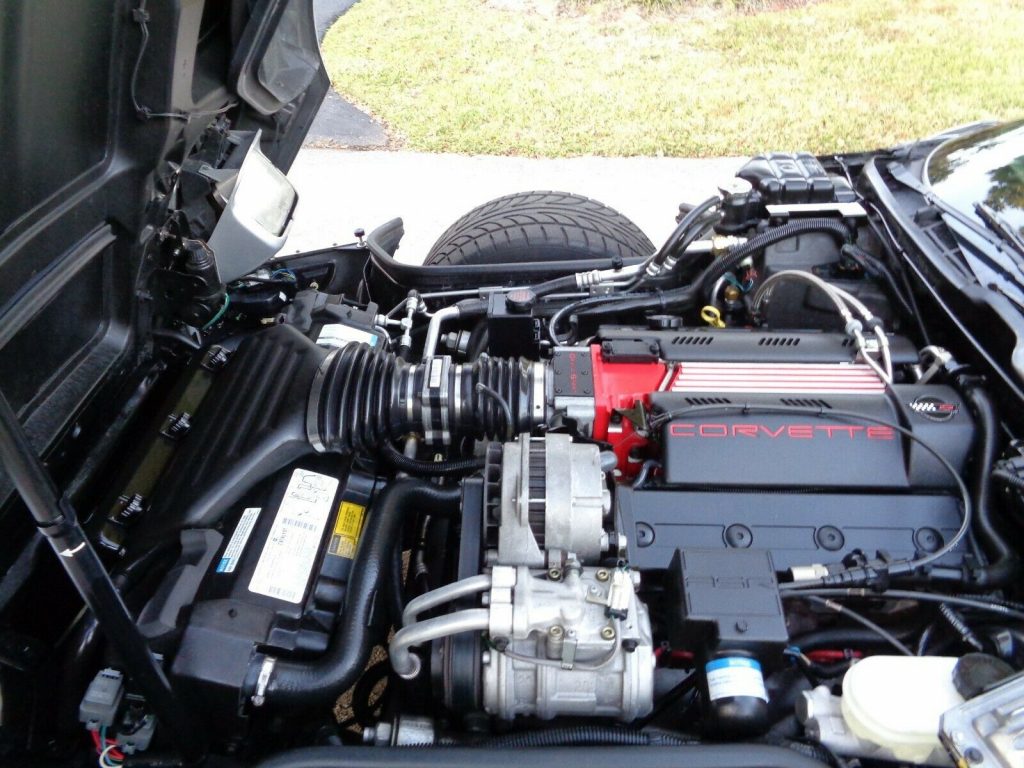 What makes this one even more unique is that it is
one of just 84 examples that came equipped with the Z51 Handling Package.
  With this setup, the car comes equipped with
Bilstein shock absorbers,
special front and rear stabilizers and upgraded springs and bushings.  Although the
C4
is often criticized for its harsh, uncompromising ride quality,
this example will provide you with a driving experience that is far superior to the base model coupes and convertibles.
Mechanically,
this Corvette starts, idles and drives just as you would expect from a well-maintained garage-queen
–
like new!
  The car has been properly maintained since new and all service records have been kept.  The engine compartment is show-quality clean. 
Mobil 1 Synthetic oil has been used throughout the life of this Corvette
and the car has been maturely driven, avoiding the abuse commonly associated with sports car ownership.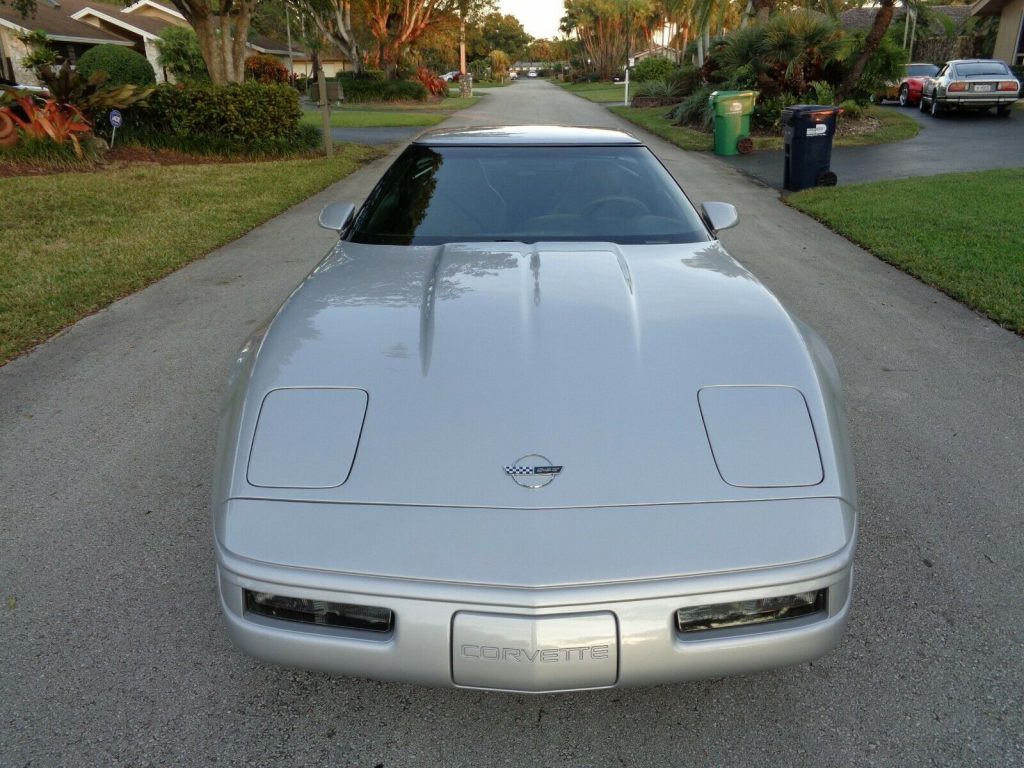 The car's original Sebring Silver paint is all-original and still has the same sheen as when it was brand new.  The Corvette's door and roof moldings, window glass, lettering and rubber seals are all in excellent condition.  Additionally,
this Corvette comes with both the glass and painted tops!
  As with the rest of the car, both tops look like new as well.  The only blemishes that can be found anywhere on the car are some minor scuffs on the lower plastic spoiler – an entirely common (normal) condition on
C4
(and newer) Corvettes. 
The car's undercarriage is spotless as well.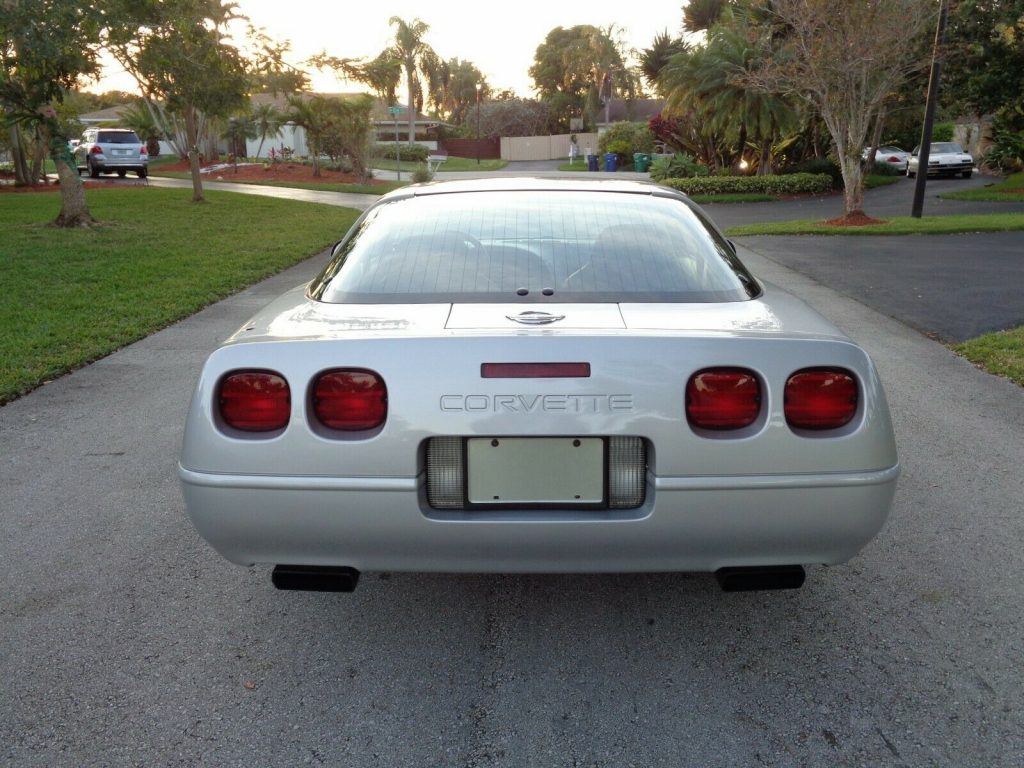 The car rides on the Grand Sport/Collectors Edition, five-spoke, 17 x 9.5-inch wheels paired with
Bridgestone
275/40-17 rubber on all four corners. 
The wheels are flawless and the Bridgestone tires still have approximately 75% of their tread life.
Moving to the car's interior, the door panels, dashboard, carpeting, center console and displays are all in excellent condition.  According to the seller, the interior still shows – and smells – like a new car.  The driver and passenger seats show some wear (more so on the drivers side) but the leather on both appears to be well-maintained and in great condition (especially given its age).  All of the interior buttons, switches and electrical features (which include the power windows, door locks, antenna mast, keyless entry, cruise control and lumbar support controls) work flawlessly.   The car's BOSE stereo with CD player pumps out great sound and works perfectly.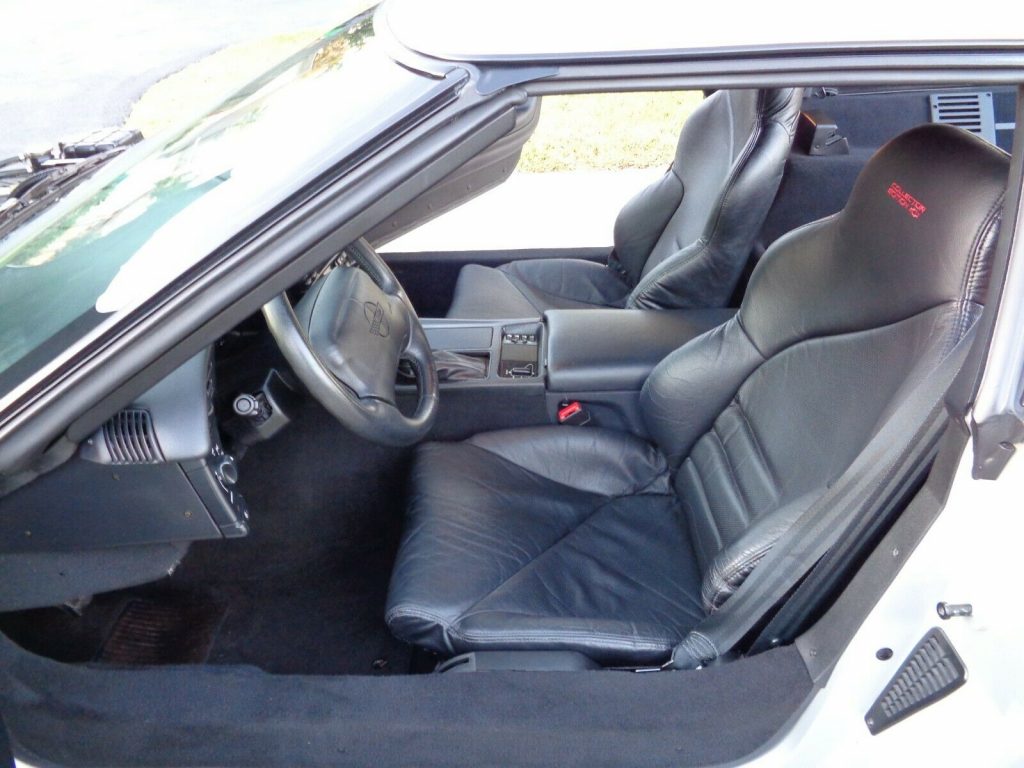 The car complete with all the original documentation, books, the factory window sticker, two key fobs, the build sheet and pedigree. This car was special ordered by the original owner and includes a special plaque mounted on the dashboard.
You won't find many 1996 Collector Edition Corvettes in this condition….and with just 16,000 original miles on the odometer, you won't find many deals on a C4 Collector's Edition Corvette that are better than this one.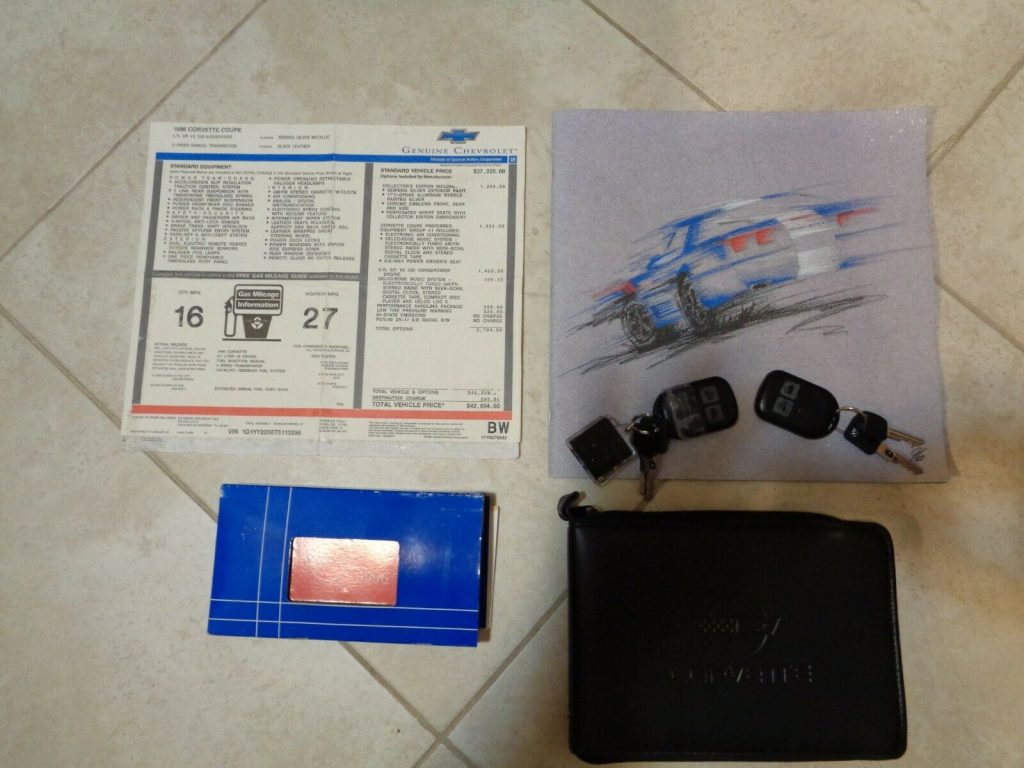 Should you choose to bid on this car, we wish you the best of luck.  Corvsport.com has no professional affiliations with either Ebay or the seller of this automobile and has not been compensated in any way for sharing this listing.