FOR SALE:A  Beautifully Restored 1963 Split-Window Corvette in Miami, Florida
Earlier this year, we asked our Corvsport.com Facebook followers which second-generation Corvette was their favorite?  The answer was decisive – the 1963 Split-Window Corvette Coupe.  Since we published our "Greatest C2 Of All Time" article, we've received a lot of people who are looking for a 63 Corvette to call their own…and so we've been on the hunt for great examples of the 1963 Corvette.  We think we've found one.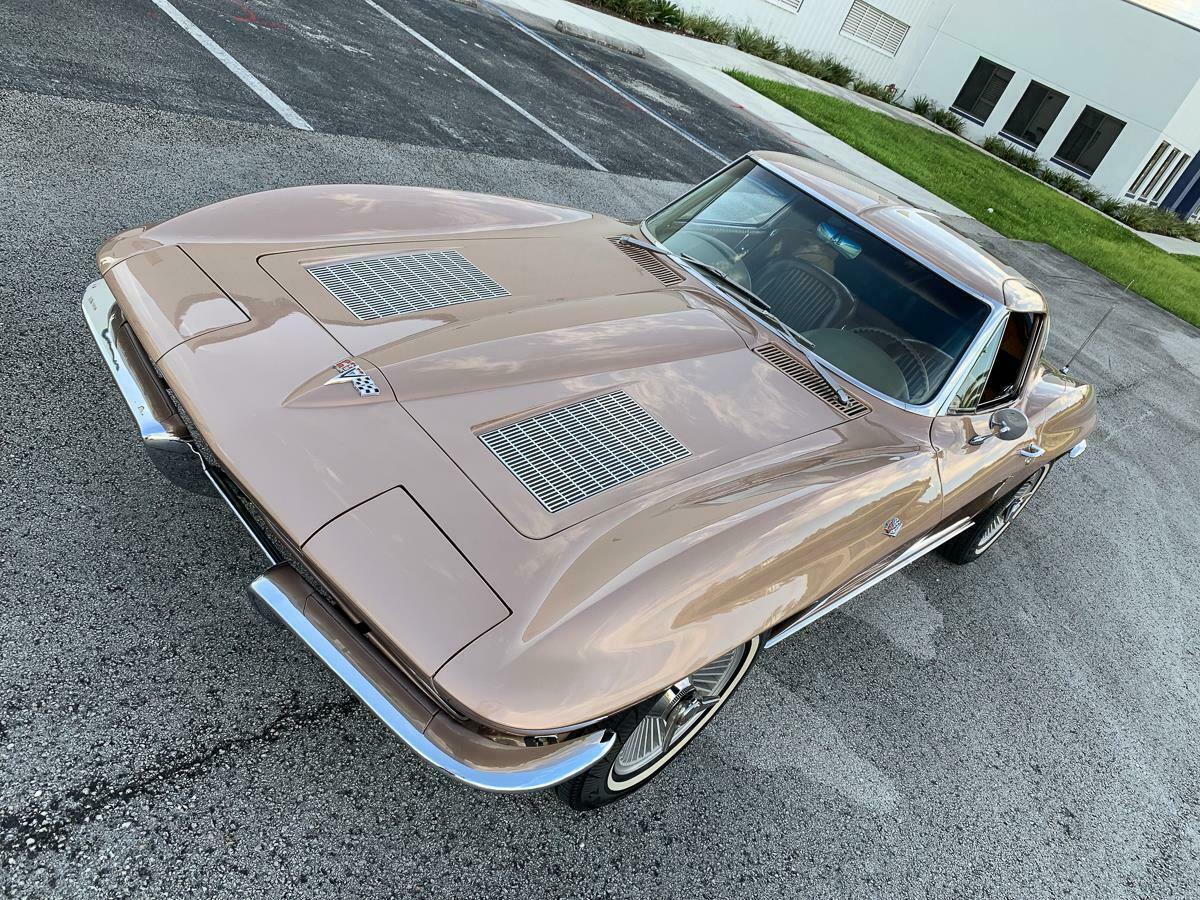 We found this 1963 Corvette Split-Window Coupe for sale on Ebay.  The car, which has an asking price of $122,000 (or best offer,) looks to be an incredible example of this extremely collectible model year.  Moreover, the seller states that the car has just 17,440 miles on the odometer.  Assuming this mileage to be accurate, this is an incredibly low-mileage 1963 Corvette!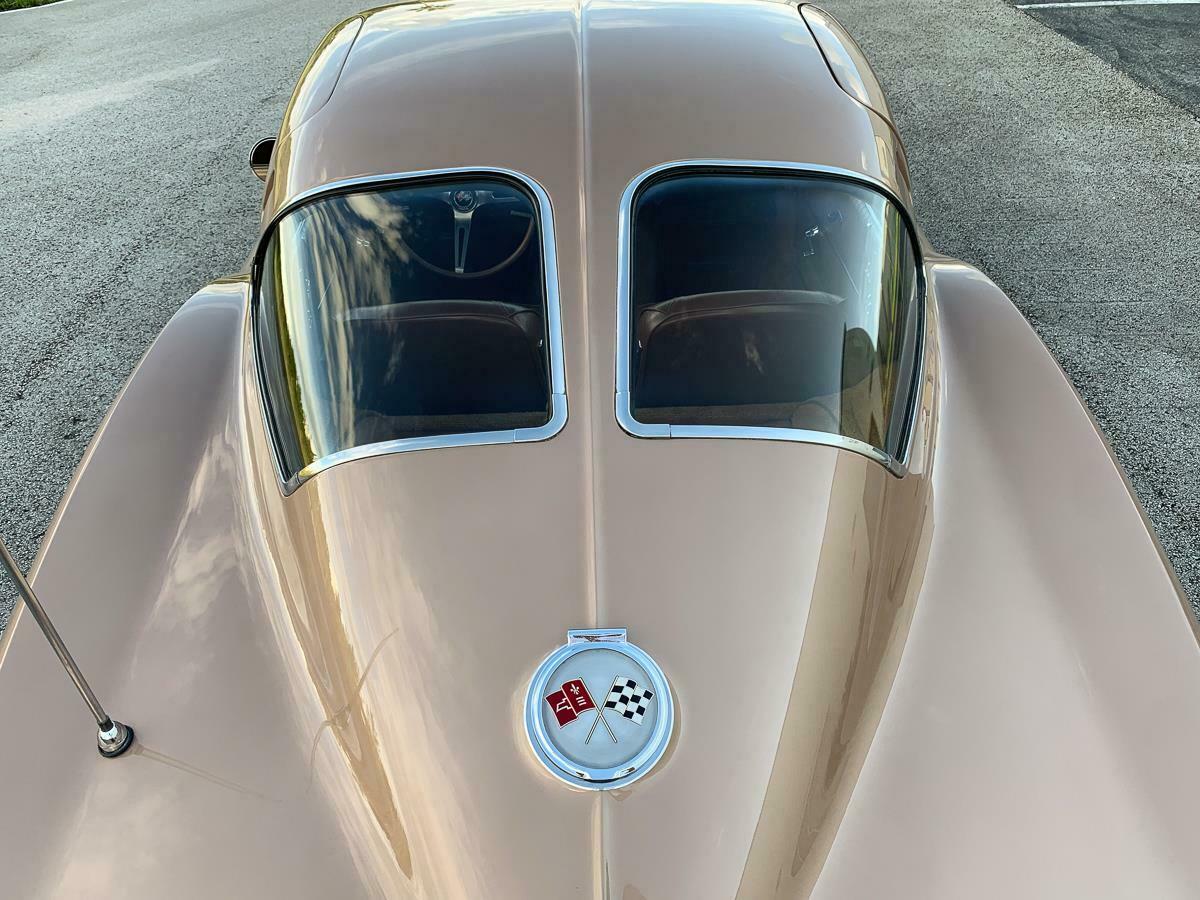 The car is being sold by Ebay seller cycling305.  He is part of the Miami-based company In-Gear Motors, a company that brokers sales of classic automobiles between buyer and seller.  They sell cars across the United States and are also equipped to ship/export cars internationally.  (You can learn more about their business by clicking HERE.)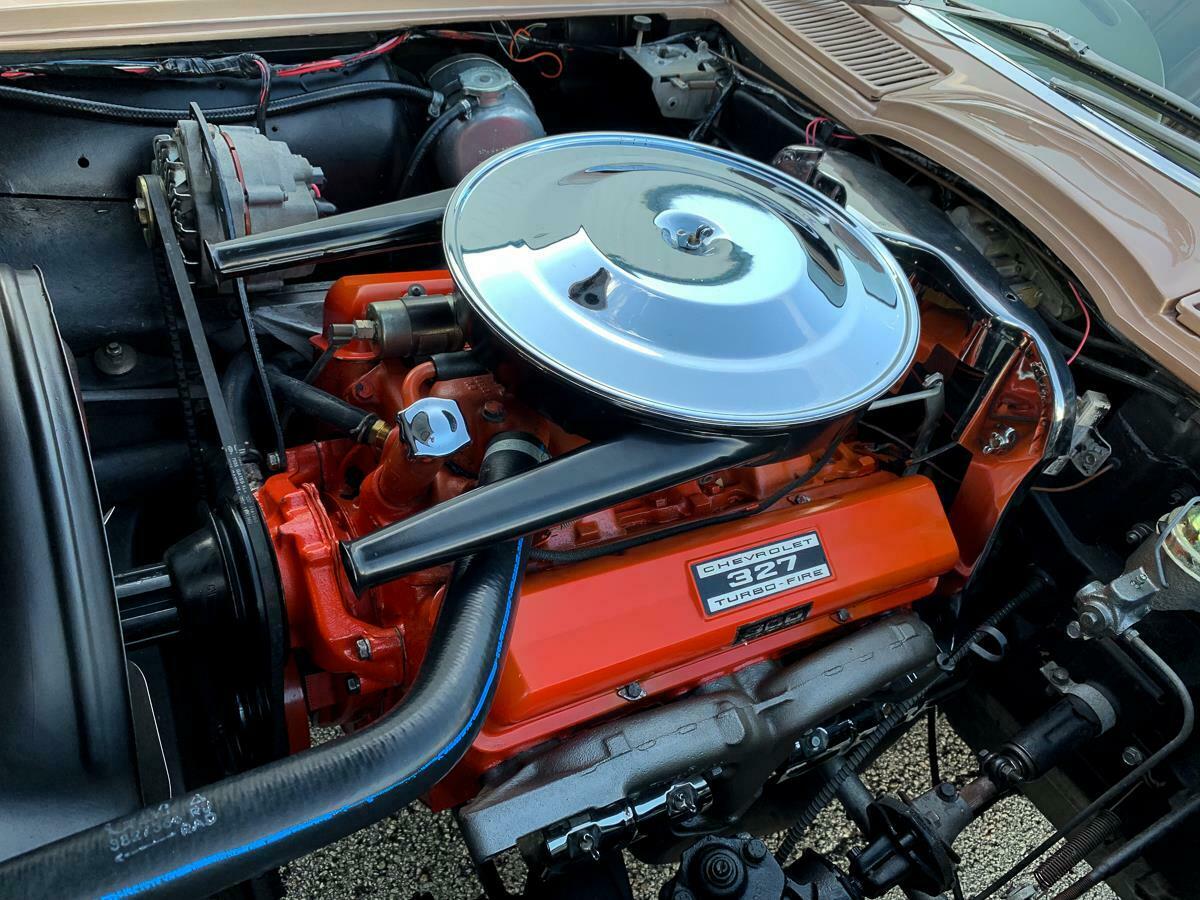 Per the Ebay listing, this 1963 Corvette Stingray is a numbers-matching car.  A full. frame-off restoration was completed on the car approximately ten years ago.  Careful attention was paid to ensuring that the car was completely restored to factory specifications, and the utmost care was taken during the build.  The car received new mounts, new door seals, all-new chrome pieces, new windows, new weather stripping, all new lights, bumpers, grill and all new nuts and bolts throughout the entire build.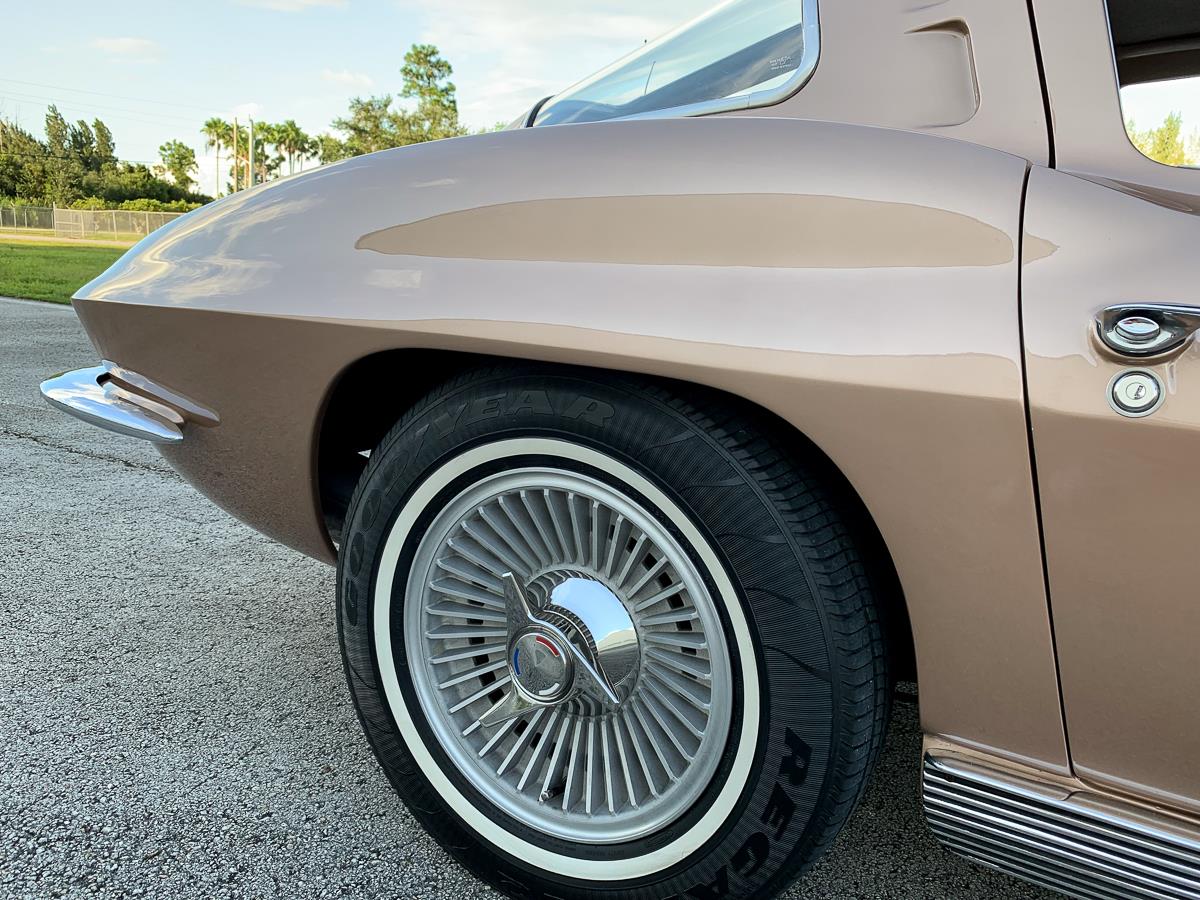 Mechanically, the car features the correct, numbers-matching 327 cubic-inch, 300hp engine.  The small-block V8 is paired to a four-speed T10 manual transmission.  Special attention was paid to the engine compartment during the build to ensure it was show-quality when presented.  The engine received all-new, OEM-spec chrome trim.  The car did receive an upgraded radiator to provide better cooling than the factory radiator and ensure the car did not experience any overheating issues.
The car's exterior was completely disassembled, coated and re-painted.  The car was re-painted in its original saddle tan and has a beautiful clear coat finish which gives the car a beautiful sheen in any condition.  The car sits on its original wheels and the suspension was setup to match the same factory stance as when new.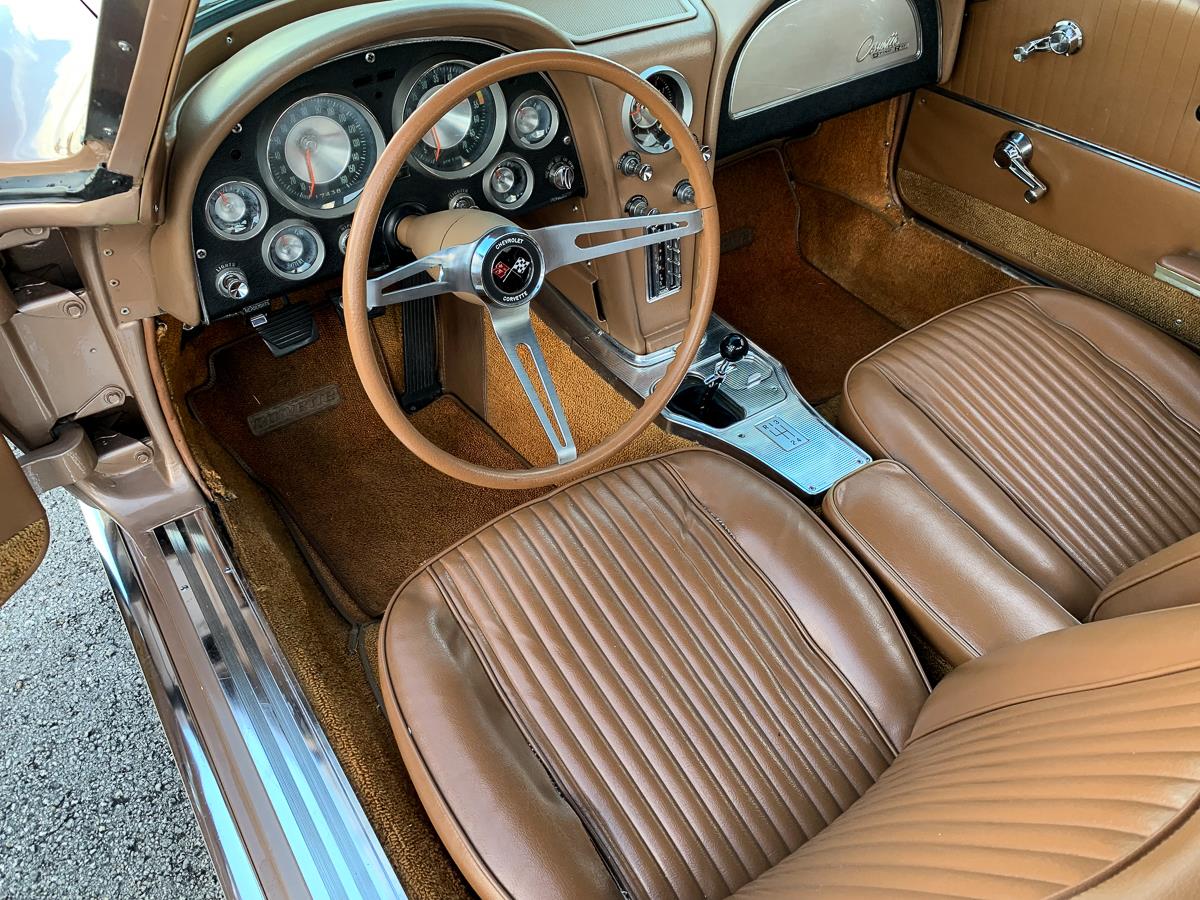 The interior is also like new.  Like the exterior, the interior is finished in the matching saddle color.  All of the upholstery was replaced, along with all of the interior chrome trim.  The gauge cluster was also replaced with an OEM-spec replacement finished in chrome.  A wood-grain steering wheel was installed.  The only notable blemish on the interior of this 1963 Corvette is a small tear in the driver's seat.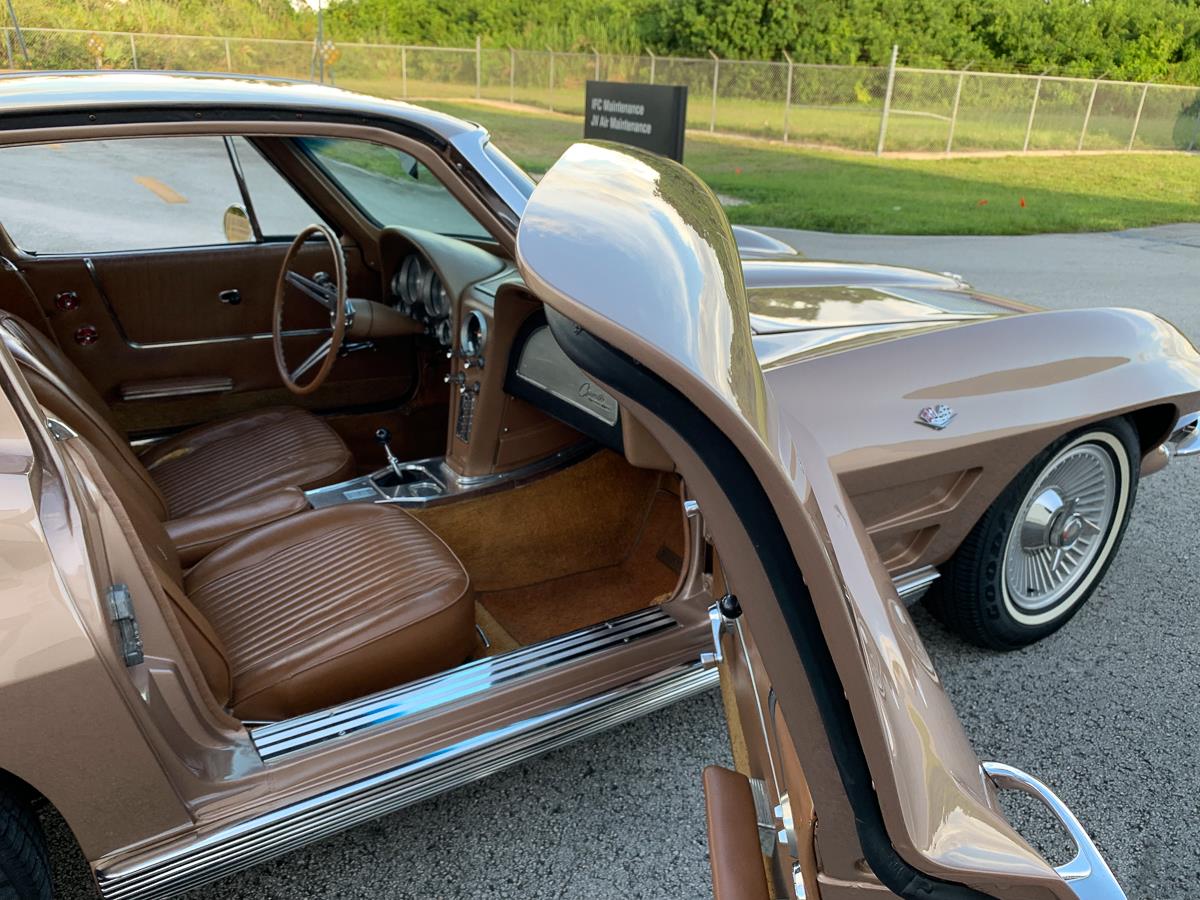 For anyone looking to learn more about this 1963 Corvette, the seller included this information in his original posting:
Vin: 30837S110645
3 =Year: 1963
08=Body Series: Corvette
37=Style: Split-Window coupe
S =Assembly Plant: St. Louis, MO
110645 = Sequence Numbers
Trim Tag Info:
G3= built in 1963, 2nd week of March
63 837= Body is Split window coupe
490N= Trim is Saddle vinyl
5958= Body sequential number
932A= Paint is Saddle Tan
Last 7 digits of engine numbers: 110645
This car is immediately available for sale and the buyer indicates that he'll entertain all reasonable offers.  The car is available for viewing (by appointment) in Miami, Florida.  Per the seller, he lives appx. 30 minutes from the airport.  You can view his Ebay auction by clicking here.
Should you choose to bid on this car, we wish you the best of luck.  Corvsport.com has no professional affiliations with either Ebay or the seller of this automobile and has not been compensated in any way for sharing this listing.