(originally published on the National Corvette Museum Website.)
It's not unusual to see a Corvette in an action, suspense or spy movie… True Lies, 2 Fast 2 Furious, Fast Five, XXX, Con Air, Rush Hour, Along Came a Spider… the list goes on. But what about using a Corvette in a real-life spy operation? Such is the case for a 2006 Black Z06 that is now displayed in the National Corvette Museum's Skydome.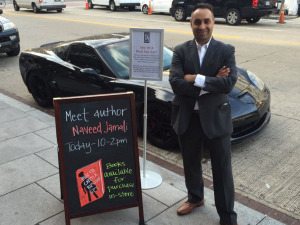 Owner Naveed Jamali (FBI code name Green Kryptonite) of New York City spent three years working as a double agent for the FBI against the GRU (Russian military intelligence) and his Corvette was one of his personal cars used in counter-intelligence operations. "Looking back, one encounter with the Russians really stands out. They confused my Corvette with a Mustang," Naveed chuckles. "I was really offended that they'd get the two confused and I'm sure they could hear the annoyance in my voice!"
His story is the subject of his book "How to Catch a Russian Spy" (available for purchase through the Corvette Store) and the rights for a movie were purchased by 20th Century Fox. You can check out an excerpt from the book on Jalopnik here.
But how did the Corvette make its way to the Museum for display? Especially since Naveed had sold the car? "When I sold the car in 2009, I didn't think twice about it," he said. "When I wrote the book, one of the most common questions was, 'Do you still have the Corvette?' or 'Can I get a photo with the Corvette?' or 'Can I ride in the Corvette?' So I decided to seek it out."
Naveed says it took awhile to track down his old car, and once he did, before he could buy it, it sold to someone else. He ended up finally purchasing the Corvette back in November, 2015 – just a month before it came to the Museum for display. Naveed laughs, "I'm the 2nd owner and the 6th owner of the car."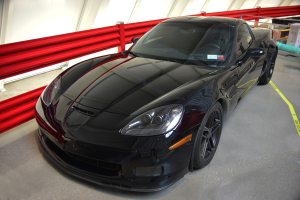 The car arrived for display and the end of December and will be on the floor through June 1, 2016. "I've been a big fan of the Corvette Museum for a very long time, and I thought this was such a unique car, what better place to display it than where it was born?" Of course, encouragement from some folks at Jalopnik to reach out to the National Corvette Muesum didn't hurt either!
Prior to owning the 2006 Z06, Naveed owned a C5 Z06 – a 2003 Quicksilver, which was the 50th Anniversary year for Corvette. That was the car he owned when he first visited the Museum for the C5 Bash – an event he's hoping to attend April 28-30 to share the story behind the car and do a book signing. "I'm really hoping to attend the Bash and am working to clear my schedule to make that happen."
Stay tuned to the Museum's weekly "eNews" and their online event listing for the Bash to see if you'll get the chance to hear Naveed's story in person! And if you get the chance to visit and see the car for yourself, use hashtag #RealSpyCar