Despite the announcement from GM just a month ago that they have discontinued their full factory-backed Corvette Racing team for the 2024 season, that has not stopped the stream of encouraging news for the Corvette Racing programs. With so much support from GM still occurring, it's worth reminding you what Mark Stielow, GM's motorsport competition engineering director, stated during the announcement:
"We're not going to have a fully factory-funded Corvette race program, but we're going to have a pool of Corvette drivers [that will race with customer teams].  We're going to support different teams to a degree but it's not going to be like Cadillac, which is a fully funded factory effort."
So, factory-supported but not factory-backed. It almost sounds like a game of semantics.
Before we get to the news, let me introduce you (again) to the new Corvette that will be racing in both the IMSA and FIA series next season, replacing the formidable C8.R. In January, our own Scott Kolecki traveled to Daytona Beach for the Z06 GT3.R's reveal, held at the 61st running of the iconic Rolex 24 endurance race. Here are a couple of the pictures he took, and you can click here for his full feature on this amazing race car.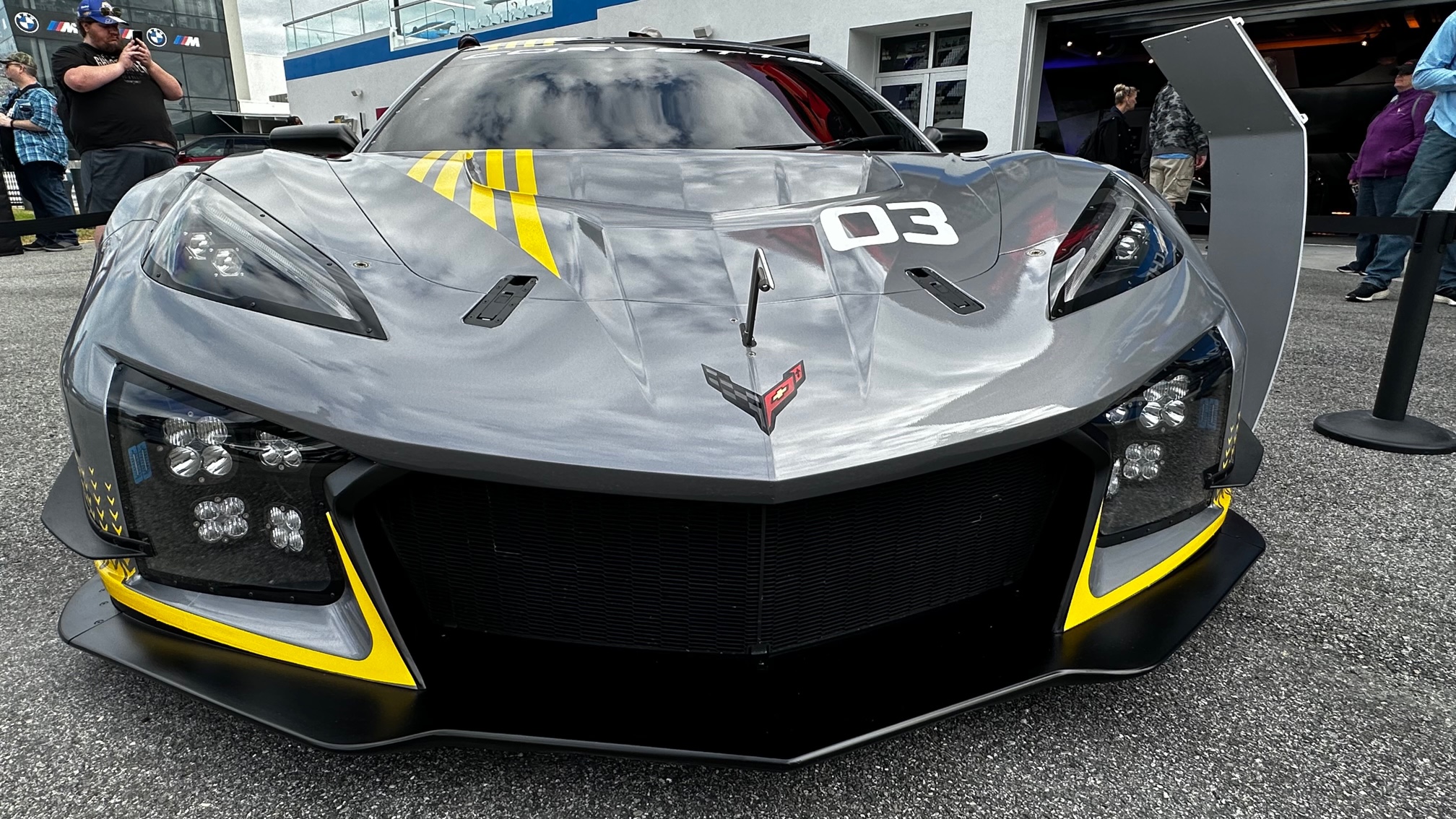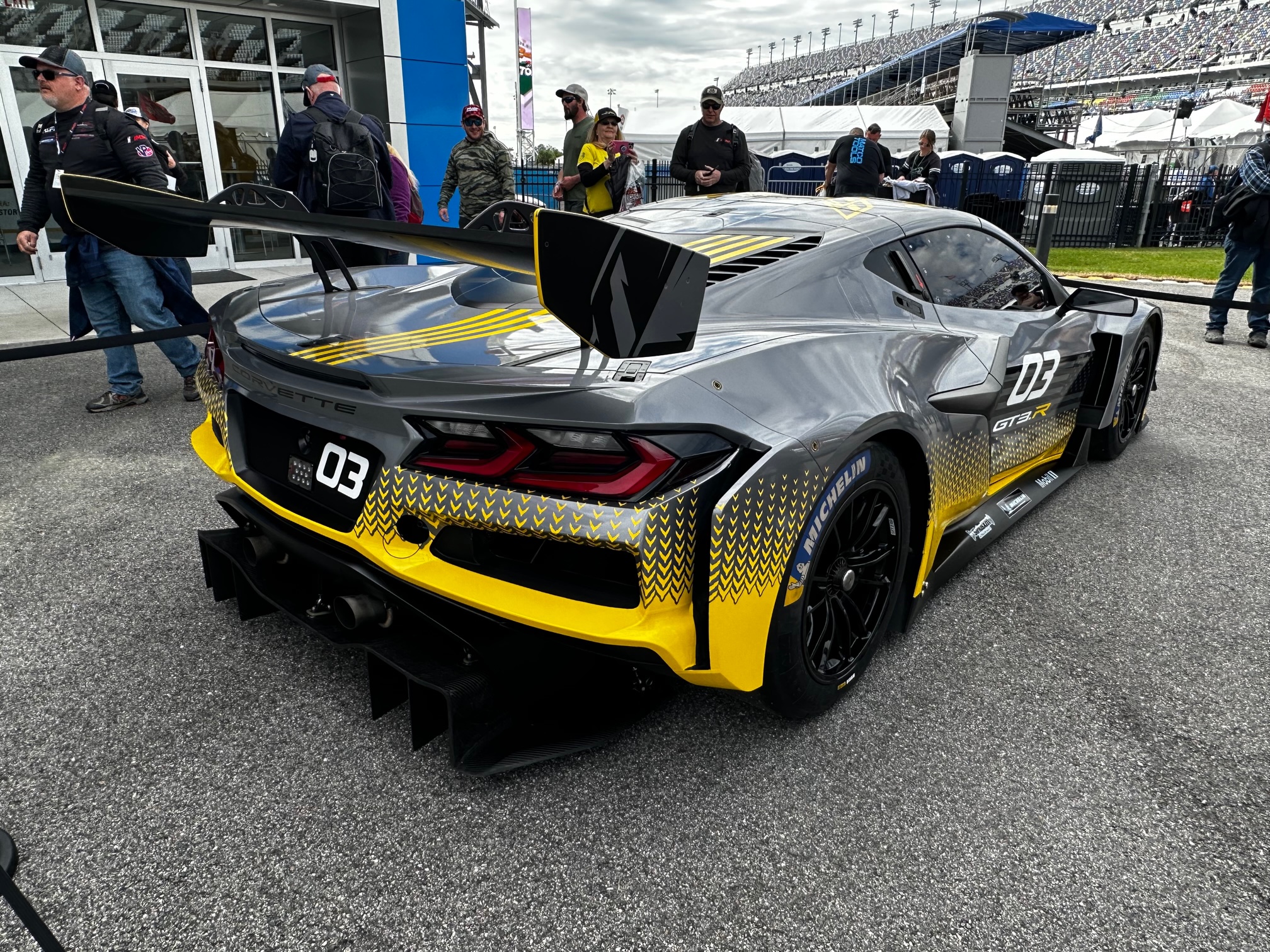 Here is a short 2-minute video released by Chevrolet.
Now, on to the racing news
1) TF Sport Dumps Aston Martin For Z06 GT3.R
Perhaps the biggest and most interesting news is that after this season TF Sport is parting ways with Aston Martin Racing, after 6 years of collaboration, and will be campaigning not one, but two of the beautiful new Z06 GT3.Rs. You can read the full announcement directly from TF Sport here.
This post from Corvette Racing's Twitter page summarizes the excitement perfectly.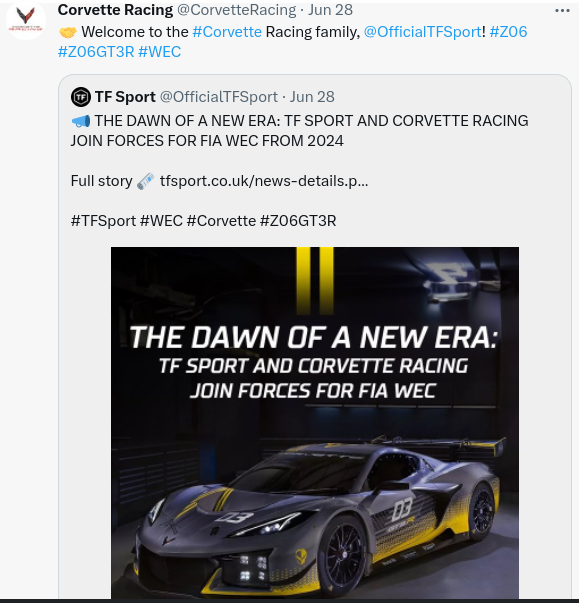 2) Corvette Racing by Pratt Miller Motorsports is First Team Announced in GT3.R Era
Corvette Racing by Pratt Miller Motorsports will enter two new Corvette Z06 GT3.R cars in the GT Daytona Pro (GTD PRO) class of the IMSA WeatherTech Championship. Christie Bagne, Corvette Z06 GT3.R program manager, summarizes it well here:
"Chevrolet and Pratt Miller have collaborated for more than 25 years on the Corvette Racing program, and we are thrilled that we are able to continue together into the GT3 era…"
How does Pratt Miller Motorsports feel about this announcement? Here is what Brandon Widmer, vice president of Pratt Miller Motorsports, had to say:
"This is an exciting time for everyone at Pratt Miller. We've experienced a lot of successes, race wins and championships with Chevrolet through the Corvette Racing program. Now we move into the GT3 era. Everyone is pleased with the progress of our testing and development programs, and new car builds are under way.
We're appreciative of the decades-long relationship with Chevrolet. Corvette Racing by Pratt Miller Motorsports is looking forward to continue showing our expertise in race operations and management to our fans, our commercial partners and new prospects as we go forward."
Click here for the full story, directly from IMSA.com.
I hope you've enjoyed this quick snapshot of what's happening with the new Z06 GT3.R and Corvette Racing as we head into a new era of "factory-supported" racing. As always, I will keep you updated with any relevant and interesting news. We have an active community on our Facebook page, I would love to hear from you!  Douglas B.