Heavy Rain and Electrical Problems Caused Issues for Corvette Racing – But Did Not Keep Them From Finishing!
DAYTONA BEACH, Fla. (Jan. 27, 2019) – In more than two decades of competition, Corvette Racing has faced its share of adversity and challenging weather/track conditions. The championship-winning program experienced both the highs and lows of endurance racing Saturday and Sunday in a soggy start to the 2019 IMSA WeatherTech SportsCar Championship.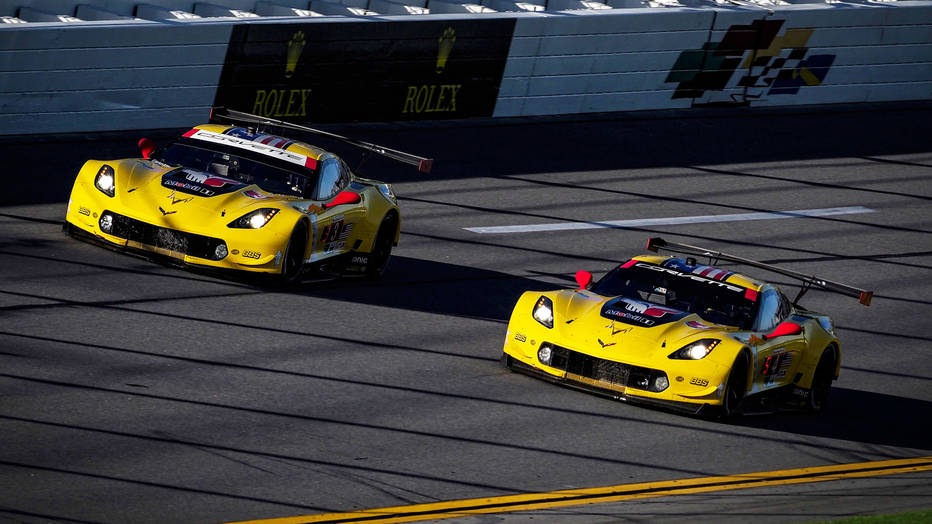 Both of the Mobil 1/SiriusXM Chevrolet Corvette C7.Rs finished the Rolex 24 At Daytona despite dealing with some of the most treacherous driving conditions in the team's 21-year history.  Each of the Corvettes led the GT Le Mans (GTLM) class on multiple occasions during the opening half of the race.  It was during the second half of the 24 hour event that the Corvette Racing teams began to experience unexpected troubles.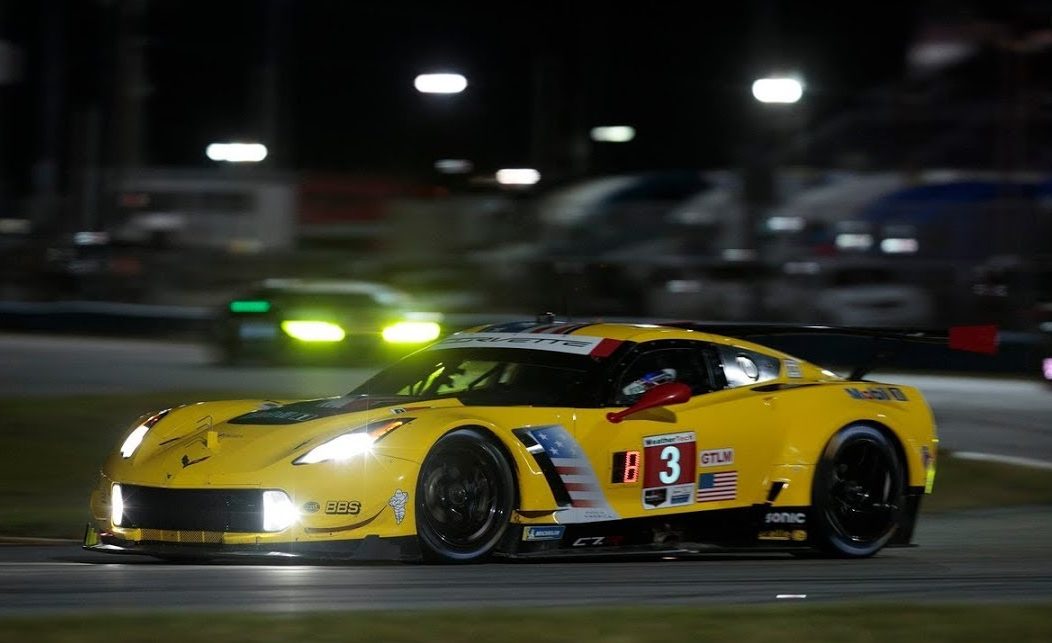 The No. 3 Chevrolet Corvette C7.R driven by Antonio Garcia, Jan Magnussen and Mike Rockenfeller led the team's effort with a sixth-place GTLM class finish. Magnussen qualified second and led during his first 90 minutes in the Corvette before the two C7.Rs made contact in pitlane.
Despite losing three laps in the incident, the No. 3 Corvette crew and engineers took advantage of timely yellows and key strategic calls to move Garcia back into the lead less than 10 hours into the race. Unfortunately, the No. 3 Corvette suffered an electrical issue that impacted the digital dash while the car was running on the track. As a result, the car-to-pits telemetry – including fuel management and monitoring – was compromised, leaving the drivers unable to navigate the distances between pitstops.  That issue reared its head just before halfway as Garcia ran out of fuel on the backstretch of the 3.56-mile circuit.
Once the car was back on pitlane, Garcia handed the controls over to Rockenfeller, who re-entered the race eighth in class. Attrition and the weather allowed the No. 3 Corvette to make up two positions before the race was stopped for the final two hours.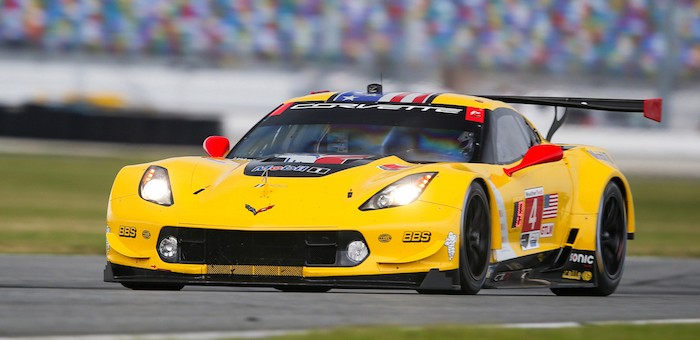 The No. 4 Corvette C7.R driven by Oliver Gavin, Tommy Milner and Marcel Fässler found itself in contention for a podium finish from the get-go after starting ninth in class. Gavin moved up to fourth before handing the Corvette over to Milner near the two-hour mark.  The No. 4 Corvette raced its way to the GTLM class lead a little more than an hour later.  All three drivers spent time in the lead of the class.
The second half of the race held much of the same misfortune for the No. 4 C7.R as its sister car experienced. After having to stop for bodywork repairs not long after the rain began in earnest, Milner hydroplaned under braking while going into the first corner and watched helplessly as the left side of his Corvette slammed into the tire barriers.
Once it was returned to the garage, crews from both Corvettes went to work replacing a number of components on the No. 4 C7.R including the left-side exhaust, rocker and bodywork plus the wing and nose, along with a number of smaller items. The crews took less than 30 minutes to complete the work, allowing Fässler to return the No. 4 Corvette to the circuit with roughly eight hours remaining in the race.
The next event for Corvette Racing is the Mobil 1 Twelve Hours of Sebring on Saturday, March 16 from Sebring International Raceway in Sebring, Fla.
ANTONIO GARCIA, NO. 3 MOBIL 1/SiriusXM CHEVROLET CORVETTE C7.R – FINISHED SIXTH IN GTLM: "We fought the entire race even in bad conditions. There were some issues with the electronics where we lost some telemetry. We couldn't even get information to the engineers… things like fuel. Nothing seemed to be working. That made things a lot more complicated. Even with all that, we made it back to the lead. That was a great feeling to be back up there and fighting for it. But we got to a point where we were guessing where we were on fuel. Maybe we could have gone a lap or two shorter but we come here to win and go 100 percent. It's a shame. Everyone at Corvette Racing gave the maximum effort, which we as drivers appreciate. Things didn't work out today so we move on to Sebring to try and get the result we know we can achieve."
JAN MAGNUSSEN, NO. 3 MOBIL 1/SiriusXM CHEVROLET CORVETTE C7.R – FINISHED SIXTH IN GTLM: "Obviously the result is a disappointment because we had a fast Corvette when we were on track. Unfortunately we had a trip back to the garage to fix some of the electronics; we lost telemetry and because of that we ran out of fuel. That put us 10 laps back and ended our chance for a good result. Before that we got to the lead at the beginning and then got back up front after our problem in the pits. I'm sorry for the guys. I think we deserved a lot more but that's how these 24-hour races can go sometimes. It's also about not being unlucky and staying out of trouble. On to Sebring where we'll go for another good result."
MIKE ROCKENFELLER, NO. 3 MOBIL 1/SiriusXM CHEVROLET CORVETTE C7.R – FINISHED SIXTH IN GTLM: "Our Corvette was really good, actually. We had good pace in the race. We had some incidents obviously. The first one was with our sister car, but we knew it was early in the race. It was no big issue. Things can go wrong. It's normal under racing conditions. Then we were back in the lead and another problem occurred. That took us eight laps down to the leader and basically that was our race. So for myself I tried to not damage the car, and the end of the day there was nothing I could do. Unfortunately another year over for Daytona, but we are looking forward to Sebring. We will focus on that. Thanks to the team. The Corvette was really spot on-pace."
OLIVER GAVIN, NO. 4 MOBIL 1/SiriusXM CHEVROLET CORVETTE C7.R – FINISHED EIGHTH IN GTLM: "Right from the start, it was clear that we had a good Corvette in dry conditions, and it looked like we were very good on the medium tire compound. Normally the way things usually play out, you're looking forward to dry conditions on Sunday where you'll be on the tire that we thought would be quickest for our car. I think we certainly would have been able to fight whoever to the end. But then the rain came, and it was a lot. From then on, it was always going to be a lottery. Tommy's incident was unfortunate and there was nothing he could do. It shows the strength of our Corvette that he walked away. The whole team did a great job getting us back out where we didn't lose so much time. After that, we were just looking at what we could get from the race and score as many points as possible. There were so many cars going off and crashing into each other. The officials and the series made the right call to red flag the race and finish it when they did. Congratulations to all the winners and thanks to everyone on the team for their work the last few weeks. No one ever gave up and really dug in on any problems we had. As drivers, we were given the best equipment all of the time which is all you can ask for."
TOMMY MILNER, NO. 4 MOBIL 1/SiriusXM CHEVROLET CORVETTE C7.R – FINISHED EIGHTH IN GTLM: "This one will go down in history as one of the most difficult Rolex 24s that teams have been part of with the weather conditions. We had our own adversity with an unexpected extra engine change Friday. But we have a strong Chevrolet engine and power for the first half of the race. Things obviously unraveled for us later on but both Corvette Racing teams fought back from all those things to get us back up front but it wasn't meant to be. That's how it goes sometimes. It seems like today it was against us. Congratulations to all the winners for surviving the conditions out there. I tip my hat to them, as well as Olly and Marcel for finishing up in some pretty difficult conditions."
MARCEL FÄSSLER, NO. 4 MOBIL 1/SiriusXM CHEVROLET CORVETTE C7.R – FINISHED EIGHTH IN GTLM: "This was a super-crazy race if you look back. We had really good speed overall in our Corvette and led many times. In the end, we were for sure a little unlucky but that is racing. With the circumstances in the rain, it was very tricky to drive. I'm really happy Tommy is OK because it was a hard crash; the Corvette held up really well. When I went out in similar conditions, it was very tricky to drive. It didn't work out today for us unfortunately. But Corvette Racing showed that we have potential to always do great things. We should take positive things to Sebring and turn everything around there.