For roughly the last quarter century, there has been a significant increase in the number of indviduals (and groups) who have made Corvette collecting a "national passtime." There are the big names, like Rick Hendrick or Ken Lingenfelter, whose collections rival (and exceed) those of the National Corvette Museum in Bowling Green, Kentucky or the Marconi Auto Museum in Tustin, California.  At the same time, there are a great many more collectors – some who own dozens (if not hundreds) of Corvettes, while a great many more own smaller collections of five to ten cars.   While the big players collections are the ones we most frequently talk about around the water cooler, consider how uncommon it would have been – even just a few years ago – to know someone who personally owned a half dozen (or more) cars that they kept in the garage behind the house?
It used to be that car ownership, especially performance and exotic car ownership, was limited to the wealthiest among us – quite often people of more "senior" status who had the disposable income to invest in the car (or cars) they dreamed of owning their entire life.  In today's economy, where healthier incomes made thru a combination of higher income jobs, social media advertising, better money planning, and smart crypto/financial investments, there have been more and more "young" buyers investing in cars that, just one generation earlier, would have been entirely out of reach.
Commercial automobile auction companies have recognized the viability of the current consumer markets.  Companies like Barrett Jackson and Mecum Auction have made auto auctions as popular a passtime on national television of Monday night football.  Spectators around the globe tune in each time these companies host one of their week long auction events.  The cars crossing the block are beautiful, exclusive, exotic.  Some are more commonplace than others, but each has a cool story, an interesting history, and offer both the spectators and would-be buyers an incredible purchasing opportunity – if, that is, you can afford the price of admission.  While the REALLY big dollar cars – the Paganis, Ferraris, Lamborghinis, etc., may still be out of reach to many, cars like the Ford Mustang, the Dodge Challenger, and most especially, the Chevy Corvette, have become the target of consumers from all walks of life – including both the aspiring enthusiast to the established collector.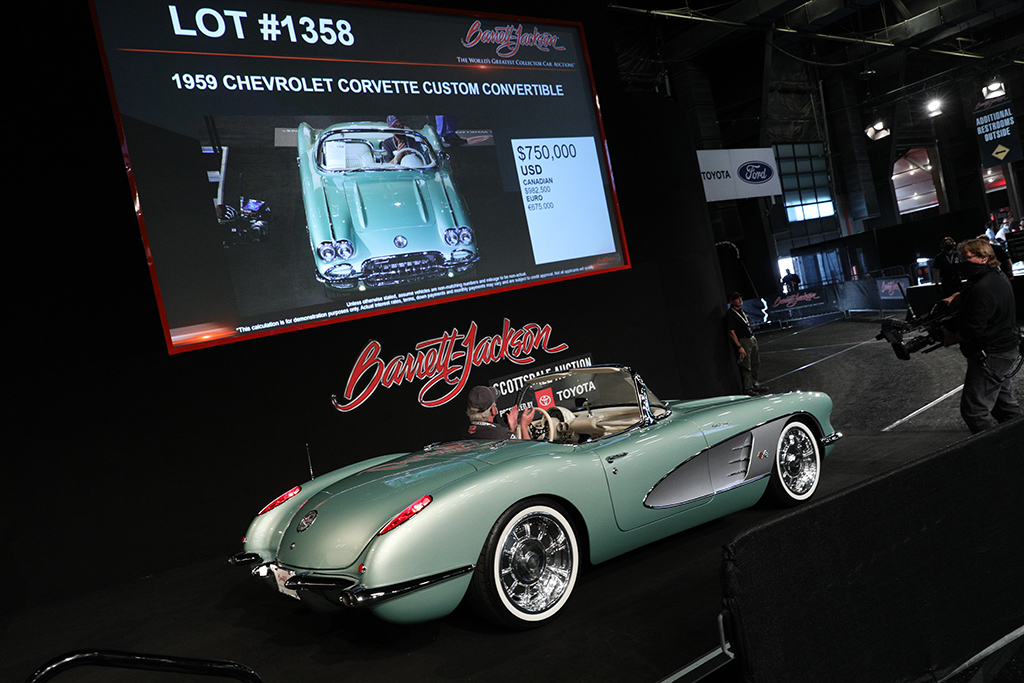 Now you might ask the question – why bother with an auction house when there seem to be an abundence of Corvettes available online, at the local dealer, or even for sale by owner?  The answer, as you can probably guess, is exclusivity.  While not all of the cars crossing the auction block are ultra-rare, many have either low VIN numbers (Rick Hendrick frequently spends BIG dollars to purchase VIN #001 of each new MY Corvette), or they have low production volume (a rare color, rare option package, a limited edition model, etc.)  Additionally, cars sold at auction are often (though not always) some of the best examples of what's out there.  Where a 1958 Corvette for sale at a local lot may be full of body filler and hastily slapped together to make a quick sale, the pedigree of the cars at auction are researched, published and established as being the "cream of the crop."  In terms of Corvette, that often means a car that's been thru NCRS judging (or similar) and is recognized for its accuracy and authenticity.
Being completely frank, many of the Corvettes showcased at events like Barrett Jackson, Mecum Auctions, and the like are going to fetch a "mint."  This is well deserved in most cases (as discussed above.)  At the same time, the discriminating bidder can snatch up a car for a deal if they're saavy, know what they're looking at, and have the wherewithall not to spend their dollars too quickly.  You will contend with a number of obstacles before you are even allowed to bid: you have to pre-qualify, have the credit (and the cash) to establish your ability to pay for the items you bid on, and you've got to realize you are competing with bidders who have DEEP pockets.  In that respect, the car you want to purchase may sell for well above what any rational person woudl consider reasonable – but exclusivity has its privelages, and its PRICETAG.
To provide some perspective on the variety of Corvettes (in terms of both collectability, exclusivity, and affordability) that are available at auction, we thought we'd share some of the cars that sold at Barrett Jackson Auction in Las Vegas.  The auction, which was held from June 22-24, 2023, saw many notable Corvettes – and we're here to give you some examples of what crossed the block and into a new owner's/collector's possession.
Lot #12 – 1988 Corvette 35th Anniversary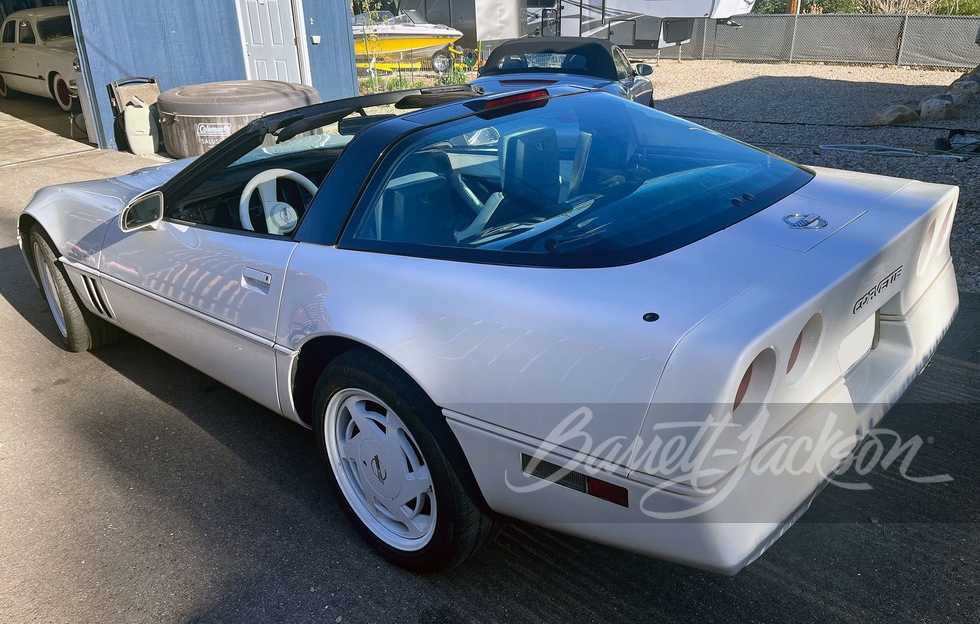 This first example, which sold early in the auction catalog line up as lot #12, was a 1988 RPO Z01 35th Anniversary Edition Corvette was an original car with pearl white paint, wheels and interior. It was notable as being example 963 out of 2,050 made. This Corvette featured power steering, power disc brakes, a removable clear roof, power windows, power door locks and air conditioning. Its stereo had been upgraded to a Bluetooth Pioneer unit. The factory Bose system was also included in the sale, as well as the owner's manual and many years of maintenance records.
The car was listed with "NO RESERVE" (meaning the high bidder would win the car regardless of the final bid amount) and it sold for $12,870.00 when it crossed the block on Thursday, June 22, 2023.  While this car was far from showroom ready (the seats looked tired, the dashboard careworn, etc.), this was an early entrant into the auction line-up and a great deal for the winning bidder.
Lot #34 – 1994 Chevrolet Corvette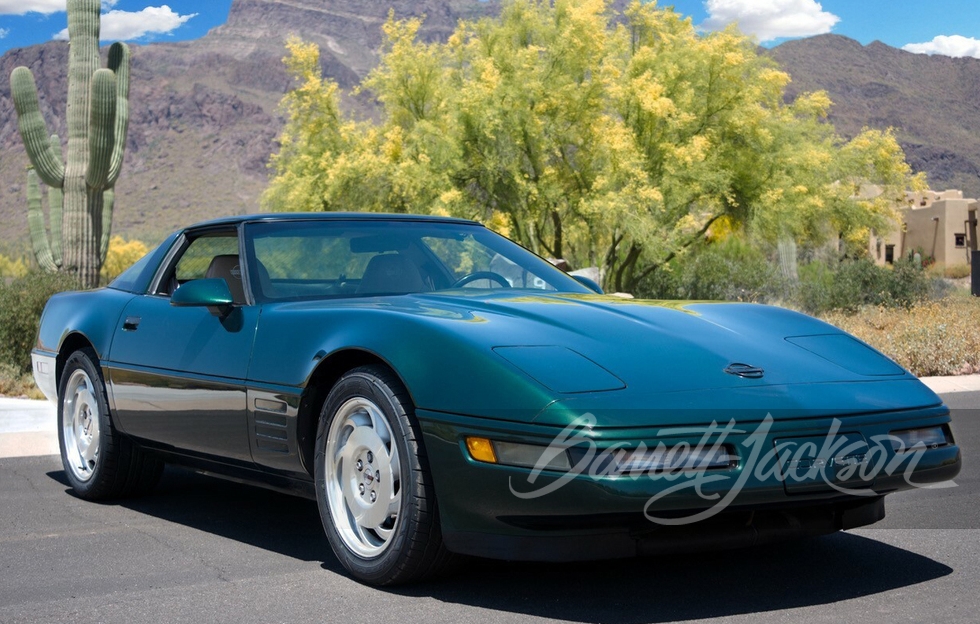 Lot #34 was a factory Polo Green 1994 Chevrolet Corvette powered by a 5.7-liter, 300hp, V8 engine mated to a 4L60E 4-speed automatic transmission with a 5-link rear end and a 3.07 axle ratio. This all-original Corvette also featured an independent front suspension and power front and rear disc brakes. Additional exterior features included Halogen fog lamps and a removable fiberglass roof panel. It was ordered with the Corvette Preferred Equipment Group, which included 6-way power seats, air conditioning and a DELCO AM/FM stereo and cassette radio. This Corvette had been fitted with a new set of tires. 65,008 actual miles.
This is the perfect example of getting a "deal" by purchasing at auction.  This car was fairly well equipped and, by all accounts, had very low miles, yet it sold for just $11,550.00, which is appreciably less than similarly equipped late-model C4 Corvettes sell for in today's marketplace!
Lot #108 – 1973 Corvette Convertible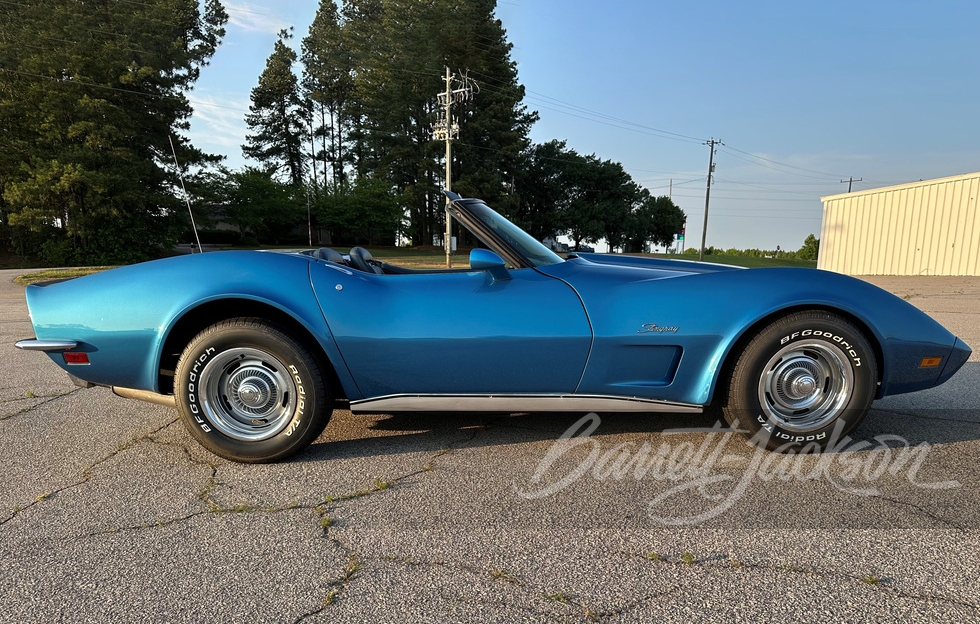 Lot #108 contained a beautiful 1973 Chevrolet Corvette convertible powered by a small block V8 engine with a 3-speed automatic transmission. This Corvette was finished in Medium Blue Iridescent with dark blue interior and a white convertible top. It came equipped with factory air conditioning, AM/FM radio, power windows and Rally wheels.  This car came from the Boyd Collection, a private collection of cars owned by Boyd Coddington, an American Hot Rod Designer who passed in February, 2008.
This Corvette was sold with NO-RESERVE and crossed the auction block with a final bid of $33,000.
Lot #408 – 1965 Corvette Convertible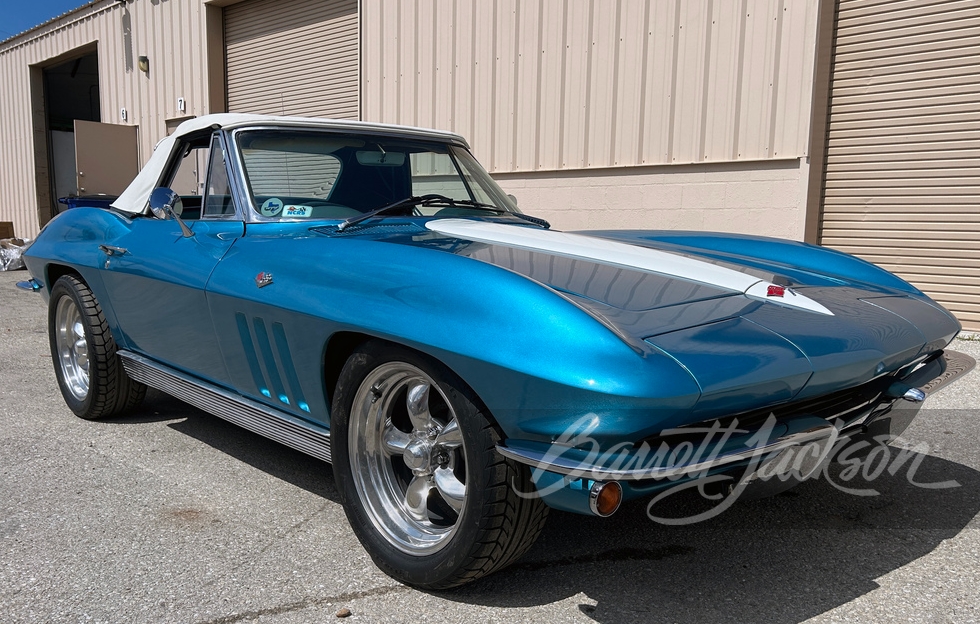 By the second day of any large auction, we start seeing the steady rise in opening/closing bid prices. Where the early auctions whet buyers appetites by bringing out the less notable, more affordable models, day two (and  beyond) is when the serious buyers start getting down to business.
Lot #408 featured a beautiful 1965 Chevrolet Corvette convertible finished in a classic combination of Nassau Blue paint and a white convertible top over a white bucket-seat interior with blue carpet and dash. This 1965 Corvette was powered by a 327ci engine mated to a 4-speed manual transmission. It came equipped with power steering, power brakes, AM/FM radio, upgraded air conditioning, heater and defroster. It also featured newer carpet, new seat covers and a new Al Knoch convertible top. It came equipped with BFGoodrich G-Force tires on 17-inch American Racing wheels at all four corners. Documentation on the car's paintwork was also included.
While this beautiful Corvette certainly commanded a sell price of $56,100.00 despite its being listed with NO RESERVE, it again demonstrates the relative affordability that can be achieved by buyers when purchasing a car at auction.  This second-generation Corvette was a relative bargain compared to similar models in the marketplace today, making this auction a win for both buyer and seller!
Lot #462 – 2022 Mid-Engine Corvette Stingray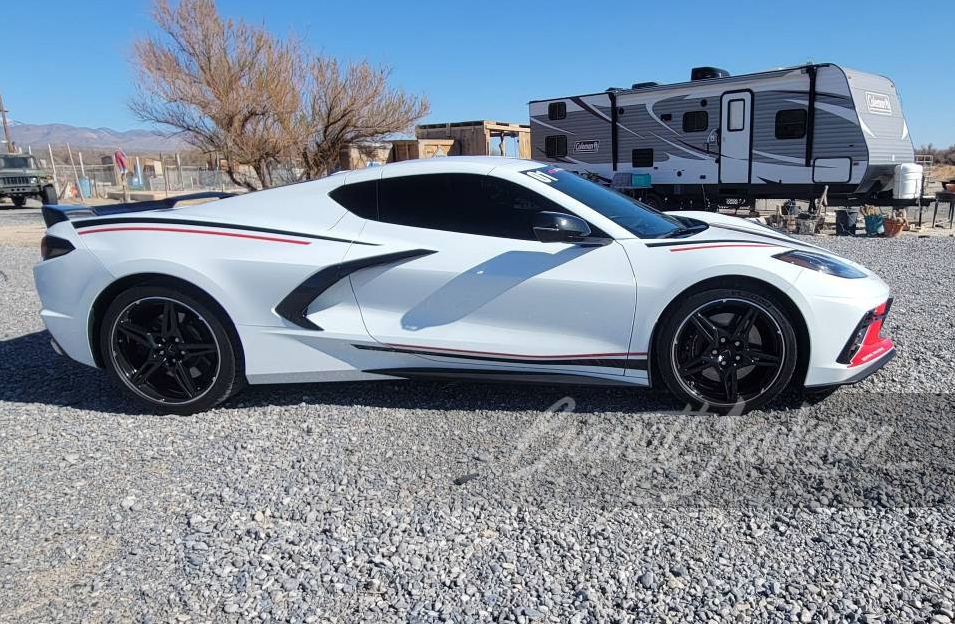 Before we jump into the "big winners" of the 2023 Barrett Jackson auction in Las Vegas, we take a moment to look at this 2022 Mid-Engine Corvette Stingray.
Introduced as lot #462, this 2022 Chevrolet Corvette featured the 3LT and Z51 packages, providing its would-be buyer with all of Chevrolet's top-tier luxury and high-performance athleticism. As with all eighth-generation Corvettes, this example came equipped with the robust 6.2-liter V8 engine rated at 490hp, and heightened to 495hp with the performance exhaust.  The Z51 package added larger brakes, carbon-flash wheels, an Engine Appearance Package, superior cooling, performance suspension and a performance rear-axle ratio for unrivaled track-ready capability. The 3LT Package transformed the interior into something opulent with Nappa leather seating, red stitching, a microfiber steering wheel, carbon-fiber interior trim and a bespoke 14-speaker Bose Performance Series sound system.
With just 2,701 actual miles on the odometer, this car also crossed the block with NO RESERVE and fetched $98,450 from the winning bidder.  While hardly a great deal, it was still a good one for the buyer, who scooped up a very well appointed Corvette with essentially all of the upgraded goodies one could purchase when ordering this car brand-new.
Lot #678 – 1958 Chevrolet Corvette Convertible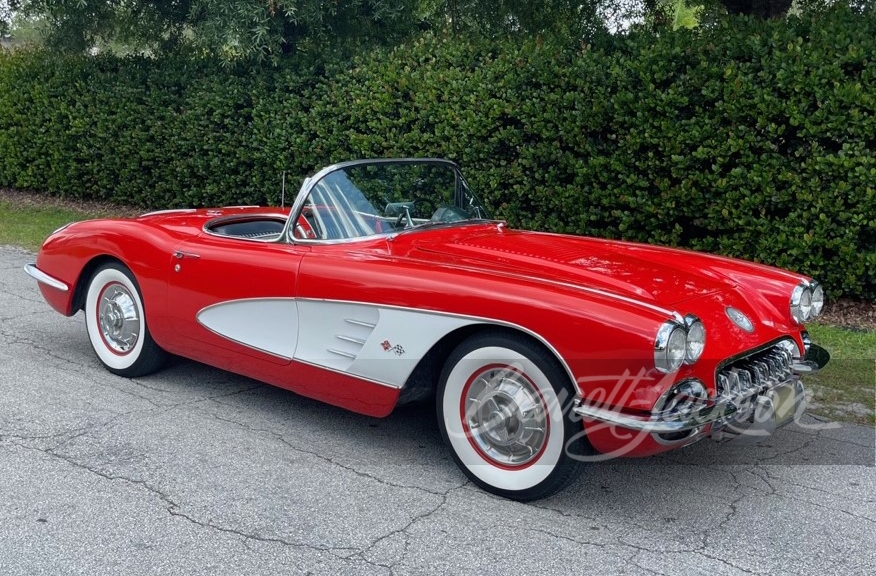 Lot #678 presented serious buyers with this beautifully restored 1958 Chevrolet Corvette powered by a 283ci V8 engine paired with a 2-speed Powerglide automatic transmission.  The car featured the one-year-only trunk spear trim and washboard-style louvered hood. It came finished in Signet Red with white coves over a black interior. This Corvette's also came equipped with a 17-inch steering wheel and wide whitewall tires.  Included in the purchase was a 27 year collection of maintenance records from the car's previous owners.
Once again, the seller allowed this incredible beauty to cross the auction block with NO RESERVE!  They needn't have worried – it fetched a very respectable $143,000.00 by the time the gavel dropped on this beauty.  Worthy of sitting in a showroom or conditioned, this car will likely find its way into a new collector's private collection, where it will be cared for and maintained…and will likely re-surface sometime later when it crosses another auction block at some future date in time.
Lot #761 – 1961 Chevrolet Corvette Custom Convertible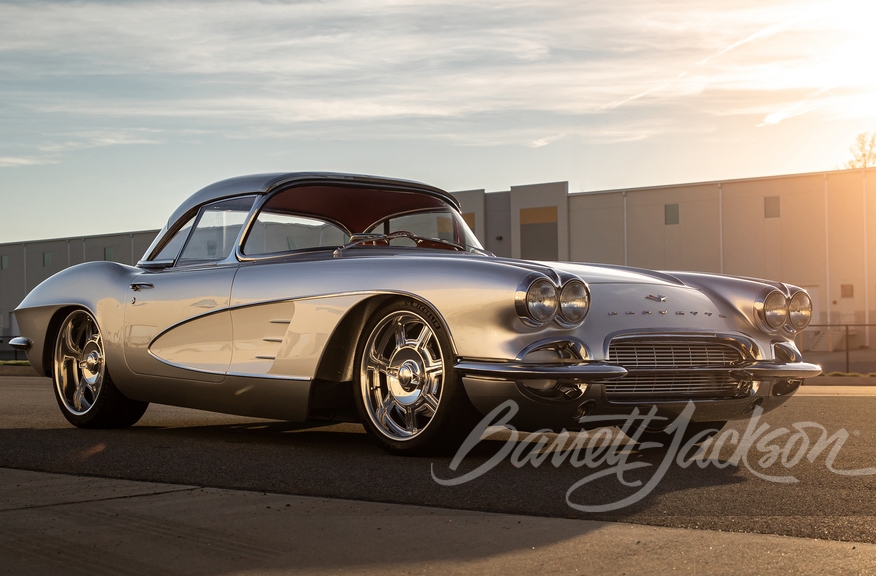 The second-highest grossing Chevrolet at this year's Las Vegas Barrett Jackson auction was lot #761, a 1961 Corvette Resto-Mod equipped with a modern LT4 6.2-liter supercharged V8 engine rated at 650hp and 650 ft/lbs of torque, mated to an 8L90E 8-speed automatic transmission with a tap shifter. The engine came painted in Gunmetal Gray to contrast the "House of Kolor" Orion Silver paint.  All engine accessories were finished in gloss black.
The body is set on a new Art Morrison GT Sport independent front suspension chassis. The GT chassis, finished with a Gunmetal Gray powder coat for durability and to match the engine color, was augmented by triangulated 4-bar suspension that featured "Strange" adjustable coilover shocks, an adjustable sway bar and a 9-inch rear end; it also utilized a power rack & pinion steering system. The Corvette rides on custom-built Schott Wheels that measure 18 inches up front and 20 inches at the rear, all wrapped in Michelin Pilot Super Sport tires.
The car came equipped with large Wilwood disc brakes and a Wilwood master cylinder. Custom-built features included polished stainless headers and exhaust, as well as a stainless gas tank by Rick's Tanks. The custom leather interior by Paul Atkins Interiors featured custom Dakota Digital gauges, a Vintage Air climate-control system, an Alpine sound system and speakers with Bluetooth capability, and an integrated backup camera. Electric side windows are controlled by switches in the custom center console. Other custom features included an electric-actuated hood opener and an electric-actuated emergency brake.
As with all the other cars listed to this point, this bad-boy crossed the auction block with NO RESERVE, and the gavel brought a sell price of $275,000.00!!!
Lot #733 – 2023 Corvette Z06 Convertible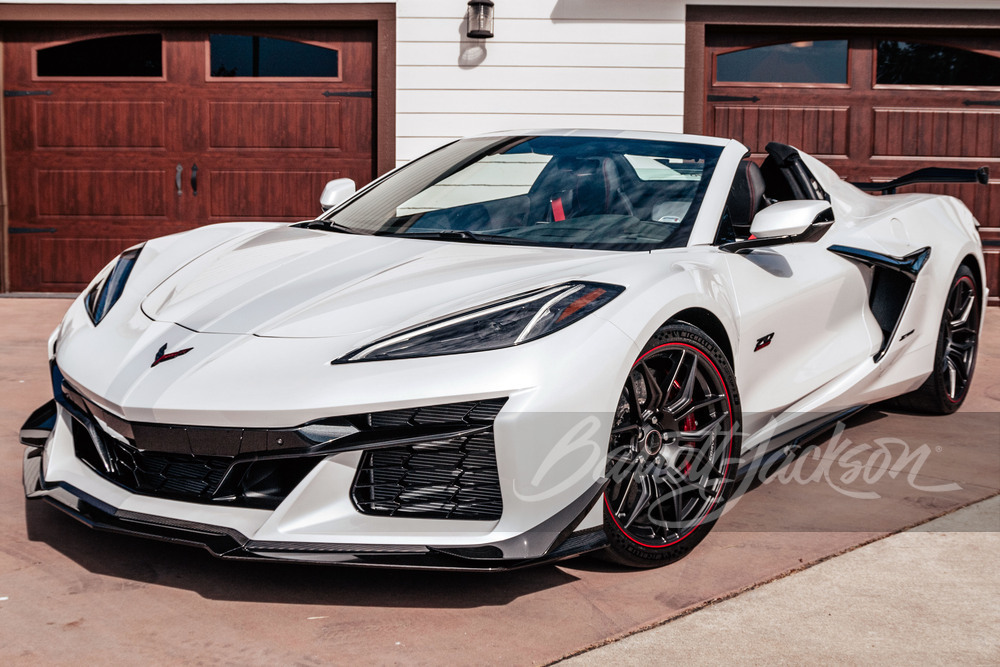 And finally, we step back a few places in the auction lineup to Lot #733, a 2023 Corvette Z06 convertible that came equipped with the 3LZ Equipment Group and the "70th Anniversary" package.  This car was the 36th Z06 Corvette to roll off the assembly line in Bowling Green dressed with the 70th Anniversary badging.  It is also one of the most comprehensive 2023 Corvette Z06 models of them all, equipped with the limited-production Z07 Performance Package, which included a number of incredible goodies such as Michelin Pilot Sport Cup 2 Ultra Performance tires at all four corners (20-inch out front and 21-inch in the rear) and the Carbon Aero Package (which incudles a front splitter and high wing.)
As with all mid-engine Z06 Corvettes, this beast came equipped with the 670 horsepower, 5.5-liter flat-plane-crank V8 engineand an 8-speed dual-clutch automatic transmission.  The aforementioned tires come mounted on forged wheels in Graphite Aluminum with a red sidewall stripe, ceramic brake rotors and red Brembo calipers.  The car's exterior is finished in White Pearl Metallic tri-coat paint with dual light gray racing stripes.
Moving inward, the car features heated and ventilated suede bucket seats wrapped in Ceramic White leather with red stitching and Torch Red seat belts.  It also comes packaged with a Bose 14-speaker sound system with HD radio, wireless phone charging, the immensely popular heads-up display, park assist, LED headlamps, a theft deterrent vehicle inclination sensor, performance traction management, bright-finished quad-tip performance exhaust and heavy-duty cooling.
The winner bidder also walked away with a car equipped with all factory tracking equipment, anniversary luggage and the GM Corvette Racing car cover (a $1200 accessory).  With just 500 miles at the point it crossed the auction block, this car came with a fully transferable GM factory warranty for its new owner.
Once more, this car was listed with NO RESERVE, and it didn't need it as it sold for a staggering $282,700, making it the most expensive Corvette (and Chevrolet vehicle) at the 2023 Las Vegas Barrett-Jackson auction.