Over the past several decades, the Lego company has transformed countless marquees into highly-detailed, buildable, plastic brick models for hobbiests of all ages and skill levels.  From Harry Potter's castle to Han Solo's Millenium Falcon, the Lego models has taken on just about every pop icon imaginable.  The same is true within the automotive community.  Each year, more and more of the world's most iconic sports cars are transformed into a Lego scale-model replica.  And now, for 2023, Corvette gets its turn to shine.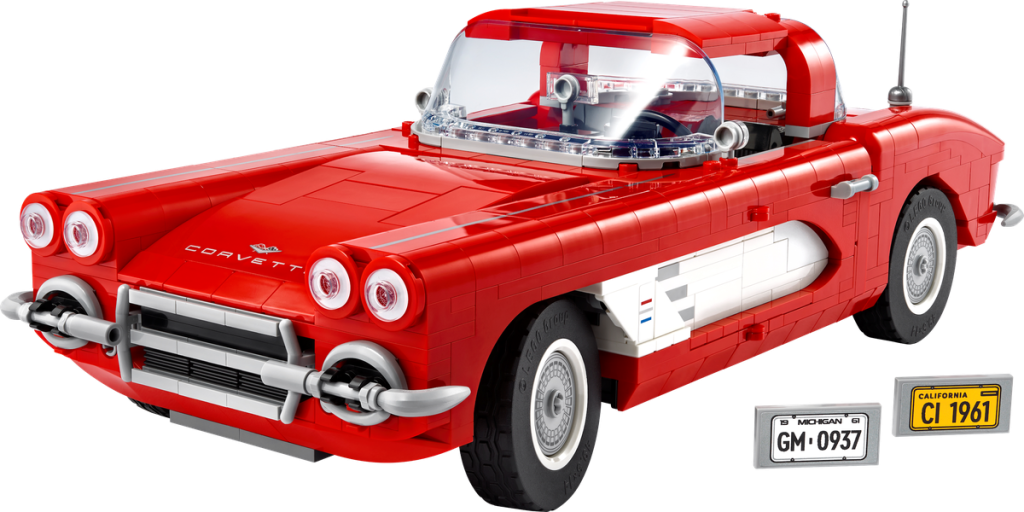 Chevrolet and Lego have partnered to develop an incredibly detailed build-it-yourself model kit based on one of the most iconic cars of all time, the 1961 C1 Corvette.
Marketed as part of the "Lego Icons" series, the C1 Corvette (Lego Kit #10321) is the company's latest car-themed block kit.  Based closely on the 1961 Corvette convertible, this scale model is comprised of 1210 bricks, and features a number of cool features, including an opening hood and trunk, a removable convertible hard top, an engine with a spinning fan, and functional steering.  Within the car's interior, we find the same level of detail, including the car's pedal box, a gear shifter, a radio, a dashboard-mounted rearview mirror, the passenger side "OH S#!T" handle, and detailed door panels on both the driver and passenger doors.

Fully assembled, the lego kit is a good size – measuring in at 12.5 inches long, 4 inches wide and 5.5 inches high – making the model falls somewhere between the 1:18 and 1:12 scale diecast models commonly produced by most manufacturers.  Given the complexity of the build and the number of intricate details included with the model, this kit is rated for builders 18 years of age and older.  Given the vintage nature of the car, the target audience for this model is best aligned with Corvette fans of all ages, but especially those who gravitate towards the more "classic" Corvettes in the brand's 70-year history.
Lego has announced that they expect this Icons Corvette model kit to go on sale on August 1, 2023.  It will be avalable thru retail outlets, at Lego stores across the United States, and of course, on LEGO.com.  The "Icons Corvette" model is expected to retail for $149.99 plus tax.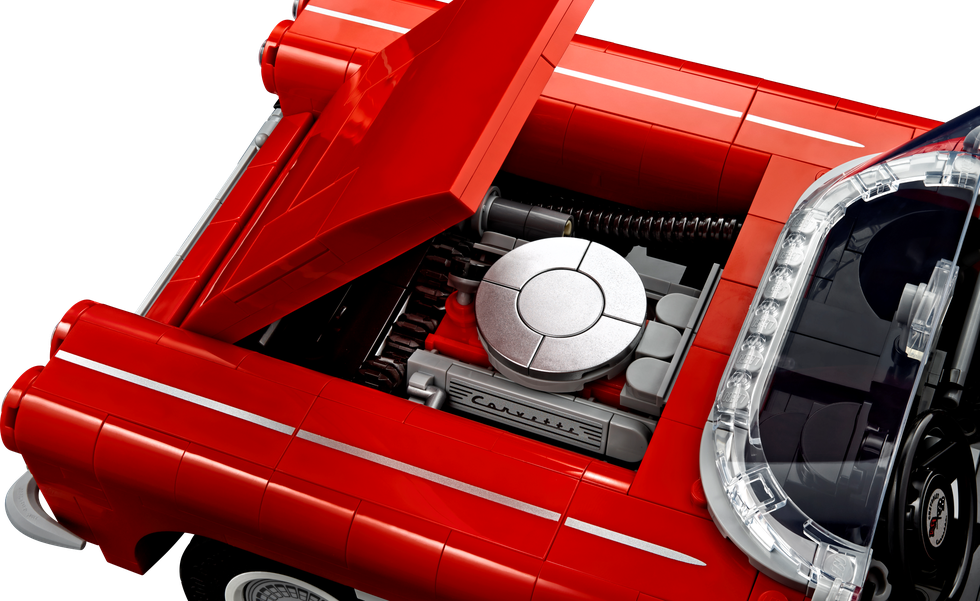 It marks the fourth time that the Corvette has been represented in brick form by the Lego corporation.  The first kit (#75870) featured a tiny Z06 Corvette made up of just 168 bricks and was introduced as part of the Speed Champions series in 2016.  In 2019, Chevrolet and Lego released a 600-piece Technics set (kit #42093) that featured the seventh-generation Corvette ZR1 (well, sort-of.)  While the model captured the general proportion of the car, its resemblance to the actual vehicle lacked a lot of key detail.  In 2021, Lego released another 500-piece Speed Champions set (#76903) that contained TWO Corvettes- a model of Chevrolet's mid-engine C8.R Corvette race car and a 1968 Stingray coupe.  While none of these kits are available thru Lego any longer (part of Lego's marketing genius is the limited production run of all its models), these older kits are still fairly available online, albeit used in many cases.  EBay is a popular destination for finding these kits, as it the fan-to-fan Lego marketplace known as Bricklink.  Sources suggest that most of these older kits can be had for between $25-$30 each.