Those who are familiar with the history of the Corvette, and Chevrolet in general, know that it is filled with an abundance of prototypes and conceptual designs, many of which have left their indelible mark on the iconic American sports car's continual development.
Few periods within Chevrolet's history have given rise to as many of these storied prototypes as that of the 1960s. During this time, the Corvette was still in the throes of an identity crisis of sorts. It seemed as if opinions continually differed as to what the Corvette could, or should be.
Meanwhile, Chevrolet as a whole continued to churn out one innovative prototype after the next, many of which were destined to serve as showpieces on the automotive show circuit. While a number of these concept vehicles quickly faded into obscurity, others showcased technological advancements that would eventually find their way into the design of successive Corvettes.
Out of this era came a series of three conceptual designs, over the course of as many years, known as the Astro I, Astro III, and Astro III. These prototypes were, in many ways, somewhat outlandish in a number of their design features. However, the Astro prototypes also foreshadowed several features that would later appear in various Corvettes throughout the years to follow.
Astro I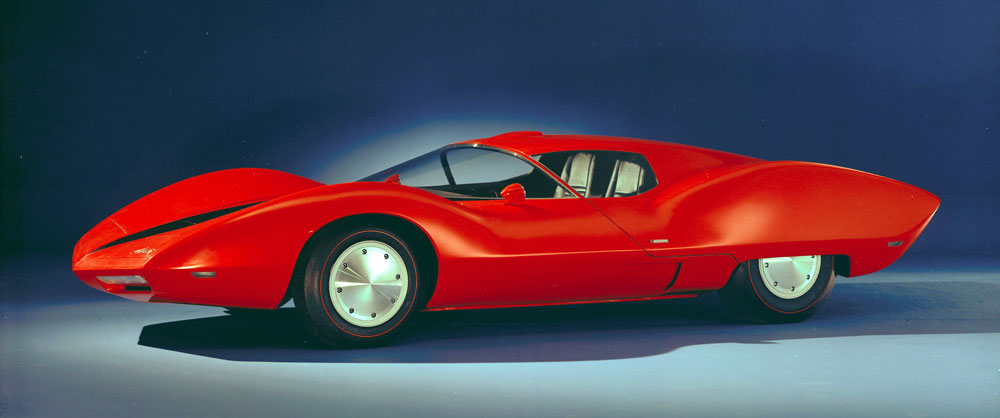 Photo: Deansgarage.com
Those that have laid eyes on the Astro I will not soon forget it. This 1967 Chevrolet prototype featured sleek body lines that embodied the feel of a far more aggressively styled Mako Shark. Although the Astro I was built with the intent to aid in the study of aerodynamics, no official documentation has been uncovered as to the results of this testing, or if any such testing ever actually took place.
Perhaps the most striking attribute of the Astro I was its ridiculously low stance. At the peak of its roof-line the Astro I stood only 35.5 inches tall. As if this was not groundbreaking enough, the prototype also featured a clamshell-like hatch, that opened to allow ingress and egress. Attached to this clamshell was the Astro I's bucket seats, which actually rose upward with the opening of the hatch itself.
The Astro I also featured several other notable design characteristics, such as that of a rearview periscope, hidden tail lights, hand-grip steering controls, and a noticeably absent rear window. A number of the Astro I's front end design features served as a precursor to those that would be found on the 1968 Corvette, including the car's rectangular grilles and pop-up headlamps.
In terms of design, the Astro I was more closely related to the Corvair than it was the Corvette. Although the project was initially envisioned as a mid-engine concept, plans ultimately were revised to that of a rear-engine design.
The Astro I featured a modified, opposed-six Corvair engine, which included hemispherical heads, steel cylinder sleeves, two Weber look-alike, experimental GM three-barrel carbs, and a single overhead camshaft. This engine was reported to have produced a maximum output of 240 horsepower, though the Astro I was said to have never run under its own power.
Also of note was the Astro I's use of four-wheel independent suspension, which featured lightweight control arms. Additionally, the Astro I featured 4-wheel disc brakes and eight-bolt magnesium wheels that were fitted with prototype Goodyear redline tires.
Astro II (XP-880)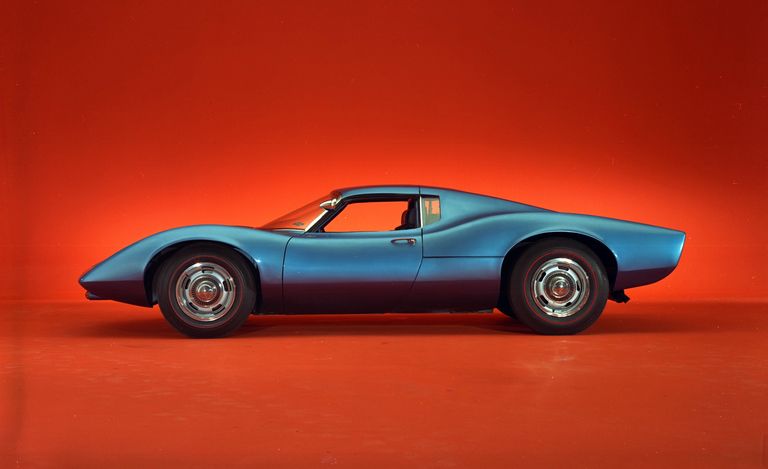 Photo:Caranddriver.com
By the late '60s, lead Corvette engineer, Arkus Duntov, had become consumed with the idea of transforming the Corvette into a mid-engine race car, much like those found abroad. However, top Chevrolet brass lived and died by the mantra of "do not fix what is not broken", and such a project was never green-lighted during this era.
This did not stop Duntov from exercising his mid-engine ideology when, and wherever he could. The Astro II was one of the most significant case studies of Duntov's outright refusal to let his mid-engine dreams die, and as such, ultimately entered the history books as a precursor to the eventual mid-engine, C8 Corvettes of today.
The Astro II was designed in a way that was more representative of the Corvette's typical styling cues, than that of The Astro I. Unlike the Astro I, the Astro II featured actual driver and passenger doors, as well as a rear glass. The car was also taller in stature than the Astro I, as it measured 44" at its roofline.The Astro II's rear facade proved to be a point of influence, as production Corvettes began adopting a nearly identical rear design for the 1974 model year.
At the heart of the Astro II was an L36 437 cubic-inch V8, which was paired to a transaxle, as opposed to a standard transmission. The L36 was turned 180 degrees so that its starter and ring gear resided under the Astro II's seatbacks. As monumental as this feat of engineering was, the original two-speed Pontiac Tempest transaxle used during the design process proved to be incapable of handling the 400 horsepower L36's output.
The Astro II was also notable for its use of production parts, which could be found behind virtually every parts counter. Camaro Lower front wishbones, knuckles, spindles, and brake rotors were utilized in the car's design, as were Corvette transverse leaf springs and brake calipers. Additionally, Oldsmobile Toronado universal joints were used at the half shafts inner ends.
The use of these easily obtained components was often thought of as a ploy by Duntov to make the Astro II more viable for production. By all intents and purposes, this plan nearly came to fruition, as the Astro II was not only tested on the track by Duntov himself but made significant waves on the automotive show circuit.
However, this simply was not to be. And the Astro II never reached production. At the time, the new 1968 Corvette had just sold a record-breaking 28,566 units. As a result, GM looked at the Corvette's switch to a mid-engine layout as risky at best. In the end, the Corvette world would have to wait over 50 more years for Duntov's dream to materialize.
Astro III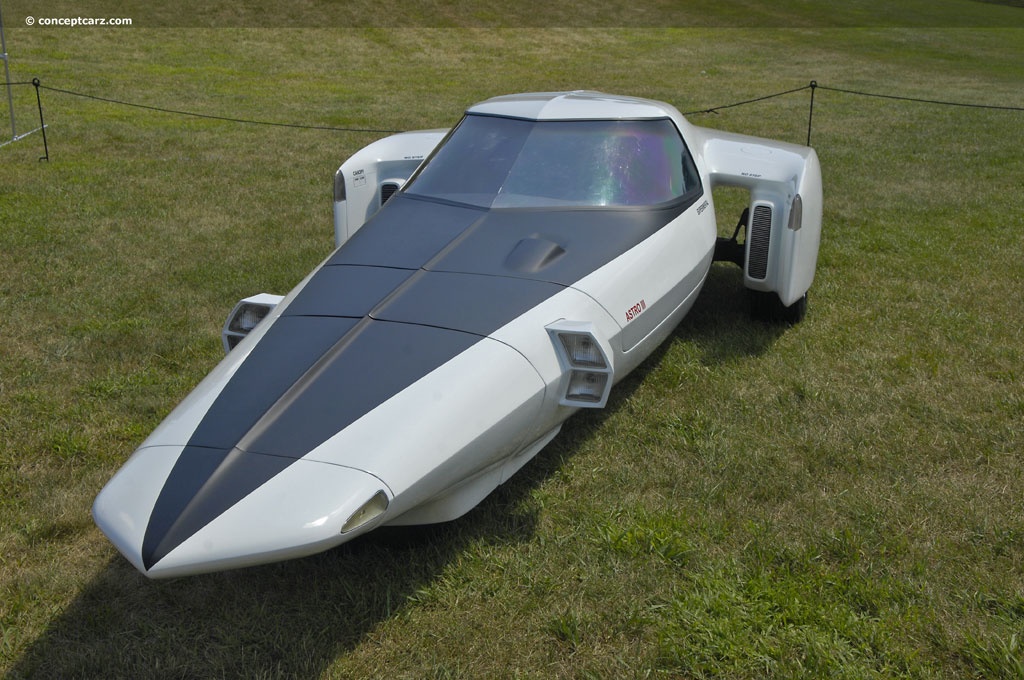 Photo: conceptcarz.com
Though the first two prototype cars to carry the Astro namesake were relatively well known, the third entry in this conceptual saga was somewhat obscure and significantly more bizarre. At the 1969 Chicago Motor Show, Chevrolet unveiled the Astro III which was a gas-turbine prototype that featured a tricycle wheel arrangement.
The Astro III's design was highly reminiscent of a business jet and showcased an aggressive, sloped front end, which tapered gradually to its point, starting at the vehicle's cockpit. Behind the Chevrolet Astro III's space-aged design was John Delorean, who was then managing GM's Chevrolet Division at the time. Delorean was known for his fondness of unique, and sometimes outlandish designs. He eventually went on to pioneer the car which carried his name, the Delorean.
The Astro III employed the use of a helicopter-grade Type 250-C18 gas turbine and produced 317 horsepower, which was distributed to the vehicle's rear wheels via a Hydra-Matic transmission. Though this seemed relatively off-cuff for GM, the 1950s, '60s, and '70s were a time in which gas propulsion was often seen as a viable alternative to use of the internal combustion engine.
Outside of its conical design, and single front tire stance, the Astro III also featured several other design characteristics of note. The most prominent of these features included a power actuated canopy, pistol-grip steering controls, and closed-circuit television enabled rear vision. The Astro III was also specified to have a gross-weight of only 1,966 LBS.
Imagining Tomorrow
Throughout the course of only three-years, the Astro series of concepts provided a window into the minds of three pivotal figures within the history of GM design. While others were involved to varying degrees in the development of all three Astro concepts, it seems as if Bill Mitchell (Astro I), Arkus-Duntov (Astro II), and John Delorean (Astro III) were all allowed to present their own unique styling views to the awaiting public.
The Astro concepts also proved to play a pivotal role in Corvette design and development. Many elements of the Astro I and Astro II's exterior design profile could be readily observed in subsequent years of C3 production. Perhaps most relevant of all, is the Astro-II's mid-engine influence on the C8 Corvettes of today.
Though Duntov's mid-engine concept failed to convince top GM brass of the 1960s, it appears that all has come full circle, with the 2020 Corvette's release.