Genovation's Street Legal 800HP GXE Electric Corvette Arrives at the LA Auto Show
In December, 2017, Corvsport.com published an article about the GXE Electric Corvette.  At that time, the car – an all-electric Corvette – was still under development by Genovation Cars.  Now, nearly a year later, the car is complete and making the rounds at technology and auto show circuits across the country.  Earlier this week, Genovation Cars brought their fully electric, 220 mph GXE supercar to the LA Auto Show.
Since its introduction at the Consumer Electronics Show in January, 2018, the GXE has proven itself a force to reckon with.  It earned a Guinness Book of World Records title by achieving a top speed of 190.48 mph (306.5 km/h) in the standing mile – the fastest standing mile of any street legal electric car.  The GXE was also the first electric car to reach a top speed of 209 mph (336 km/h), another record that it still holds today.  While this top speed is already momentous, Genovation Cars claims that the car can actually reach a top speed of 220 mph (354 km/h).   The car can also accelerate from 0-60 mph (96 km/h) in under 3 seconds.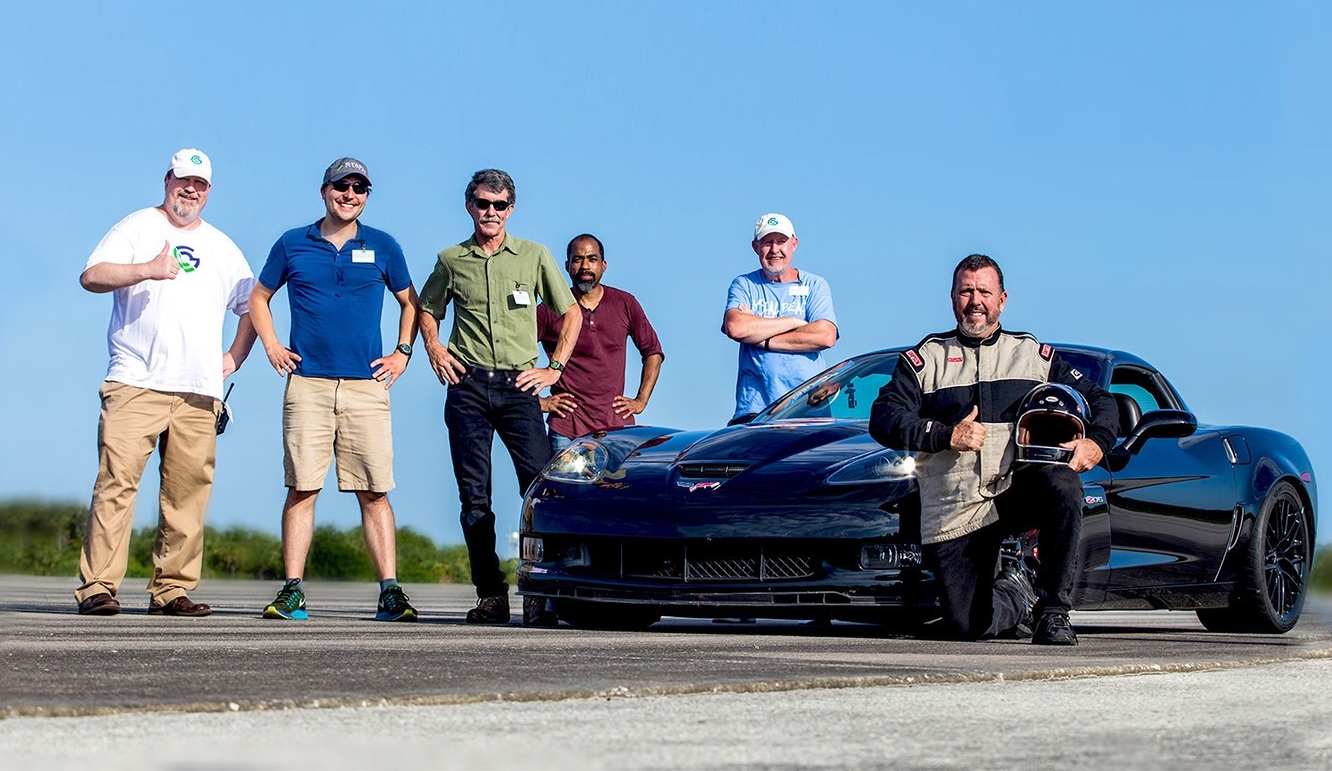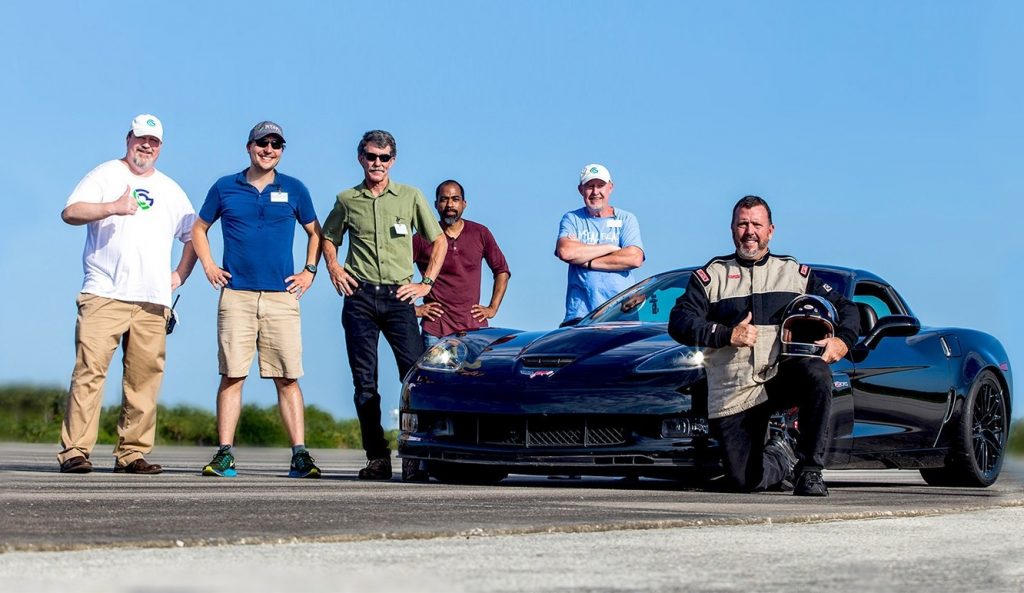 "We're excited to continue the momentum we've established with our participation at the 2018 Los Angeles Auto Show," stated Genovation Cars CEO, Andrew Saul. "The GXE has received a very positive response wherever we've shown the car and we expect that momentum to continue with our debut in LA. As one of the premier shows in the world, we anticipate our GXE will impress the audience of car enthusiasts coming from a truly international audience."
Each GXE begins life as a production Corvette.  Using the seventh-generation Stingray platform as its foundation, the team at Genovation Cars have designed and produced an electric powerplant that features state-of-the-art batteries, inverters and electric twin motors that produce a total power output of 800 horsepower and more than 700 lb-ft (949 Nm) of torque.  The car has a balanced 50/50 weight distribution, an active programmable suspension, carbon ceramic Brembo brakes, carbon fiber wheels, a 10-speaker JBL stereo, a 10.4-inch touchscreen, over the air updates, active aerodynamics and a bespoke cabin.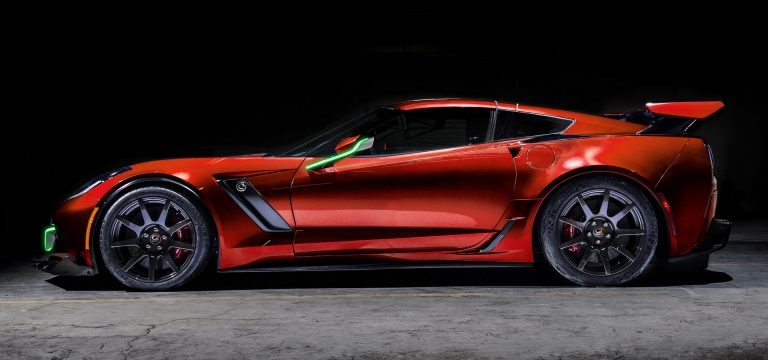 Prospective buyers will have the option of equipping their GXE Corvette with either a 7-speed manual gearbox or an 8-speed automatic with paddle shift.
Genovation Cars states that the GXE will cover 175 miles (281 km) on a single charge.  However, they also acknowledge that this distance can only be achieved during conventional driving conditions.  The range is much shorter when being driven aggressively.  But isn't that kind of the point?  Having an electric-powered Corvette with the type of horsepower and torque that this car produces is bound to encourage drivers to mash the accelerator pedal to the floorboard from time to time….and only time will tell just how durable the GXE's battery packs really are.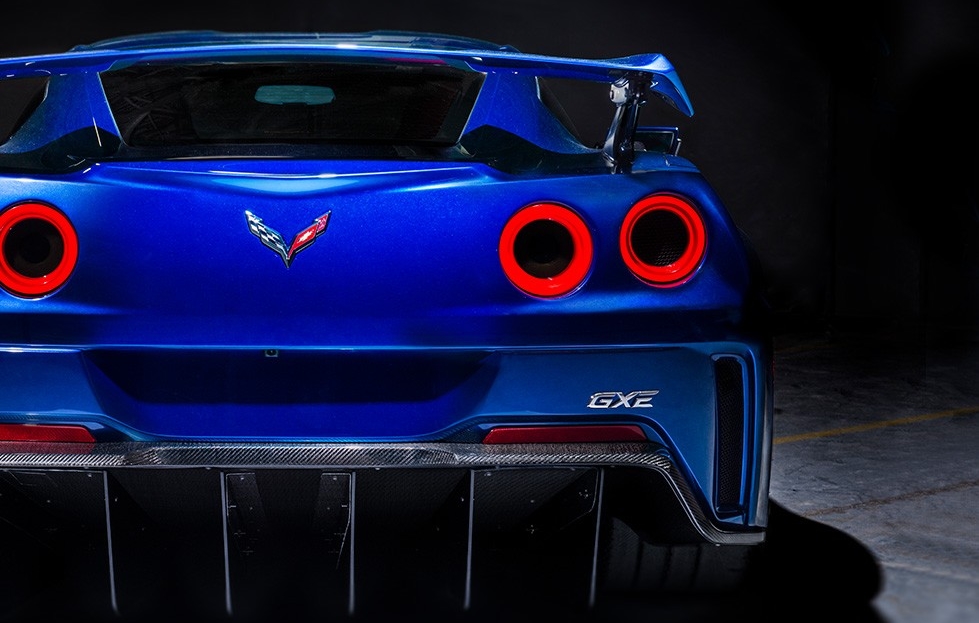 "Presenting the GXE at the LA Auto Show places our product in front of audiences that appreciate both bespoke and high-tech performance automobiles," said John Hill, Director of Sales and Marketing for Genovation Cars Inc. "World-class components, custom exterior and interior options as well as optimized chassis dynamics are some of the features of our all-electric supercar. Discussions are now taking place with a number of prospects interested in purchasing their personalized GXE. We're looking forward to presenting the car in Los Angeles."
Genovation will produce a limited run of 75 electric Corvette GXE supercars. Customer deliveries are scheduled to begin in mid-2019. They're expected to cost $750,000 a piece.