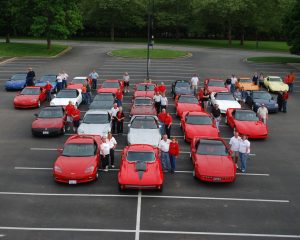 Corvette clubs across the nation continue to grow in size and number with every passing year. Clubs of this nature can be found in every state, with most gathering regularly to share in camaraderie among members. A simple search of the internet will provide Corvette enthusiasts with a wealth of information pertaining to the whereabouts of clubs within their respective areas.
Despite the continued growth of Corvette clubs across the nation and beyond, many Corvette owners have yet to join an organization themselves. However, in doing so, these same individuals might be unknowingly missing out on a wealth of opportunity.
The following are the top 5 reasons to consider joining a Corvette club.
Share Knowledge
Anytime that multiple Corvette enthusiasts are gathered in one place, one can rest assured that the conversation will be rich. Corvette owners find instant kinship when in the company of one another, and are always willing to help each other out.
By joining your local Corvette club, you will be surrounding yourself with fellow Corvette owners, who are likely quite knowledgeable about America's sports car. Whether you are trying to find the best deal on tires, or need pointed in the right direction when attempting to make a repair, someone in your local Corvette club will be capable of helping you out.
Find Parts
In the world of classic Corvettes, it seems as if we are always attempting to locate a period-correct replacement component, or are hunting down obscure parts. Locating what it is we are searching for is seldom an easy task, and one often comes up empty for their efforts.
However, all Corvette enthusiasts face similar dilemmas at one point or another. As a result, most long-time Vette owners have built a network that allows them to find whatever it is that they are searching for, no matter how obscure. Joining your local Corvette club will assist you in making such connections yourself.
Locate Corvettes For Sale
One can rest assured that few individuals are as capable of locating collectible Corvettes, as a Corvette owner and enthusiast themselves. Many die-hard collectors catalog the whereabouts of virtually every rare Corvette within 100 miles.
Those who are part of their local Corvette club can often gain access to this information, with only a simple quandary. If you are searching for a Corvette of a particular vintage, it is safe to say that a fellow club member will be capable of pointing you in the right direction.
Make New Friends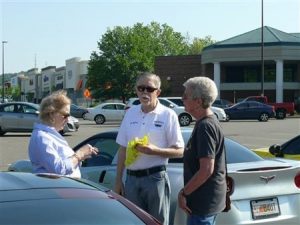 Friendships are forged over common interests. This is a fact that rings true among Corvette owners, as few topics draw such individuals together quite well as that which surrounds the car they love. Those who own Corvettes will always share common ground.
Many who join Corvette clubs gain life-long friends that they otherwise would not have had. In fact, much of the draw that surrounds membership to any of the nation's numerous Corvette clubs, centers around the camaraderie that is shared among those who live the Corvette lifestyle.
Participate In Charitable Events
Many Corvette clubs hold yearly charity drives, which raise money for worthy causes. In many cases, these events directly benefit the needs of the community in which they are held. As a result, these clubs give back in a way that few other organizations can.
By joining your local Corvette club, you will be able to assist in the organization of such events, thereby serving the greater good. Not only can you feel good about raising money for a righteous cause, but you are able to do so while cruising behind the wheel of America's true sports car.