The 2001 Tiger Shark Corvette Concept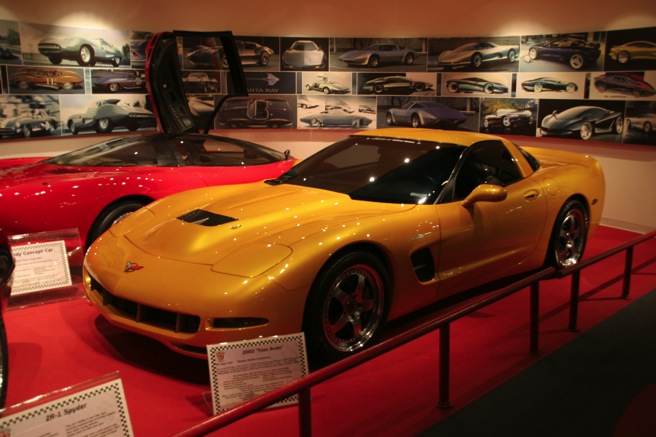 The 2001 Tiger Shark concept began life as a 1997 Corvette coupe and was built by the Detroit-based prototype shop "Wheel-to-Wheel" in collaboration with GM's Special Vehicles department.  It was created to preview design elements that were either in development and/or being seriously considered for future (sixth and seventh generation) Corvette models.  A custom Tiger Shark-derived "accessory" (body) kit, which closely matched much of the concept car's outward aesthetic, was also produced and marketed to fifth-generation Corvette owners who wished to customize their cars.
A 1997 Corvette Coupe gets a Facelift…
Outwardly, the 2001 Tiger Shark looked more like a stylized version of the fifth-generation Corvette than a one-of-a-kind concept car.  It had a new, custom front fascia with a redesigned front grille (a version of which appeared on the C6) and a carbon fiber, L88-style domed hood equipped with a trapezium-shaped air vent just inches behind its leading edge (a precursor of the hood vent introduced on the seventh-generation Stingray).  The openings on the bodyside coves were enlarged and fitted with custom covers accentuated by a truncated chrome spear.  The custom rear fascia included an integrated rear spoiler, black taillight surround and a repositioned license plate opening, all of which gave the car's back end a classic, muscle car-esque appearance.  The exterior was finished in "Tiger Yellow" PPG paint.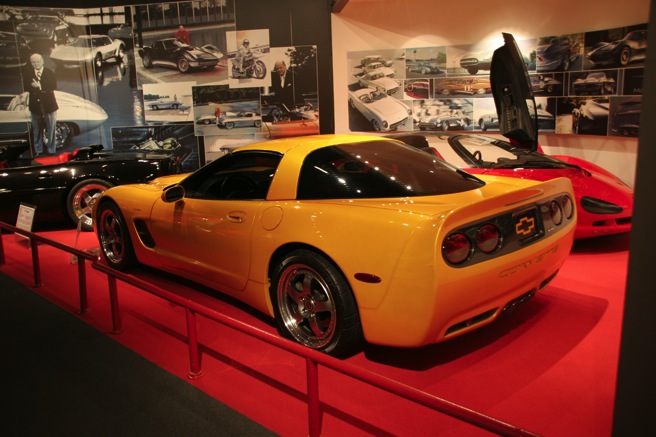 The new appointments to the car's interior were even more dramatic. The factory seats were replaced with custom-contoured, black leather seats which included grey bolsters and perforated diamond inserts.  Many of the interior accents, including the dash gauges, the stitching, and other trim pieces were finished in the same yellow as the exterior.  All three of the car's factory pedals were wrapped in custom-designed aluminum.
Most impressive of all were the Tiger Shark's underpinnings.  It was powered by a modified, all-aluminum LS1 engine bored to 427 cubic-inches and equipped with a ported throttle body and heads, roller hydraulic cam, Vortech "T" supercharger, steel headers, and a 3-inch Corsa Performance exhaust system.  The 7.0-liter engine, which operated at a mild 8.7:1 compression ratio, delivered 742 horsepower at 6,000 rpm and 690 lb./ft. of torque at 5,700rpm!  Power was transferred to the rear wheels via a 6-speed manual Borg-Warner transmission.
The car's factory independent suspension was modified/reinforced with Hotchkis Performance stabilizer bars and coil over shocks.  The factory brake hardware was upgraded to Brembo racing brakes (with 14×1.25-inch rotors up front and 12.32×1/25-inch rotors in the rear.)  A set of custom 18-inch Kinesis Motorsport K58 forged wheels with polished faces and custom painted centers were mounted at all four corners.  Each was wrapped with Goodyear F1 Fiorano tires (the same OEM tires found on Ferrari's from that era.)
Is the Tiger Shark a Show Car or Body Kit?
The completed Tiger Shark concept was first introduced at a General Motors Special Vehicles Media Event at the Milan Dragway in August/September 2001.  On October 30th, the car was introduced to the world by Chevrolet at the SEMA Auto Show.  Public reaction to the car was extremely positive.  Within minutes of its introduction, spectators began asking "when will the Tiger Shark go into production?"  Chevrolet responded that there was no plan to produce the car.  Instead, they told consumers how and where to order the custom body components needed to transform a stock C5 into a Tiger Shark Corvette.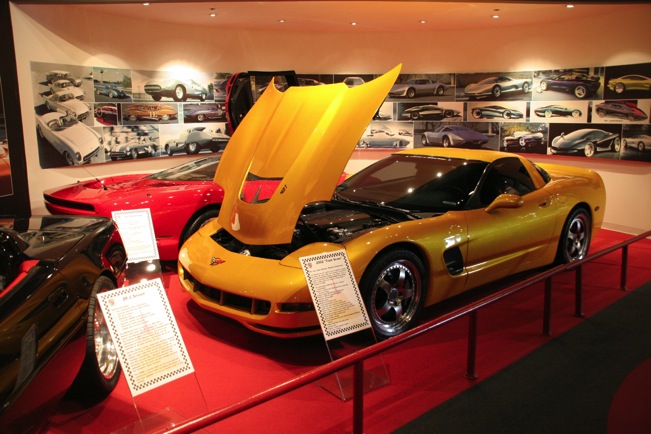 Despite the outpouring of positive comments that GM received about the Tiger Shark, very few consumers ever purchased the accessory body kit.  As a result, it is extremely uncommon to see an "original" Tiger Shark Corvette today.  GM attempted to sell both full and partial body kits for several months, but an almost universal lack of consumer interest forced them to stop producing them.  Interestingly, an updated version of the Tiger Shark body kit was re-introduced on July 17, 2015 when GMAuthority.com announced that Innovative Vehicle Solutions (IVS) of Redford, Michigan would start producing them again.
In the years that followed its introduction at SEMA, the original Tiger Shark made appearances at Corvette events across the nation.  In January 2009, it was auctioned off as part of a larger lot of cars being sold by GM Heritage at the Barrett Jackson Scottsdale auction.  Despite the significance of being a one-of-a-kind concept Corvette, the gavel price of the Tiger Shark's NO RESERVE auction was just $112,200.