It's hard to believe that just months ago I was doing a feature on one of Reeves Callaway's legendary builds, where he added his personal comments, and now he is gone. Callaway passed on July 11th from injuries sustained after a fall. He was 75 years old and is survived by four children and two grandchildren.
The tributes and remembrances started pouring in on my Facebook feeds when the news broke before the weekend, with numerous Corvette dedicated pages, and personal friends, saying a word about this man who made such an impact for our beloved Corvette.
We have a plethora of pictures in our archives, but my favorite is a much younger Callaway next to the iconic speed buster, The Sledgehammer.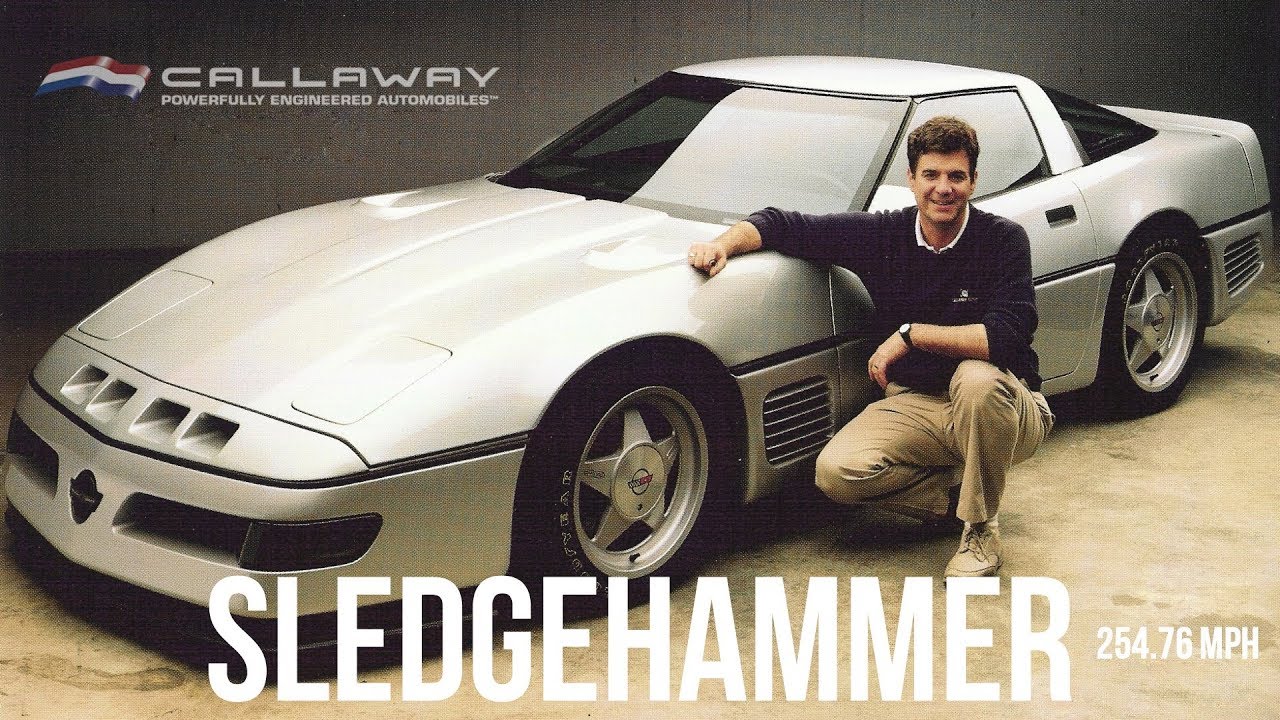 Here is a video with Callaway and the legendary Sledgehammer. It is a bit long but the beginning with Callaway's comments is worth viewing, as he speaks about the challenges of starting his business from his garage.
I'll leave you with some memorable words directly from Callaway Cars, that summarize Reeves' legacy well. R.I.P. Reeves, you will be missed.
"Callaway Cars announces, with deepest sadness, the passing of our Founder and CEO, Ely Reeves Callaway III, on Tuesday, July 11, at his home in Newport Beach, California, from injuries sustained after a fall.
Reeves was a legendary figure in the world of high-performance automobiles. Entirely self-taught, Reeves founded the company in 1977 from his garage in Old Lyme, Connecticut.
His first product success was an aftermarket turbo kit for BMW, which renowned automotive journalist Don Sherman reviewed favorably that year in Car and Driver. The rest was history as Reeves, a Formula Vee champion driver prior to becoming a constructor, moved with his customary speed to open Callaway Cars' first headquarters in Old Lyme, Connecticut.
Over the four decades since, Reeves and Callaway Cars have continued to earn top accolades from media, the automotive industry, and the global motorsports world as a pioneer of "Powerfully Engineered Automobiles". His unique performance and design innovations have delivered track and road-going successes for global marques, including BMW, Alfa Romeo, Aston Martin, Land Rover, Mazda and General Motors, who looked to Callaway's innovation, creativity, agility, and performance to help accomplish their goals.
Reeves is perhaps best known for his work with Corvette, a deep and high-level relationship with the American sports car manufacturer that began in 1987 and culminated with two industry firsts:
• The Callaway Twin Turbo Corvette "B2K" designation, a factory code to signify the GM stamp of approval to permit sale and distribution of the Callaway Corvette via the Chevrolet Dealer network which, in turn, earned Callaway Cars the rare honor of becoming designated a Specialty Vehicle Manufacturer.
• The second was a world-first record: in 1989, Callaway Cars built a Twin Turbo Corvette, dubbed "The Sledgehammer" that blew away all the competition by setting a production-car top speed record of 254.76 mph. Not until 2010, 21 years later, did Bugatti break Callaway's record by achieving a 267.85 mph in a Veyron Super Sport.
In 1994, Reeves launched a Germany-based racing unit, Callaway Competition, with partners Ernst Wöhr and Giovanni Ciccone. International recognition was achieved by their successes at the 24 Hours of Le Mans, and later a European GT racing team which ultimately led to authorization by GM to construct and homologate C6- and C7-generation GT3 race cars for international competition.
Reeves was one of the last and most successful one-man, single-vision practitioners of hyper-performing internal combustion automobiles. It's a rare-air field that includes the likes of Ettore Bugatti, Ferry Porsche, and Enzo Ferrari, to name a few.
Reeves' vision, creativity, and innovation encompassed not only automotive engineering, but aviation and aerospace as well with Callaway Carbon, Inc.
A longtime helicopter pilot and Board Director for Kaman Corporation, Reeves was in recent years a founding adviser to a hydrogen-powered and composite-intensive, blended-wing aircraft start-up with funding from NASA and the Air Force.
"Thanks to Reeves' visionary entrepreneurial spirit, Callaway Cars will continue to innovate and grow in the 21st century, inspired by his unique, extraordinary vision, and by his personal example of integrity, resourcefulness, and leadership as our founder," says his son Peter Reeves Callaway, the company's President. "Dad's passion for making beautifully designed and crafted machines can be seen in each and every project, and we remain devoted to executing to the highest standards, in true Callaway fashion. He was rarely found doing anything other than working towards the next milestone for the company. He was a charismatic leader with a sense of humor that we will all remember through various "Reeves-isms". I feel fortunate to have grown up working with him and the company."
Mike Zoner, the Chief Operating Officer of Callaway Cars, remembers him:
"I have had the privilege of working with Reeves and helping him innovate for over 35 years. Reeves always strived to make the finest vehicles and products, and then improve them. His support of our customers, partners, and team members was unwavering. We shall carry his vision and mission forward and continue to grow the company he founded and built into innovative future products that he would applaud as we honor his legacy."
The first son of Ely Reeves Callaway, Jr., the founder of Callaway Golf, and brother of publisher Nicholas Callaway, Reeves proudly epitomized the entrepreneurial Callaway family tradition of making the finest goods that enhance an individual's enjoyment, performance and lifestyle.
A true gentleman, he was the devoted father of four and grandfather of two.
His large circle of friends, colleagues and admirers around the world will mourn his passing and miss him deeply."