The Sledgehammer Is a 250+ Miles Per Hour Super Car!
Recently, while researching and assembling a list of the fastest production Corvettes of all time, we re-encountered a whole subset of Corvettes that had been built over the years that pushed the envelopes of speed and acceleration in ways that no production Corvette ever has (at least not so far.)  While many of these cars caught our attention (and will likely be showcased in future articles), there was one custom Corvette in particular that stood out from the rest – the Callaway Sledgehammer Corvette.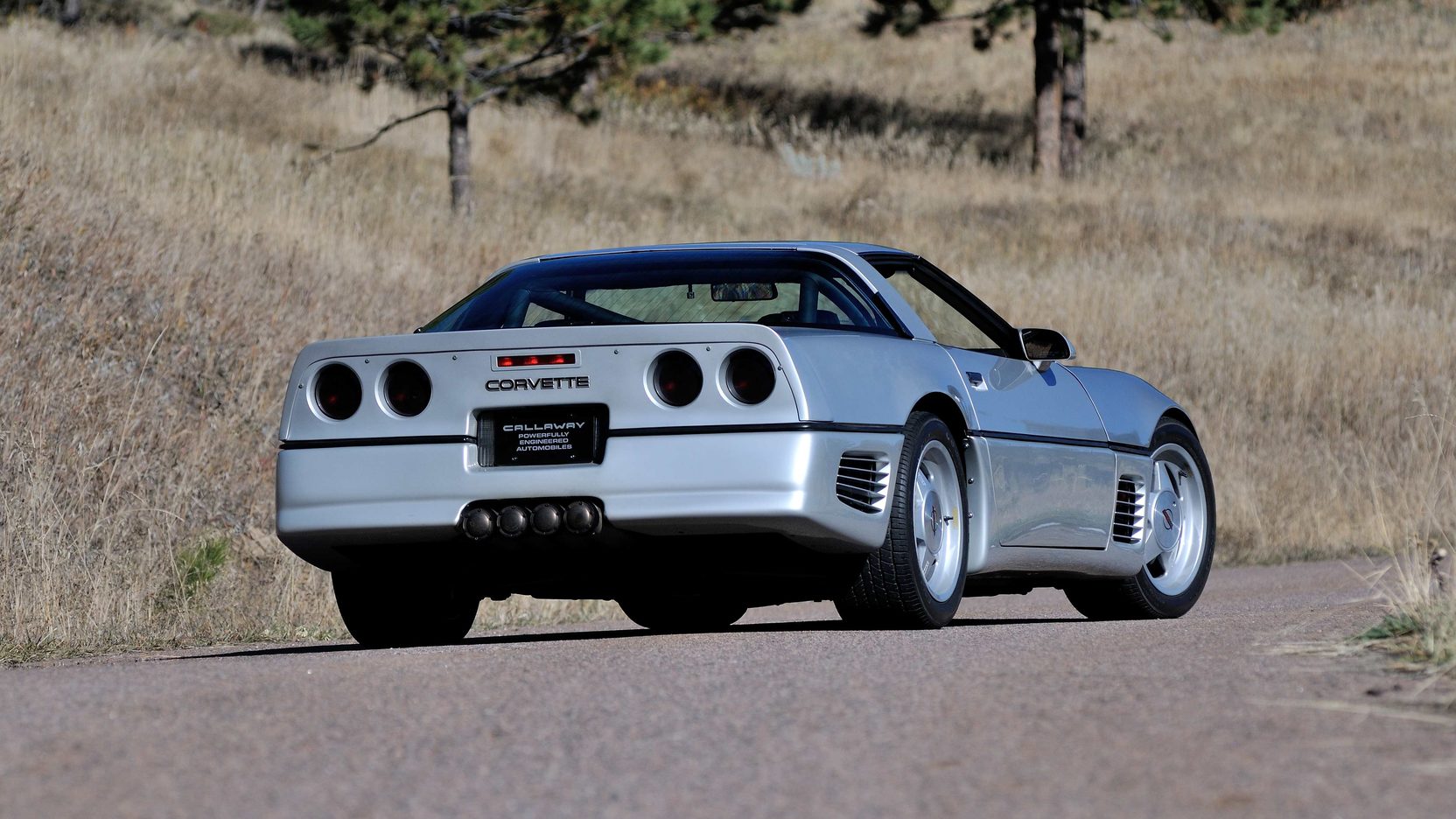 Based on a 1988 Chevrolet Corvette, the Sledgehammer was designed and manufactured by Corvette aficionado and legend Reeves Callaway.  Callaway had already become known for developing turbocharged variants of several production Corvettes, and in so doing, building cars that could achieve speeds well over 200 miles per hour.  Despite his many accomplishments – and many top speed records – Callaway wanted  to push the limits of this car even further.  He envisioned a car that would be far faster than anything that had come before it while simultaneously being a vehicle that could be comfortably (and reliably) driven on a congested city street.  In short, he wanted a "super car with good street manners."
Reeves Callaway also envisioned the Sledgehammer as a drivable science laboratory, one where he could work without restrictions to unlock the true power potential of his turbocharged engines.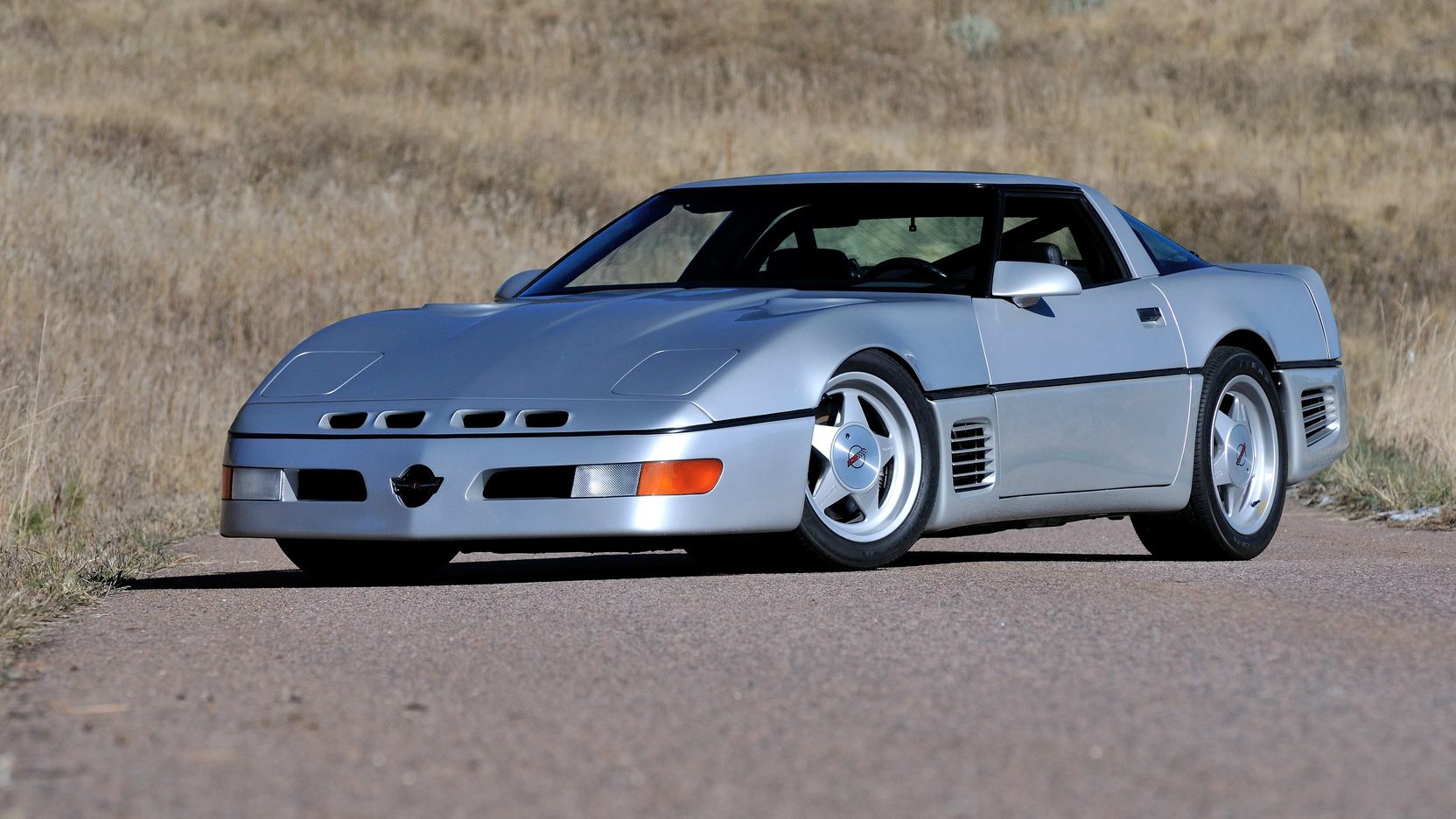 Callaway set to work on his new super-Vette.  He commissioned Canadian Paul Deutschman of Deutschman Design to develop the Callaway AeroBody.  The focus of the design was to develop a body that provided aerodynamic stability and good under hood air management.  Callaway was certain he could produce a powerplant that could propel his custom Corvette well into the 240+ mile per hour range, and he needed a chassis that would not buckle at such high speeds. He also needed to make certain that the engine compartment could properly vent the high volume of heat that this engine would produce when running wide open at such speeds.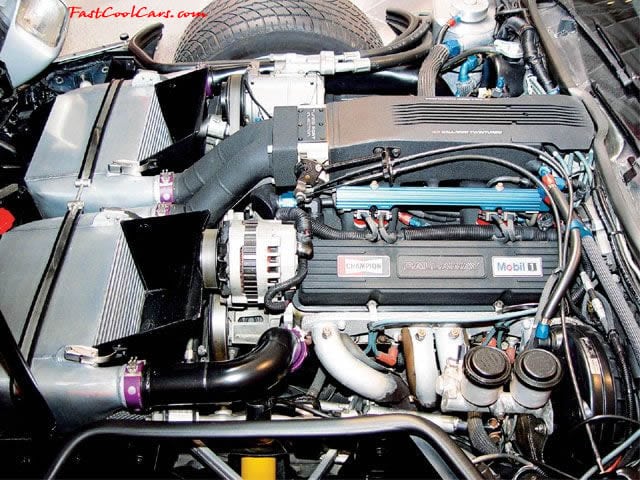 While Paul Deutschman set to work on the body design, Callaway Cars went to work on manufacturing the engine and drivetrain.  The engine – a tried-and-true Chevy 350 cubic inch small block V8 – was comprised of a four-bolt main NASCAR-spec GM "Bowtie" motor, Mahle pistons connected to forged connecting rods and Brodix aluminum heads designed for maximum power and durability.  Mated to the engine were a pair of Turbonetics T04B turbochargers and matching intercoolers, along with all the necessary plumbing to make the twin-turbo assembly work.
The engine was balanced and blueprinted to exacting standards.  While similar to other Callaway Turbo engines in many respects, and designed to be "streetable" as Callaway had originally envisioned, the resulting Sledgehammer engine was a highly modified platform.  The intercoolers had been relocated from both sides of the intake manifold to the front of the engine and tucked in neatly behind the front bumper.  Such changes were made so that the bolstered engine could be seated into the constrictive engine cavity of a fourth-generation Corvette.

But what separated this engine platform from everything else that had come before it (and most of what has followed since) was the incredible power it could produce.  The Sledgehammer's twin-turbo V8 engine produced a staggering 898 horsepower at 6,200 rpm and 772 pound-feet of torque!  Even by today's standards, those numbers are incredible.
Given the massive power output of the Sledgehammer's engine, Reeves Callaway had a custom, leather-padded roll cage installed for safety.  Despite this one prerequisite, Callaway insisted that the car retain an otherwise stock interior.  As a result, the 1988 Corvette Sledgehammer featured such niceties as power windows and locks, a BOSE stereo system, electronic air conditioning and power sport seats.  Both seats were modified only insofar as each was fitted with a 5-point harness.  Deutschman's custom C4 body kit, known simply as the AeroBody, was fitted.  It gave the Sledgehammer its signature look and became so synonymous with Callaway Cars that the AeroBody would be used by the car manufacturer on a number of future Callaway vehicles.
Race driver and engineer Carroll Smith helped tune the Sledgehammer's supsension for high-speed stability.  He accomplished this by relocating the lower control arms, reducing the car's ride height by one inch.  Koni shock absorbers were installed in conjunction with 17-inch Dyman aluminum wheels which would require specialty tires that could endure speeds greater than 250 miles per hour.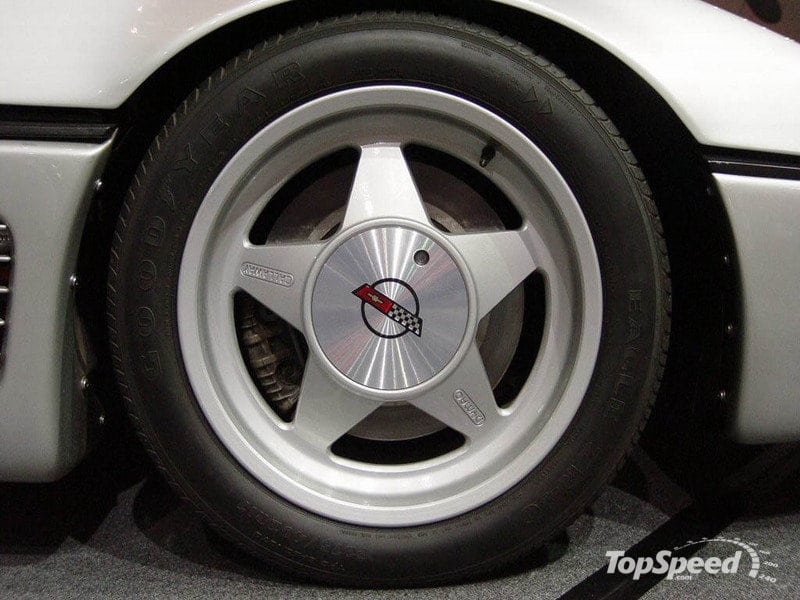 In 1988, General Motors had been working directly with Goodyear and had the tire company manufacturing the rubber for most of its vehicles.  The Corvette was no exception.  When Callaway announced that he was manufacturing the Sledgehammer, Chevrolet insisted that he try and use Goodyear tires to maintain the general aesthetic that helped give the Corvette the iconic sports car look that had become so instantly recognizable.  Callaway agreed to the condition so long as GM was willing to "go to bat" for the Callaway Company and try and win that work.
Per Reeves Callaway,  "And the request came from GM to Goodyear..saying can you make a set of tires that look exactly like the road car tire… the Goodyear Eagles.. but will be safe at 300 miles an hour.. and Goodyear said ok. They did it, and when we arrived at the test track, they pull off the street tires, put on the special tires..they look exactly the same. Go out and run up to top speed, and the minute that we were done, pull the tires off, put them in the back of the truck, cover them up and go away."
Now fully assembled, the Corvette Callaway Sledgehammer was ready for testing.  The question that was at the forefront of everyone's mind was what kind of top-speeds the car would be capable of reaching.  Additionally, many wondered how a nearly-900 horsepower Corvette would handle during varying driving conditions.  The answers to both questions would come over a period of just a few days.
First, on October 19, 1988, the car was driven began its road trip from Old Lyme Connecticut to the Transport Research Center (TRC) in East Liberty, Ohio.  The trip, which was nearly 7oo miles one way, proved that the Callaway Sledgehammer could be driven long distances during (at times) adverse weather and driving conditions.
Then, on October 26, 1988, under the control of John Lingenfelter, the Callaway Sledgehammer took to the 7.5 mile oval test track at the TRC, where it climbed its way up to a record-setting 254.76 miles per hour!!
"The calculation was so and so much frontal area, so and so much drag, so and so much horsepower necessary to push it through the air at that speed, and we did that. And we went and tested it, and we screwed up. It went 254.76 instead of 250." – Reeves Callaway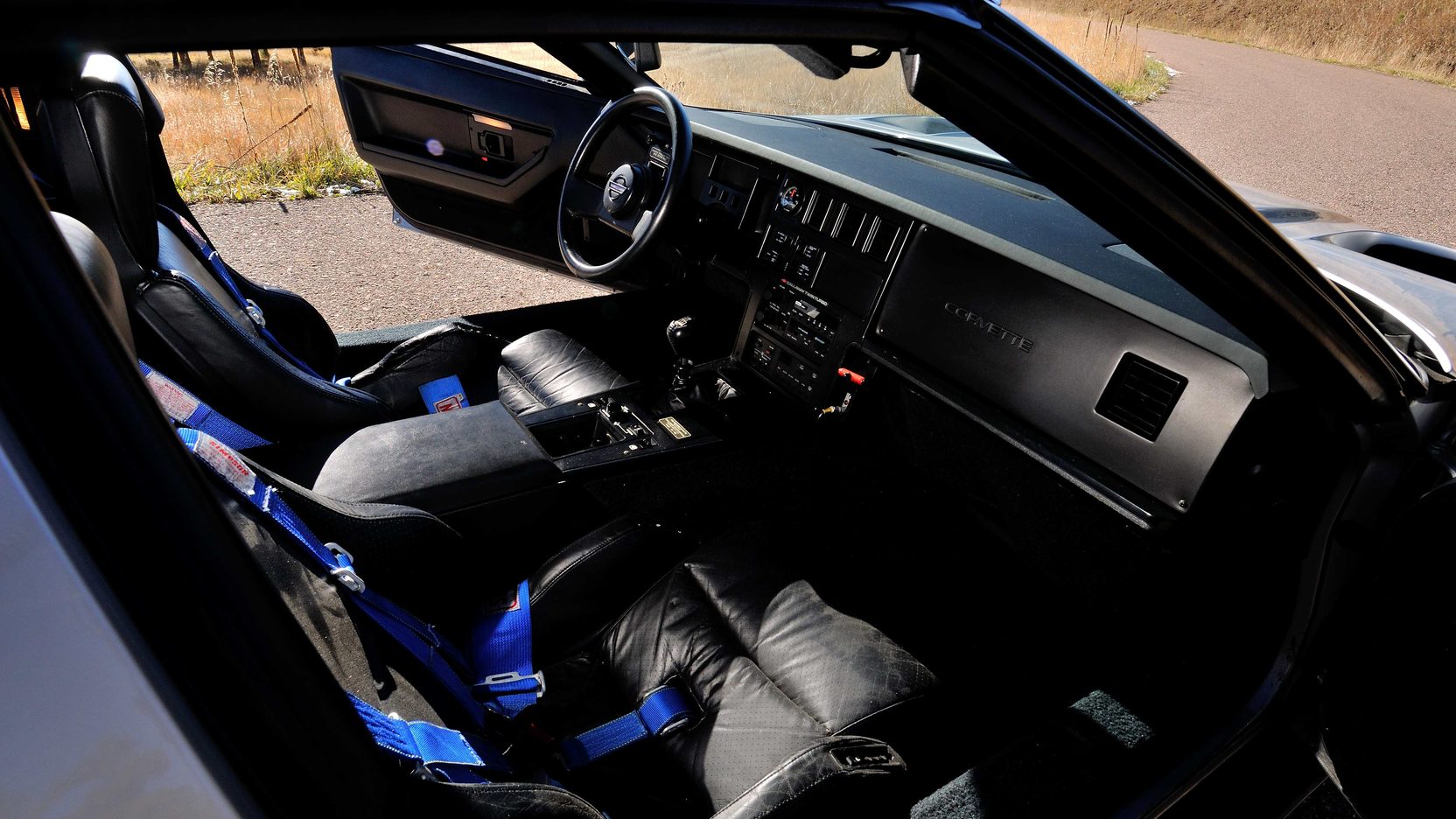 After establishing this momentous speed record, Callaway's team proceeded to drive the Sledgehammer back home to Connecticut.  Once more the car made the 700 mile trek without incident – only this time it made most of the trip in the pouring rain.  Even with adverse driving conditions in play, the car handled admirably.
For the next 20 years, the Sledgehammer would hold the top speed record of any street legal vehicle.  It was surpassed by the SSC Ultimate Aero TT in 2007 when the latter car hit a top speed of 256.18 (412.28 km/h).
In 2013, the Sledgehammer was inducted into the Bloomington Gold Great Hall, the longest running all-Corvette event in the United States. The Great Hall, which "recognizes 50 people and 50 Corvettes that significantly influenced the Corvette Phenomenon," is considered a great honor within the Corvette community.  Bloomington Gold is recognized world wide among car owners for its prestigious judging process of Corvettes.
Since its retirement, the Sledgehammer has been considered the gold standard among custom automotive fabricators.  Over the past few years, there have been multiple supercars that have come along that try and defeat the previous speed records, only to have their own records stripped away by another vehicle a few days later.  While super- and hyper- cars are becoming increasingly commonplace today, back in 1988 that was most definitely not the case.  Despite the number of 250+ mph vehicles on the market today, the Callaway Sledgehammer still ranks as one of the fastest vehicles in all of automotive history.