An Exciting Edition to the Race
While the end is near for the C7 Corvette, it's not likely to go away without a special edition car for the last model year. According to the schedule for the Rolex 24 at Daytona shared by Rick Corvette Conti, Chevrolet will show off a 2019 Special Edition Corvette at the race on January 25th at 11:30 am.
However, Chevrolet's website says nothing of a 2019 Special Edition Corvette reveal. Also, we noticed no mention of it at the Corvette Racing website or the Rolex 24 at Daytona's schedule page. Despite this, Rick Corvette Conti seems confident that the car will be there. The Ohio car dealership says it should receive images and specs of the car on January 24th, a day before the official reveal.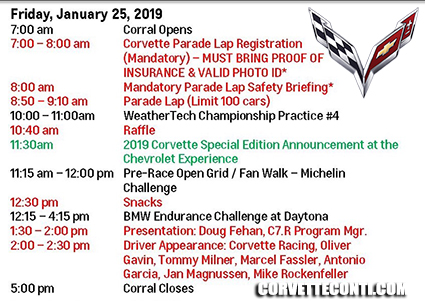 If that's the case, we'll keep an eye out for the new special edition car. However, as far as we can tell, Rick Corvette Conti's blog is the only place this possible reveal is mentioned. Still, the Rolex 24 at Daytona would be a good place for the reveal of a 2019 Special Edition C7 Corvette.
The C7's days are numbered. The car is near the end of its life, and while Corvette Racing still competes with the car, it's likely that once the C8 mid-engine car debuts, it will switch over. However, there is no word when the C8 will make its official debut. Until then, Chevrolet should have some fun with the C7. While the Corvette ZR1 is a worthy goodbye to the C7 and the front-engine design, a special edition or two would be fitting.