I'm in all the internet corners of the Corvette world day in and day out, so let me do the leg work for you with the top three stories of the week.
1) Car Auctions Weekly does a full Corvette market update.
15,000 viewers have already tapped into Jeff Retey's knowledge on his latest Youtube video, and he begins this episode by declaring, "Every C8 Z06 should be available at MSRP at the top 50 Corvette dealerships across the nation, so if your local dealer isn't willing to place nice, let them know they lost your money and all future business for trying to scam you. The days of tolerating ADMs and markups is over!"
If you are in the market, I highly suggest giving this video a watch, and if you are short on time exact timestamps are included below.
Where to go if you are looking for specific information.
0:00 Intro 1:10 C8 Z06 Warranty 2:06 C8 Z06 Sales Chart 3:10 C8 Z06 Dealer Greed Auction 3:55 C8 Z06 70th Anniversary Auction 4:48 C8 Z06 Auction 5:14 C8 Stingray Market 5:41 2020 C8 Stingray Z51 3LT Auction ($110k) 6:30 2023 C8 Stingray Z51 3LT Car Flipper Auction ($90k) 7:48 2022 C8 Stingray 3LT Z51 Auction ($91k) 8:39 2023 C8 Stingray 1LT HTC Auction ($82k) 9:10 C8 Pricing return to normal 9:36 C8 Stingray Pricing Trends (BaT and Cars & Bids) 11:24 GM Q1 Sales/Supply Changes 12:21 Dealer Recommendation & Ordering Info/Changes 14:18 Summary / Overview Stingray & Z06 16:12 Outro
2) ICYMI: Factory-backed Corvette Racing program calls it quits
This isn't an outright death sentence for the Corvette and racing, but still a shock to most who follow Corvette Racing. Our Scott Kolecki broke the news for CorvSport here, and in short, he reports:
"General Motors has stated that they will no longer support a full-factory Corvette Racing team for either the IMSA WeatherTech SportsCar Championship or the FIA World Endurance Championship after these programs move to the GT3-level racing platform in 2024."
What does this mean for the Corvette and racing? Mark Stielow, GM's motorsport competition engineering director, stated "We're not going to have a fully factory-funded Corvette race program," Stielow said. "But we're going to have a pool of Corvette drivers [that will race with customer teams].  We're going to support different teams to a degree but it's not going to be like Cadillac, which is a fully funded factory effort."
So, Corvette Racing fans, as I reported here, the glorious victory at last weekend's 24 Hours of Le Mans is a bittersweet last chapter for the formidable Corvette Racing team.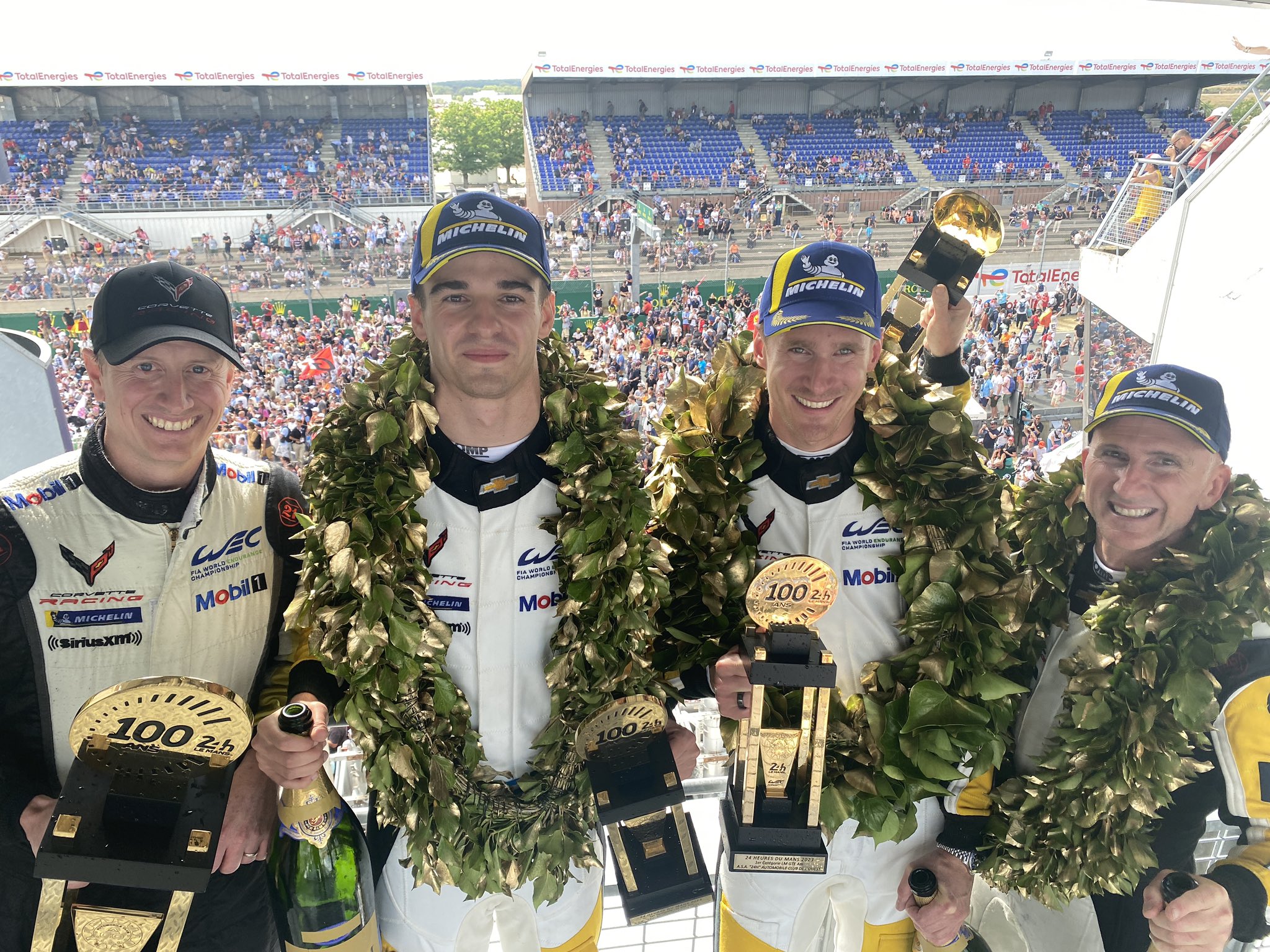 3) Mr. Corvette, also known as Mike Furman, hits sales milestone
For over 45 years, enthusiast Mike Furman has been fulfilling the dreams of other enthusiasts and has now impacted the lives of over 6000 Corvette owners across the globe. If you want to see his customers lit up with Christmas-like joy, you can follow his Corvette deliveries on his Facebook page.
Here is a neat bio from his dedicated page at Criswell Corvette.
The Legend of Mr. Corvette
He's wrestled Tom Cruise, played (and beaten) a man in ping-pong for a date with his daughter and owned 21 sportscars. No, this is not a Dos Equis commercial pitch. Rather, this is the story of the top spokesperson/salesman in Chevrolet's campaign against the likes of Ferrari, Porsche, Lamborghini. He is Mike Furman, aka Mr. Corvette… In 2001 became the No. 1 Corvette salesman in the world. But his story starts in New Jersey, when, as an accomplished competitive wrestler (how he happened to dislocate Cruise's shoulder) he found an even greater passion. "The first moment I knew I was a Corvette fan was spring of 1978 when all the car magazines did articles on the 1978 Corvette, which was the Indy 500 Pace Car for that year's race," says Furman. "I thought it was cooler than the other side of the pillow."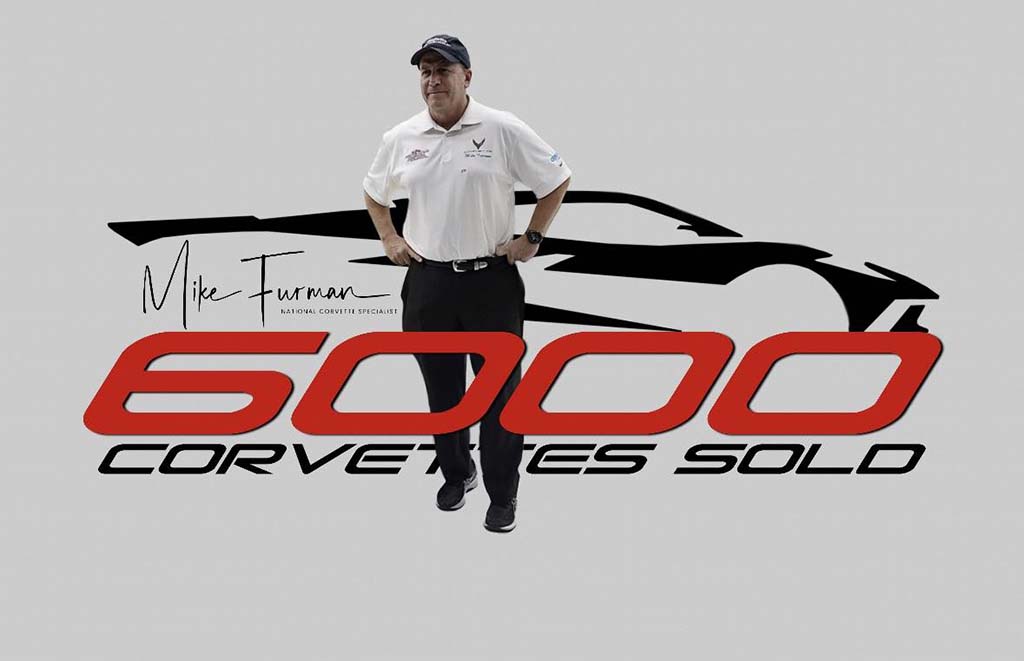 Looking for some wheels for your C8? Here's a message from Chet Baigh, Founder of AEROLARRI Wheels.
"To celebrate Mike Furman's 6,000th Corvette delivery, AEROLARRI Wheels is giving everyone a coupon code discount called FURMAN6000 . That deducts $100 from every wheel order and is available for a limited time- how long, isn't decided. But it is active right now. I, Chet, was talking to Mike about what to add to the gift package for the lucky 6,000th Corvette owner. A big AEROLARRI coupon code and a hat was decided. But then we thought to expand the party to everyone. After all, it's all 6,000 Corvette customers AND the whole Corvette community who got him there. So let's party! Enjoy! "Ohhh, and Mike, my C8 Z06 that I bought from you at MSRP was well worth the years of waiting!! "- Cheers, Chet Baigh…"
Congrats Mike for an awesome achievement, and as we used to say in the business, "sell 'em all!" I hope you have enjoyed this short but concise recap. We have an active community on our Facebook page, I would love to hear from you!  Douglas B.