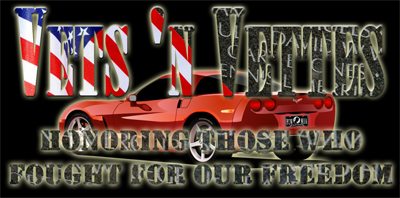 Honoring Those Who Fought For Our Freedom
In 2008, the National Corvette Museum began a tradition of honoring our veterans, POWs and MIAs with a new event, "Vets 'n Vettes."  In the seven years since its inception, the event has expanded to include the "American Warrior Recognition," a special event put on by the Muesum to provide returning warriors with a special Corvette experience.  The event, which will run from November 6-8, 2014 kicks off on Thursday, November 6 as Fort Campbell and Fort Knox send down members of their Warrior Transition Battalion to enjoy a day at the Corvette Museum, featuring rides in participants' Corvettes on back road tours led by the Kentucky State Police, as well as lunch and tours of the Museum and Plant.
The specifics of this event, along with registration information, can be found at the National Corvette Museum's website, which can be reached by clicking here. Some activities have limited space, so make sure you sign up early.  You can also reach the National Corvette Museum by calling 1-800-53VETTE (83883).