Vets 'n Vettes – Honoring Those Who Fought For Our Freedom

This November, as part of Military Appreciation Month, the National Corvette Museum in Bowling Green Kentucky will be hosting its 10th Annual "Vets 'n Vettes."  This special three day event will be presented by Mobil 1 and hosted at the NCM's Motorsports Park from November 8-10, 2018 to recognize and celebrate local Veterans for their service in our armed forces.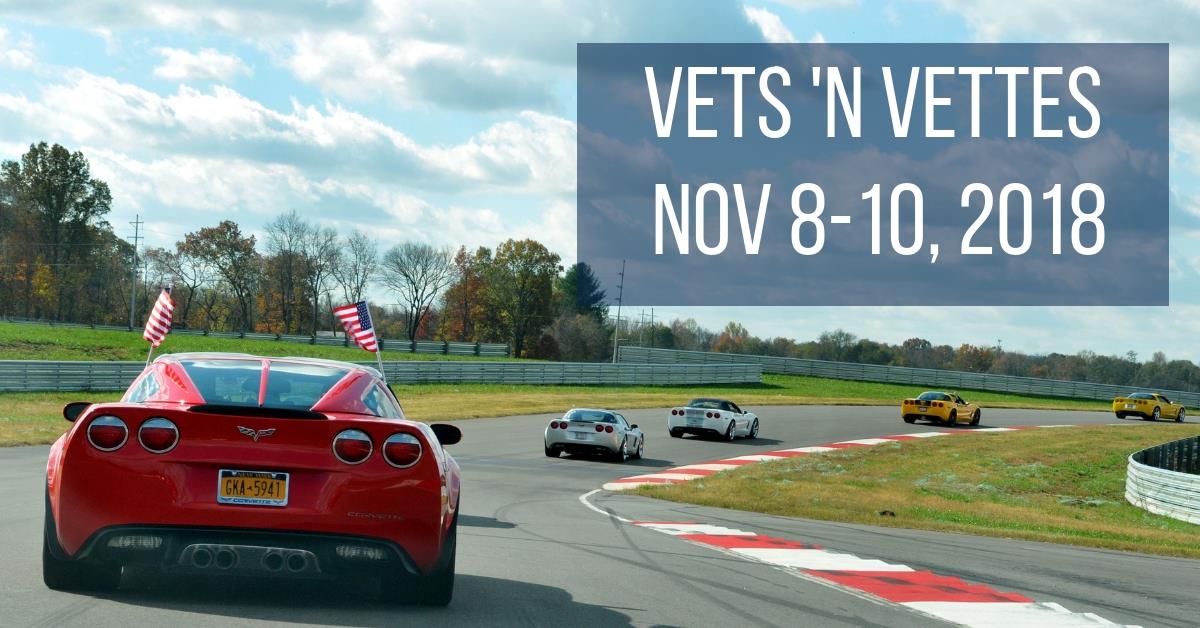 "Vets 'n Vettes" starts on Thursday, November 8th and will feature a day long track event at the Motorsports Park.  Local Corvette owners will provide Veterans with a ride around the 3. 15 mile racetrack, allowing them an opportunity to experience the track firsthand as a passenger in a Corvette.  All participants for this event MUST register in advance in order to drive their car on the track during this event.  Complimentary lunch will be served to both the drivers and the Veterans in attendance.  The NCM track is located at 505 Grimes Road (just off Porter Pike) in Bowling Green, Ky., and the ride-alongs will be hosted from 9 a.m. to 3 p.m. central time.
On Friday, participants will participate in one of two sponsored events.  The first will be the "LT1: General Jackson Showboat" which will feature a 2.5-hour river cruise on the General Jackson as it travels up the Cumberland River from its launch at Opry Mills to downtown Nashville, Tennessee.  Guests will enjoy an afternoon of entertainment along with a delicious lunch buffet.   Registration for this excursion is $65.00 and does not include transportation to-or-from the event.
For those looking for a less intensive excursion, you can elect to participate in "LT2: Barren River Lodge for Lunch."  This outing will feature a beautiful drive down to Barren River State Park Resort where participants can enjoy a buffet at the Driftwood Restaurant, which overlooks the beautiful 10,000-acre lake.  Registration for this event is $25.00.  While it is a guided driving tour, it still requires attendees to drive their own vehicle to the event.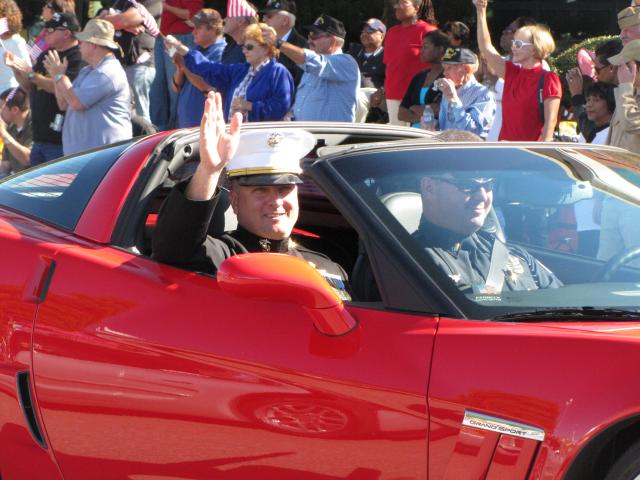 Finally, on Saturday, participants will be part of the annual Bowling Green Veterans' Day Parade.  The parade, which kicks-off at 10am will conclude around 11:30am.  Corvette owners/drivers are encouraged to meet back at the National Corvette Museum.  From there, all participants will caravan to the local VFW hall, where members of the VFW will be hosting their annual Fish Fry.  Registration for the "LT3 VFW Annual Fish Fry" is $15.00, and all proceeds will be donated to Kentucky's Wounded Hero's program.
In addition to the sanctioned events listed above, attendees will have the opportunity to participate in a number of events including: Meet n' Greets, road tours, dinner outings, along with providing veterans, along with active servicemen and women a comfortable venue to share their stories and experiences.
General registration for Vets 'n Vettes is just $20.00, and registration is required for anyone looking to participate in the track event on Thursday, November 8th.  Meanwhile, the Veterans luncheon will be free to veterans and their spouse or guest.  The luncheon buffet will be hosted in the track garages from 11:30 a.m. to 1 p.m. Luncheon guests are asked to RSVP by Friday, Oct. 27 with a call to Bryce Burklow at 270-777-4506.
All on-line registrants will receive a hard-car credential, a lanyard and an event pin.
Beyond this weekend-long event, American military veterans, along with police and firefighters, will receive free admission to the Museum during the entire month of November just by showing proof of service at the admissions counter. Their immediate accompanying family will also receive free admission.
The Museum is located at I-65, exit 28 in Bowling Green, KY and is open daily, 8am-5pm Central Time.  Learn more about the Museum at www.corvettemuseum.org.

Schedule of Events for Vets 'n Vettes
WEDNESDAY, NOVEMBER 7
Registration Opens 1:00pm – 5:00pm / NCM Clubroom
THURSDAY, NOVEMBER 8
7:30am
NCM Opens
7:30am – 5:00pm
Registration Open

Located in Clubroom
Advance Registration Pickup
Onsite registration available

8:15am – 8:30am
Opening Ceremonies – NCM Flagpole
8:45am
Caravan to NCM Motorsports Park
9:00am – 3:00pm
Day at NCM Motorsports Park
Enjoy the day at the Motorsports Park with touring laps and karting. Lunch provided at the MSP

Offer your corvette to give local Veterans a ride around the track
Driver meeting 9:30am – mandatory
Unlimited track time
Onsite sales for karting experience
EVENT REGISTRATION IS REQUIRED TO DRIVE YOUR CAR ON THE TRACK

9:30am – 11:15am
MOVIE TIME – 'The Producers'Mel Brooks wrote an original screenplay whose characters are driven by greed, need, neurosis, cheerfully shameful sexual behavior and a deep cynicism about show business. 

Holley Building Classroom at Motorsports Park
No Charge – no sign-ups necessary

11:30am – 1:00pm
 Lunch Served

Free for event registrants and Veterans
Grilled Hamburgers / Hot Dogs
Pre-Registration is Required
Lunch in MSP Garages

1:00pm – 3:00pm
MOVIE TIME – 'Phantom of the Opera'The haunting story of The Phantom of the Opera is adapted from Gaston Leroux's novel of the same name and is set in the heart of the Paris Opera House. As young ballet dancer Christine Daae becomes the object of The Phantom's secret affections, he manipulates her career at the expense and horror of the Opera House staff and stars.

Holley Building Classroom at Motorsports Park
No-charge – no sign-ups necessary
5:00pm
National Corvette Museum Closes
 
5:00pm
Cash Bar – Social
 
5:30pm – 7:30pm
Meet & Greet Welcome DinnerEnjoy a great meal after your track day

Pre-registration is Required
$25 Per Person
Early Thanksgiving Dinner is on the menu
Commemorative 10th Anniversary Glass
NCM Conference Center

** Guest Speaker is Jack Delong – Vietnam Veteran and Lifetime Member of the NCM.

'Following in my Dad's Footsteps –

 Return to Normandy'

 
FRIDAY, NOVEMBER 9
 
8:00am
NCM Opens.
 
8:00am – 4:00pm
Registration Open

Located in clubroom
Advance Registration Pickup
Onsite registration available

 
9:45am – 4:00pm
LT1: General Jackson Showboat – NashvilleTake the 2.5-hour General Jackson Showboat Midday Lunch Cruise for an afternoon of entertainment along with a delicious buffet lunch! Enjoy the comedy, audience interaction, and catchy tunes from the band while cruising along the Cumberland River and tasting a mouth-watering Southern-style buffet prepared by the General Jackson's very own sous chef.

Pre-Registration Required
$65 Per Person
Drive your own Corvette
Approximately 135 miles round trip

 
11:15am – 2:00pm
LT2: Barren River Lodge for LunchIf you are looking for a shorter / lighter day – take a nice drive to Barren River State Park Resort. Enjoy the buffet at the Driftwood Restaurant overlooking the beautiful 10,000-acre lake.

1149 State Park Rd Lucas, KY 42156
Pre-Registration required
Buffet Lunch
Registration fee: $25
Guided – Drive your own Corvette
Approximately 60 miles round trip
5:00pm
National Corvette Museum Closes

Free night to spend with your friends

 
6:00pm – 10:00pm
 **NOT THROUGH NCM**

Outback SteakhouseOutback Steakhouse of Bowling Green would like to give back to our Veterans. Enjoy an evening of great food, entertainment, and camaraderie with other BG Veterans.

3260 Scottsville Rd, Bowling Green, KY 42104
Tent set up in back with Outback trailer
$20 all you can eat Ribs & Chicken (including drink)
Local bands performing
Silent auction gift baskets – all proceeds go to local Veterans organizations
Pay on your own

SATURDAY, NOVEMBER 10
 
8:00am
NCM Opens
 
8:00am – 9:00am
Registration open in Clubroom
 
8:15am – 8:30am
Event Group Photo

On NCM Logo Circle
Photo's available for purchase after parade
NCM Blvd

 
8:30am – 8:45am
Driver Meeting
 
8:45am
Depart NCM Front Circle to Bowling Green Veterans Day Parade
 
9:00am – 10:00am
Arrive at Parade Staging area and prep cars
 
10:00am
Parade Begins

Candy throwing is allowed
No revving of motors while on parade route
Return to NCM at end of parade

 
11:30am – 1:00pm
LT3: VFW Annual Fish Fry
VFW will also be serving our participants a fish fry.We want to support our local VFW –  with all proceeds going to the KY Wounded Hero's program.

Advance Registration required
$15 registration fee
Stage front circle after parade – caravan to VFW from NCM
Leave on your own

 
1:30pm – 3:30pm
Free Guided Road Tour – Rollercoaster and Chaney's Ice Cream

Guided Road Tour
Stage NCM Front Circle
Buy your own ice cream

 
5:00pm
National Corvette Museum Closes