The Story of an American Patriot and his American Dream.
The story begins with the birth of the Chevy Corvette.
The birth of the Corvette came about as a byproduct of soldiers returning home after serving their country.  The 1953 Corvette, designed by Harley Earl, was developed in response to the large number of two-door sports convertibles that soldiers were bringing back with them to the United States after being stationed in Europe.  Since there was no American counterpart to cars being built by companies like Jaguar and Mercedes, Chevrolet decided to build one.
And the Corvette was born.
Since that time, the Corvette has become a cornerstone of the American Dream.  For soldiers serving in the military, it has been an iconic symbol of freedom, and an objective to strive for while serving in their military careers.  It also provided one soldier with a goal and an ambition that helped him keep his focus after being drafted into the Army.
John Adornetto and his 1969 Corvette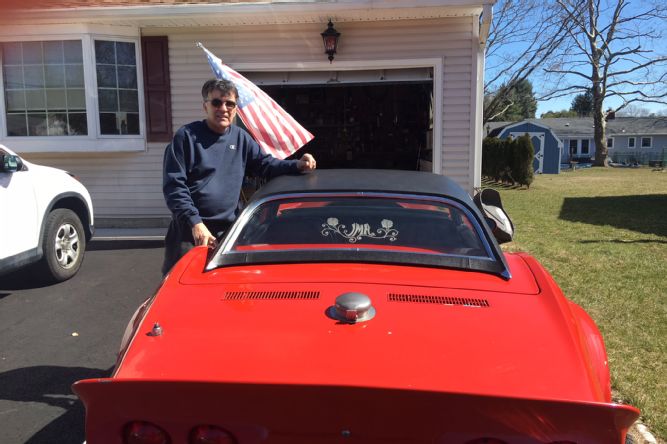 John Adornetto was drafted into the Army in 1968, the same year he turned 21 years old.  He spent three months in boot camp at Fort Dix, and another three months in Advanced Infantry Training.  After that, he was sent directly to Quang Tri in Vietnam, a small station, where he served in the infantry as a "leg man."
Adornetto had always dreamed of owning a Corvette, even before he was drafted into the Army.
His military pay was not much.  In 1970, the monthly salary for an enlisted solider with less than two years of service was $133.20/month.  Still, Adornetto, as a foot man serving in the infantry, received combat pay and overseas pay in addition to his basic Army salary.
He sent all of the money he earned to his mother.  She saved all of it for him.
About a year into his service, Adornetto, along with other members of the infantry, were sent out via a military transport truck into the fields, where the truck struck a mine.
"I just happened to lean over and got sprayed with shrapnel," said Adornetto. "(It) went into my shoulder."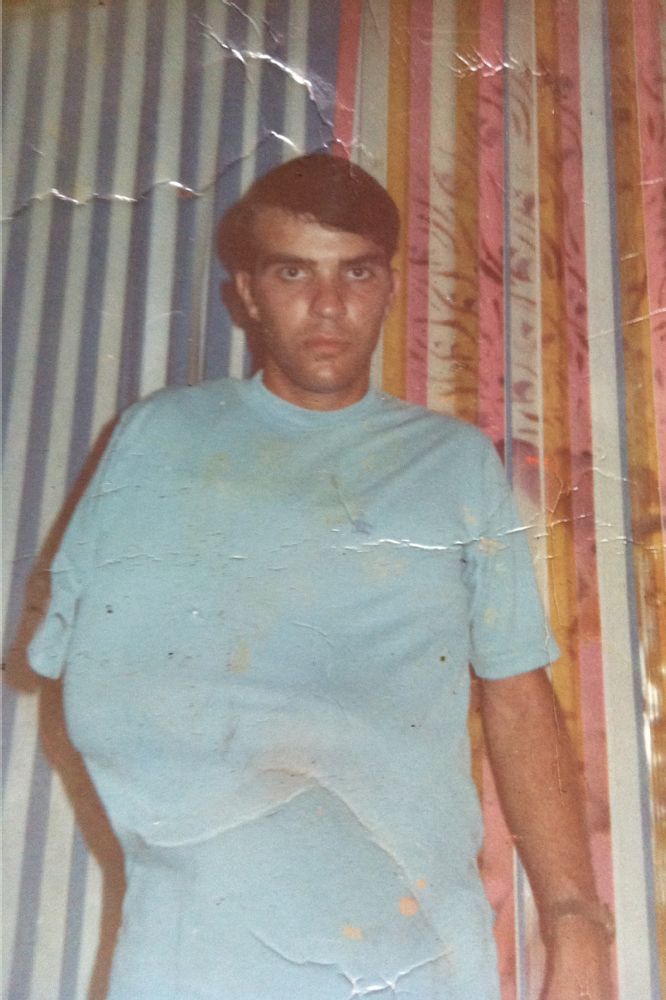 Adornetto was sent to a U.S. Army Hospital at Camp Zama in Japan for an operation on his shoulder to have the shrapnel removed and his shoulder repaired.  After spending time recuperating in Japan, he was shipped to Fort Hamilton, New York, where he was honorably discharged from the Army two weeks early.
The year was 1970.  John Adornetto was a Vietnam veteran with an injured shoulder.  With his arm still in a sling, he set about finding a job.  Before long, he found employment with the U.S. Post Office.  Shortly thereafter, he met the woman who would become his wife.  They dated briefly and decided to marry.
In addition to finding employment, Adornetto still had all the money from his military service.  His mother had saved all of his pay and now, with several thousand dollars in-hand, a supportive wife and a good job, Adornetto decided to pursue his Corvette dream.
In 1971, Adornetto began his search for his dream car.  He didn't have a specific model in mind, though he wanted something exhilarating to drive, like a Grand Sport or an L88 Corvette.  However, it was his wife that ultimately helped him find his once and future Corvette.
"(She began) talking about her cousin having this Corvette" Adornetto said.
The car was a 1969 Corvette convertible with a 350 cubic inch engine and a manual transmission.  Adornetto loved the car and gave his wife's cousin $1,300.00 for it.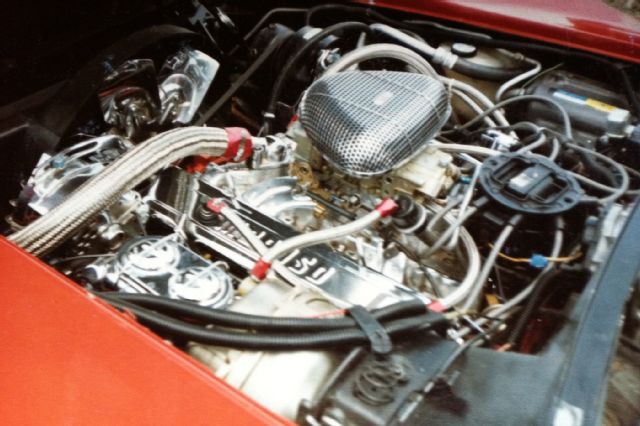 Since John had a Camaro as his daily vehicle, he was able to take his time modifying the Corvette.  Shortly after purchasing the Corvette, Adornetto installed a 650 Holley carburetor, a low-restriction air cleaner, a set of valve covers and side pipes.
"I bought a lot of body parts from Eckler's Corvette in Florida.  I flared out the wheelwells.  I had a small scoop in the front, all molded on."
Adornetto replaced the stock rims with Cragers and repainted the flaking white paint with a brilliant gloss red finish.  He drove to Long Island to purchase an L88-style hoodscoop.  He transformed the headlights from the factory flip-out headlights to fixed units.  He kept the stock four-speed transmission, but replaced the factory shifter with a Hurst T-handle.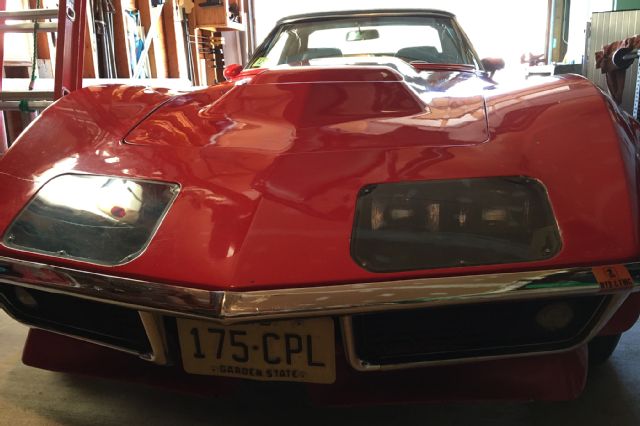 While he invested a fair amount of time and money building the car, he didn't drive it very much.  Most of the time the car stayed in the garage.
"It was always running," John said, "(but) I never had insurance money and I never had time to register it."
At one point, some fifteen years after purchasing his Corvette, John actually considered selling the car.  He had been given an offer of $1,900 for the car.  As he and his wife were looking to move from Jersey City to Freehold (where he still lives today) at the time the offer was presented, he entertained the idea of selling it, though briefly, before coming to his senses.
He's never considered selling the car since that time.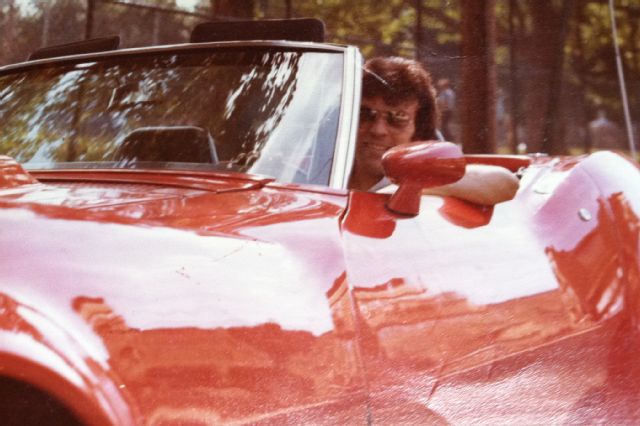 Like so many Corvette owners, Adornetto's 'Vette has spent most of its life in the garage.  The car now has 58,000 miles on it, which means Adornetto has put somewhere between 6,000 and 7,000 miles on it since buying it more than forty years ago.
However, Adornetto plans on changing that.
John Adornetto retired from the U.S. Post Office five years ago.  Since then, he's put some time and effort into returning his 1969 Corvette to road-ready condition.  Recently, he pulled his classic Corvette out of the garage – complete with all of its earlier modifications – and got it out on the open road.
Thank you Mr. Adornetto for your service to our country and for sharing your Corvette story with the world!
source: superchevy.com