Even though the GM engineers have done a wonderful job in the last handful of generations and given us great small-block pushrod V8s that scream toward their redlines, it usually doesn't take long for most enthusiasts to crave more power.
These are broken down by region (and in no particular order). Most are tuners I've personally seen stand out after 25 years as an enthusiast, and all have an overall positive presence in the community. It is not an all-inclusive list, so if you have a tuner you've used over the years and are extremely happy with, drop me a message on our Facebook page and I'll add them to the list as "Corvsport community mentions."  Douglas B.
Northeast
(1) East Coast Supercharging (known as ECS). I've actually had the opportunity to "pal around" for many years with the owner Doug on our favorite Corvette forum and watched him grow over the years. He proudly just opened a new facility and as always is ready to take on your project.
Phone Number: (609) 752-0321Website: https://eastcoastsupercharging.com/
Bio From Company: "ECS was founded by Doug Ring & Chris Coriell in 2000 to fulfill a need in the local performance market. Since then, we've developed a large number of LSx-focused products to help your car go faster, stop quicker, and perform more reliably on the street or racetrack.
At East Coast Supercharging, LSx Performance is not just our business, it is our passion. ECS was founded to fill the void in the LSx performance shops. We strive every day to be the best in the business. ECS celebrated its 20th anniversary in 2021.
From the moment you contact ECS, you'll find us to be a little different. From our office manager, sales staff to the shop manager and technicians we all own and drive LSx powered vehicles. They are our passion, and this shows in our work."
A Common Recent Google Review: "Chris, Doug, and the rest of the crew at East Coast Supercharging were amazing. They helped me put together a supercharger kit and were happy to answer any question I had. They were honest about everything and didn't try to sell me on things I didn't need. I wouldn't hesitate to do business with them in the future." Joe Bennett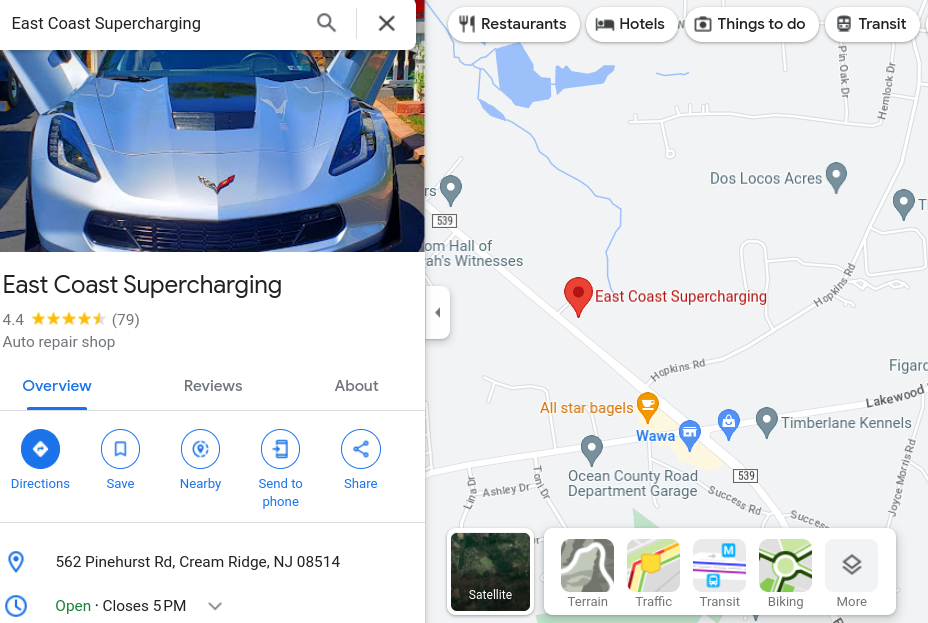 (2) The Vette Doctors. Other than knowing the name, this tuner was referred to me by a Corvette Forum member and personal friend, who has been using the Vette Doctors dating back 20-plus years. He's the super picky type, so his recommendation alone was enough to add them to the list.
Phone Number: (631) 841-0779
Website: https://www.thevettedoctors.com/
Bio From Company: "What most may not know is that our GM Certified Technicians' careers include the likes of RAMP Chevrolet's Corvette facility. Around 15 years ago they decided to open a business and The Vette Doctors was born! At the time, there were no HP Tuners or EFI Live and even LS1 Edit was in its infancy.
Enthusiasts would have to modify their engines and send the Chip/PCM to some "garage" in California where a few computer geniuses figured out how to break the "code" and make the necessary changes. The process itself was very rudimentary. Instead of a dyno pull, log review and a quick update/re-flash, it was back to UPS with the latest data and another round trip to California and back."
A Common Recent Google Review: "Amazing men and obvious professionals work here. Fantastic service provided in such a short period of time, would recommend this business any day if they have what you're in need of." Andrew Denton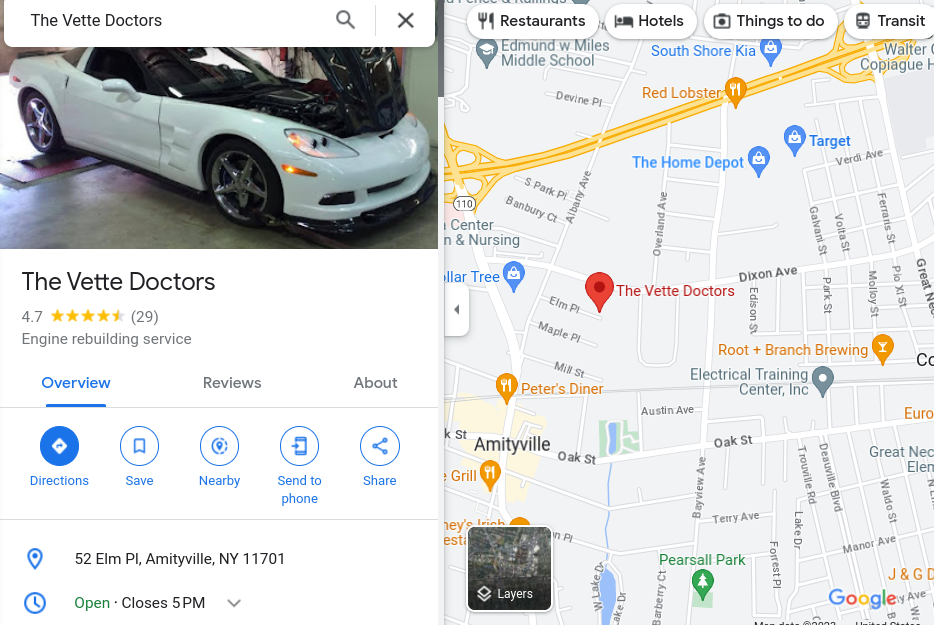 (3) Race Proven Motorsports (known as RPM). For years I've heard the RPM around the forums, and only recall hearing good things. I love shops that have humble beginnings and grow due to excellence, and this is certainly one of them.
Phone Number: (302) 798-4000
Website: https://race-proven-motorsports.myshopify.com/
Bio From Company: "Founded in 2005 by Fran Schatz, Race Proven Motorsports has come a long way from its beginnings in a one bay garage in Claymont, DE. Fran graduated from the acclaimed School of Automotive Machinists (SAM) in Houston, Texas in 2004.  His passion was for all things LSx drove him to open the best shop in town.  We now service customers all over the world.
Before every project is started, vehicles are loaded onto our state-of-the-art DynoJet 424XLC2 with LINX chassis dynamometer in order to acquire baseline horsepower and torque readings.  After completion of each project, final custom calibration tuning is completed as well.  We are thrilled to be a part of your vehicle's goals.  No matter how large or small they may be, Race Proven Motorsports can help you achieve them."
A Common Recent Google Review: "The Race Proven Motorsports team is by far the best in the game. My build was complete Sept '21. Bill was responsive to my inquiries – both pre and post sales. Trust… I had a lot of questions. Bill responded to everyone in a timely manner. Thanks to Fran and Matt for the tune and build. 5 months and two 400 mile road-trips later and the car runs excellent." Robert Wright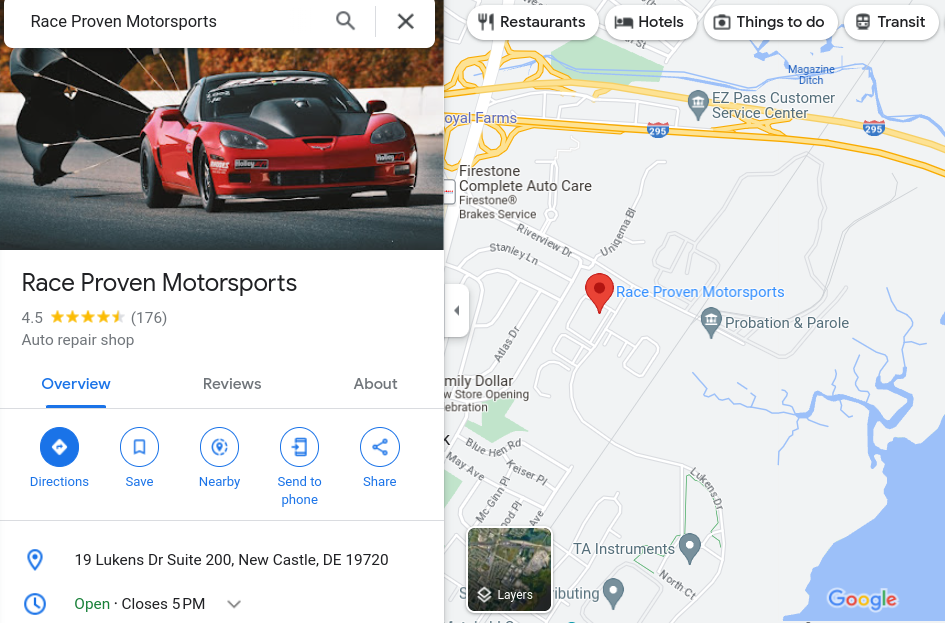 Southeast
(4) Vengeance Racing: This is one of the tuners I've had the privilege of personally working with, and my go-to tuner when I lived in GA. Members of my family have also had nothing but positive experiences. They also have a big heart and went above and beyond when we had a charity event for the Humane Society many years ago.
Phone Number: (678) 513-7105
Website: https://vengeanceracing.net/
Bio From Company: "Vengeance Racing was established to offer performance enthusiasts an honest, reputable and knowledgeable shop that understands your needs and can deliver reliable, top quality performance packages. We install everything that we sell in house. All of us here at Vengeance are racers and enthusiasts alike so we know what you expect and how to provide it. Vengeance Racing is your source for all Late Model Performance parts and packages.  Vengeance Racing's vast knowledge is second to none!
We offer complete ECU calibration packages using EFI Live/ HP Tuner/ Pro EFI and more. We offer everything from small bolt on installations, heads & cam upgrades, complete engine builds, power adder combinations, full race car preparation, custom turbo applications, complete turn key packages and much, much more!!!"
A Common Recent Google Review: "Vengeance did a head/cam/headers/tuning etc package on my C6 ZO6 a few years ago. The entire process from initial pricing to pick up was amazing. Their attention to detail is what every performance shop should strive for. Recently emailed and discussed a time package for our ZR1 and was met with the same exemplary customer service I had the first time. Thanks Vengeance!!" Bahnstormer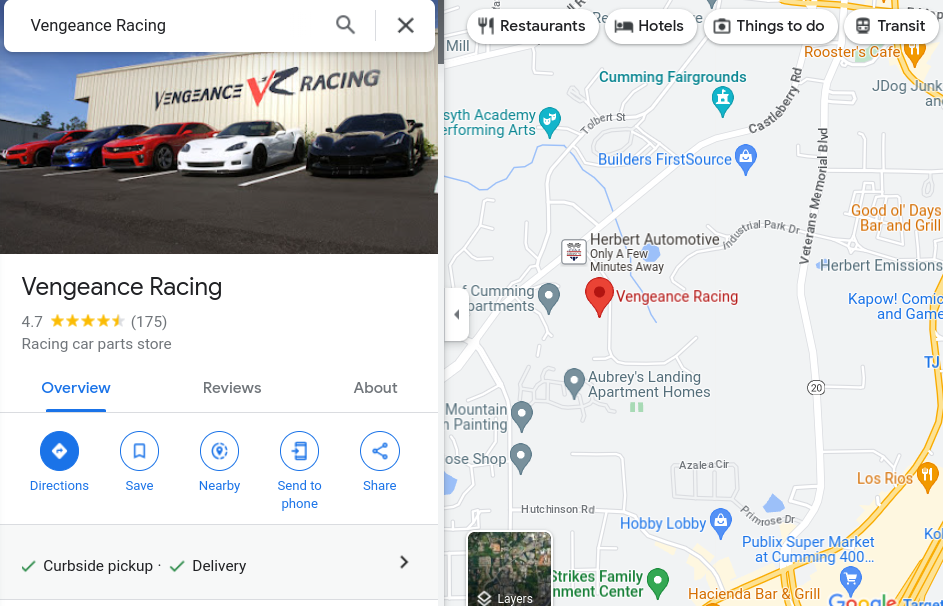 (5) Redline Motorsports. If you spend any amount of time in the general and tech sections on the Corvette Forum you will get a good idea of how attentive Redline is to their craft, as their post history spans 10+ years. In a time when responsive customer service has become a lost art, they prove it still exists.
Phone Number: (954) 703-5560
Website: https://www.redline-motorsports.net/
Bio From Company: "Over the last 15 years, Redline has been involved and featured regularly in the pages of GM High Tech Performance, Vette Magazine, Super Chevy Magazine as well as Hemmings Muscle Machines and Hot Rod Magazine. Many of the articles are technical in nature as my personal appetite for information is quite large! Redline carries well over 32 years of experience in electronic engine management controlled GM vehicles which has been the building block and foundation for the company's strength."
A Common Recent Google Review: "I have used the services of Redline Motorsports in Pompano Beach numerous times this year to improve the reliability and performance of my C6 Z06. These guys are THE BEST at what they do. I feel 100% confident when I leave them my car that the work will be done right and they will take good care of my baby while it's in their shop. I drive 2 1/2 hours to get to their facility and it's worth every minute." Frank Orlando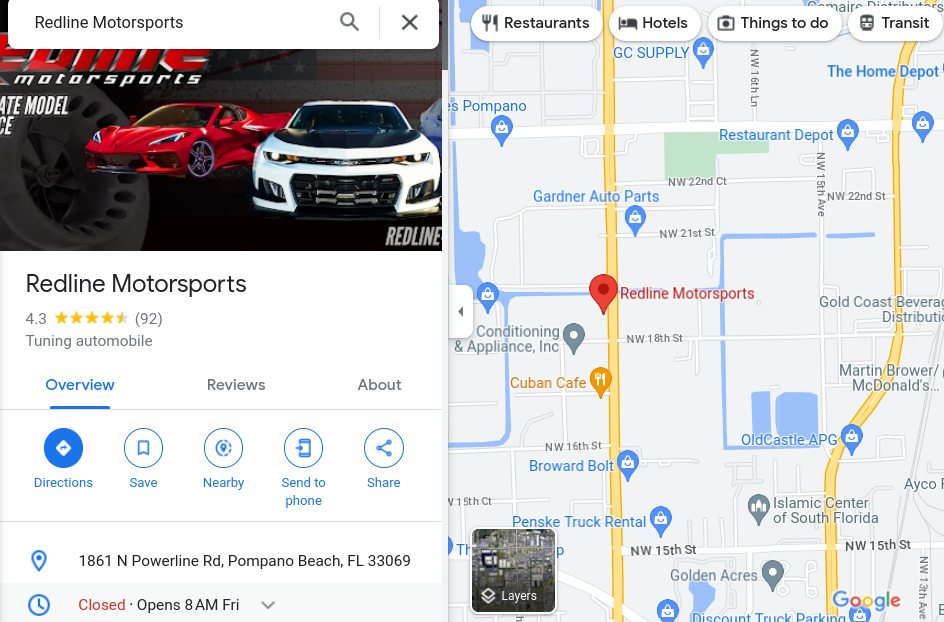 Midwest
(6) Lingenfelter Performance Engineering: This iconic Corvette tuner remains strong after the loss of John many years ago. Founded in 1973, they offer performance packages and individual parts all the way back to the C4, and are also known for tearing up track events across the country, due to their consistent performance and reliability.
Phone Number: (260) 724-2552
Website: https://www.lingenfelter.com/
Bio From Company: "Lingenfelter Performance Engineering was founded in 1973 and has become a globally recognized brand in the performance engineering industry. The company offers engine building, engine and chassis tuning components and installation for vehicle owners; component product development; services to manufacturers, aftermarket and original equipment suppliers; prototype and preparation of product development vehicles; late product life-cycle performance improvements; durability testing; and show and media event vehicles."
A Common Recent Google Review: "I've been doing business with Lpe since 2005 and have always been satisfied. They recently finished my zo6 which made lots of power and after a few days I had a issue that required attention. Brandon and Doug stepped up and had the issue corrected immediately and I had the car back in 1 week. Great customer service." Ken Zoromski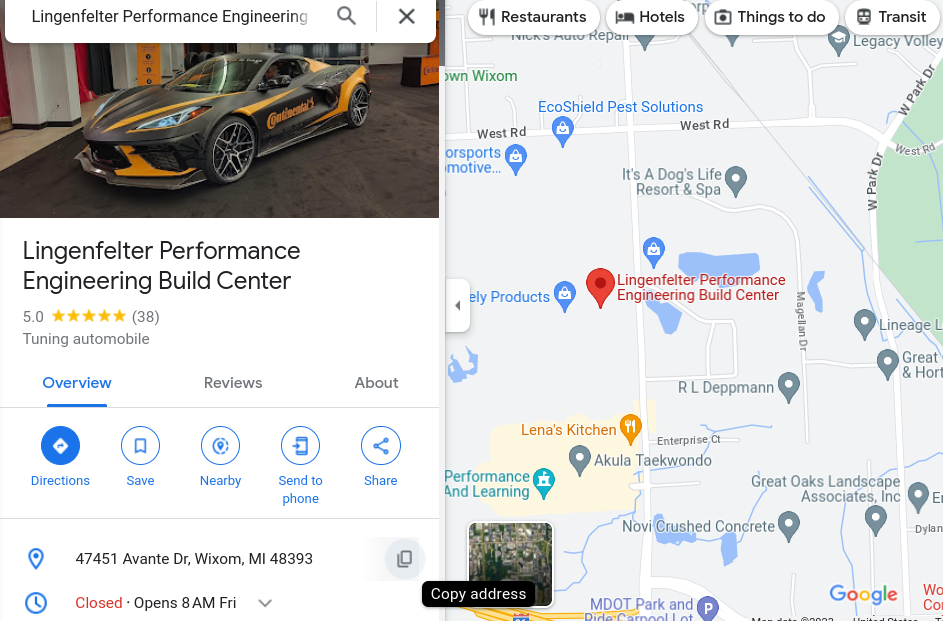 (7) Katech Engineering: This name has been known in the Corvette circles for years, and although I don't know much personally they are highly recommended by our friends over at the Corvette Forum. They bring over 40 years of experience to the table and have built engines for Corvette Racing Team, with success across many venues.
Phone Number: (586) 791-4120
Website: https://katechengines.com/
Bio From Company: "Katech is a premier performance engine and vehicle builder serving the aftermarket, motorsports, and corporate markets for more than 40 years.
Our vision is to use what we've learned winning races at the most demanding venues worldwide – Indy, Le Mans, Daytona, Sebring, Dakar, and many more – to develop, build, and deliver the best engines and vehicle components and packages available anywhere."
A Common Recent Google Review: "The best customer service, excellent work. Many satisfied visits for performance upgrades on my 2016 Z06." Mark Meyers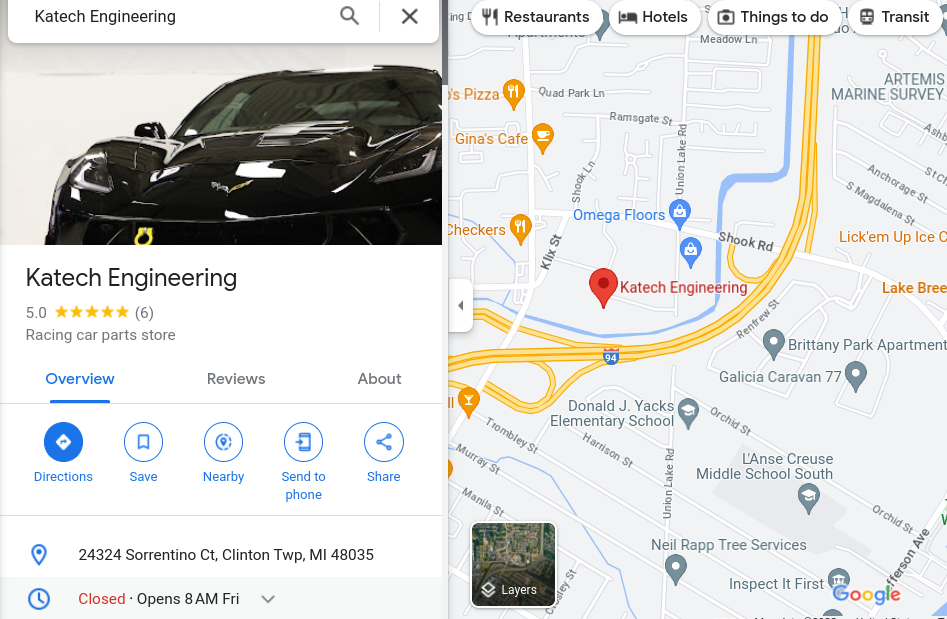 Southwest/Southcentral
(8) Cordes Performance Racing. This is another tuner recommended by our friends at the Corvette Forum, noting they are full service and offer unique services like building drift and drag cars, as well as custom fabrication like roll cages.
Phone Number: (480) 359-5914
Website: https://cordesperformanceracing.com/
Bio From Company: "Cordes Performing Racing is the premier GM LTX/LTX motorsports company in Arizona. We are a family-run business with an extreme passion for what we do. We strive to not only build high level performing vehicles, but an overall presentation you're proud to show off."
A Common Recent Google Review: "When I moved to AZ and picked up a Corvette, I knew I would need to find a business to do some work on it. Several recommendations were given to me and that's when I started reaching out to Cordes. Joe and his team are personable and professional. No pressure, up front discussions about your project or car's current issue. They stand by their work and pricing is well in line. To solidify this, you get what you pay for; all around great service – period. Highly recommended." Dean Costopoulos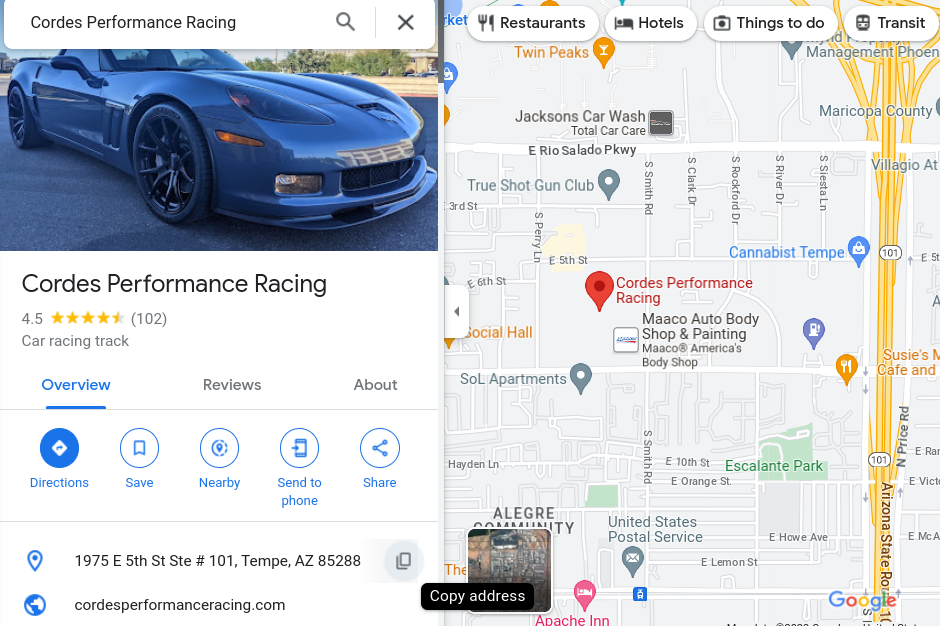 (9) Late Model Racecraft (known as LMR). Located in Houston, Texas, LMR has you covered from full-track builds to custom street builds. Their services include tunes, heads, cams, turbos, superchargers, suspension upgrades, nitrous, and even paint correction.
Phone Number: (713) 466-9900
Website: https://latemodelracecraft.com/
Bio From Company: "If you're a car enthusiast looking for high-performance upgrades for your American muscle, look no further than Late Model Racecraft (LMR). As a leading provider of turnkey performance packages, LMR offers a wide range of options to enhance the power and performance of your vehicle. From mild to wild, LMR offers street-legal, warranty-backed upgrades that have been track-tested and dyno-proven to deliver real results.
Whether you're looking for bolt-on parts like air intake and induction kits, computer programmers, stainless steel catback exhaust & header systems, engine upgrades, supercharger/blower systems, or complete 1000+ HP twin turbo applications, LMR has you covered. With a passion for horsepower and a commitment to excellence, LMR is the go-to choice for car enthusiasts looking to take their ride to the next level."
A Common Recent Google Review: "Highly recommend LMR – Steven and his team are true professionals, quality work, attention to detail, amazing results. If you have a C7Z…there's only one place to go – LMR." Christian Brown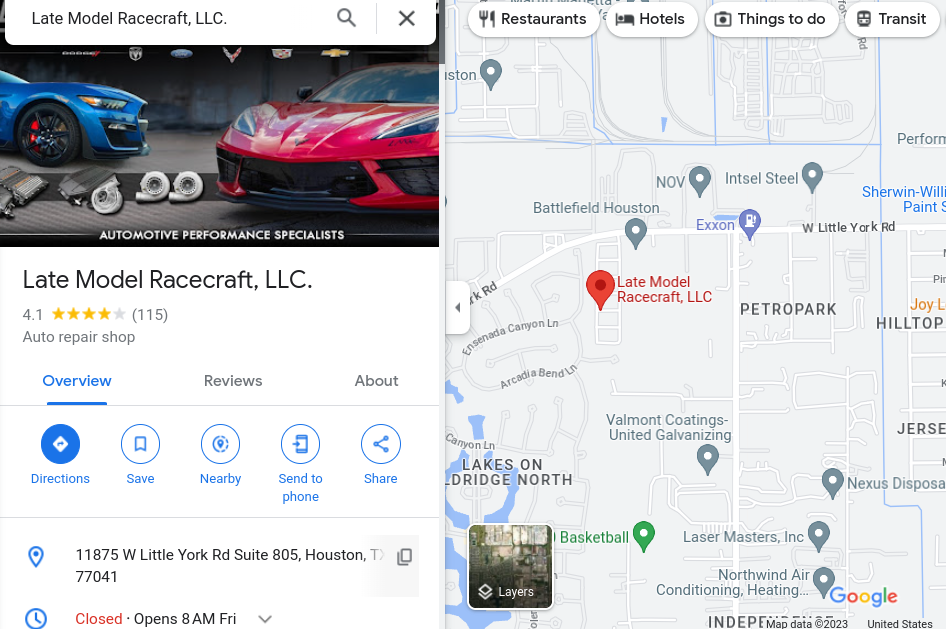 (10) 21st Century Muscle Cars. I wanted to find one more tuner in Texas so searched Google and the forums and found 21st Century. There were others that came up in searches, but none were as strong as a 4.8 Google rating over 122 reviews. And small world as this tuner have a connection to the late John Lingenfelter.
Phone Number: (972) 417-7177
Website: https://21stcenturymusclecars.com/
Bio From Company: "The leader in late-model automotive performance, we are family owned and operated for 20+ years in the DFW Metroplex. 21st Century Muscle Cars was started in 2002 when Kerri (Lingenfelter) and John Page started the company with the help and blessings from her father, John Lingenfelter to open a High-Performance Shop in the DFW area of Texas. Kerri had worked in management and as an assistant for her father at the Indiana shop for 14+ years and was very familiar with the industry. John owned and operated several different businesses in the DFW area since 1983 and is an avid car and race enthusiast."
A Common Recent Google Review: "I brought my '02 Z06 to the team at Twenty First Century Muscle Cars for an overall inspection and a fresh tune after I bought the car. The team here was great to work with and the car runs amazing! Coming from old-school muscle cars this was my first LS based car and this team will be getting more of my business in the future." Austin Minter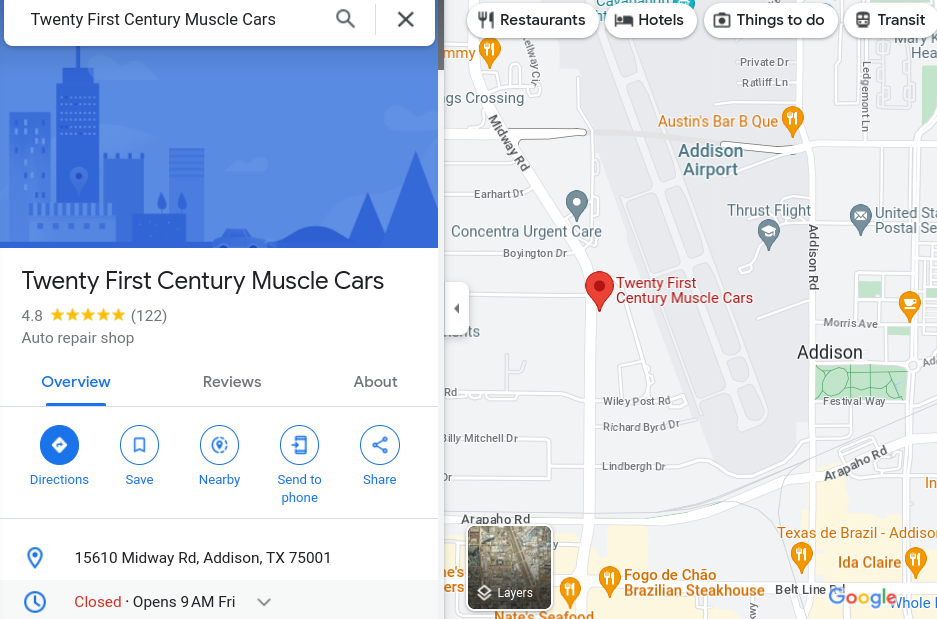 Don't want to spend the money on a professional tuner and shop? Well, CorvSport has put together two comprehensive bolt-on guides for you.*Click here for the complete CorvSport bolt-on guide for the C5*
*Click here for the complete CorvSport bolt-on guide for the C6*
Writer's note: We have no affiliation with any of these tuners and shops, nor were we compensated. This article is not an endorsement of any one tuner/shop, and as such we are not responsible for any negative interactions.