We Look At All the Features Available in the 2023 Z06 Corvette Configurator As We Design Our Own…and You Can Too!
So unless you've been living under a rock, or just haven't been paying attention, you've heard about Chevrolet's all-new 2023 Corvette Z06.  This car, which will become the most powerful naturally aspirated Corvette in the seventy-year history of the brand, is spectacular. Unfortunately for anyone looking to buy one, it's also still several months away from beginning production.
However, our friends at Chevrolet have given us an incredibly cool, and largely updated "Corvette Configurator" tool to play with while we wait.  The "configurator" is an all-access portal to custom build your own version of the 2023 Corvette Z06 coupe or convertible.  It offers dozens of options – from paint colors to custom wheels, to interior trim options, and much, much more….
We thought we'd highlight some of our favorite features as we walk our way thru the tool.  I also thought it would be fun to build my own 2023 Corvette Z06…..so let's go!
At the Start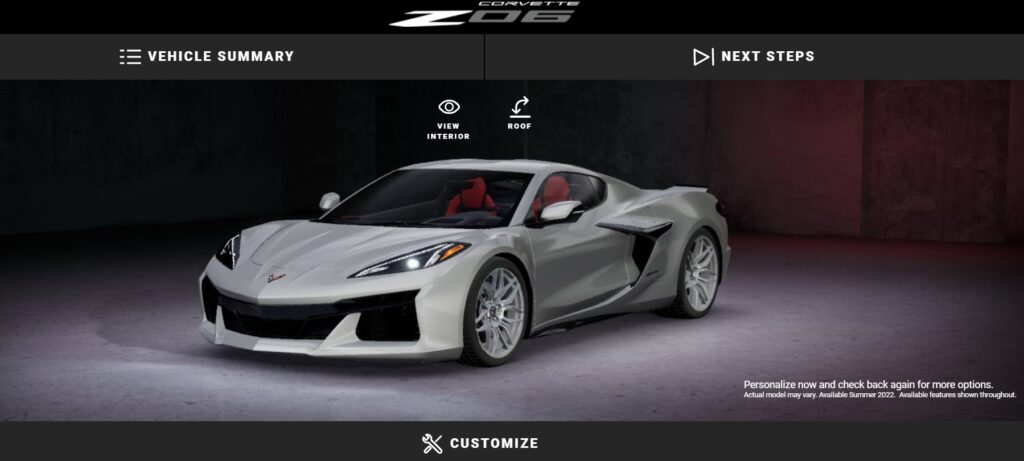 We begin with the default 2023 Corvette Z06, which admittedly looks pretty spectacular already.  The car, which is shown here in Silver Flare Metallic with an Adrenaline Red interior, looks pretty much ready to go as-is.  However, we came to play, to build our own vision of what the perfect next-generation Z06 should look like, and so we'll begin transforming this beastly machine into our ultimate dream car!
First things first – we need to select a coupe or a convertible.  Pretty straightforward stuff…while we appreciate the look of the convertible, we know that there is a custom light package that can be added to the engine bay, but only on the coupe models…and since we want to be able to showcase that mighty 670 horsepower LT6 naturally-aspirated V8 engine at all times, we're sticking with the coupe.
1.) Color Choices

Decisions, decisions….there are so many great color options available for the 2023 model year that its hard to settle on one.  Yet, while we love many of the more traditional colors (black, red, even yellow), we begin our build by selecting the Hypersonic Gray paint color for our exterior.  We also choose the visible carbon-fiber roof panel.
2.) Brakes, Calipers and Wheels

So this next step is fairly simple – pick your brakes and your wheels. The Carbon Ceramic Brakes are a no-brainer….if you are going to purchase a 670 horsepower car, you need to make sure you do everything possible to maximize its braking power.  That upgrade is a must.
The wheels are more about personal choice.  While the carbon fiber weave, five-spoke wheels are a bit more of a departure from Corvette wheels past, we prefer the Black Z06 wheel with its gloss black finish and simple C8 flag emblem at its center.  Black wheels against a gray car – what's not to love??
3.) Interior Colors

This is where the decision-making process begins to gets a little harder.  For one, you've already laid out your car's exterior and are loving what you see so far.  Now, all of a sudden, you see these dramatic interior color choices and you begin to realize that your perfect exterior may NOT compliment your perfect exterior!
Once upon a time, Chevrolet prevented you from making bad choices by limiting certain interior/exterior color combinations…but not anymore.  If you want to have your car in Amplify Orange exterior tint with a Two-Tone Blue interior, they'll create it for you…but you MIGHT want to run that combination thru the configurator first.
As for us, the Adrenaline Red interior offers a splash of color (and a bit of Corvette tradition – remember, the original 1953 Corvette had a red interior as well) to our gray and black exterior.  We also selected the Stealth Interior Trim Package, which adds some discreet black accents to the car's two-tone interior, including blacked-out speaker covers and other trim pieces
4.) Performance Options

Now that we've got our Z06 looking like we want it, its time to dial in the performance options and to add those additional details that really make the car "pop."
First, we select the Z07 Performance Package…I mean, if we're going all the way, let's go ALL THE WAY.
The available Z07 performance package offers the greatest track capability and provides 734 pounds of downforce at 186 mph, more than any Corvette ever. It includes a carbon fiber high rear wing and ground effects, specific chassis tuning, specific Magnetic Ride Control calibration and unique Michelin® Cup 2 R ZP tires, along with Brembo® carbon ceramic brakes and optional carbon fiber wheels.
Second, we select the Edge Red caliper package.  While this might be somewhat more subtle than the Yellow, Orange or traditional Red calipers, the Edge Red adds a nice color contrast between the wheels, the Carbon Ceramic Brake Rotors, and the car's gray exterior.  It also brings out the red of the interior without overpowering it.
5.) Seats / Material / Seatbelts

Finally, we dial in the interior by selecting our seat choice – GT2 in our case.  Why GT2 and not competition?  Since we've driven Corvettes with both versions of the available seats, the GT2 offers a greater level of overall comfort for long term driving.  At the same time, they continue to hold you in place with their stiff side bolsters.  While they do lack some of the rigidity and fitment of the competition seats, our 2023 Z06 will be a hybrid of race track contender and open road cruiser, and so we went middle grade…and we'll never look back (except when there's a Mustang falling further and further behind us as we blow past them.)
As for material choice?  After owning two Corvettes already, leather seems the obvious choice.  We may choose something different later on, but for today, we go with the sure thing.
For the seatbelts, you have a choice of six, distinct colors.  Given that we've got with the Adrenaline Red interior, the best looking option (for us at least) was to accent that with black seatbelts, though someone with a bolder flare might elect to go with the red or even the yellow.
6.) Exterior Trim

Finally, we dial in the exterior.  On our Z06, we've selected the carbon flash badge package, which transforms the chrome badges to a carbon fiber flash base which really stands out nicely against the grey exterior.  Similarly, we go with the carbon flash accents, spoiler and ground effects package.  Lastly, in the spirit of race cars of generations past, we add a pair of black racing stripes down the length of the car.  While the black striping is a subtle accent against the grey paint, we think you'll agree it gives the Corvette an incredibly aggressive look.
Beneath the rear hood, you can add an engine cover and light kit – we added both – to showcase the all-new LT6 engine.  These options are only available on the coupe (the engine is covered by the convertible top/drive assembly and is not visible.)
7.) The Results?
After all is said and done, here's the car we came up with: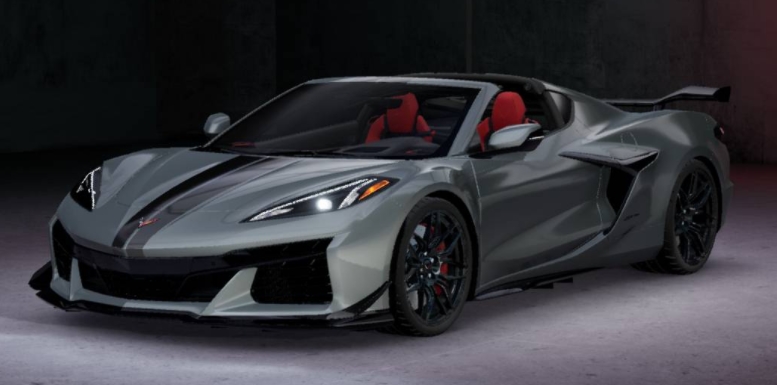 And that's part of what makes this new Corvette configurator great…you can customize your Corvette to make it the way YOU want it.   We can't wait to see what you come up with!  You can configure your own 2023 Corvette Z06 by visiting Chevrolet's website or by clicking HERE.