The 2023 Corvette Z06 Has Been Revealed…and IT IS SPECTACULAR!


On October 26, 2021, shortly after 11:00AM CST, Chevrolet introduced the world to the all-new 2023 Corvette Z06 Corvette.  Despite a massive rumor mill of ideas surrounding the latest – and arguably most advanced – Corvette of all time, this morning's reveal afforded Corvette consumers and enthusiasts alike their first deep-dive look into this incredible iteration of America's Favorite Sports Car.
In a word – this car is SPECTACULAR!'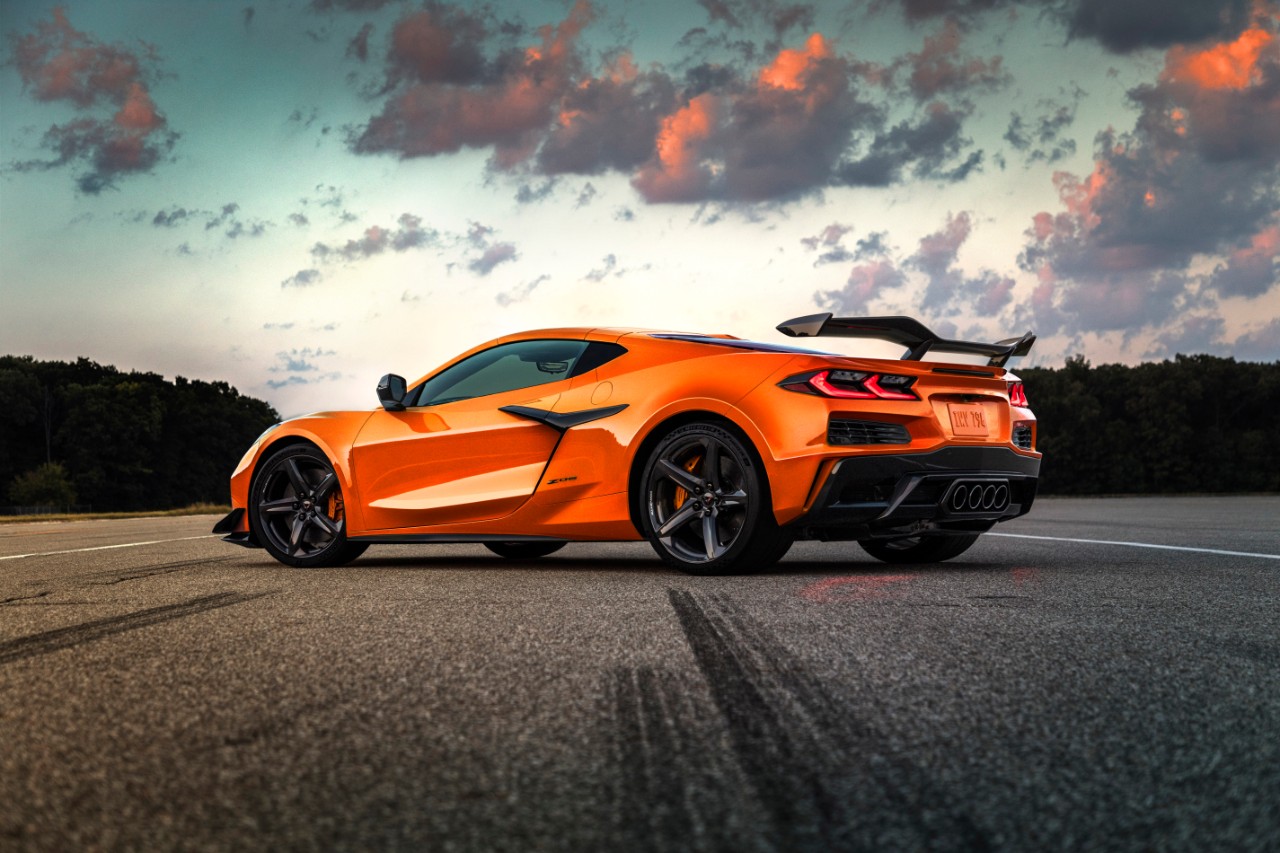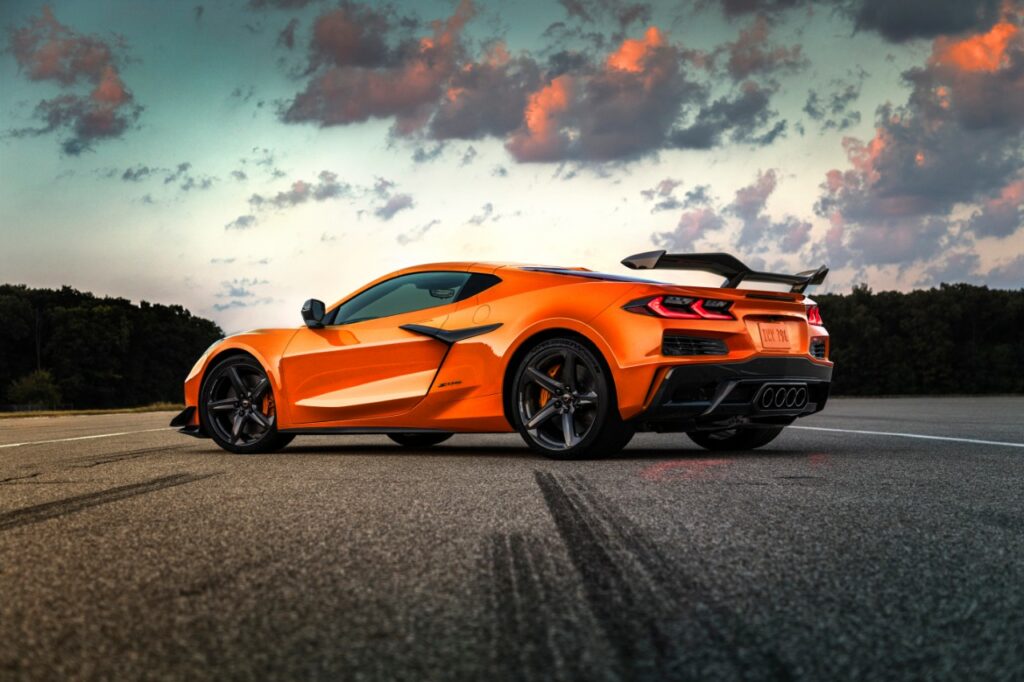 But where to begin?
This Z06 is designed to be a "precision tool for the track" (per Chevrolet Media) and was developed to "put the world on notice."  The car's striking appearance, its incredible sound, and its dynamic response to driver inputs are all the result of an intentional focus by GM's engineers to make this the most qualified Corvette in the history of the brand.
"It's the first time that I'd experienced a Corvette on the road that actually felt and rode like a race car," said Oliver Gavin, former driver of the No. 4 C6.R, C7.R, and C8.R race cars of Corvette Racing.  "That precision!  To me that was everything."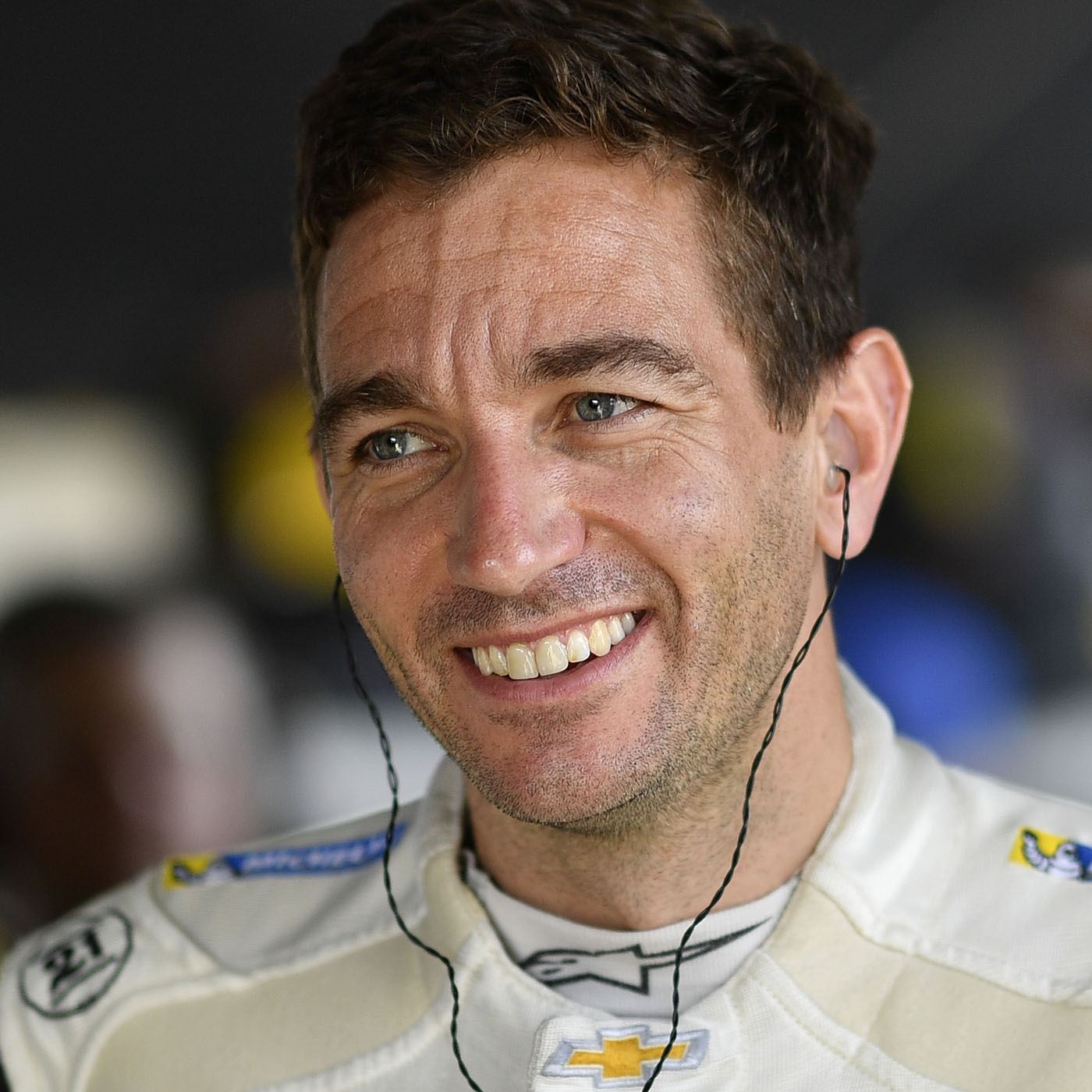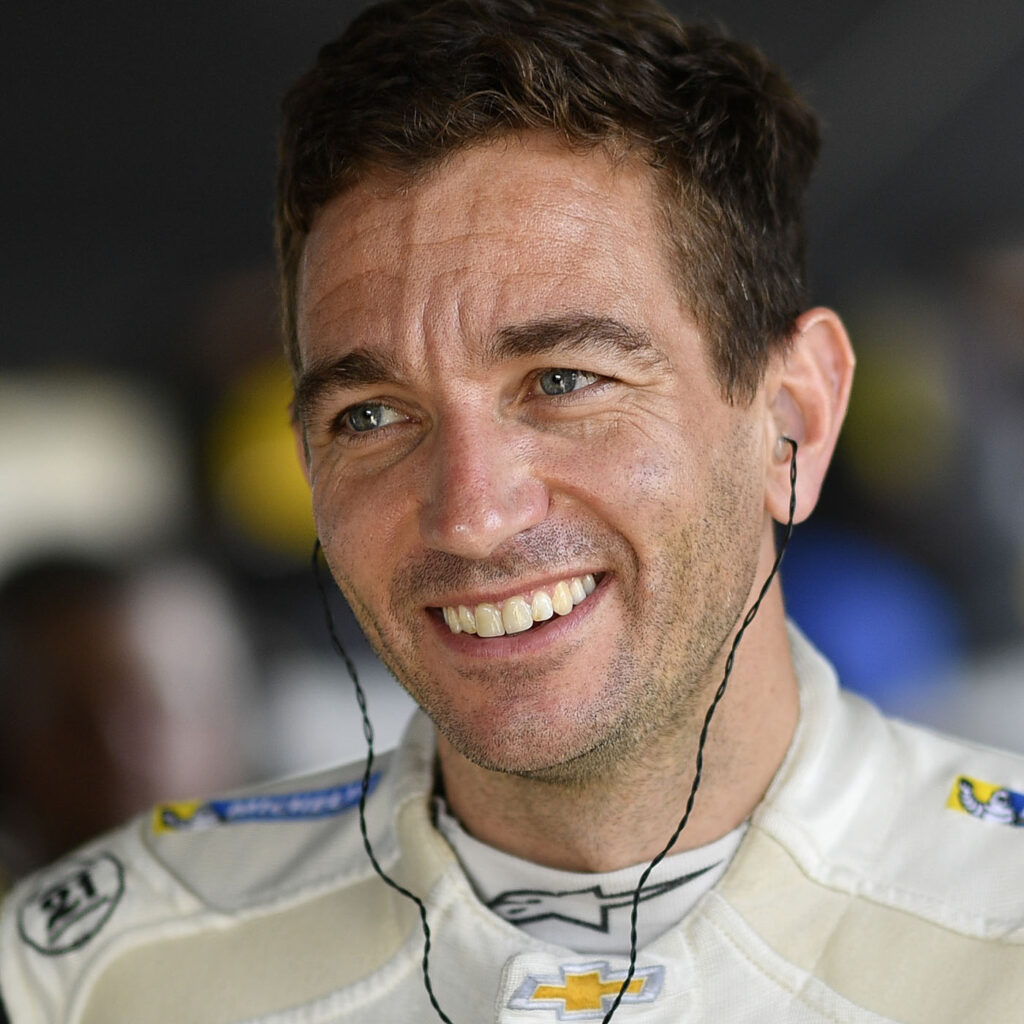 "Corvette has always brought a discerning customer to the Chevy family," said Steve Hill, vice president of Chevrolet. "This new Z06 was designed and engineered to set a higher bar with increased levels of craftsmanship, personalization and performance so customers can truly have their own bespoke performance car."
The Powerplant
At its heart, the Z06 features a 5.5L LT6 engine that creates a breathtaking 670 horsepower by utilizing an all-new, lightweight, flat-plane crankshaft that allows drivers to push the tachometer to an unprecedented 8,600rpm (consider that all of Corvette's predecessors red-lined just north of 6,500rpm).  This naturally-aspirated engine provides the highest level of responsiveness and trackability, both of which were top priorities to the engineers behind its creation.  In addition, its engineers spent two years crafting the car's unique exhaust tone, which is unlike anything previously heard coming from a Chevy Corvette.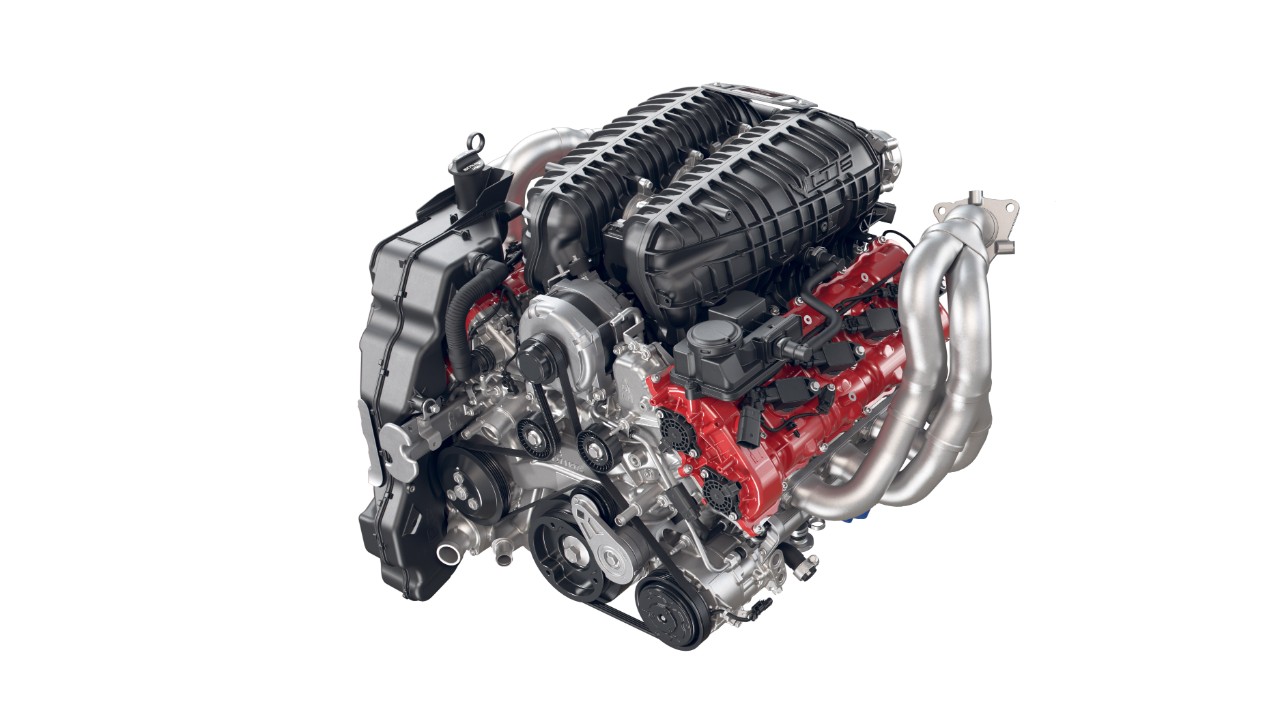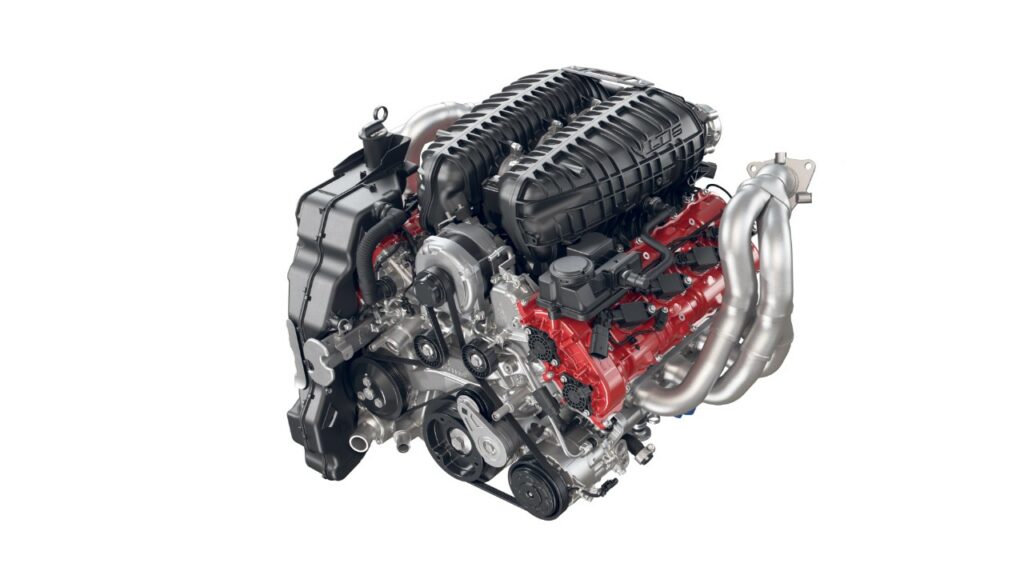 A version of the 5.5-liter engine was previously introduced in the Corvette C8.R race car and has been the only powerplant of the Corvette Racing program since that time.  In addition to creating robust horsepower, the engine is intended to "complement all aspects of the Z06's track-focused performance experience."  From utilizing a full racing-style dry-sump oiling system to its meticulously tuned induction and exhaust systems, there has never been a Corvette engine better equipped to hand the rigors of endurance road racing while providing breathtaking performance and reliability.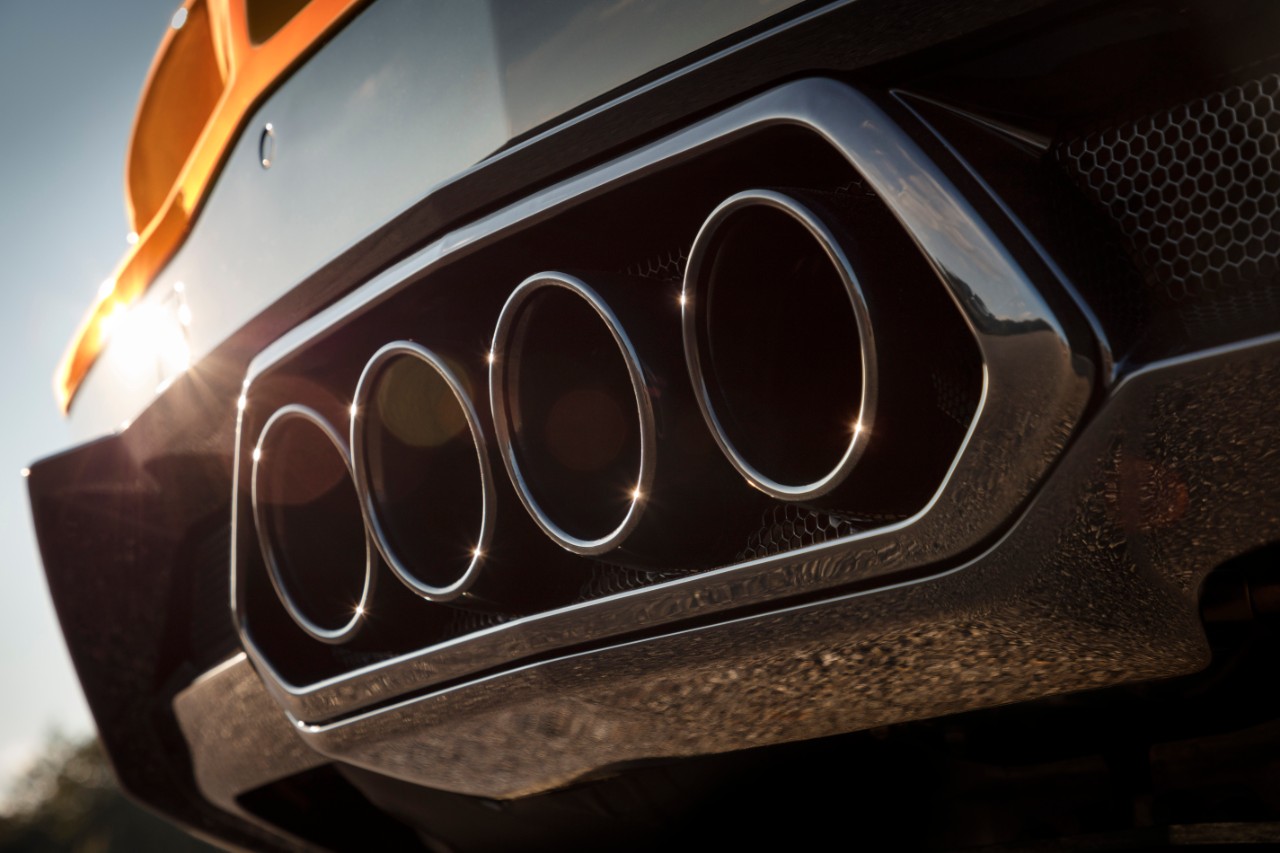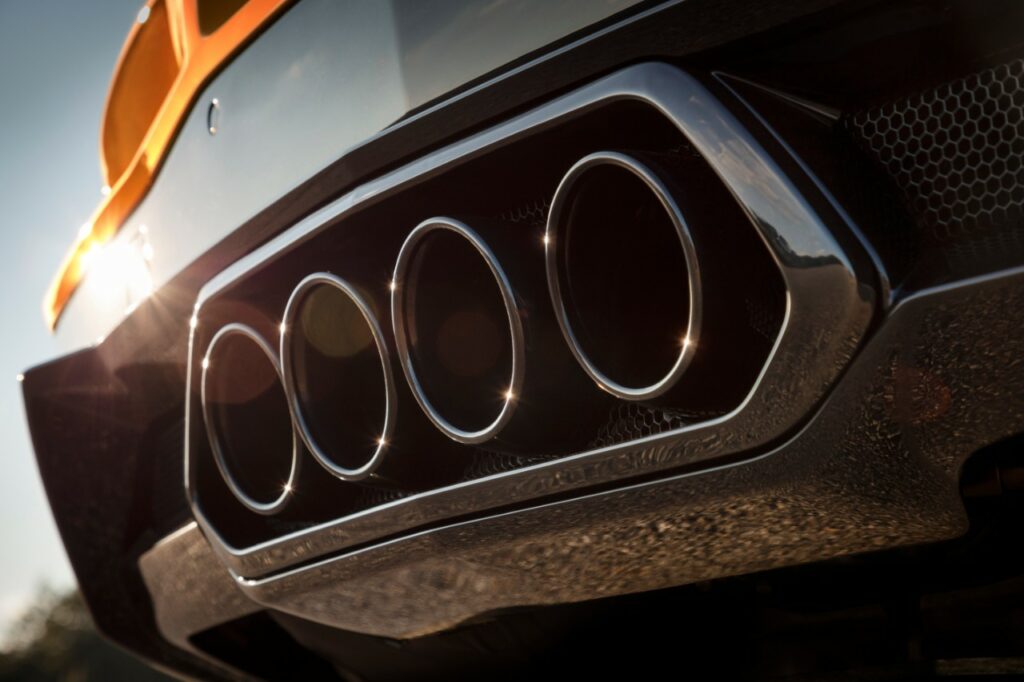 In addition to its all-new flat-plane crankshaft, the LT6 engine includes:
All-new aluminum cylinder block casting with the Small Block engine family's signature 4.4-inch (111.76 mm) bore spacing
All-new dual-overhead-camshaft cylinder head design with fully CNC-machined combustion chambers and intake ports, supporting a mechanical "finger-follower" valvetrain
Dual-coil valve springs to support titanium intake and sodium-filled exhaust valves
Forged aluminum pistons and forged titanium connecting rods for low mass and high strength
Distinctive Edge Red camshaft covers
All-new active split intake manifold with twin 87 mm throttle bodies
All-new six-stage dry-sump oiling system with individual crank bay scavenging
Four-into-two-into-one stainless steel exhaust headers
670 hp at 8,400 rpm (GM tested per SAE J1349)
460 lb-ft (623 Nm) of torque @ 6300 rpm (GM tested per SAE J1349)
But here's the icing on the cake:  each LT6 engine will be hand-assembled by a master engine builder at the Performance Build Center within the Bowling Green Assembly Plant in Kentucky.  Each builder will use precision tooling and will hand fit the engine's pieces together to meet Chevrolet's exact specifications.  Each engine will feature a plaque on its intake manifold with the signature of the technician who hand-assembled it.
The Cockpit
While the 2023 Corvette Z06 may exude track-level performance and handling, its interior affords owners with the ultimate statement of performance and luxury rolled into a single, incredibly conceived cockpit.  Premium materials have been introduced throughout the cockpit, including carbon fiber trim that communicates the car's lightweight, track-inspired birthright.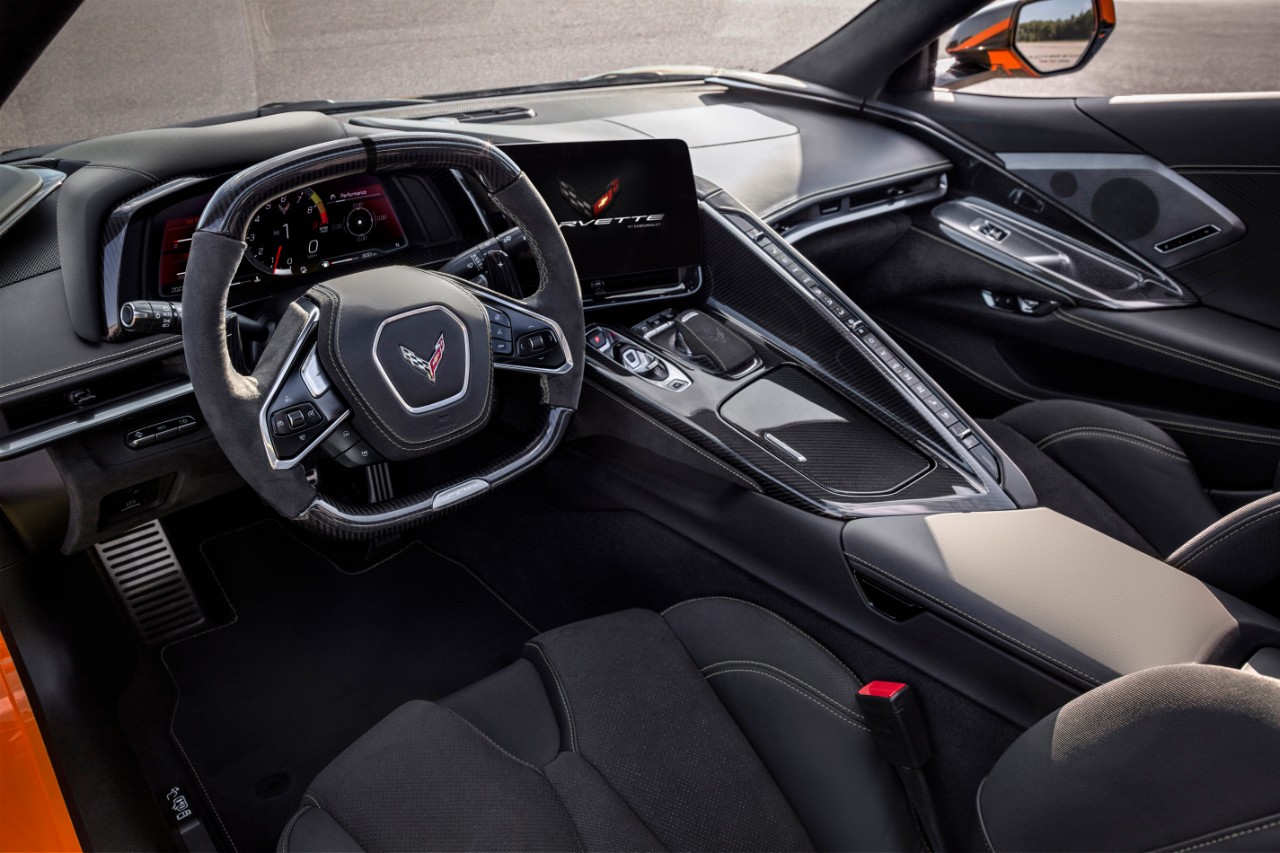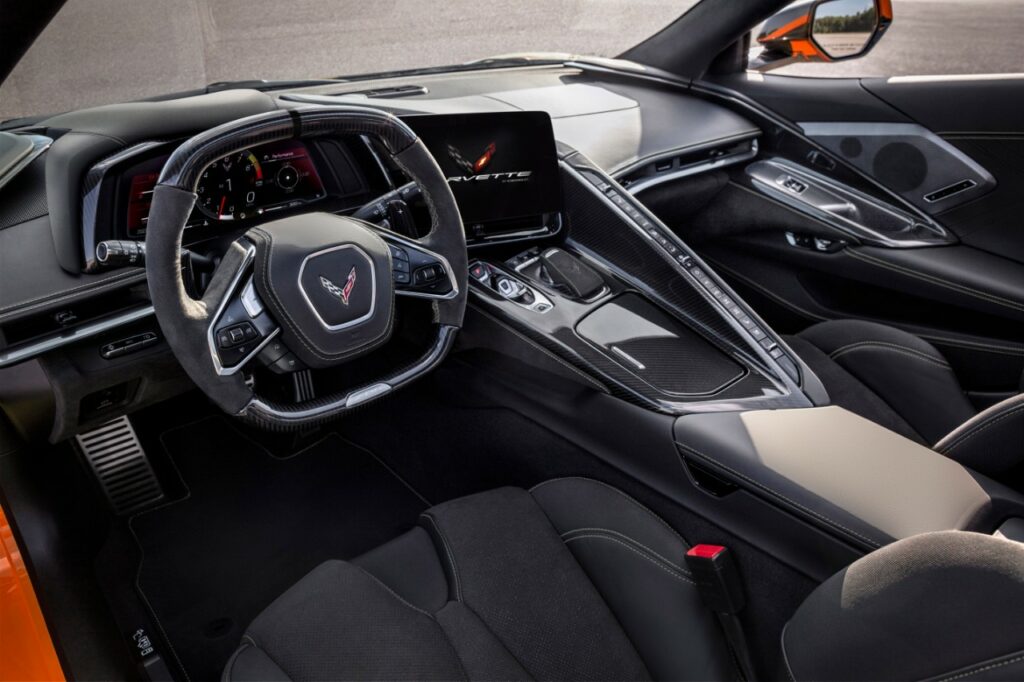 "To match its performance, the Z06 is an elevated execution of the eighth-generation design," said Phil Zak, executive design director, Chevrolet. "From its wide planted stance with sculpted surfaces to its premium and carbon fiber materials, the Z06 instills an aura of raw power and performance with bespoke craftsmanship."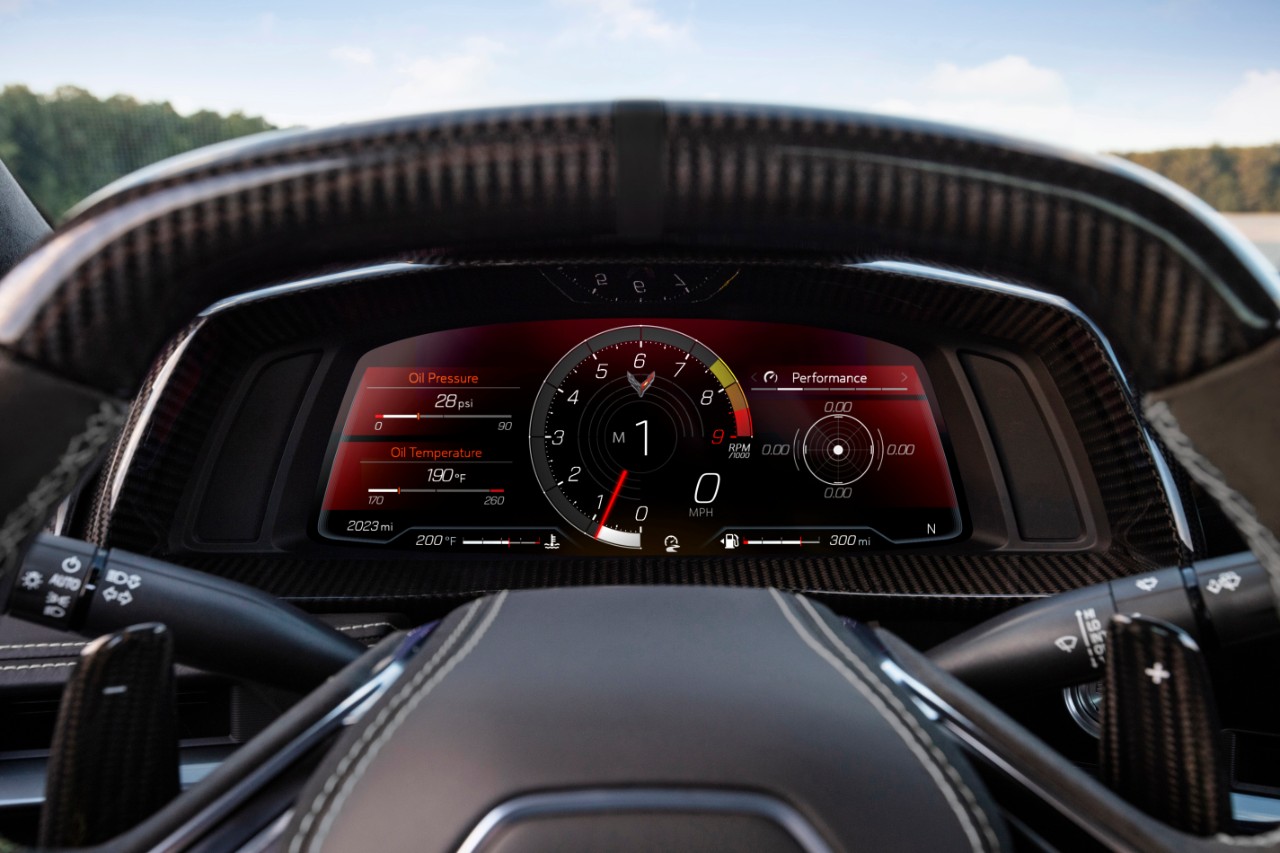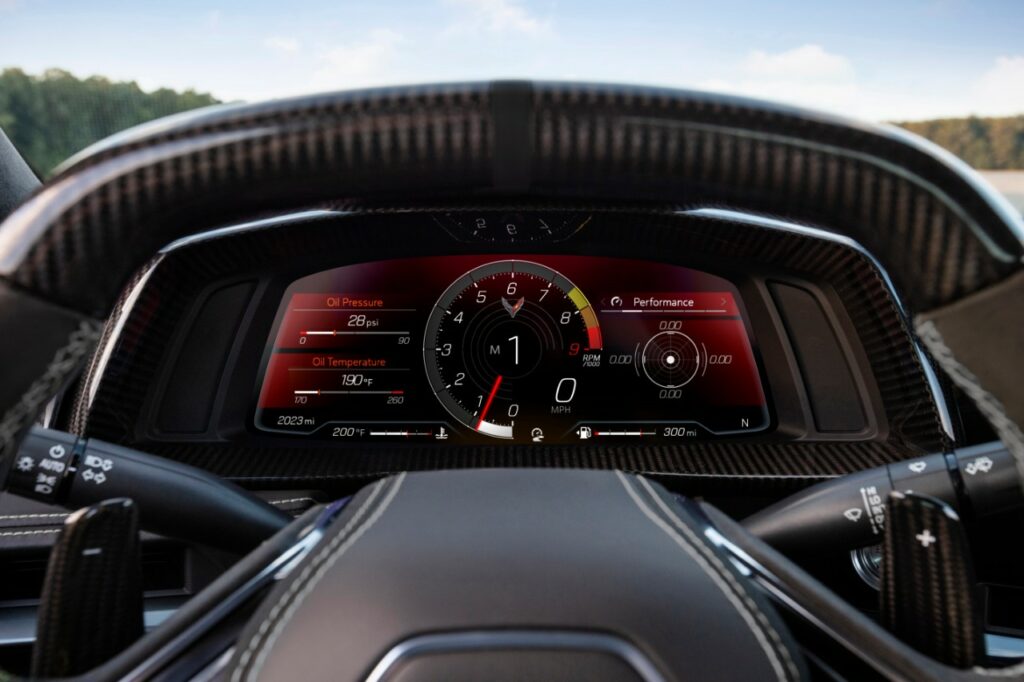 The interior of the 2023 Corvette Z06 can be appointed with a number of optional features, including an available carbon-fiber wrapped steering wheel, shift paddles, and new carbon-fiber trim packages.  It also features hand-wrapped leather interior options, including an available, all-new, fully trimmed interior in Adrenaline Red.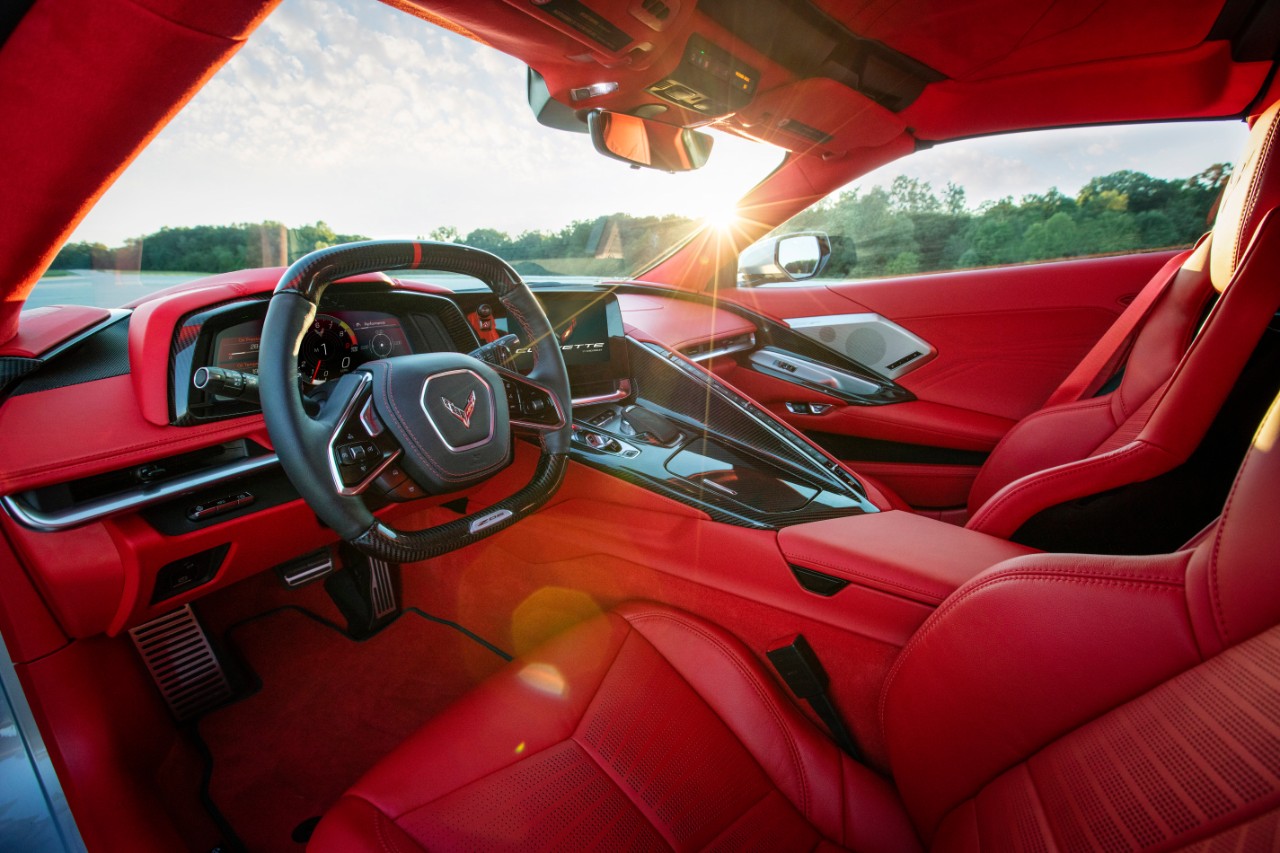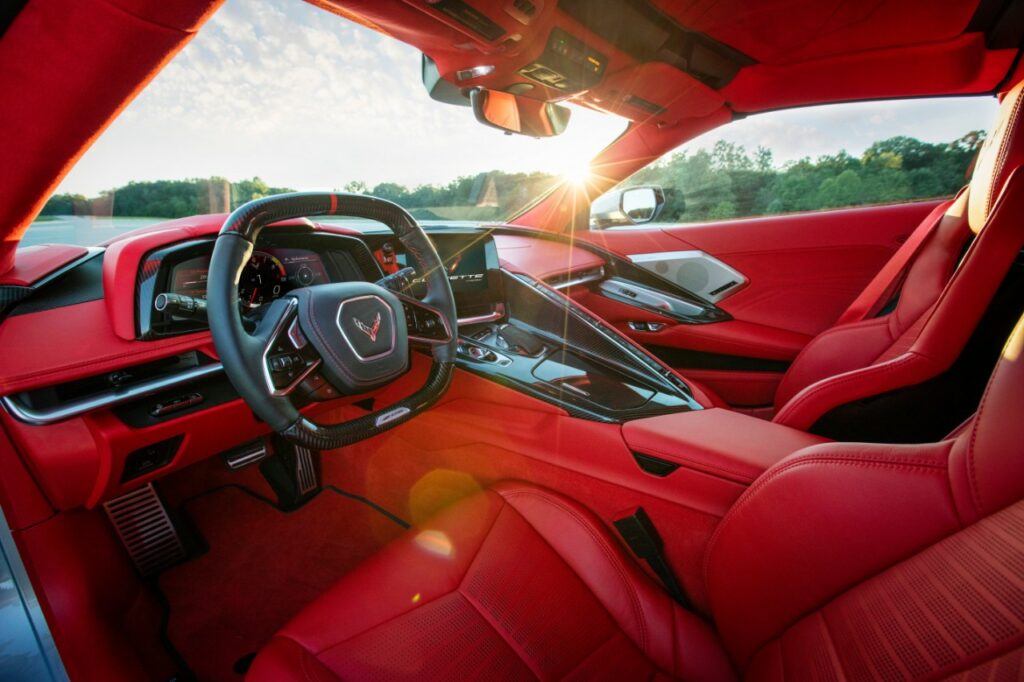 The additional new wheel, color, and trim options will also be offered to future Z06 customers, providing them with a vast array of personalization choices in the Corvette lineup, including:
Twelve available exterior colors
Seven available wheel packages, including five finishes on the standard forged aluminum wheels and available carbon fiber wheels
Seven interior colors with the opportunity to expand it to thousands of combinations
Three seat choices and six seatbelt options
Two interior carbon-fiber trim packages, plus a Stealth Aluminum trim option
Six available brake caliper colors
A Track-Inspired Exterior
Just about every detail found on the new 2023 Corvette Z06 was developed for the express purpose of aerodynamics, handling, or cooling, all with styling cues that accentuate the car's track-inspired sense of purpose.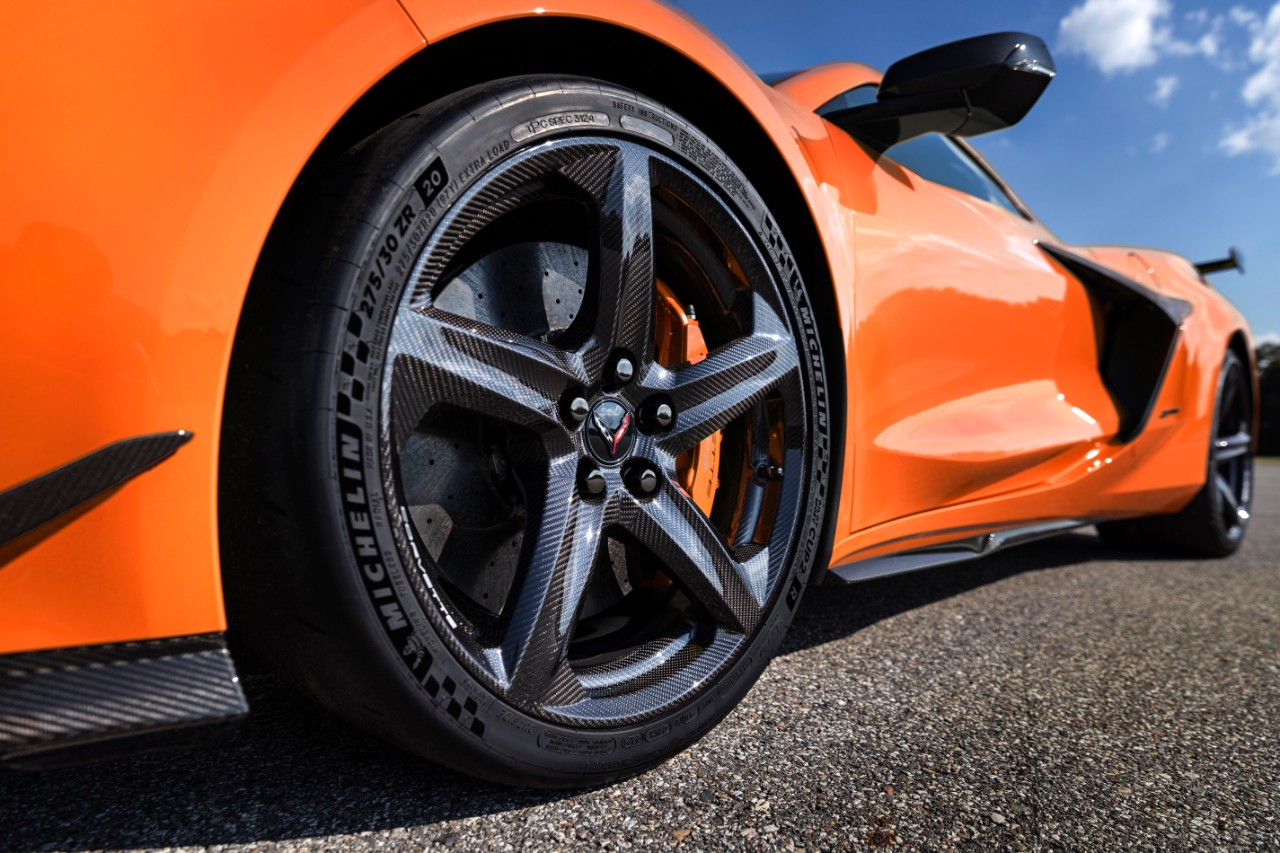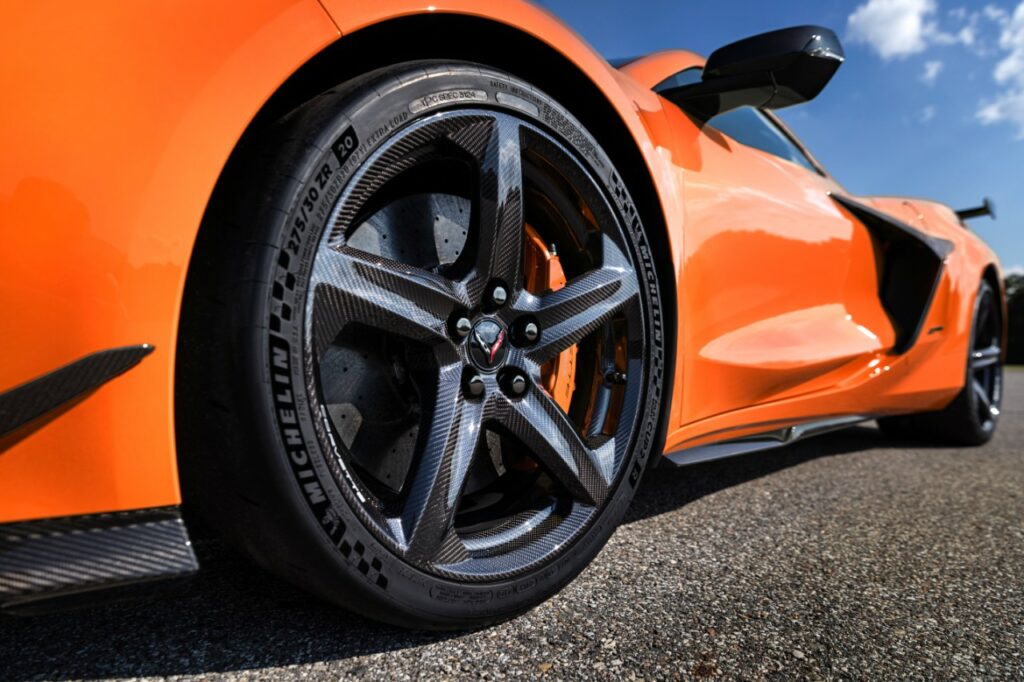 Most notable are the car's wider fenders, which accommodate larger, wider wheels and tires for additional grip.  Additionally, larger air vents, including those found on the new front fascia, draw more clean air into the center of the heat exchanger, which in turn provides more cooling air to the engine, brakes, and rear transaxle for increased cooling, even during the most grueling driving conditions.  A more aggressive aerodynamics package also increases the car's downforce, which provides for enhanced cornering grip and high-speed stability.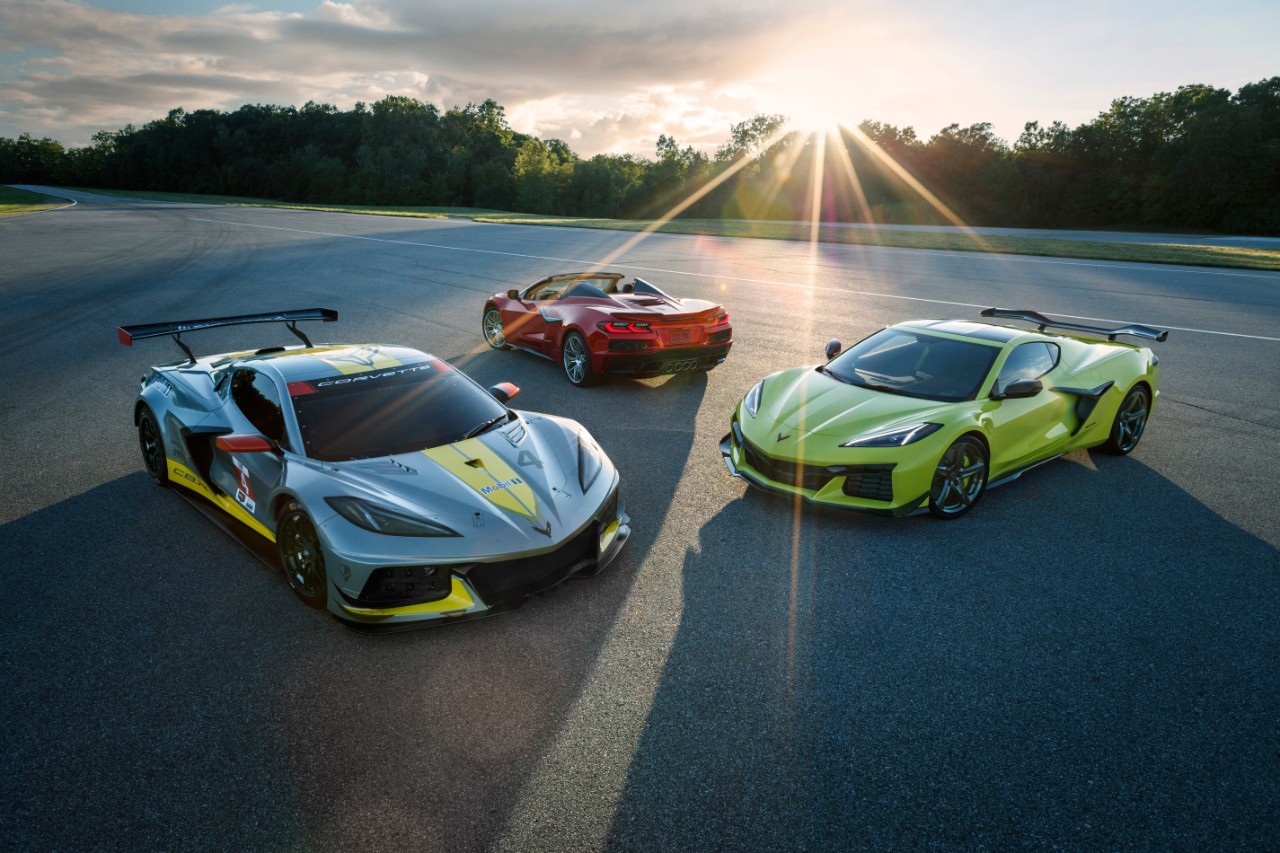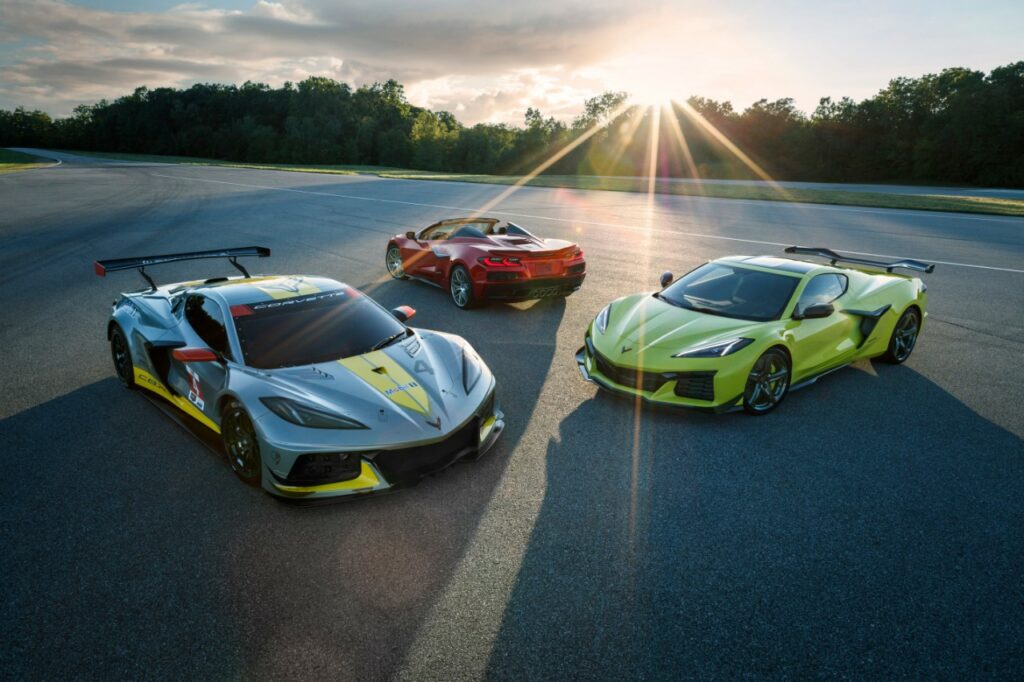 The car rides on larger wheels and tires, which include 20 x 10-inch (50.8 x 25.4 cm) front wheels wrapped with 275/30ZR20 tires and 21 x 13-inch (53.3 x 33 cm) rear wheels, wrapped with 345/25ZR21 tires.  Each car comes equipped with Michelin Pilot Sport 4S ZP as its standard tire, though an optional Sport Cup 2 R ZP tire is available to consumers selecting the Z07 package.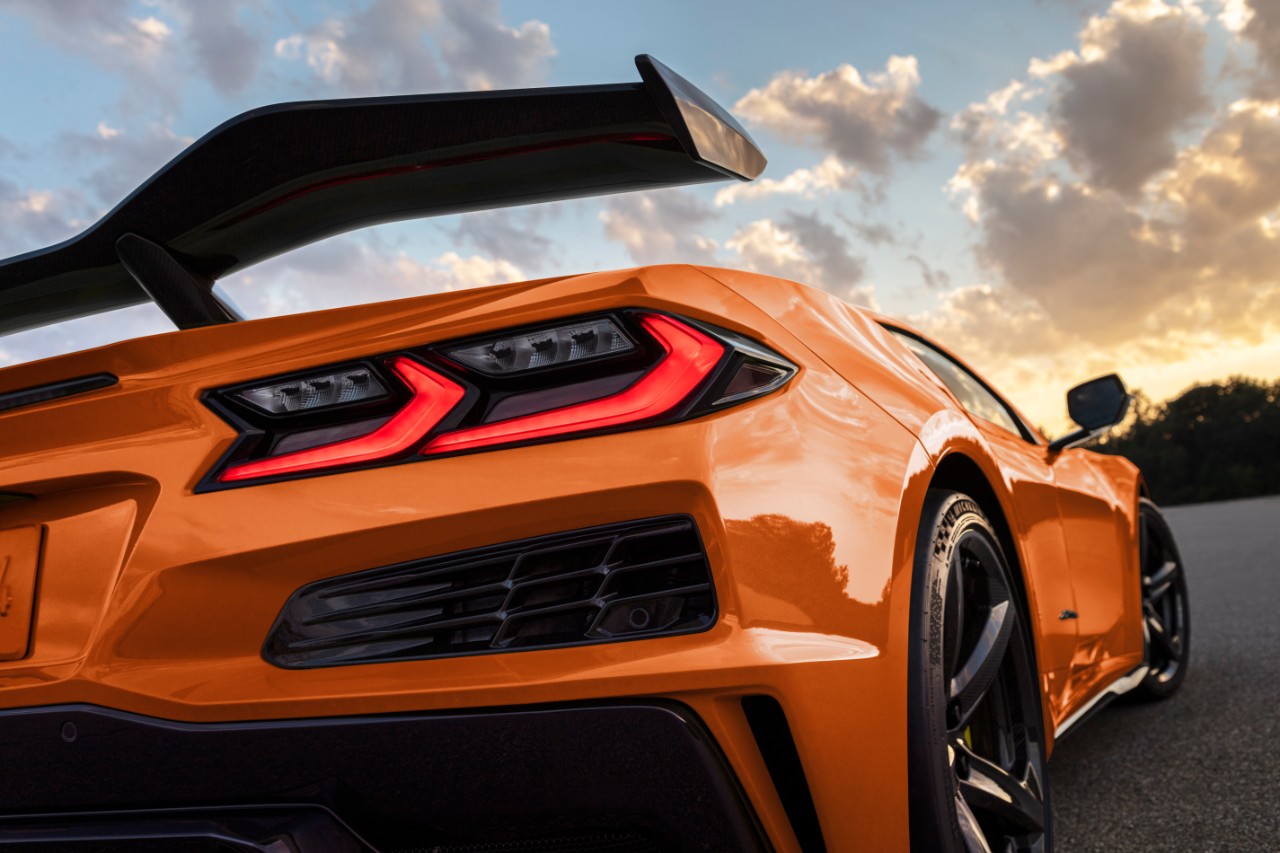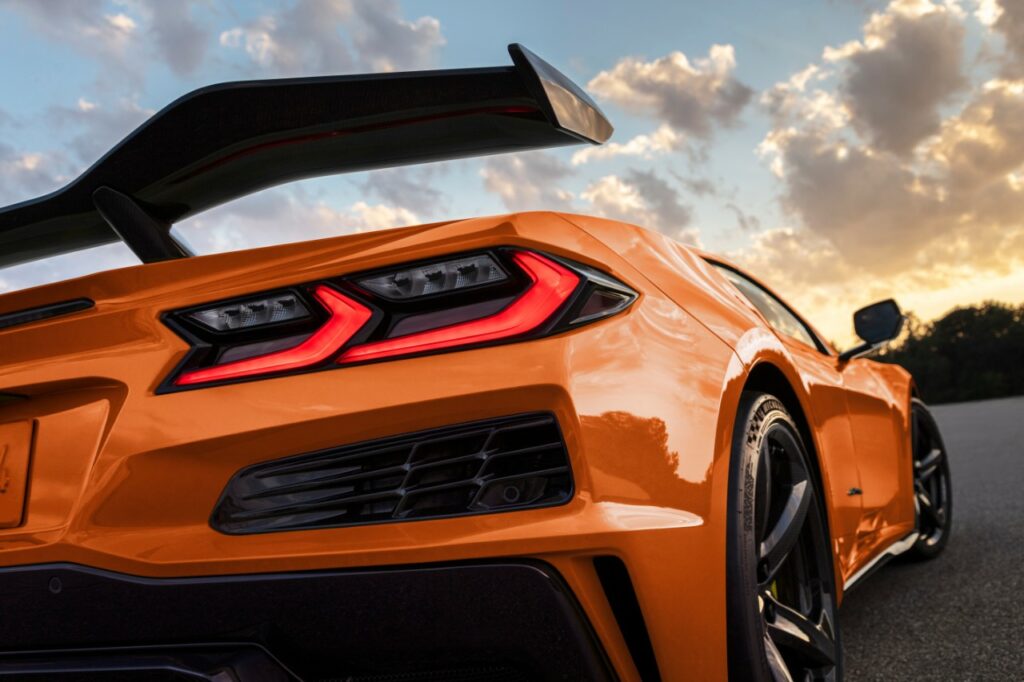 The designers of the 2023 Corvette Z06 widened the fender flares in both the front and rear of the car to cover the wider tire tread, which accounts for an increase of 30mm upfront and 40mm in the rear (as compared to the current production C8 Stingray.)  These flared fenders provide the car with a winder, lower appearance that is further enhanced by the car's unique rear fascia.  This fascia features centered floating exhaust bezels, which were specifically designed to ais in the tuning of the car's unique exhaust note.
The new Z06 will also offer three increasing levels of aerodynamic support:
The standard Z06 features a front splitter and a unique rear spoiler, which includes an installable fixed wickerbill – a small, vertical tab at the edge of the spoiler that significantly increases downforce, providing 365 pounds (165.6 kg) more at 186 mph (299.3 km/h).
The available carbon-fiber aero package adds a larger front splitter, front-corner canards (dive planes), a pedestal-mounted rear wing, and underbody aero strakes for the maximum track-capable downforce and maneuverability.
Track Proven Technologies
The new Z06 retains the SLA-type front and rear suspension design of the mid-engine Corvette Stingray, but it has been uniquely calibrated for the Z06's higher performance capabilities. Magnetic Selective Ride Control 4.0 will come standard on each Z06.  It can be adjusted for touring comfort or maximum track performance via the standard Driver Mode Selector.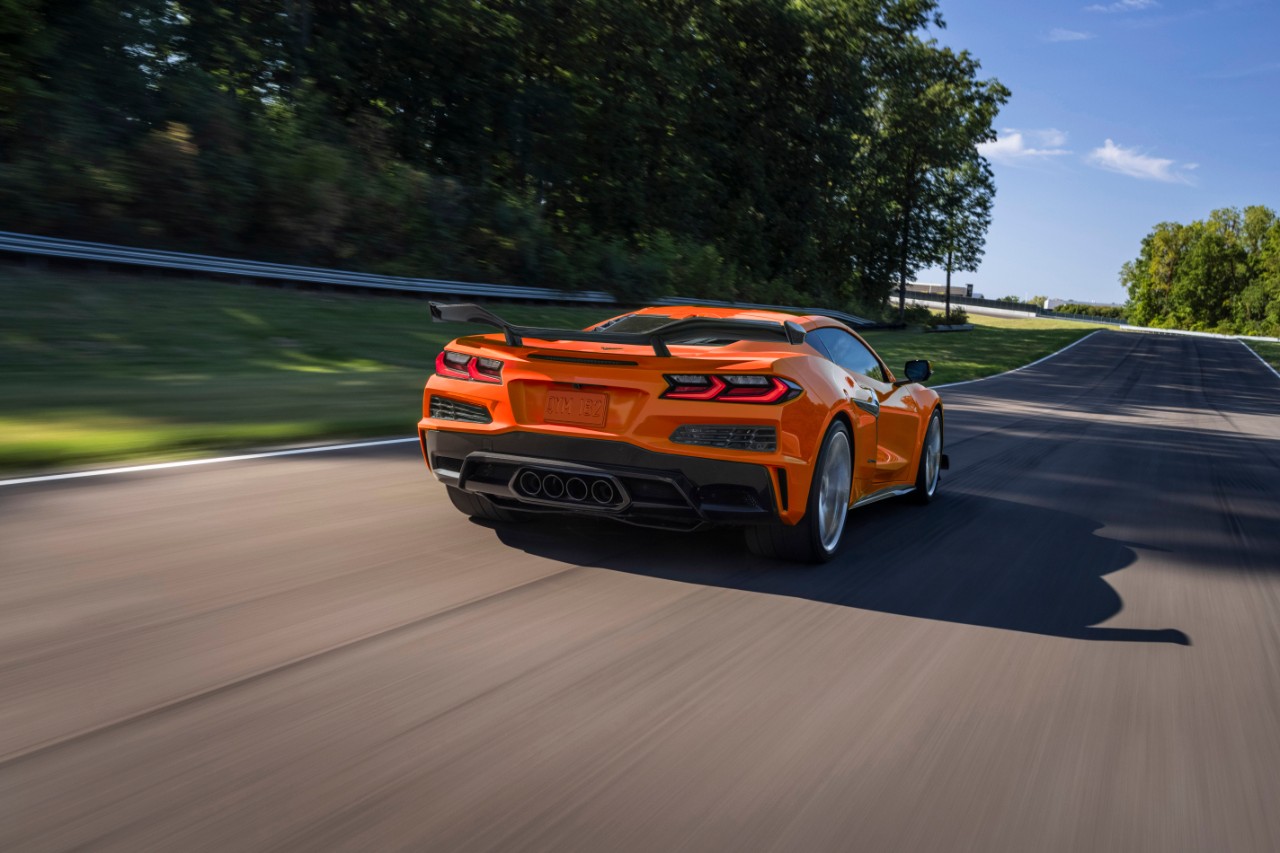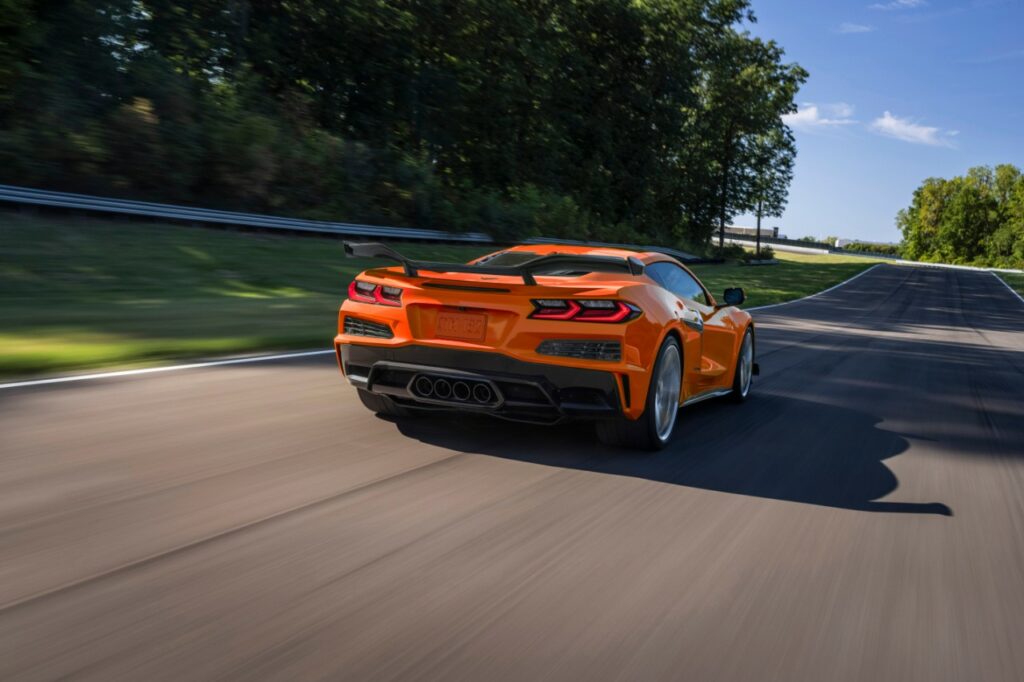 And just like the Stingray, the Driver Mode Selector features more than a dozen features of the Z06 to suit each driver's unique environment, including:
Launch control: Available in Track mode for maximum off-the-line acceleration
Active handling (StabiliTrak Electronic Stability Control): Z06 has performance traction management standard
Traction control: Weather mode tailors traction control and engine torque for driving in inclement conditions
Performance Traction Management: Available in Track mode and offers five settings of torque reduction and brake intervention for track driving
Electronic Limited Slip Differential: Adjusts the rate at which the limited slip engages to balance between steering response and stability in different driving conditions
The Z06's greater track performance capability is also matched with greater braking capability.  It utilizes larger, 14.6-inch-diameter (370 mm) front and 15-inch-diameter (380 mm) rear Brembo brake rotors and six-piston front calipers.
Even larger, carbon-ceramic rotors will be available to consumers (and will be included standard with the Z07 package,) which takes the Corvette Z06's performance to the highest level in the seventy-year history of the brand.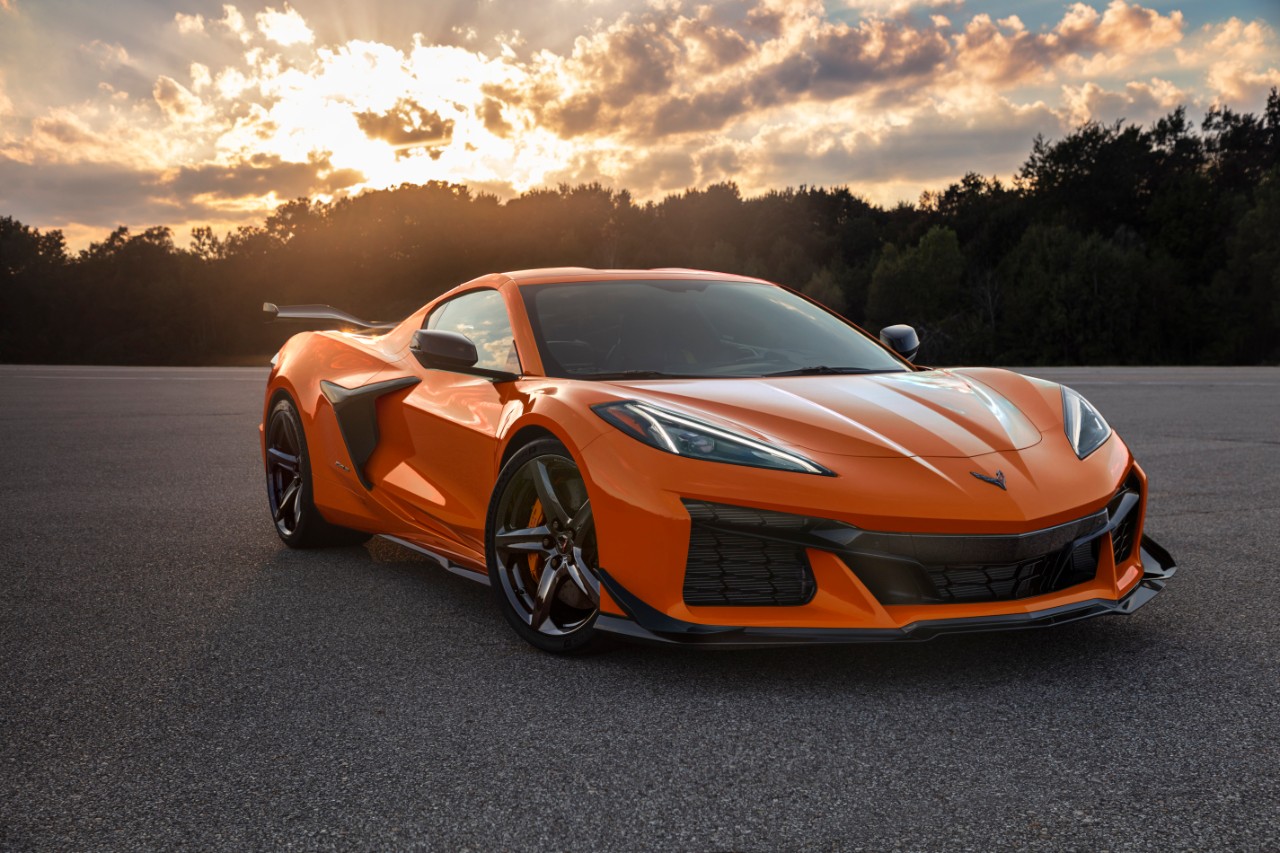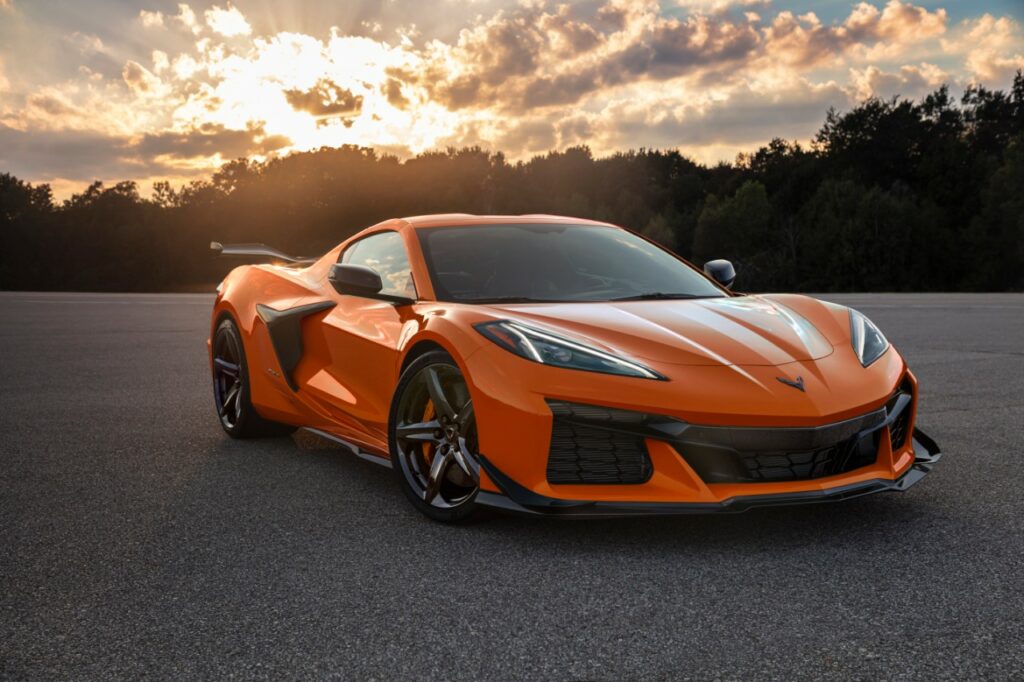 Z07 Performance Package additional features include:
Carbon fiber aero package with larger front splitter, front-corner dive planes, a rear wing, and underbody strakes that enhance downforce
Unique FE7 suspension with specific Magnetic Ride Control 4.0 calibrations
Michelin Sport Cup 2 R ZP tires developed specifically for the Z06
Available carbon fiber wheels that deliver a 41-pound (18.6 kg) reduction in unsprung mass
Brembo carbon-ceramic brake system featuring larger, 15.7-inch-diameter (398 mm) front rotors and 15.4-inch-diameter (391 mm) rear rotors
Cars equipped with the Z07 performance package in the track prepared configuration are capable of producing 1.22 g of road-hugging grip on a 300-foot skidpad.
Although the Z06 is based on the same robust architecture as the Stingray — a rigid structure that enabled engineers to fine-tune the car's chassis and suspension components with exceptional precision – the Z06 is so stiff that it will be offered06 is offered in both a coupe and a hardtop convertible model, with no variance in the suspension calibrations between either version of the car.
Coming Soon To a Racetrack Near You
Production of the 2023 Corvette Z06 is scheduled to begin in the summer of 2022.  As has been the case for more than thirty years, production will continue at the Bowling Green Assembly plant in both left-and-right hand drives!
For anyone that missed the 2023 Corvette Z06's reveal today, we'll leave you with the original mini-movie titled "A Corvette Film: "PUTTING THE WORLD ON NOTICE" – the all-new 2023 Corvette Z06″