RM Sotheby's to Auction off a 1963 Corvette Sting Ray "Big Tank" Coupe
On Saturday, August 25, 2018, RM Sotheby's will auction off a beautiful 1963 Chevrolet Corvette Sting Ray Z06 "Big Tank" Coupe.  This car – Lot Number 265 – will be part of a weekend long auction hosted at the Monterey Conference Center in Monterey, California.  It coincides with the famed Pebble Beach "Concours D'Elegance," a charitable event open to both pre-war and post-war collector cars in which the vehicles are judged for authenticity, function, history and style.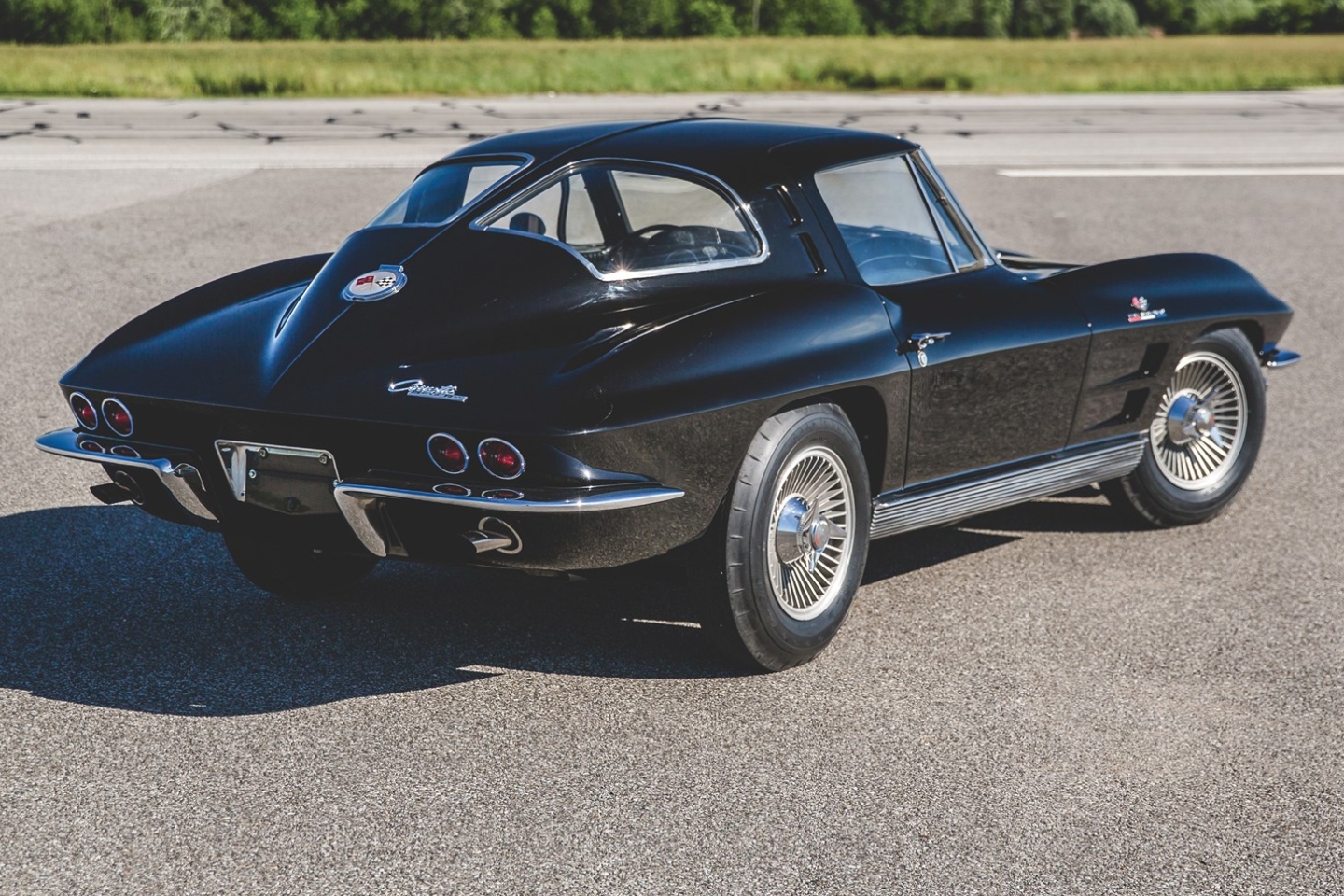 This 1963 Split Window Corvette Z06 has a rich history that has only recently been uncovered, thanks to the efforts made by Bill Gould of Auto Ancestry.
The car was delivered new to Bud Gage Chevrolet in Indianpolis, Indiana on May 23, 1963.  Although the original owner is unknown, it is clear that they wanted to purchase one of the fastest cars available on the market at that time.
This 1963 Corvette Sting Ray came equipped with the RPO Z06 option, which included the installation of an L84 327-cubic-inch, 360 brake horsepower V-8 engine, the G81 Posi-traction rear end, the M20 four-speed manual transmission, heavy-duty racing-type suspension and oversized, finned steel brake drums with internal fans and a dual-circuit, vacuum-boosted master cylinder.  Only 199 Corvettes built in 1963 came so equipped.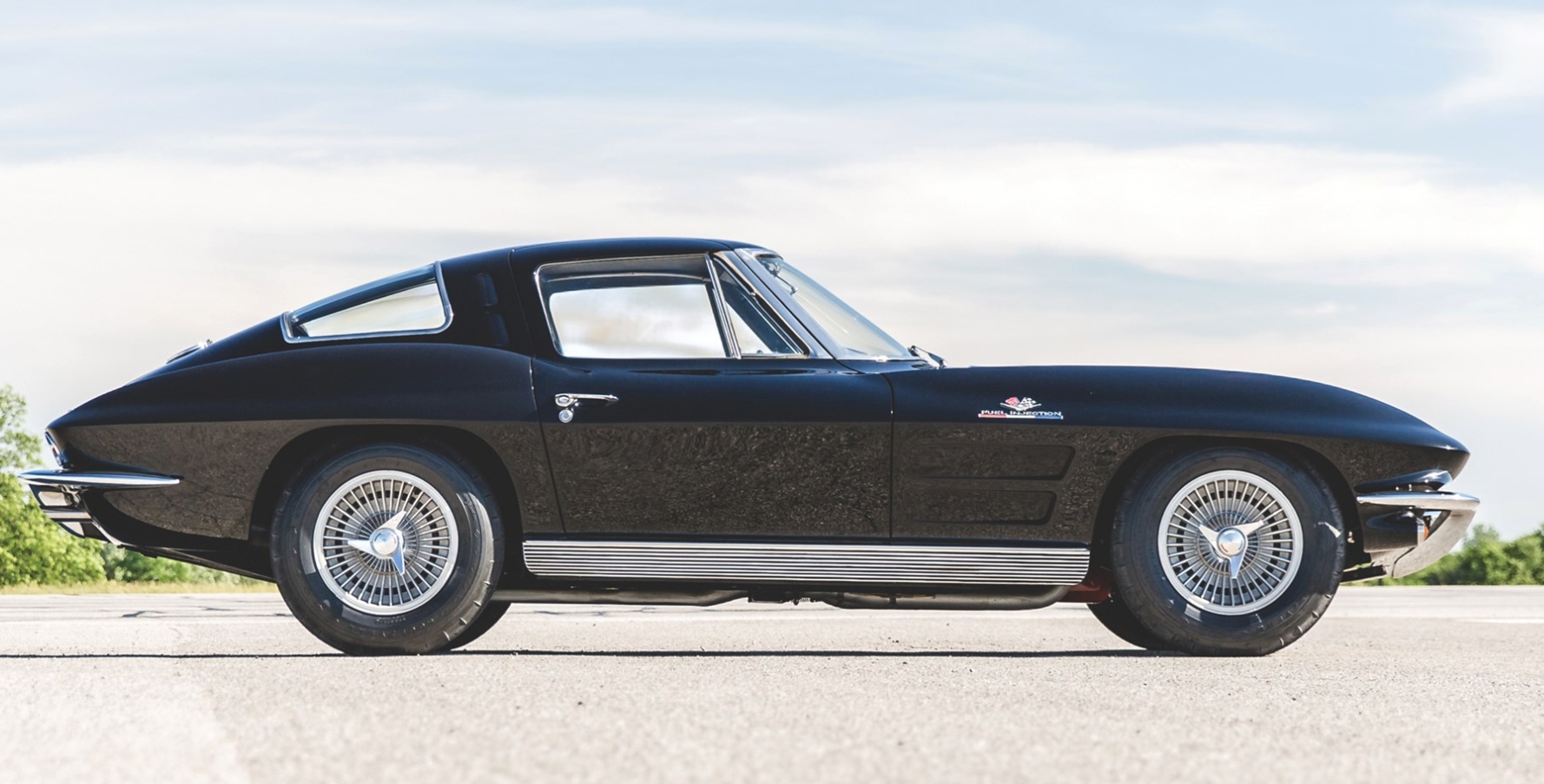 Already equipped as a road-legal race car, the initial owner also opted for the RPO N03 36-gallon fuel tank.  The large tank, which enabled drivers to run longer on a single tank of gas, made the car even more competitive.  It also made the car more valuable as it is commonly believed that only 63 Z06 Corvettes were fitted with the "Big Tank" option that year.  Making this car even rarer is the fact that it was fitted with Kelsey-Hayes wheels, of which only 15 units were so equipped in 1963.  As it features both options, this 1963 Z06 is an extremely rare and very collectible Corvette from that era.
However, what adds to the car's already impressive pedigree is the lineage of ownership that followed after its initial owner sold it.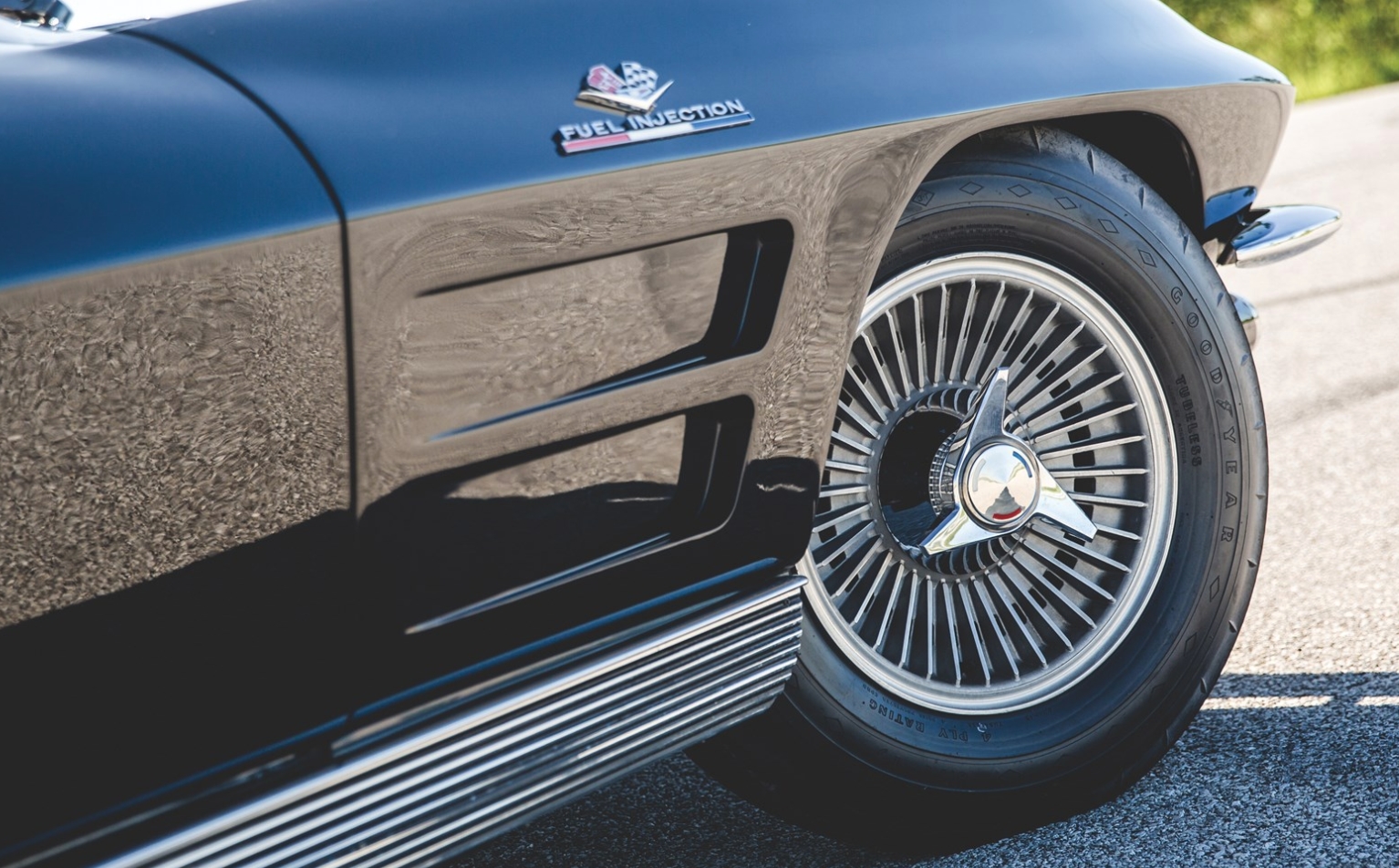 While the car began its life in Indianapolis, the car eventually worked its way back to the St. Louis area, where it was purchased by Don Johnson, a car dealership owner from Chattanooga, Tennessee and brother to early NASCAR pioneer and racer, Joe Lee Johnson. Over the course of time, the car changed hands twice more after the Johnson family sold it, and ended up in the possession of Paul Rogers, a local who lived just south of Chattanooga across the Georgia border.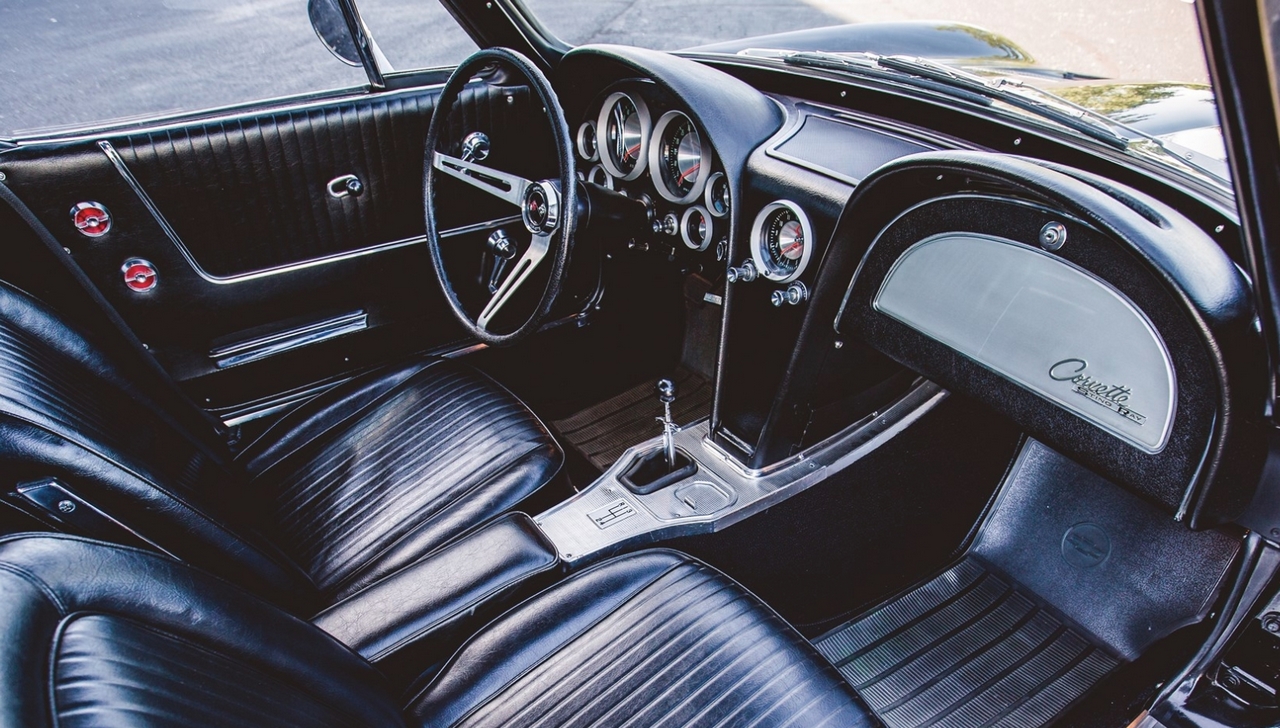 Although Paul had purchased the car, it was his son Larry who drove it for a couple of years, before selling it again.  The car changed hands again and became the property of the 18 year-old son of a local restaurateur.  Presumably due to the car's tremendous power and the new owner's lack of driving experience, the car was involved in a significant accident around 1970 and became undrivable.  The damaged Corvette was once more sold to an undisclosed owner in Tennessee, where the car remained until 1976, when it was purchased by James Montgomery of Gold Coast Corvette.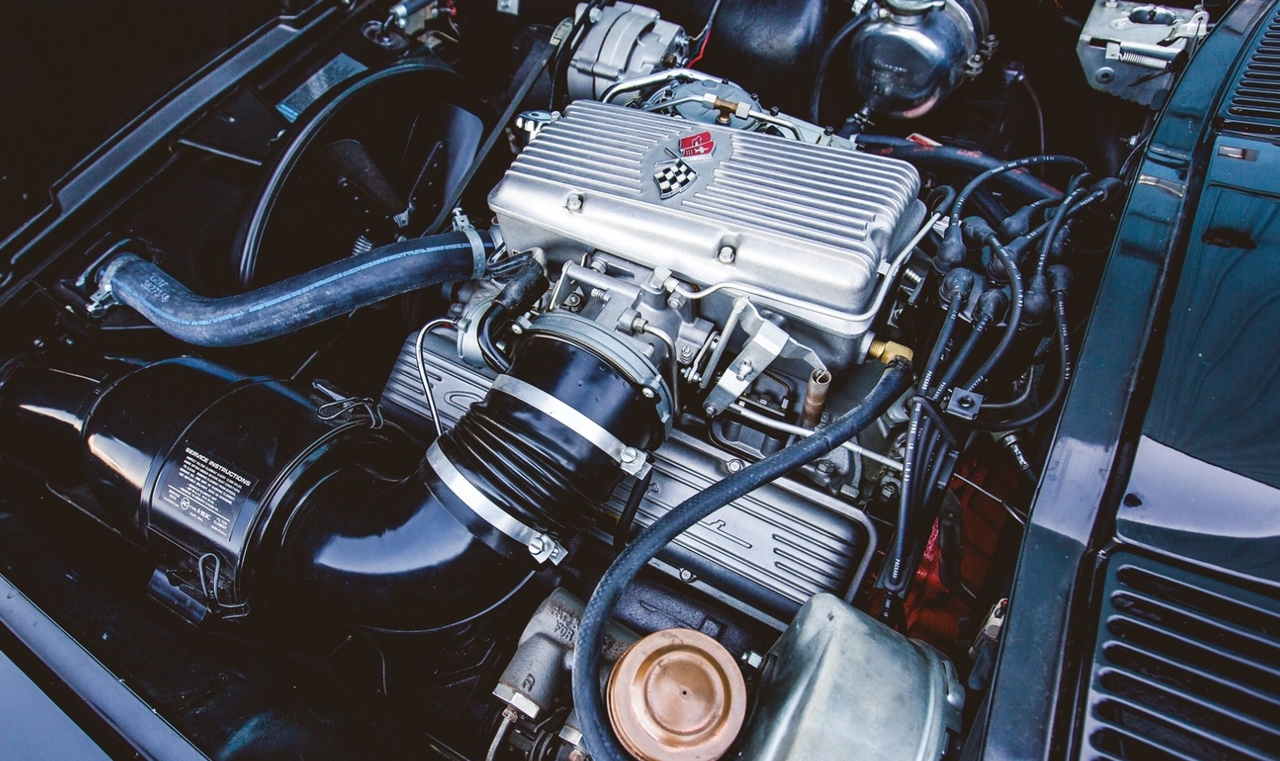 Tragically, Montgomery passed away before the restoration of the car could be completed.  Once again, the car was sold and subsequently finished by another Corvette restorer who resided near Fort Lauderdale, Florida.  The restoration was completed in the early 1980's.  Prior to its completion, the car received a replacement engine with casting no. 3782870, a casting date of A-16-3, was fitted and re-stamped with serial number 3115727 and date F0322RF.  Both the chassis and the firewall were also replaced.
Today, the car still retains the original Z06 components and calling cards of a 'Big Tank'-equipped Corvette, including the proper brake and suspension components, and fuel injection system. The original hardware and rivets in the rear portion of the car, as well as the larger fuel filler neck and jack location behind the seats, are consistent with original Big Tank specifications.
This beautiful 1963 Corvette Sting Ray Z06 "Big Tank" Coupe is expected to sell for between $160,000 and $200,000 when it crosses the auction block.  The car is being offered without reserve.  As RM Sotheby's only deals in high-end collector automobiles, you can be certain that this car is an absolute beauty and definitely worth the suggest sell price that they've got listed on their website.  More than that, this is a great example of the race-ready Corvettes that Zora Arkus-Duntov developed during his early tenure with Chevrolet.
For more information (including many additional images) on this amazing Corvette, or if you are interested in participating in this RM Sothebys Auction on August 25, 2018, please click here.