GM Executive Mark Reuss Crashes Pace Car at Detroit IndyCar GP
On Sunday, June 3rd, while leading a field of IndyCar race cars at the second race of the Detroit Grand Prix, the Corvette ZR1 Pace Car spun at the start of its first lap around the Raceway on Belle Isle, striking a wall with considerable force.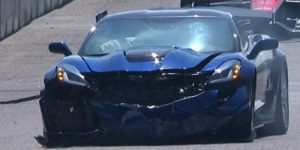 Mark Reuss, GM's Vice President of Global Product Development, was piloting the car at the time of the crash.  Although the front-end of the car was significantly damaged after colliding with the barrier wall, neither Reuss, nor passenger and Indy Car Official, Mark Sandy, were injured in the crash.
"I saw him (Reuss) after and talked to him and he's fine," Detroit Grand Prix chairman Bud Denker said. "He told me he was totally OK and just disappointed in what happened."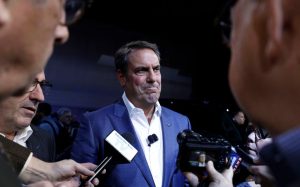 Debris from the car was scattered across the track just after turn two, bringing the entire field of IndyCar series race cars to a stop.  The field, which consisted of 24 cars-in-all, remained in place on the track until enough debris was cleared to allow them to pass safely.  They then returned to the pits until the remaining debris was cleared and the backup pace car was put into service.
The crash delayed the start of the race by approximately 30 minutes.
Reuss apologized publicly via a Facebook post.
"I want to thank you all for your well wishes today. I am ok. I have driven this course many many many times. I have paced this race in the wet, cold, hot, and calm. On Z06's, Grand Sports, and other things. It is never a casual thing for me, but an honor to be asked. Today I let down my friends, my family, Indycar, our city and my company. Sorry does not describe it. I want to thank our engineers for providing me the safety I know is the best in the world."
At the time of this publication, the cause of the crash is unknown.  The race course, Detroit's Belle Isle, is known for being notoriously uneven.  Even IndyCar driver, Will Power, who won the Indianapolis 500 on Memorial Day Weekend, stated he "felt bad for whoever was in the pace car.  Where it happened is such a bad corner (on that track). It's a real easy thing to do."
Although it had rained earlier in the day, the weather at the start of the race was 70 degrees and sunny.  All reports agree that the track was dry.
The 2019 Corvette ZR1 pace car used by Reuss on Tuesday was equipped with an LT5 6.2-liter supercharged V8 engine capable of producing 755 horsepower and 715 pounds of torque. The ZR1 pace car can accelerate from 0 to 60 mph in 2.85 seconds and reach a top speed of at least 212 mph, according to the General Motors.
Below is the official statement from Chevrolet about the pace car incident at the Grand Prix:
We are thankful that there were no serious injuries.  Both the pace car driver and the series official were taken to the infield care center, where they were checked, cleared and released.

It is unfortunate that this incident occurred.  Many factors contributed, including weather and track conditions.  The car's safety systems performed as expected."