The Mid-Engine Corvette's Cockpit Might Look Odd, But With Good Reason….
By now you've heard it said of the Corvette that "form follows function."  This statement has held true with many design elements of the Corvette since the introduction of the C7 Corvette Stingray in 2014.  With the evolution of the mid-engine Corvette – the statement has never been more true.  In fact, according to GM interior design manager Tristan Murphy, the cockpit of the 2018 Mid-Engine Corvette exudes "form meets function" in more ways than one.
"The whole point of [getting] that engine behind you is it allows you to have a much lower cowl…you no longer have to sit above the engine, and you can get these really great sightlines," Murphy said. "And that's what a mid-engine car does. The last thing we want to do was have this amazing downvision, then have this typical tall instrument panel. It was about, how do we change the game and how do we reconstruct a dashboard here to be as low and as thin as possible? That was the mission statement of the whole car."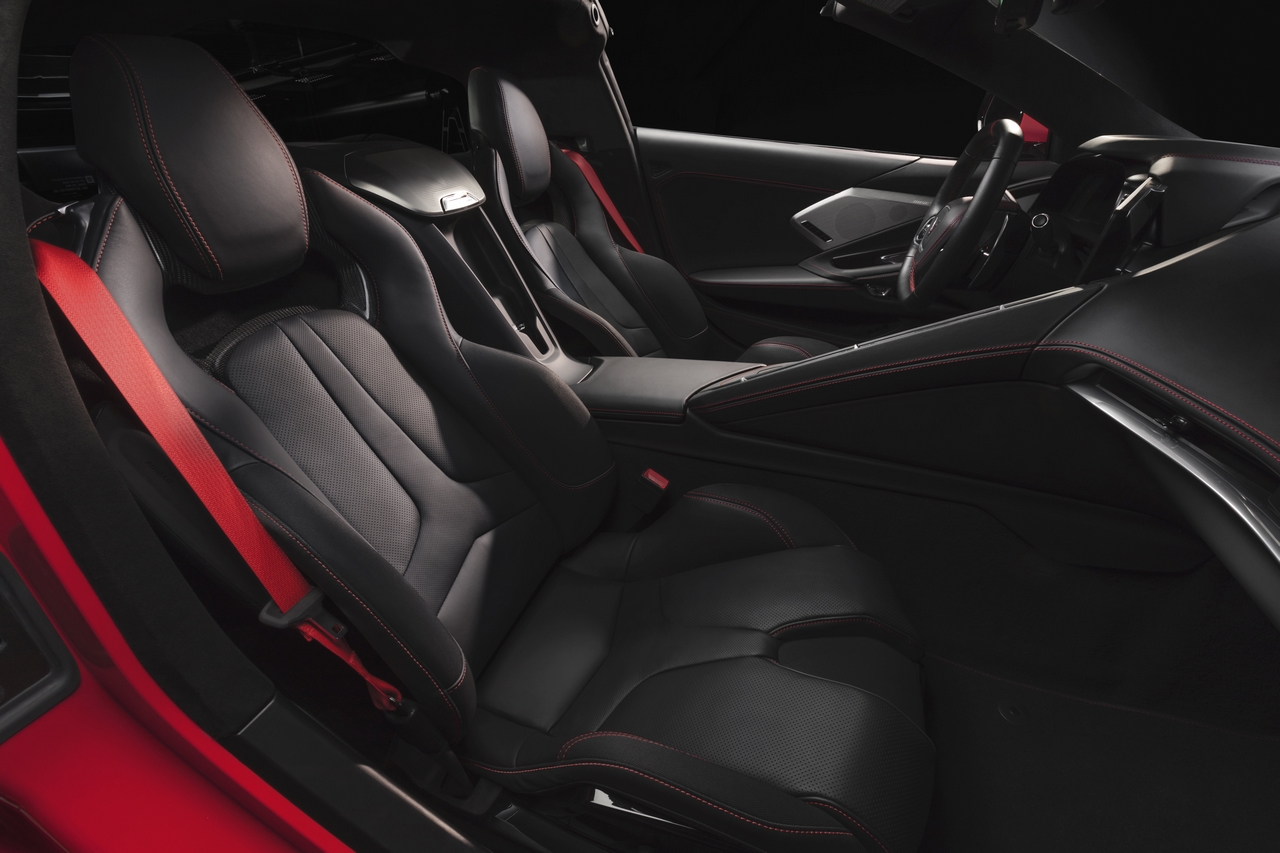 Murphy's comments about the C8's cockpit are based on considerable online conjecture about the car's interior.  Most of the discussion focused on the long, sloping vertical strip of buttons extending down the center console.  Was the interior designed to feel like the interior of a fighter jet cockpit? Or was it simply a wall of controls needlessly injected between the driver and passenger seats?
A closer look at the Corvette's interior corroborates Murphy's comments about keeping the dashboard low and angular – especially with finer elements like the car's interior air vents.
"[The C8] has the thinnest air vents in the production world," Murphy said. "We're 19 millimeters tall, and we had to invent that. Then we had to do a brand new HVAC system that controls that velocity [at that vent height]. Normal vents are usually about 36 to 40 millimeters tall, but every single millimeter that goes up the instrument panel, the dash has to go along, right?"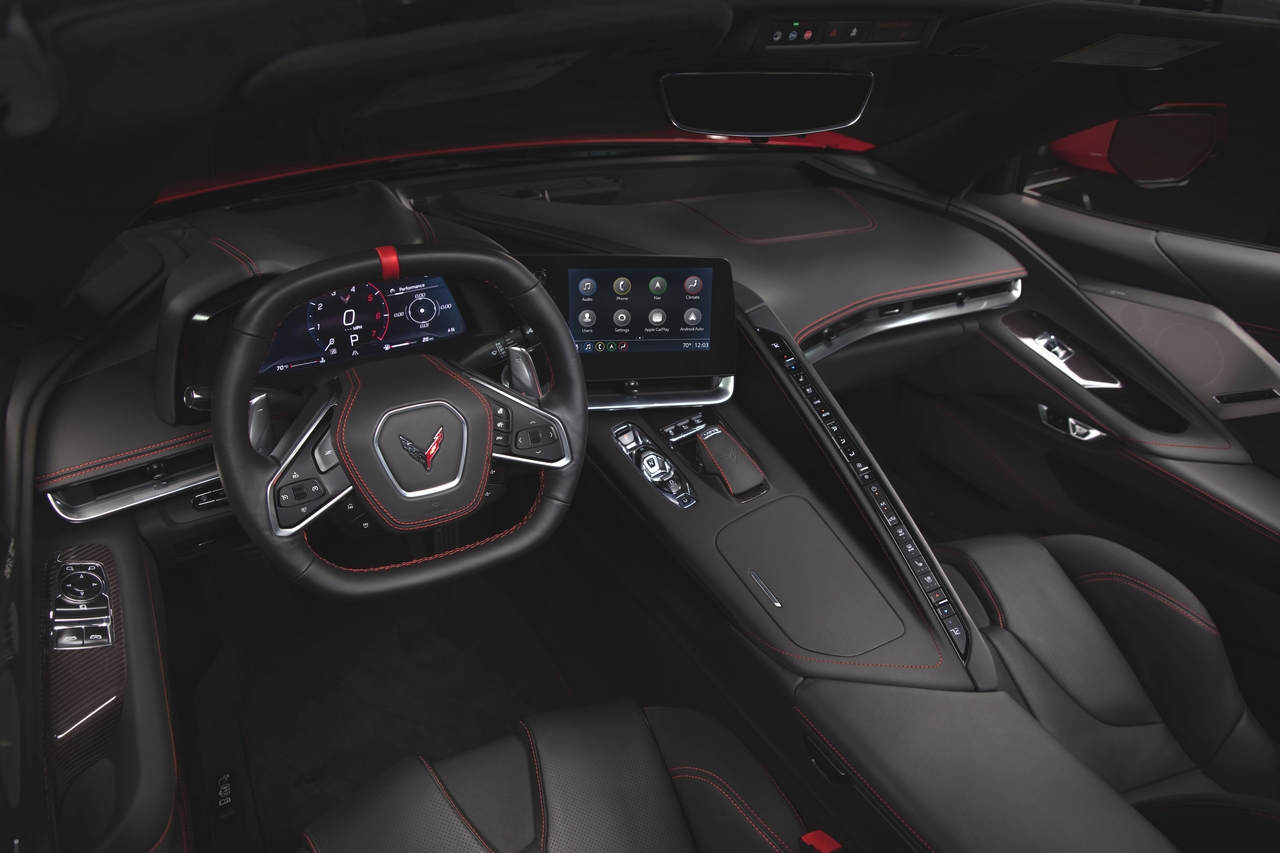 "For your typical stack — I use the Toyota Supra as a good example — they've got a big bank of buttons with your knobs and your HVAC, that's about 30 millimeters tall," Murphy said. "Then, you have an audio bank, that's usually 15–20 millimeters tall. Then you have your screen. Before you know it, [the dashboard] is almost an inch and a half or two inches taller because of those decisions of how you stack up audio and HVAC button controls."
"[Corvette designers] discussed very early, "Okay, how do we remove off the center line and still have some hard controls?" Murphy said. "And that's when we went to looking back at jet cockpits. These guys literally have controls wrapping around them."
A number of manufacturers have elected to move controls to a dash-mounted touch screen.  This process eliminates the need to stack console-mounted devices (such as a stereo, HVAC unit, etc.,) atop one another.  However, Murphy didn't feel that was the correct approach for the mid-engine Corvette.
"If we would've buried [controls] in the screen, you would now be going through menus to get them, which is really annoying. The reason that works for Tesla or the new Volvos is they have a tall portrait screen," Murphy said. "We wanted to do a low, wide-aspect ratio screen."
Murphy says there were months of discussions, design reviews and clay models that helped the design team reach this conclusion.  He and his team also sat in a number of mid-engine sports/exotic cars, including LaFerraris, Porsche 918s and McLarens, for inspiration.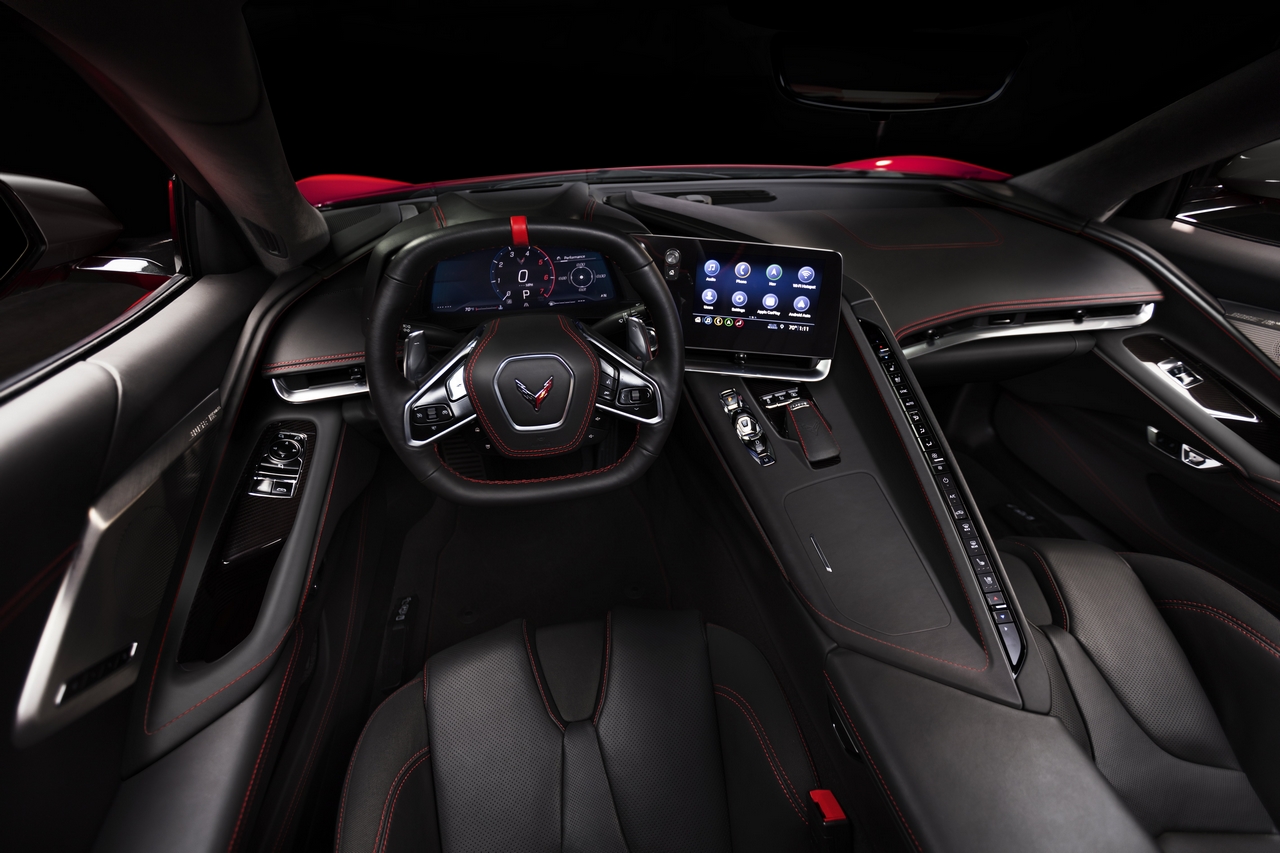 "Obviously, these are million-dollar hypercars," Murphy said. "But you just get in and it feels special, right? So that was the whole thing: how do we make [the C8] feel special?"
While the debate about the mid-engine Corvette's cockpit may continue to be a popular conversation for years to come, there is little doubt that the design has captured our attention.  Still, per Murphy, it was not a sure-thing once completed.
"If anything, we felt very intimidated…we need to still come in and surprise people. They need to get inside this thing and be like, 'Holy shit.'"