FOR SALE: A Beautifully Restored 1956 Chevrolet Corvette
Every once and again we discover an early C1-generation Corvette for sale that really captures our attention.  While these first-generation beauties vary in condition from an untouched, survivor-class Corvette found in a barn to a custom resto-mod that features a fusion of classic car with modern amenities, this latest example – a 1956 Corvette – is a blend (or sorts) of the two.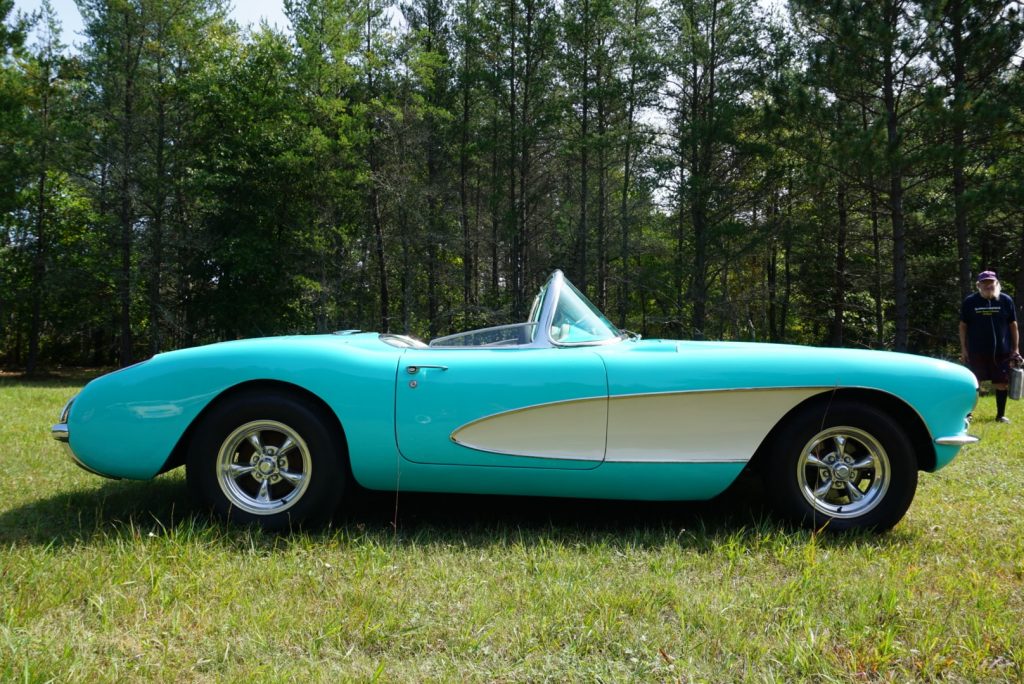 This car was first discovered by us when it was shared on the "Corvette Community" Facebook page (a private group page that we just happen to be members of) by FB user Jack Sabba.  Jack had been inquiring about how he might help his friend advertise this car in a way that it would reach Corvette enthusiasts across the globe.  We were so impressed by the pics and information he shared about the car that we couldn't help but help spread the message about this beautiful Corvette.
First and foremost, this 1956 Corvette – VIN E56S003608 – is not a numbers-matching Corvette, but when you hear what's been done to it, that won't matter one bit.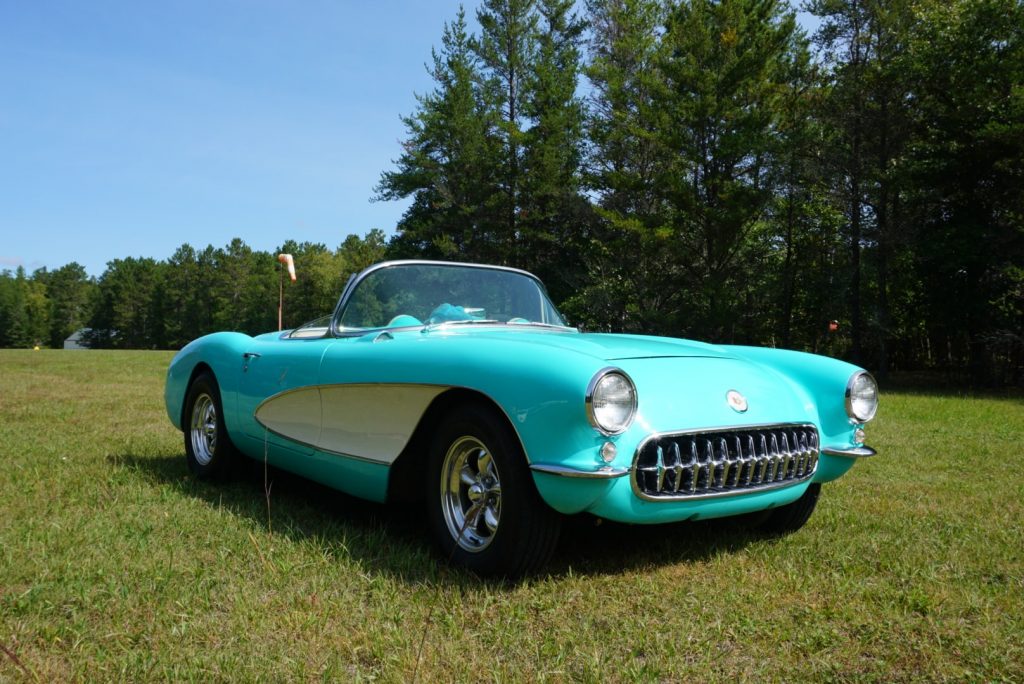 This Corvette was completely restored from the ground up and is presented here in show-ready condition.  Every facet of this car has been gone over – from the engine and transmission to the intake, ignition, brakes, steering, suspension, fuel system, exhaust system, wheels, tires paint, upholstery….even the soft top has been replaced.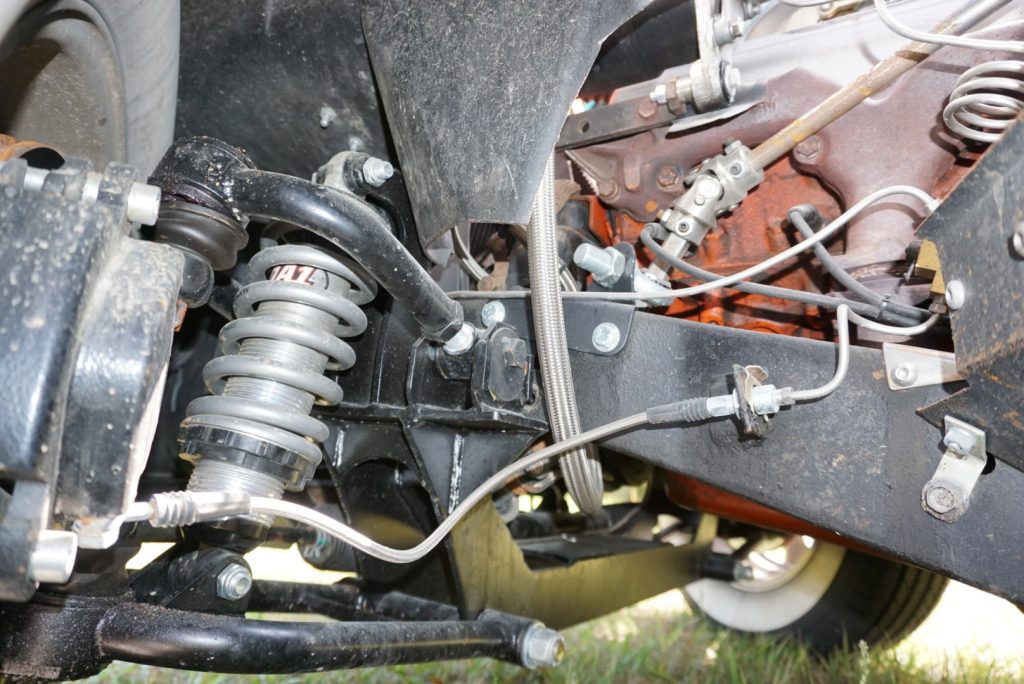 What makes this 1956 Corvette even more appealing is that the team responsible for restoring it also took the time to modify the car in a way that enables the car to retain all of its classic features while also being a reliable means of transportation, whether cruising to a local car show or taking the car on a cross-country adventure.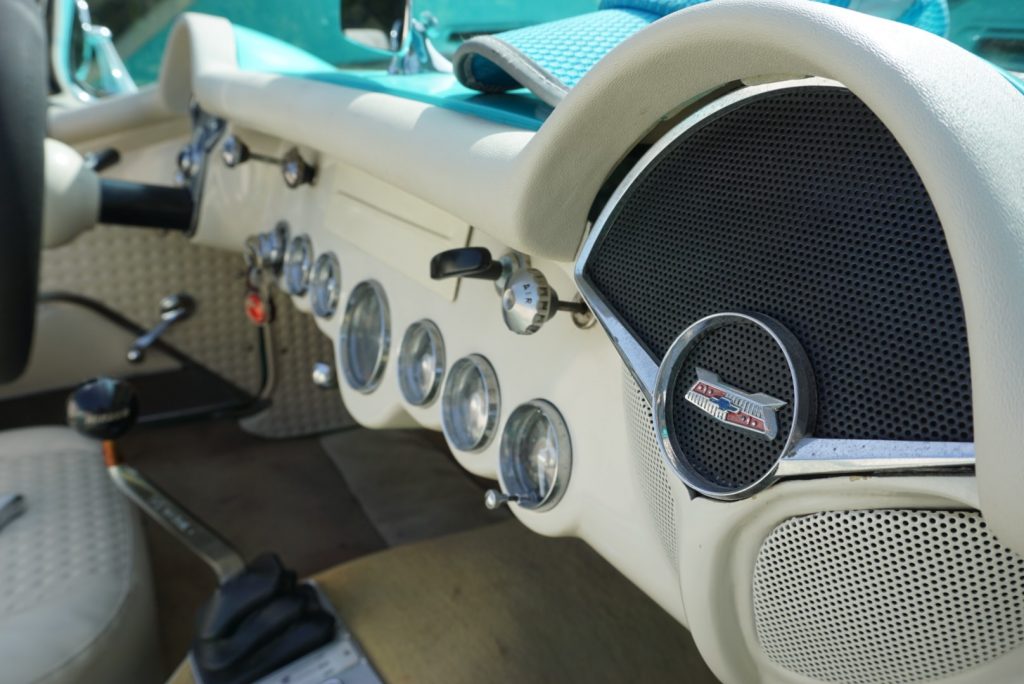 Starting under this hood, this 1956 Corvette is powered by a 283 cubic-inch, small-block V8 engine (stamping number 3834812) with a two-bolt main circa 1962–1963.   We did a little research and discovered that this engine probably came out of an early 1962 Corvette (although the 283 was only officially used thru 1961 in factory-built Corvettes.)  Although the seller has not published the horsepower rating of this engine, we'd estimate that its between 230 and 270 horsepower (based on factory horsepower ratings available in engines from that year.)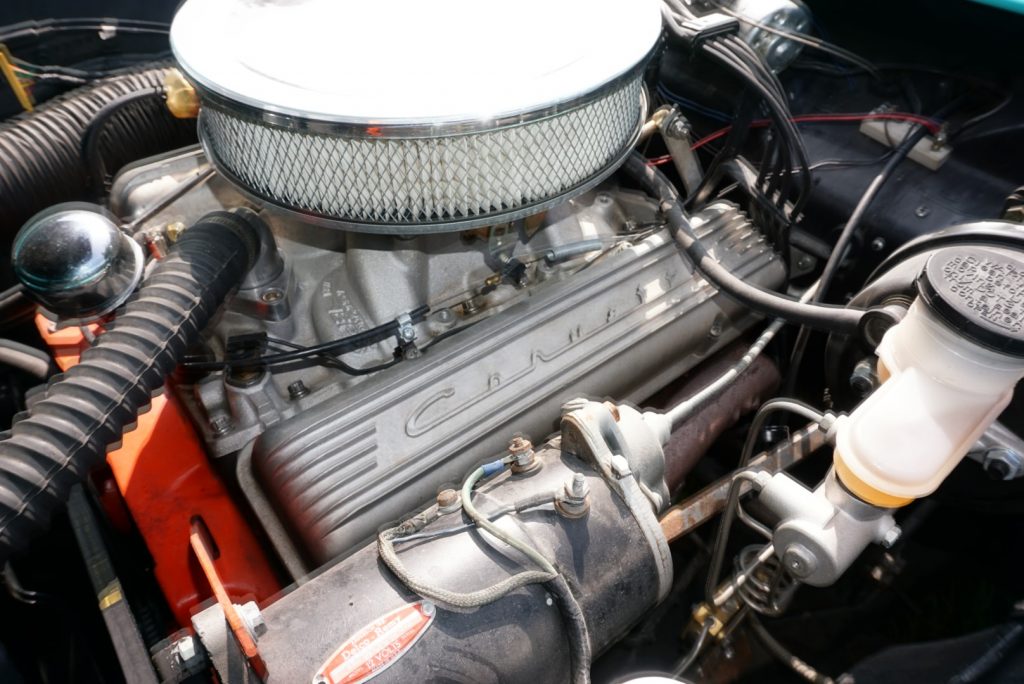 Of course, this engine features a number of goodies that may improve upon the factory horsepower numbers we mentioned above.  For starters, the car is equipped with a 500 CFM carburetor mounted to an Edelbrock Performer EPS aluminum dual-plane intake manifold with manual choke and secondary.  The engine also comes equipped with a Delco Remy alternator.  The 283 cubic-inch V8 engine is paired to a 5-speed manual Tremec transmission which has been gone thru and runs/drives flawlessly.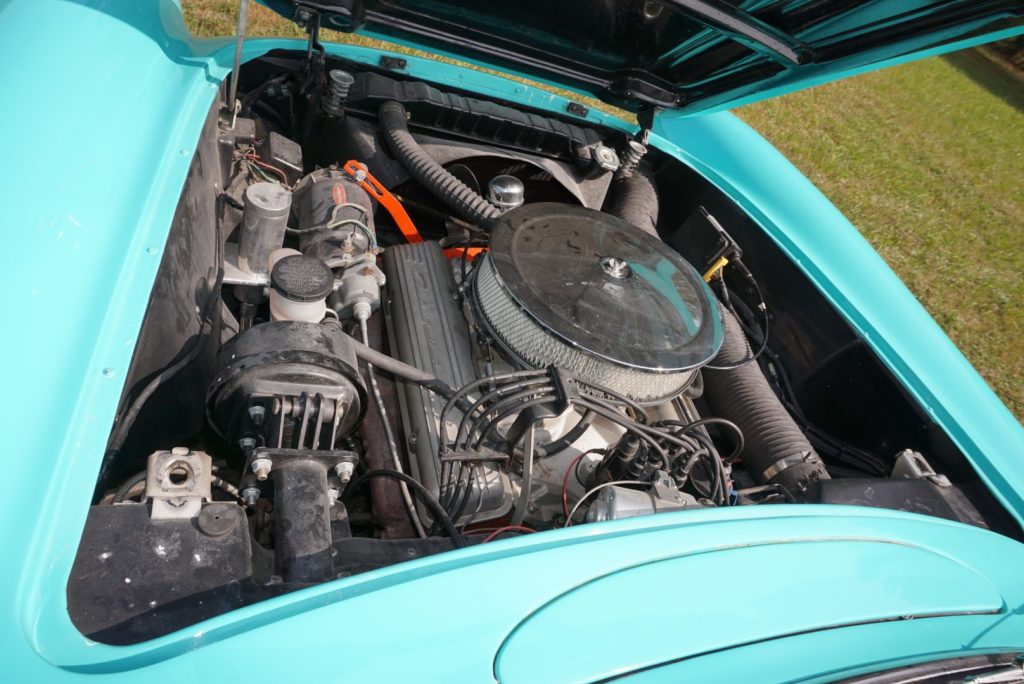 Outwardly, this Corvette comes finished in factory-correct Cascade Green with a beige/white interior.  One interesting point of note is that Corvettes manufactured in 1956 could only be ordered with either a red or beige interior, leading to the suggestion that some liberties were taken with this restoration when selecting materials to reupholster the seats, although the seats themselves look period correct despite being a bit brighter in color.  Regardless, the interior of this Corvette is beautiful.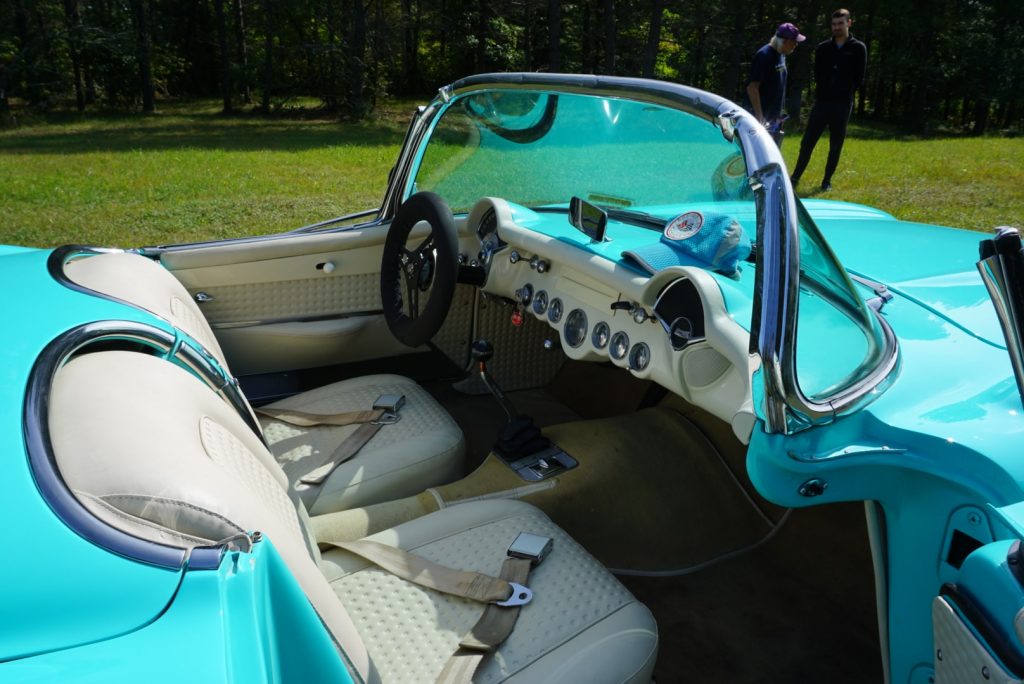 A number of modern amenities were added to this Corvette during its restoration including power steering, power brakes, and cruise control.  The car also features a smaller, sport-style steering wheel, although the seller has elected to provide the factory steering wheel as part of the deal of the sale.  The car also features functional air conditioning and an AM/FM stereo.
This Corvette rides on 15-inch American Racing Torq Thrust II wheels wrapped in 205/75R15 Michelin tires.  The entire chassis rides on the optional, adjustable coil-over-shock kit.  The front-end features a Martz Chassis front suspension unit as well as power rack and pinion steering.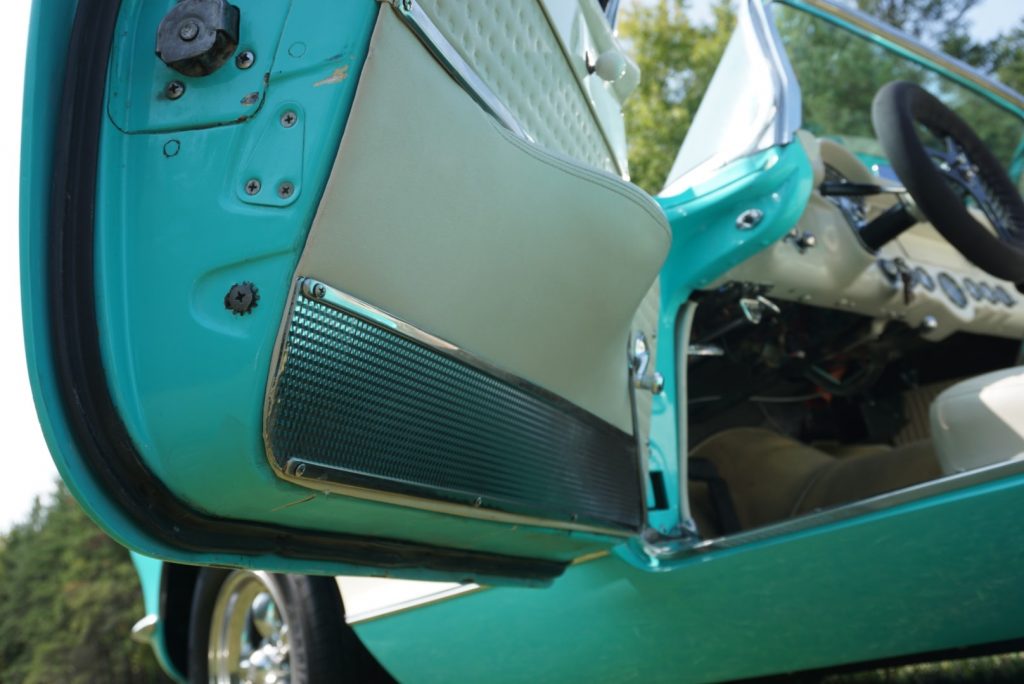 Based on the images that have been shared with us, this Corvette is a beauty both inside and out.  While you'd expect to see some signs of age or wear in a car this old, the restoration that this car received as helped transform it back into the original "road queen"  that first graced the American highways in 1956.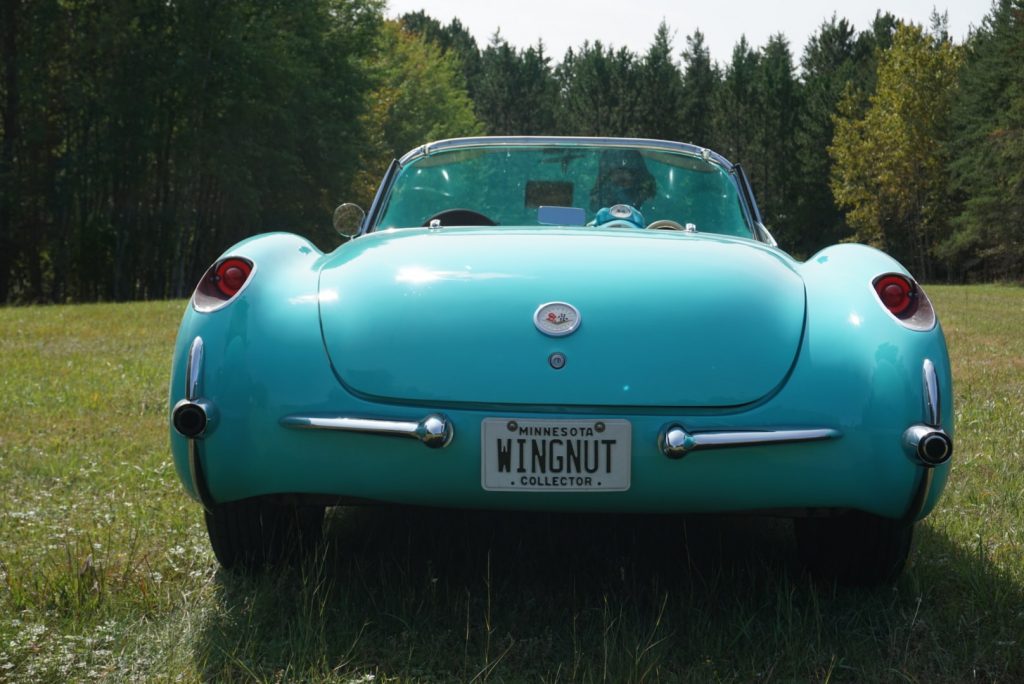 Talking numbers for a moment, this car has an asking price of $74,000, which is not at all unreasonable for a Corvette in this condition.  Moreover, the seller states that the car's odometer has just 10,004 miles on it.   They also state that the odometer works.  We must concede that we've not verified the mileage as being correct for this car.  However, even if this number is representative of the miles put on the car since it was fully restored, there's little doubt that this Corvette will turn lots of heads and provide its future owner with a lot of fun for years to come.
More than that, however, is the fact that the seller has also opted to include all of the original equipment that was removed from this Corvette during its restoration process.  Should you elect to purchase this Corvette, you'll also receive the original dual-quad Carter carburetor, the aforementioned original steering wheel, the original wheels/hub caps, and "other bits and pieces."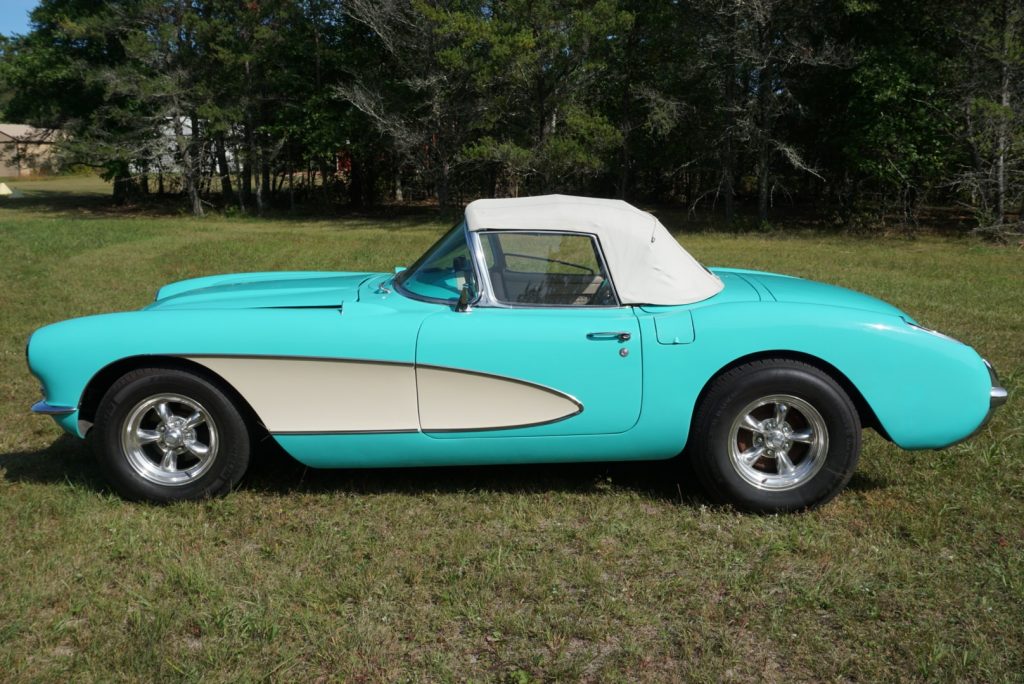 If you're interested in learning more about this Corvette, the best way to contact the customer is by reaching out to Jack Sabba on Facebook.  You can contact Jack Sabba by clicking here.   Jack states that he has more than 200 photographs of this Corvette available for any prospective buyers.  You can also find this 1956 Corvette for sale at the Amazon Marketplace by clicking here.
Should you choose to contact the seller or attempt to purchase this car, we wish you the best of luck!  Corvsport.com has no professional affiliations with the seller of this automobile and has not been compensated in any way for sharing this listing.