C1 Corvette Modding Guide
In the years following World War II, the American automotive scene was in search of something fresh and exciting. The call for a newer, lightweight, performance vehicle, similar to those already available in foreign markets, rang out from those craving more than the mundane offerings that were standard stateside at the time.
In a series of events that would forever change the landscape of the performance world, GM answered this call with the development and subsequent production run of the 1953 Corvette.
The C1 Corvette entered the market in 1953 with much promise, as conditions appeared prime for the release of a car of such qualities to the American public. Despite initial praise stemming from the model's futuristic stylings, the 1953 Corvette's six-cylinder power plant was less than overwhelming. As a result, sales were minute and the Corvette's future did not look promising.
However, just in the knick of time, a series of design changes redirected the course of the Corvette's history and left it poised for success. A newly designed 256 cubic-inch small-block V8 was produced to add credibility to the Corvette's performance, with later offerings featuring the 283 cubic-inch power plant that would further cement the car's place within the performance arena of the day. Changes in body lines and overall styling also took place, rendering a sportier and more aggressive overall look.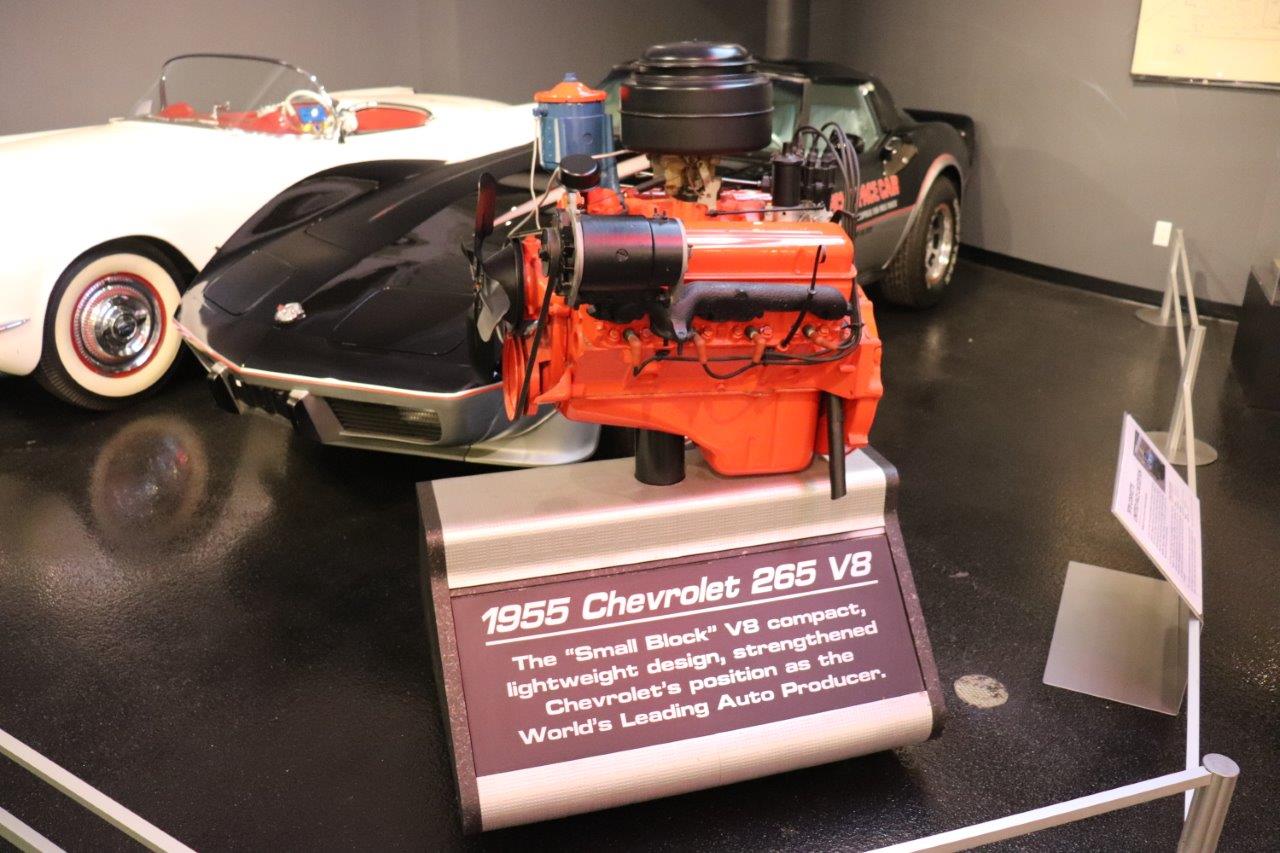 These changes effectively brought the Corvette back from the brink of obscurity and stole the hearts of countless American motorists, paving the way for the icon's rise to infamy. Many enthusiasts still cling to the nostalgia of their C1 Corvettes, holding them as some of the most valued members of their collections.
While some C1 owners prefer the bone-stock qualities of their Corvette, others seek to optimize their car's performance and drivability. The following is a basic guide to modding your classic C1 Corvette.
Power Steering Conversion
The C1 Corvette entered into the market in a day before the prevalence of power steering. Is that necessarily a bad thing? No. However, if you want the classic stylings of an early era Corvette, but the modern drivability and handling capabilities of a later generation rendition, then a power steering conversion might be exactly what you are looking for.
Power steering is a convenience that many drivers in the modern era take for granted. A power steering system minimizes the force that is required to turn your steering wheel, therefore cutting your wheels, in any given radius with little effort. This is accomplished with the use of hydraulic force.
A power steering pump produces a source of flow imparted on the power steering fluid within the closed system. This flow is then directed to a gearbox or rack and pinion, depending on the system type, where it produces directional pressure dependant upon the direction in which the steering wheel is turned. Since fluid absent of air does not compress, this pressure then exerts adequate force to turn your vehicle's wheels in a near-effortless fashion.
This modification does not come without a fair input in both time and expenditure. However, the gains in your Corvette's maneuverability will be immediately evident. The time that you will save when no longer needing to back up and reposition multiple times as you attempt to park at the next Corvette homecoming, will immediately alleviate any misgivings in regards to whether this was a worthwhile modification.
Steeroids Rack & Pinion Conversion Kit
The Steeroids Rack & Pinion Conversion Kit are ideal for C1 owners that are looking for a vast improvement in drivability and steering responsiveness. This rack and pinion system offers quicker steering ratios than the stock system, therefore exponentially improving your turning radius in tight confines.
The major upside to this kit is that it is completely bolt-on in nature. No welding, cutting, or drilling is required, meaning you can avoid any permanent modifications that can be detrimental to your classic's value.
The Steeroids kit comes with all required hardware and can be installed with basic hand tools in 3-5 hours. Installation instructions are also available in PDF file format on Steeroids website. This kit retails for $2,763.99. Be sure to check for the exact fit based on the model number that corresponds to your year model Vette.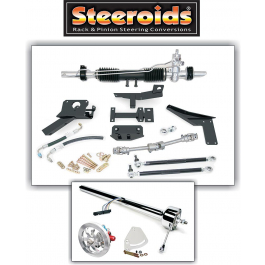 EPAS Electric Power Steering Conversion Kit
The EPAS Electric Power Steering Conversion Kit is yet another option for classic Corvette owners that have become unamused with their car's lack of maneuverability.
This kit runs off of a 60-Amp electric drive motor and includes a prewired control module for the full adjustability of your Corvette's steering capabilities. This kit does require removal and modification of the original steering column, however, the kit requires no modifications inside of your stock engine bay.
This kit by EPAS comes in at a lesser cost than many alternative power steering conversions, with a price tag of $1499.99. The kit also comes complete with all needed hardware as well as both printed and video instructions. Installation time is estimated at approximately 10-12 hours.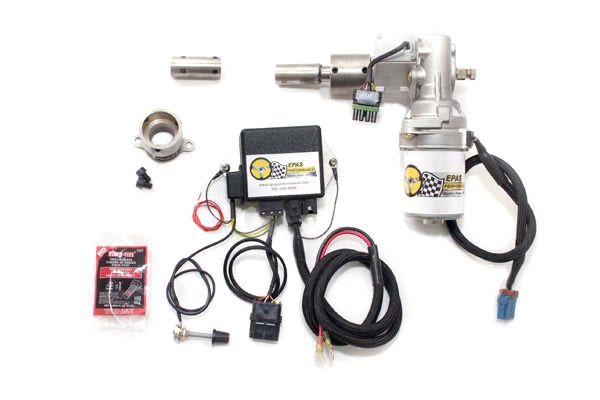 Aftermarket A/C Retrofit Kits
When the first-generation Corvette burst onto the scenes in 1953, automotive air conditioning was not quite the highly regarded capability that it is today. In fact, a significant number of cars of the day did not even offer factory A/C as an option.
Is the breeze from a downed window often enough to provide some level of relief from the balmy summer heat? Sure it is. But should that stop an individual from seeking the ultimate form of relief when the dog days of summer take hold? Absolutely not.
Automotive air conditioning works by utilizing pressurized refrigerant in a closed system that undergoes a repetitive change in state from a gaseous to a liquid form and back. The refrigerant absorbs heat in your vehicle's cabin as it circulates through the evaporator core. This heat is then dissipated as the refrigerant flows through the vehicle's condenser, only to repeat the process continuously.
For the C1 owner that prefers increased comfort while striking out on long road trips, an A/C retrofit might be just the ticket. Upon installation, you can bid farewell to the sweat on your brow that you have become accustomed to on a summer afternoon cruise. While the initial expenditure, both in time and cost, can be quite extensive, this will quickly be forgotten during the first stifling heatwave of June.
Classic Auto Air Retro-Fit A-C Kit
The Retro-Fit A-C Kit by Classic Auto Air is the perfect fit for C1 owners that are looking to beat the heat and maximize the comfort factor of their Corvette. This kit includes all the needed parts and accessories to get the job done in a no-nonsense fashion.
This Classic Auto Air kit offers the ultimate in cooling efficiency, due in large part to the system's adequately sized separate A/C and heat coils, not found in many other aftermarket offerings. This leads to the improvement of heating and cooling capacity across the entirety of the system.
This Classic Auto Air Retro-Fit Kit comes complete with model-specific mounting brackets, all needed hardware, and detailed instructions for getting the job done right the first time. At a retail price of $1449.00, the Classic Auto Air Retro-Fit A-C Kit puts increased driver comfort firmly within arms reach.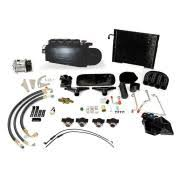 Vintage Air Sure-Fit A/C Kit
The Vintage Air Sure Fit A/C Kit is an intelligent climate control retrofit conversion system that provides your early era Corvette with all the high tech amenities of modern-day vehicles. This kit utilizes a fully electronic microprocessor control system to efficiently regulate cabin temperature, providing unmatched driver comfort. The fly-by-wire system eliminates the need for cables or vacuum hoses that are commonly found in other market offerings.
Vintage Air guarantees a perfect fit every time with its Sure Fit line of A/C conversion kits and includes all of the needed hardware to make your conversion as effortless as possible. If a clean, stock look is what you desire, this Vintage Air conversion kit is a steal priced at $1,500 and is sure to have you cruising in comfort in short order.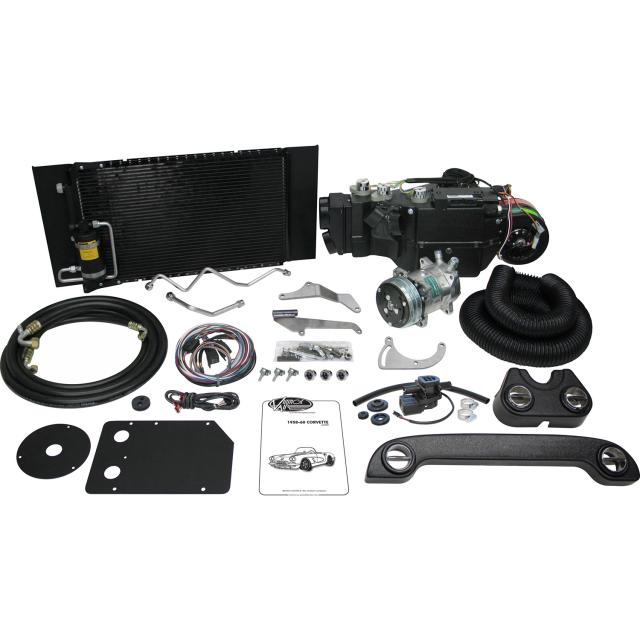 Disc Brake Conversion Kits
When the first-generation Corvette hit the market in 1953, four-wheel drum brake systems were the industry standard. Although the drum brakes of the day got the job done, stopping distances were often as reasonable as one would hope. Like much of 1950's era automotive technology, what was once considered state of the art, has since gone by the wayside in favor of subsequent industry advancement.
Braking systems were revolutionized by the popularization of disc brakes in the '60s and '70s. Braking became more responsive and stopping distances were greatly reduced. Many models of vehicles initially featured front disc and rear drum configurations during the era of change over. However, many modern vehicles now feature four-wheel disc brake configurations, and for good reason.
Why are disc brakes vastly superior to drum brakes? The answer to this question has much to do with the improved heat dissipation characteristics of disc brakes. Upon repeated or prolonged braking applications, heat quickly builds within the interior of a brake drum.
As this happens, stopping power is reduced, due to the over-saturation of braking components with heat. This condition is known as brake fade. Alternatively, disc brake systems provide greatly improved heat dissipation, thereby alleviating brake fade concerns.
Wilwood 4-Piston Caliper Conversion Kit
If updated braking capabilities are what you are in search of, Wilwood brakes have you covered. This Wilwood disc brake conversion kit comes complete with 4-piston calipers, 11.00 diameter rotors, and the required hub and bearing assemblies. You can buy this kit with your choice of black or red powder coated calipers. This means that not only will your C1 Corvette stop on a dime, but also it will look good doing it.
The Wilwood 4-piston Caliper Conversion kit provides you with all the necessary hardware to get the job done and gets your Corvette back on the road. This kit retails for $789.99, making it an economical choice without sacrificing anything in the way of quality.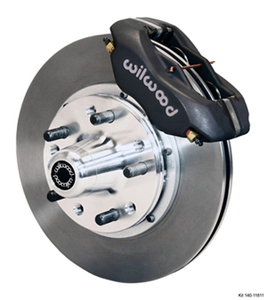 Pro-Tip: Although this kit includes the needed hardware to convert your C1 Vette over to modern disc brakes and calipers, the purchase of additional updated components such as brake lines and a dual-piston master cylinder are recommended in order to maximize the effectiveness of this conversion. 
DBC 4-Wheel Disc Brake Conversion Kit
The DBC 4-Wheel Disc Brake Conversion Kit is the ultimate for the C1 Corvette owner seeking to maximize braking efficiency. This kit includes all components needed to complete a true front and rear disc brake conversion and will provide you with ultra-modern stopping capabilities. Due to the complete nature of this conversion kit, the need to purchase additional items such as a master cylinder or hoses is eliminated. These components are all included and ready for installation upon unpackaging.
One of the high points of DBC's Disc Brake Conversion Kit is that all wear components are sourced from modern manufacturers, and the acquisition of replacement parts is as simple as a trip to your local parts house. This DBC kit retails for $1349.00, making it a phenomenal deal for those in search of one-stop shopping for their upcoming disc brake conversion project.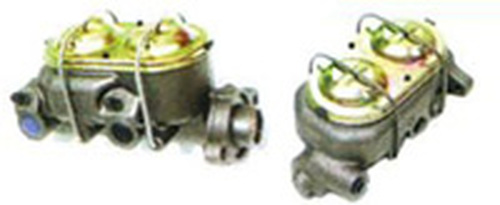 Electronic Ignition Conversion Kits
Before the introduction of the Delco HEI (high energy ignition) in 1975, General Motors, along with nearly every other manufacturer, utilized a standard point, condenser, and coil ignition system. While the points ignition systems of old made the most of the technology of the day, they were often tedious to maintain.
The points and condenser ignition system is a design that is as old as the inception of the automobile. In this system, a set of points open and close as their rubbing block rides along the lobes of the distributor cam lobe.
When the points are in the closed position, a current is allowed to flow through the closed circuit that includes the coil. When the circuit is broken due to the opening of the points, the system's magnetic field collapses, thereby inducing the spark that is delivered to the spark plugs via the plug wires. With time, however, this constant arching led to burnt points and necessitated their replacement.
The history of the modern ignition system was forever revolutionized with the introduction of the far superior HEI units that have since become the industry standard. These modern systems employ the use of a magnetic pickup and tone ring style teeth to sense pulses and induce spark. Today's modern HEI systems are consistent in their functionality and reliability, while eliminating the need for frequent tune-ups and component replacement, as was the case with its points-based predecessor.
Pertronix Ignitor Ignition Kit
Are you tired of changing burnt points and setting the points gap on your Corvette's dated ignition system? If so, Pertronix has you covered with their Ignitor Ignition Kit. This conversion eliminates your old points and condenser, replacing it with a solid-state electronic module. Perhaps the most attractive feature of this conversion kit is that all components are concealed within your distributor, keeping an entirely stock look.
The Pertronix Ignitor Ignition Kit can be used in conjunction with either a stock or high output coil and typically takes less than an hour to install. Priced at just $109.99, the Pertronix Ignitor Kit is easily the most cost-effective modification on this list, delivering unparalleled reliability, without causing you pain in your wallet.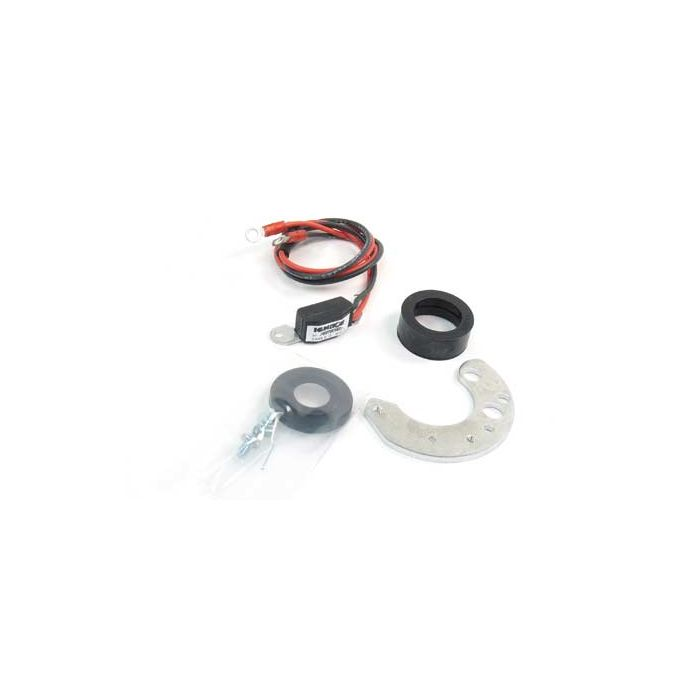 FAST XR-i Electronic Ignition Conversion Kit
The FAST XR-i Electronic Ignition Conversion Kit is the perfect modification for taking your Corvette's reliability to the next level. Throw your old points and condenser in the trash, instead bring your C1's ignition system into the 21st century, opting for the vast advancements offered by this HEI conversion. What sets the FAST XR-i kit apart from other similar product offerings is its built-in adjustable rev limiter, allowing for customized values ranging from 4,000-8,000 RPM.
Of added value, is the FAST XR-i kit's industry-leading durability. All wiring components are urethane sealed and over-temperature protected for long service life. With a retail price of just $77.99, it is honestly hard to believe that such a feature-rich product can be sold at such a reasonable value.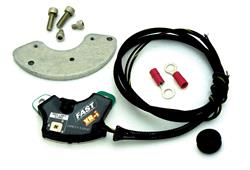 Suspension & Front End Upgrades
If you are a C1 Corvette owner or have spent any length of time behind the wheel of one, what I'm about to say will probably not come as a surprise. The first generation Corvette featured a ride experience similar to being put through the tumble cycle in most dryers.
The suspension of the day left much to be desired. Because of these less than desirable ride traits, many C1 owners keep their cruising consolidated to short intervals. However, steps can be taken toward improving the ride quality of a C1 Corvette.
One common modification made by those looking to improve their early era Corvette's driveability is the installation of modern shocks that are far superior to prominent offerings of the '50s and early '60s. Shock absorbers are the components that systematically dampen your vehicle's sway and bounce as it travels across a wide variety of settings. As shocks become worn, they lose their dampening characteristics, thereby failing to adequately stabilize your vehicle's movement.
5751 Monroe Sensa-Trac Shock
The Monroe Sensa-Trac Shock offers a smooth ride, backed by a lifetime warranty, and all for a reasonable cost. The Sensa-Trac Shock features PSD (positive sensitive dampening) to improve the ride, handling, and safety characteristics of your vehicle. Your ride is kept consistent due to Monroe's full displaced valving, allowing for automatic adjustment to road extremes.
The Monroe Sensa-Trac Shock comes charged with nitrogen gas, which serves to maintain tire to road contact by reducing aeration. Coming in at a retail price of $36.84 each, these shocks are an undeniably good deal, that will have your C1 back on the road free of its previous rough ride in no time.

Bilstein Shock Absorber
Bilstein Shock Absorbers make a great addition to your C1 Corvette. With a perfect blend of performance and comfort, as well as unmatched durability and construction quality, these Bilstein shocks are truly a wise choice for vintage Corvette owners who desire a top-notch ride, but also need their vehicle's components to hold up to times of high demand.
Although the higher price tag of $109.95 might initially be off-putting, the stark differences between this shock and other market competitors speak for itself. These Bilstein shocks utilize a seamless, monotube construction that facilitates rapid heat dissipation. They also feature industry-leading valving sensitivity, therefore leading to a more consistent ride, under a wide array of conditions.