FOR SALE: A 1,300-Mile 1990 Corvette ZR-1 Coupe!
If you were a child of the late seventies, chances are better than good that you had a poster of this car – the 1990 Chevrolet Corvette ZR-1 – plastered somewhere on your bedroom wall.  And why not?  The Corvette had become recognized as a staple of Americana, and the ZR-1 was one of the most badass 'Vettes ever to grace the open roads (at least up to that time.)  With more horsepower than any other fourth-generation Corvette before (or since), the ZR-1 was celebrated as the "King of the Hill."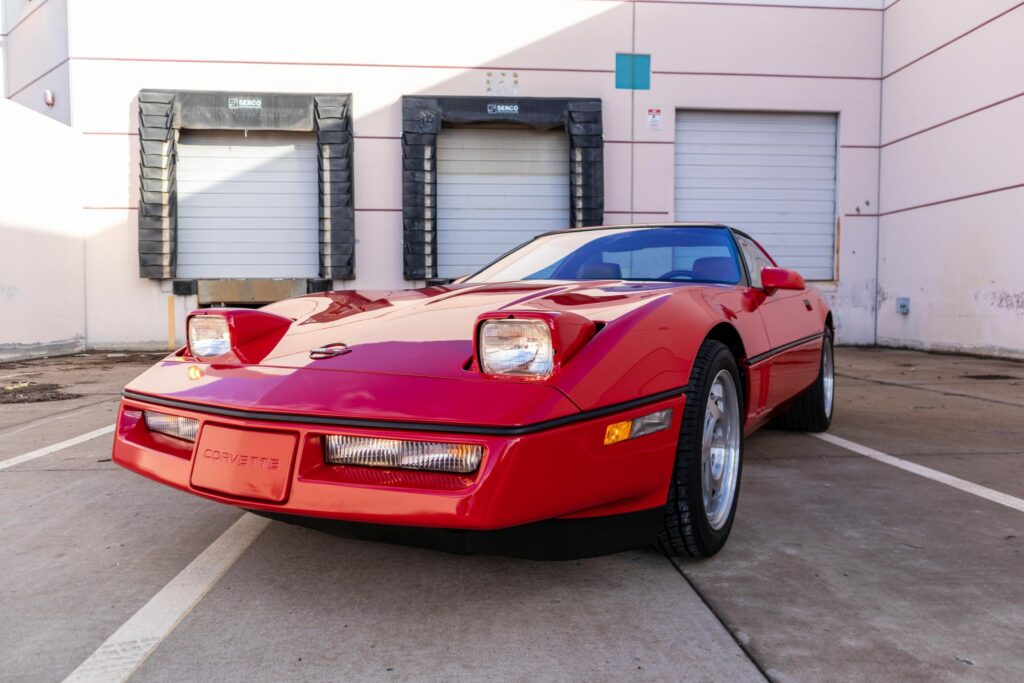 Unfortunately, the car was also stupidly expensive back in the day.  Brand new, they sold for around sixty grand (or the equivalent of roughly $129k in adjusted 2022 dollars today!)  But what if we told you we had found a brand-new 1990 ZR-1 Corvette and that you could potentially purchase that car for half its original asking price with current-day money?  If you think this sounds too good to be true, well, it almost is…..except: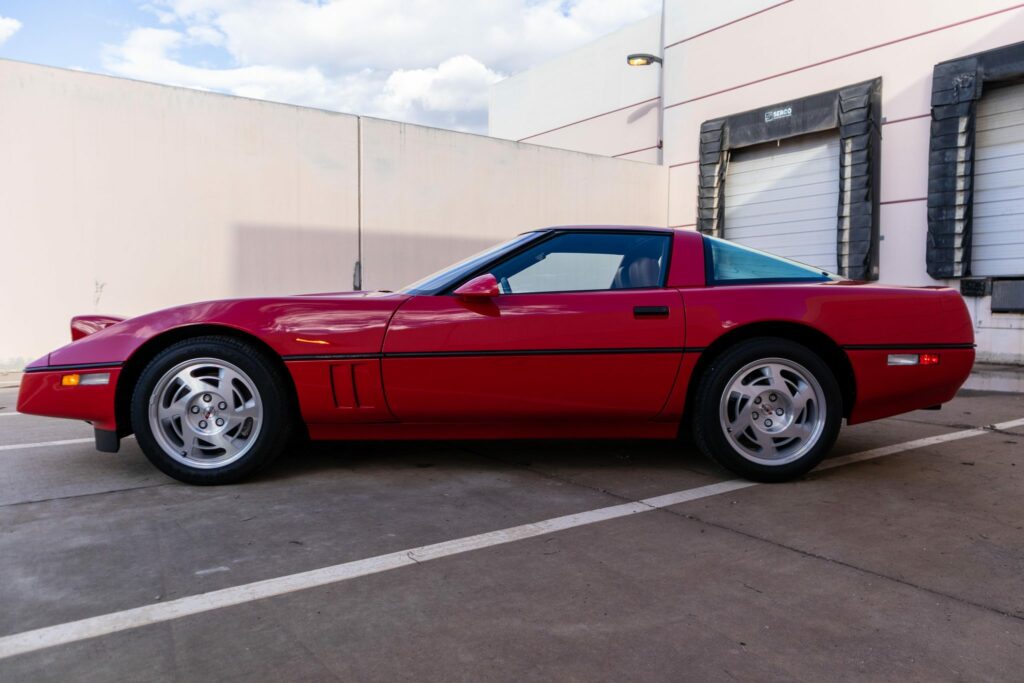 We have found a 1990 Chevrolet Corvette ZR-1 that, while not new, has just 1,300 documented miles on its odometer.  And with that kind of mileage, you can imagine how clean the rest of the car is!  But you don't have to imagine because we're going to share all the exciting details here, and then we're going to show you how you can potentially make it yours.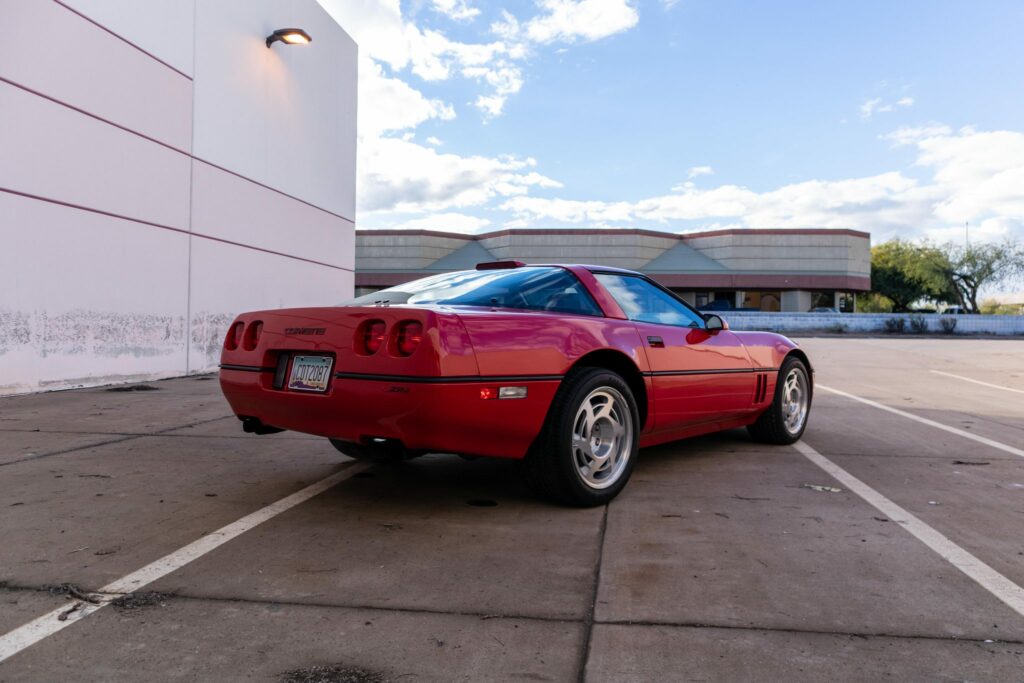 Let's start with the goods.  This is a 1990 Corvette ZR-1 that was originally sold at Parker-Robb Chevrolet in Walnut Creek, California to the late husband of the car's current owner.  You read that right – not only does this car have virtually no miles on it, it is a ONE OWNER CAR!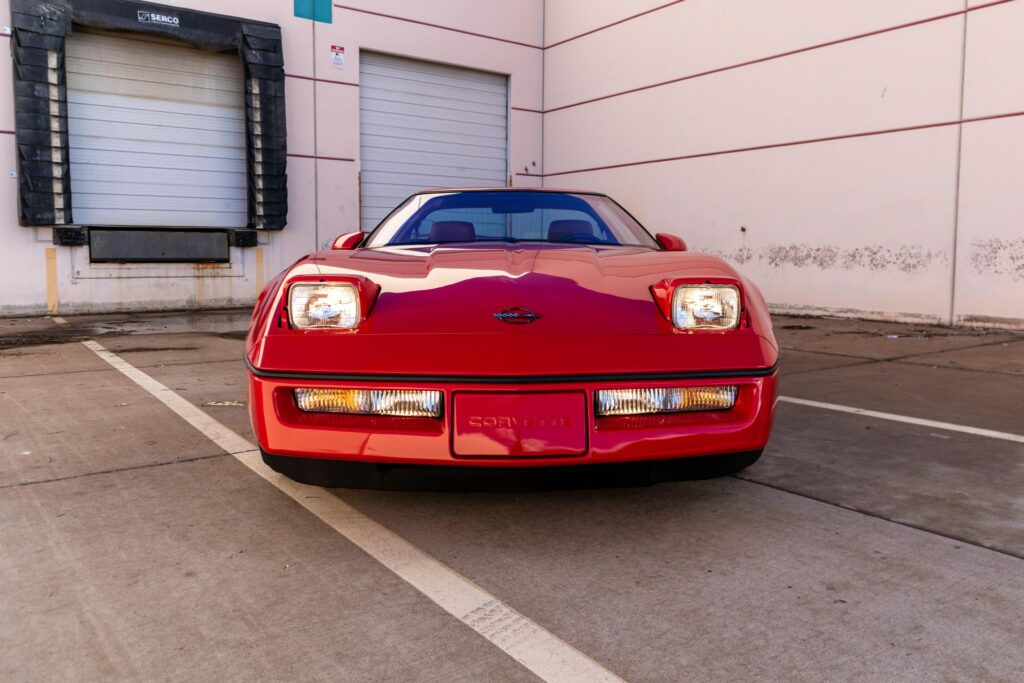 Want to know more?  Here we go.
Starting with its exterior, this beautifully maintained Corvette features the signature ZR-1 wide-body quarter panels and revised, convex tail panel with its four square-shaped taillights.  Keep in mind that the 1990 base-model coupe and convertible still featured the older-style concave fascia with round taillights originally introduced on the 1984 model.    The popularity of the  ZR-1's backend was so overwhelming that GM updated all of Corvette fascias beginning in 1991.  This car is one of just 1,565 examples finished in Bright Red during the ZR-1's inaugural model year.  As with all fourth-generation coupes, it features a removable roof panel, retractable headlights, and front fenders.  This car also comes equipped with heated side mirrors, ZR-1 badging, and quad exhaust outlets.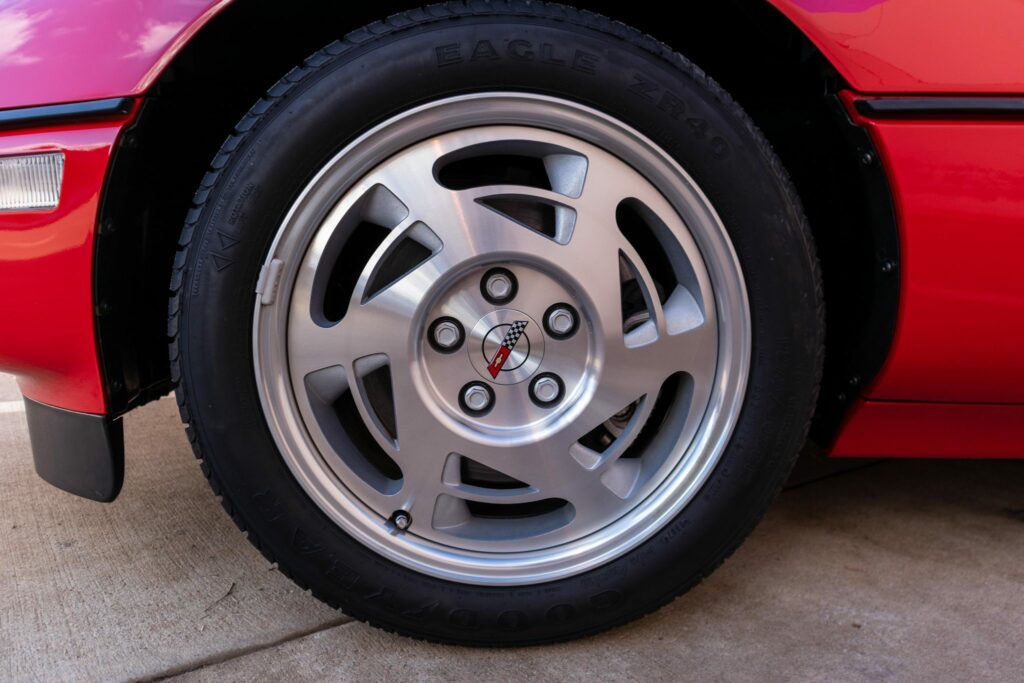 This 1990 Corvette ZR-1 rides on its factory 17-inch aluminum wheels.  These each come wrapped with GoodYear Eagle rubber – ZR40s upfront and ZR35s in the back.  The tires all show a 2000 date code and measure 275/40 and 315/35, respectively.  It is worth noting that these tires are twenty-two years old.  Given that most specialists advise changing your tires at six years, and most would agree not to wait any longer than 10 years, this would definitely be something to consider doing post haste if you elect to purchase this Corvette.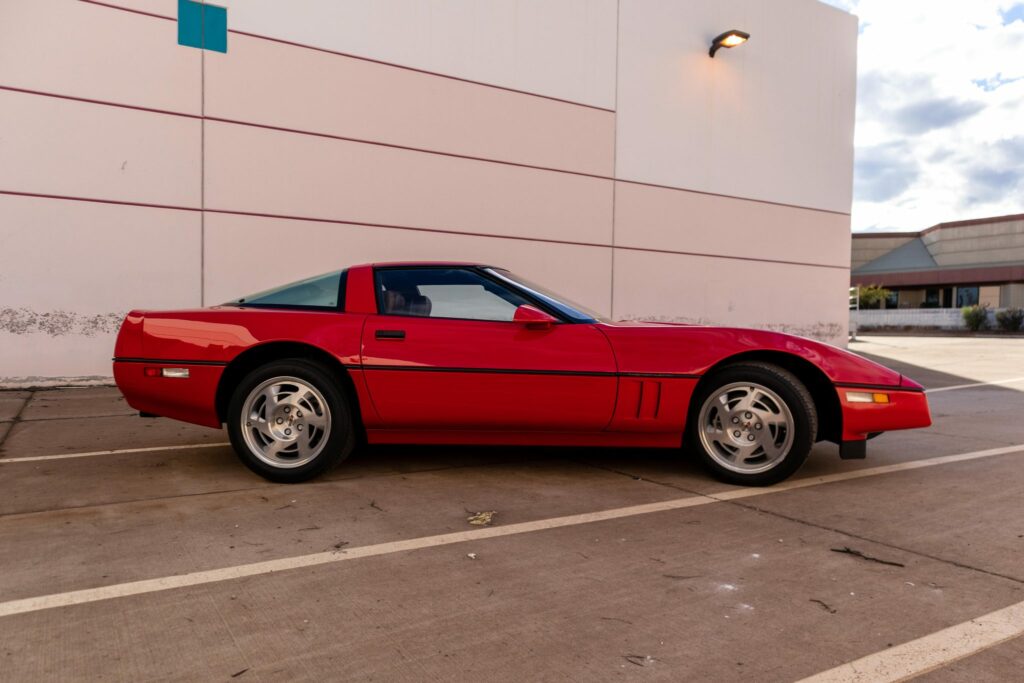 All ZR-1 models came equipped with the FX3 Selective Ride and Handling Package which added electronically-adjustable Bilstein shock absorbers.  Stopping power was provided by four-wheel anti-lock disc brakes, and the brake fluid was flushed in June 2021.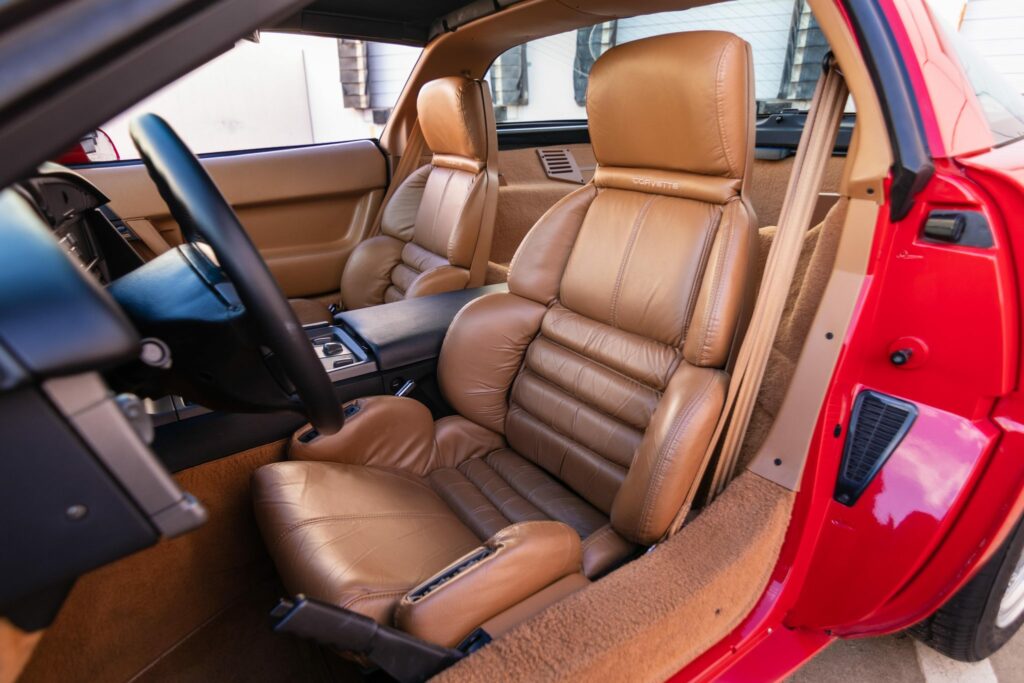 Moving to the car's interior, this 1990 Corvette ZR1 features six-way power-adjustable sport seats upholstered in Saddle leather with matching door panels and carpets.  The air-bag-equipped steering wheel also comes wrapped in leather. Beyond the steering wheel is the hybrid analog dashboard with a digital speedometer backlit in an amber-orange color.  Other gauges include the fuel level, an analog tachometer, and gauges for the coolant temperature, oil temperature, oil pressure, and voltage.  As previously stated, the odometer shows just over 1,300 miles!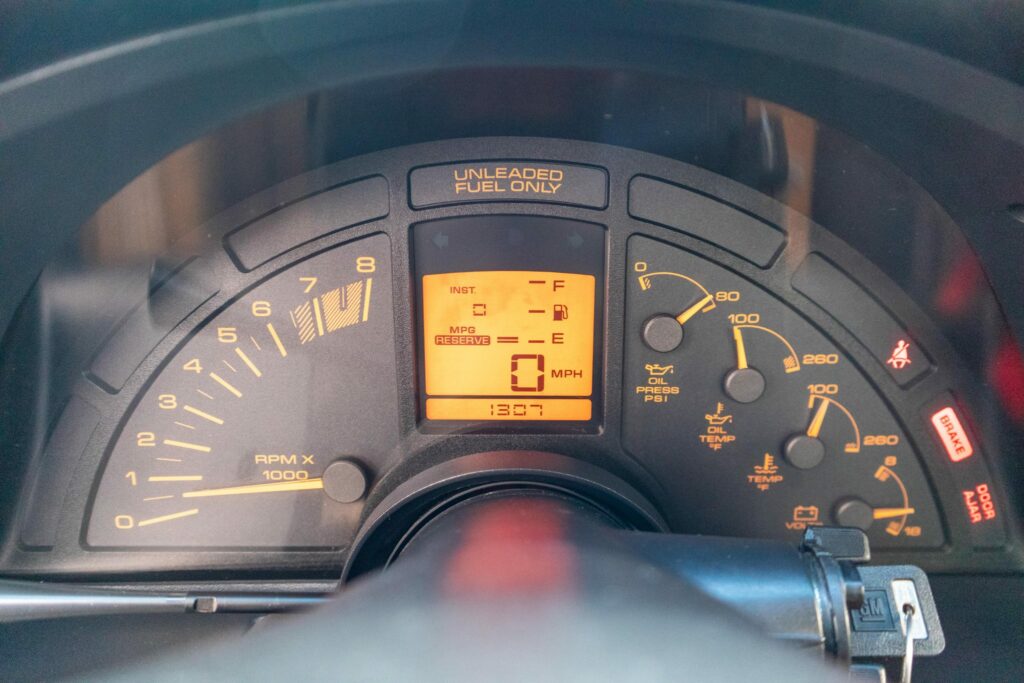 The center console includes the car's Selective Ride Control dial within reach of the driver's seat.  There's also automatic climate control, cruise control, a tire pressure warning system, a trip computer, and a Delco-Bose Gold Series sound system with CD and cassette players.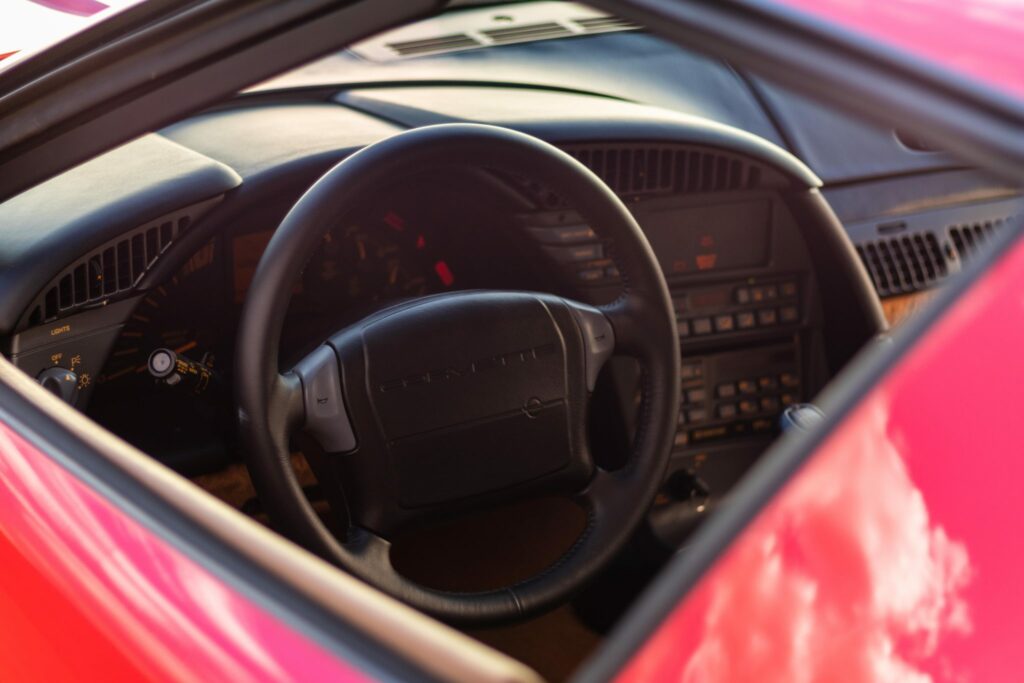 As with All ZR-1's of that era, the real story isn't what's on the outside, but what's on the inside that counts.  In this case, what's on the inside is an aluminum 5.7-liter V8 engine that was engineered/designed by the Lotus car company and assembled by Mercury Marine in Stillwater, Oklahoma.  This beastly engine featured all-aluminum construction and was engineered to house four overhead camshafts which, all combined, helped the engine produce its massive 375 horsepower and 370 lb-ft of torque.  What's amazing is that, since its introduction in 1990, there have been multiple claims made that the original horsepower and torque designations were false and that the ZR-1 was far more powerful, producing in excess of 400 horsepower!  Power is transferred to the rear wheels thru a factory-equipped six-speed manual transmission and a limited-slip differential boasting a gear ratio of 3.42:1.  The transmission and the differential fluids were freshly changed in June 2021.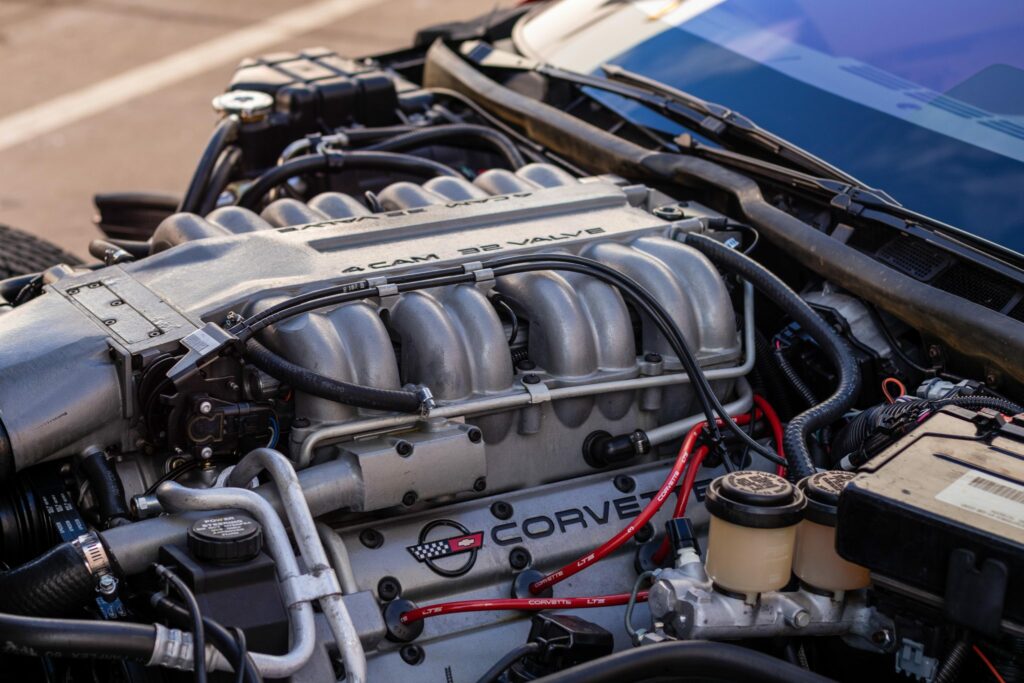 This car comes with a CarFax report which states it's got a clean bill of health in terms of accident or other damage obtained since new.  The car has been registered in both California and Arizona.  A manufacturer's recall was issued in October 1991 for the car's safety belt retractors.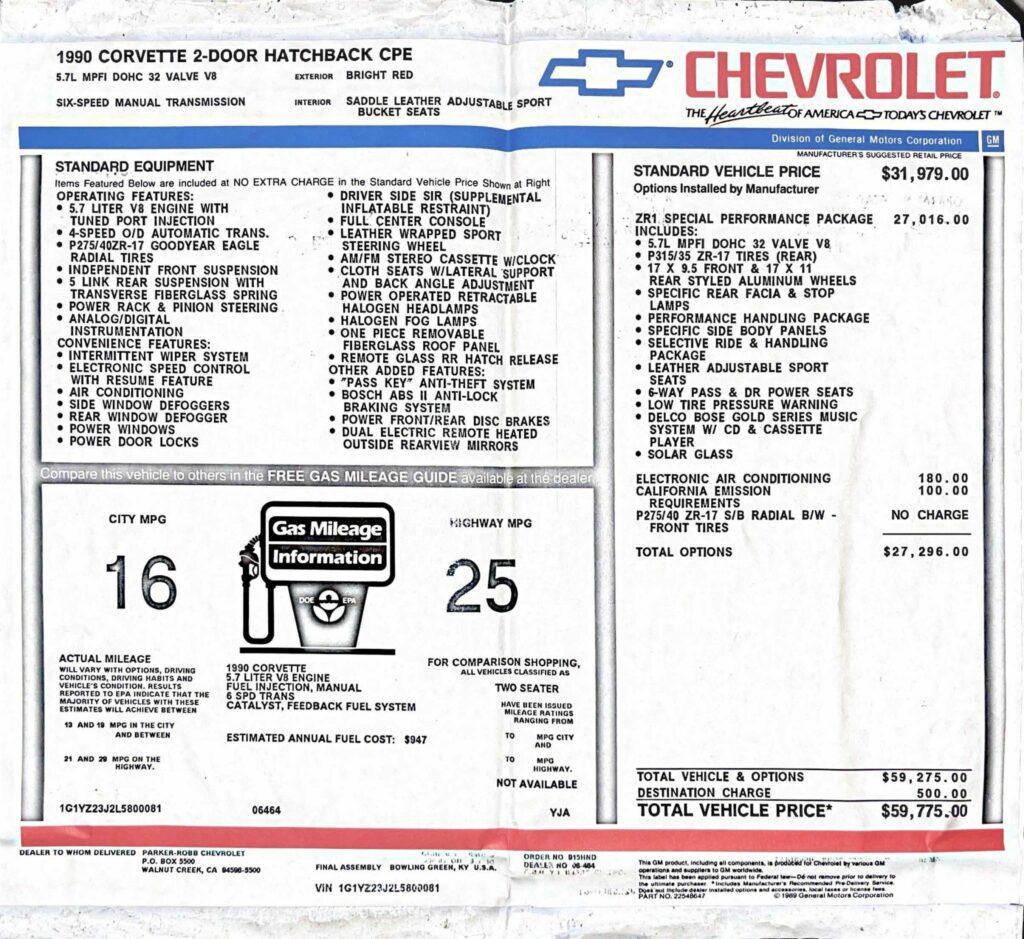 So there you have it – should you bid on this car (and if you've ever dreamed of owning a fourth-generation ZR-1, this is the one you want to buy), the current asking bid price is up to $32,000.  But let us also remind you that this is far below what a ZR-1 cost new in 1990, and for a collector's car in this condition, it is still a great value today.  We priced a 1992 Corvette ZR-1 (KBB.com doesn't go back to 1990 unfortunately) and, with the mileage on this car, claimed a selling price north of $50,000, so you can rest easy bidding on this one knowing that you got a deal right out of the gate!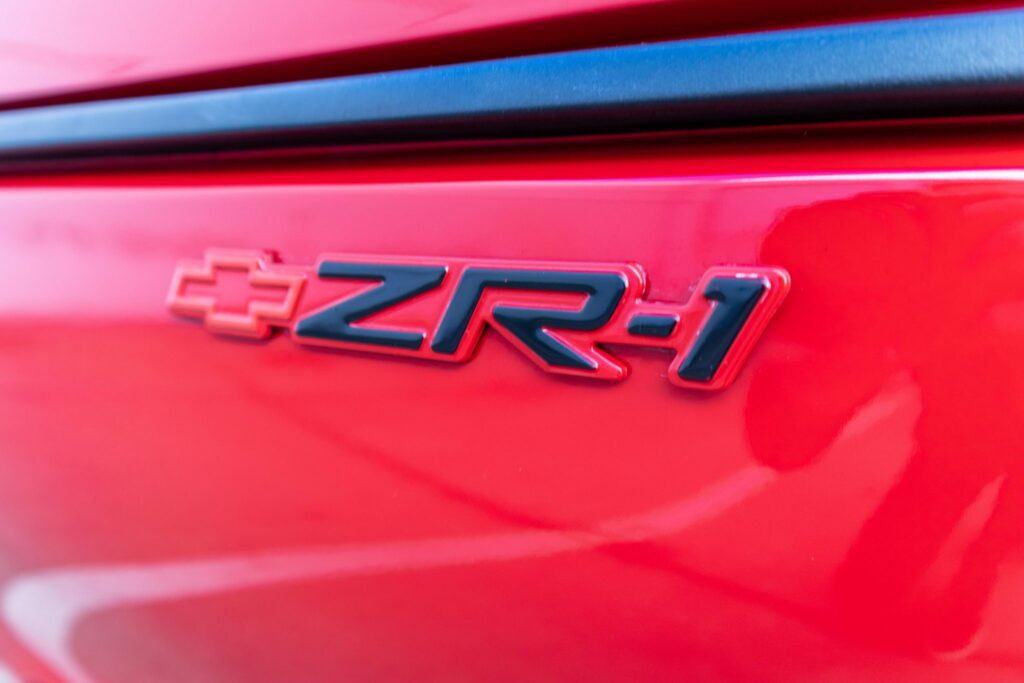 Should you choose to bid on this car, we wish you the best of luck.  Corvsport.com has no professional affiliations with either bringatrailer.com or the seller of this automobile and has not been compensated in any way for sharing this listing.