For those enthusiasts who adore the classic first-generation Corvette body style but crave a blend of modern performance and amenities, this unique custom-built first-generation-style Corvette Convertible delivers a wealth of exciting features and it will be available for bidding on Mecum Auctions' Monterey event this weekend.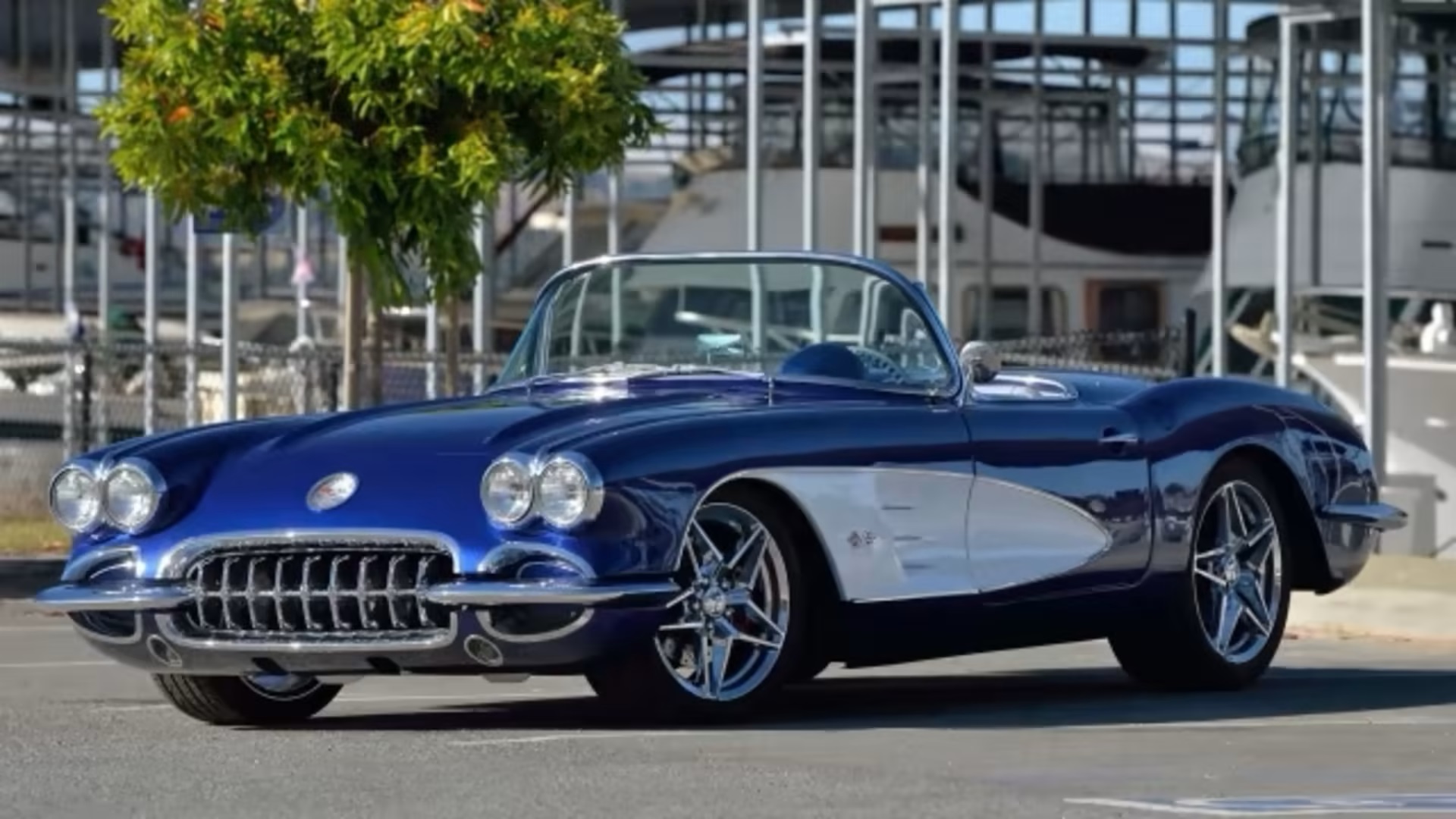 The process began with the construction of a customized chassis by Liquid Cutting Concepts from Windsor, Illinois. The front suspension system from the C4 was meticulously refurbished and polished before being integrated into the custom frame, providing a solid foundation.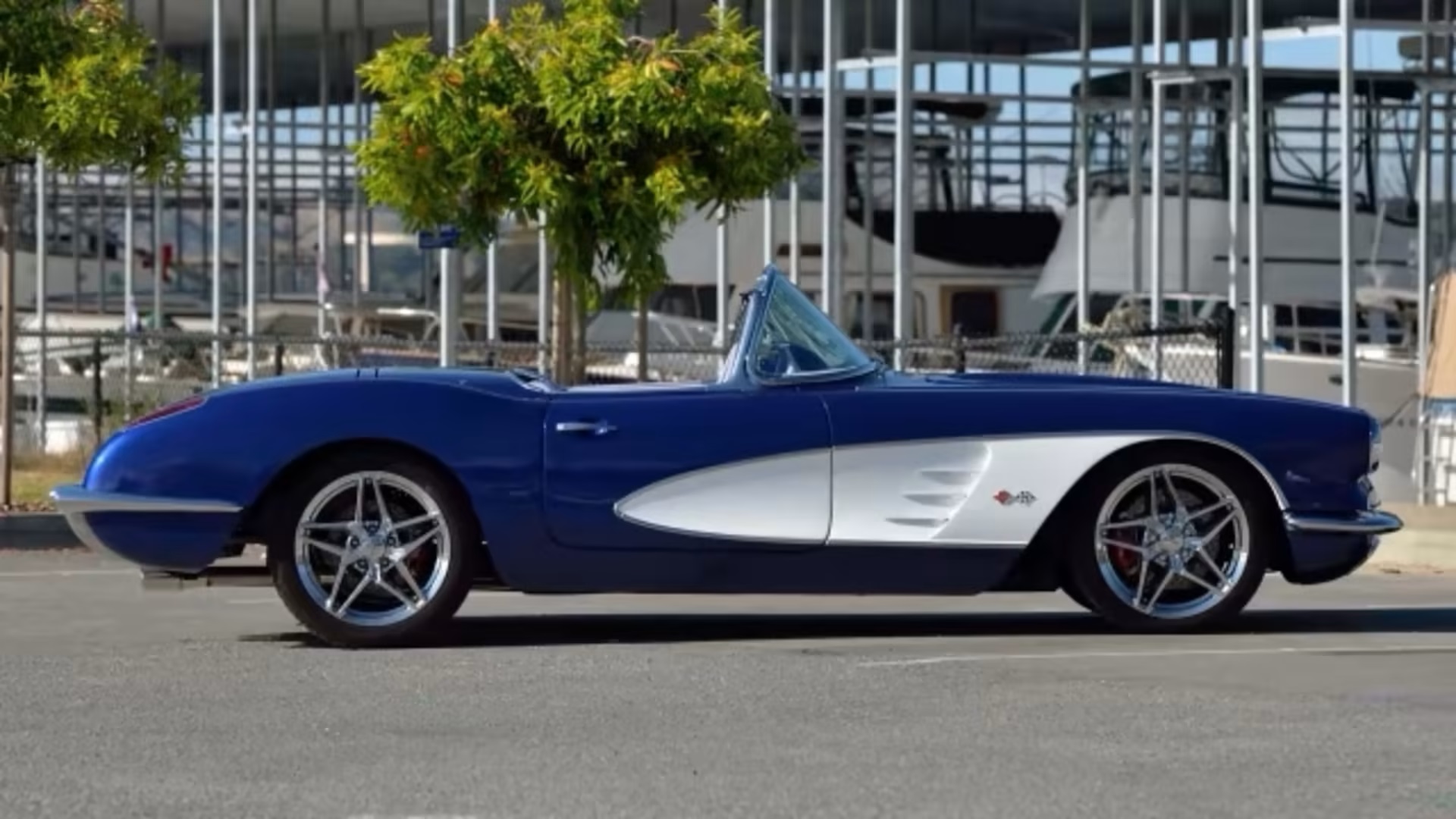 Within this frame sits a brand-new LS1 V-8 engine, boasting both power and modern design, cooled by dual fans and an extra-large polished radiator. This potent powerplant is expertly paired with a Tremec 6-speed manual transmission, ensuring thrilling driving experiences. To ensure effective braking, custom drilled and slotted rotors are equipped at all four corners, managed by master cylinders discreetly positioned beneath the custom dashboard.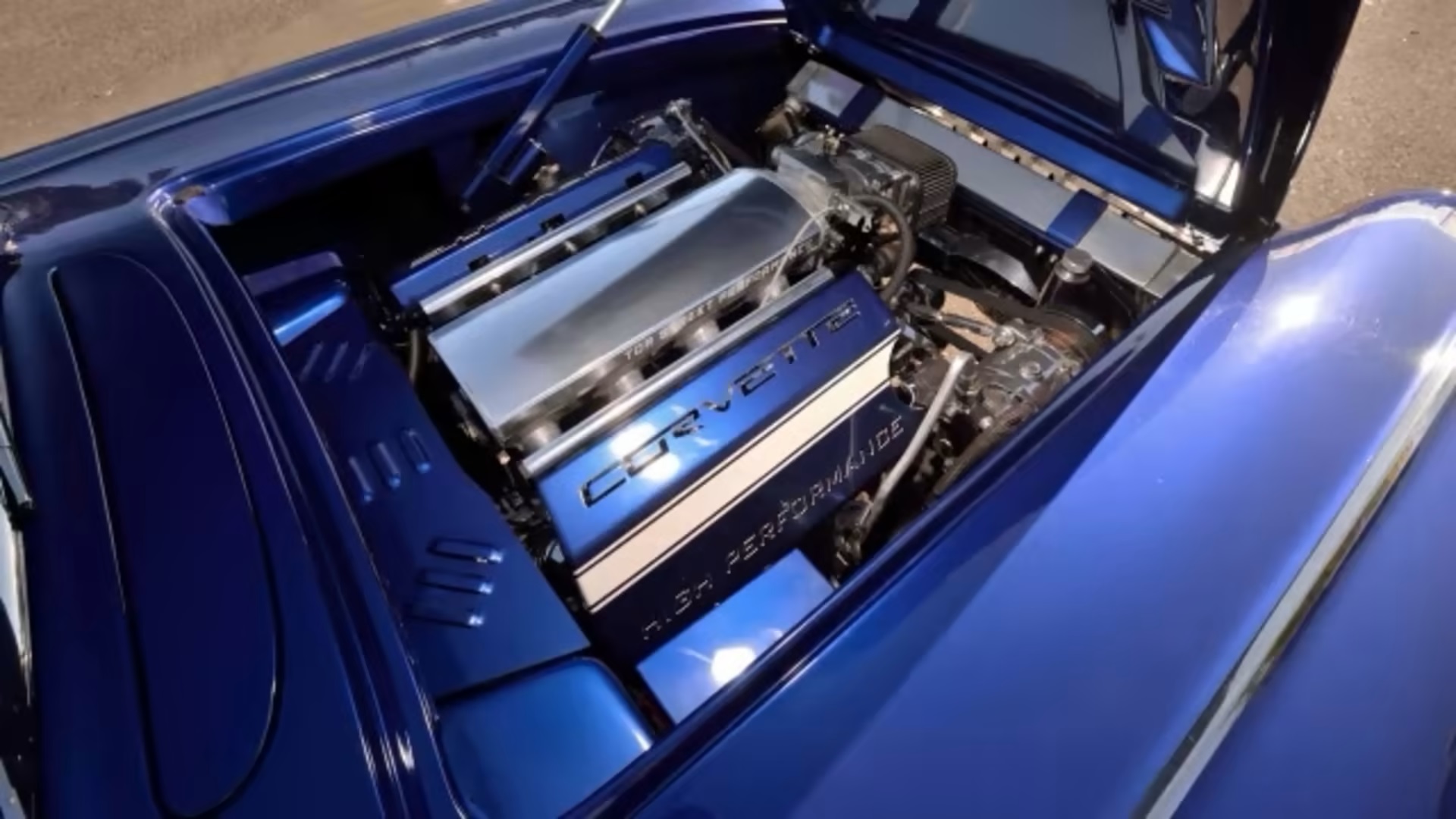 Once this impressive modern chassis was perfected, the need arose to envelop it in a new, custom first-generation body meticulously crafted by Street Rods Only, Inc. from Macon, Illinois. The exterior was elegantly adorned with a custom blue paint, complemented by contrasting white side panels.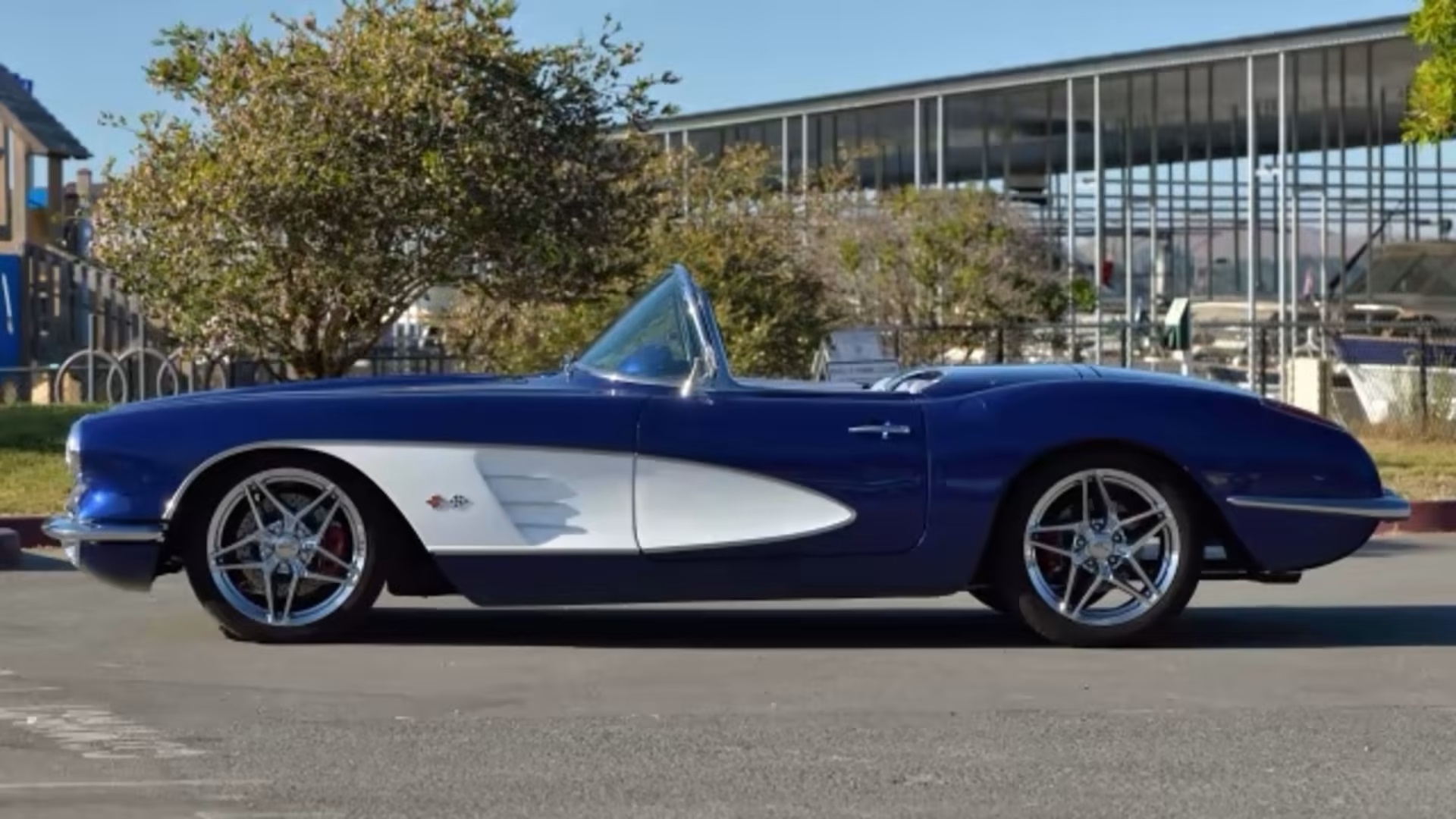 This striking appearance was further enhanced with fresh stainless and chrome detailing, a reconditioned hardtop, new glass, and a conveniently electrically activated hood and trunk, easily opened via remote control. Inside, the Corvette was lavishly upholstered in Light Blue leather by Street Rods Only, boasting interior luxuries such as a Vintage Air air-conditioning system, bespoke gauges, and a custom radio.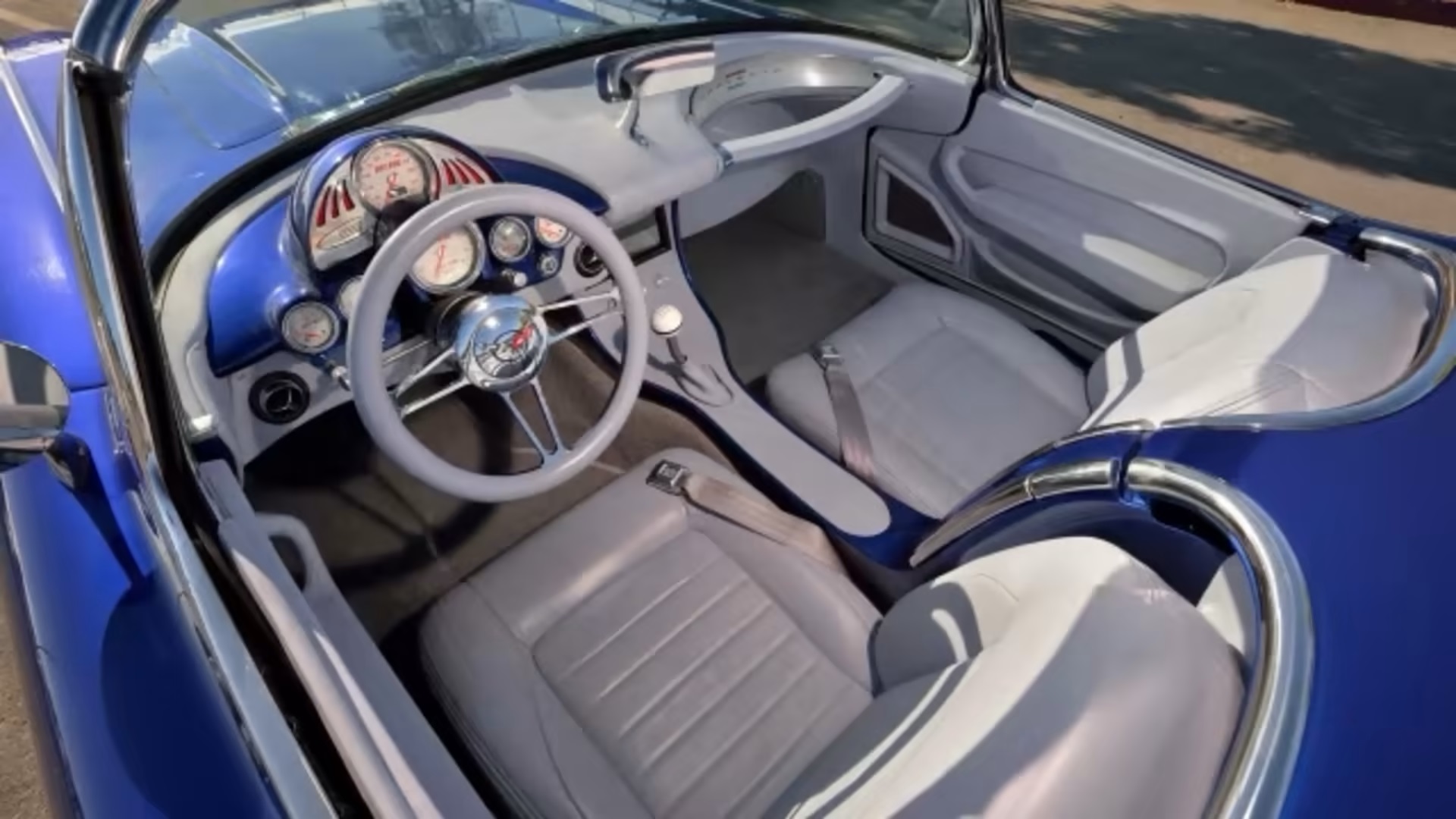 Naturally, no custom first-generation Corvette would be complete without the addition of polished five-star custom wheels and tires. Despite its relative newness, with only 1,756 miles added to the odometer since its construction, this 1959 Chevrolet Corvette Custom (titled as a 0000 Special Construction) stands as a truly one-of-a-kind masterpiece. It seamlessly combines the timeless allure of traditional first-generation styling with the cutting-edge technology and excellence emblematic of the modern Hot Rod scene.
Source: Mecum Auctions