Check out this LS Powered Porsche Cayman!
The Debate Is Over – How Do You Make A Porsche Faster? Stick a Corvette Engine In It!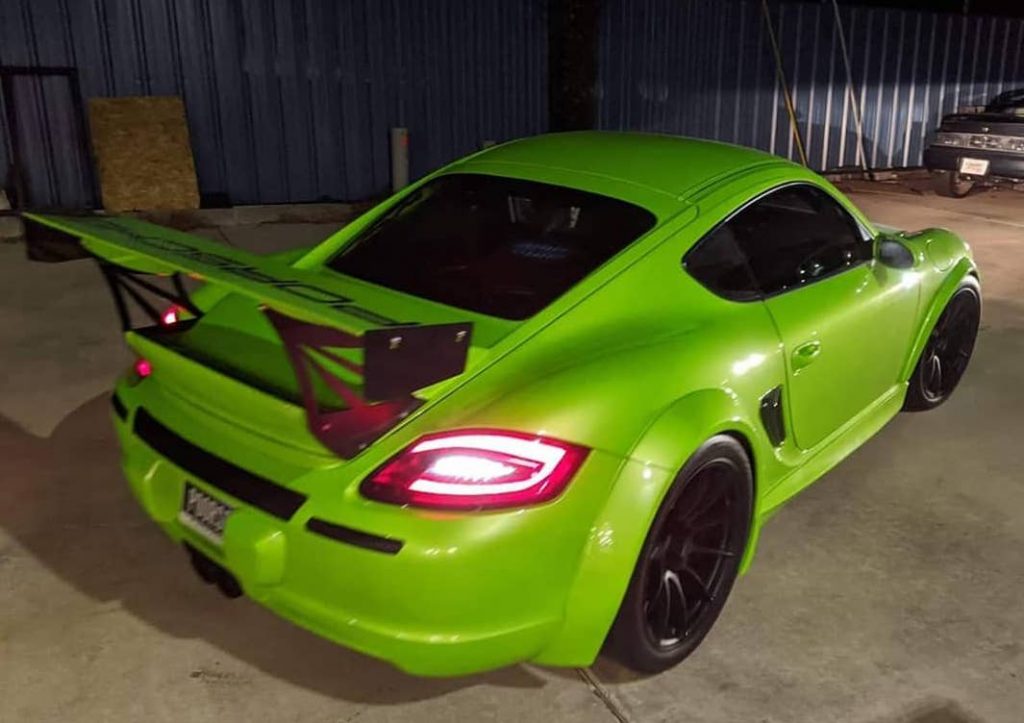 We've all known somebody who has swapped an LS engine into their hot-rod, muscle car or Mustang.  The LS engine is so well respected in the automotive community as a reliable, low-cost, high-output engine that its become a "best practice" for people looking for lots of horsepower on a budget.  The LS engine has become so universally loved by mechanics and tuners that the Holley company hosts their annual "LS Fest" not once, but twice each year – once in Las Vegas, Nevada and once in Bowling Green, Kentucky.   While American muscle and a lot of Japanese tuners – especially the Mazda Miata – turn to the LS engine for big gains in power, it is far less common to find one of these beastly engines swapped into the LS's "natural enemy" – namely, a Porsche.
Where the LS engine started life as the primary powerplant for the fifth– and sixth-generation Chevy Corvette, the Corvette has spent decades as a staunch rival to the Porsche 911.  Its the decades old debate of "American muscle versus German engineering"…that is, until eight-time national karting champion Jordon Musser decided it was time to bring the two together and create a machine that used the best of both worlds.  What he has created is a Porsche Cayman that produces a staggering 1,210 horsepower thanks to its twin-turbo LSA V8 engine swap.
Before the purists on either side of the ages old Porsche versus Corvette debate get their hackles up, its worth explaining the backstory behind this one-of-a-kind creation/monstrosity.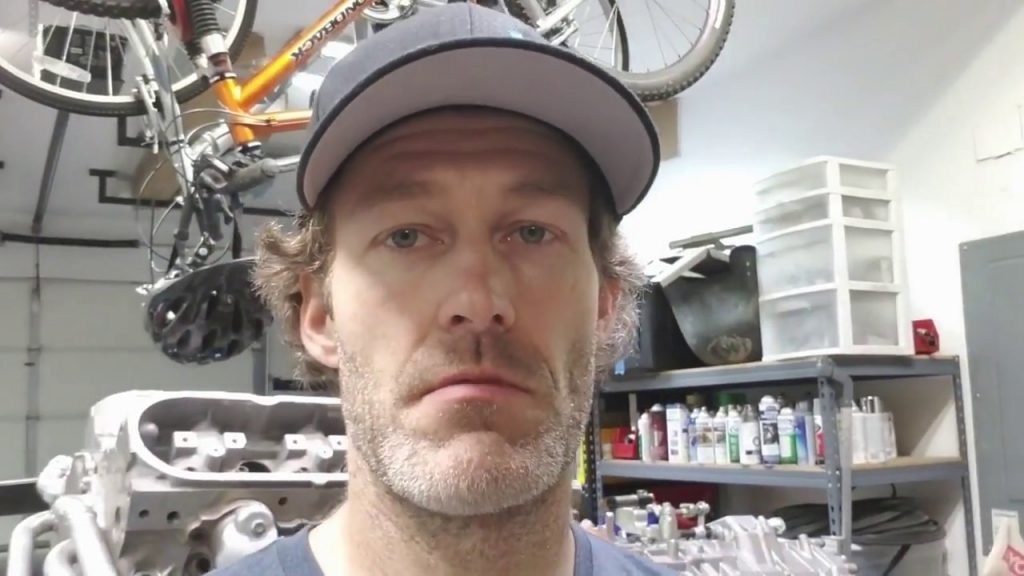 Jordon Musser, a Texas resident, has been building incredibly fast Porsches for awhile.  His first Porsche was a 911 Turbo that he tuned-up to produce nearly 1,100 horsepower.  After driving a mostly-stock seventh-generation Corvette for a brief period of time, he got the idea that he wanted to build another project car that utilized a Porsche body, but with the large horsepower only a V8 engine could provide.  He also recognized that building a Porsche crate engine to the specs he wanted would be costly – and the thought of investing $50,000 into purchasing and modifying a Porsche crate engine that he'd like blow-up was more risk than he was willing to take on.
The solution?  Fabricate a Porsche that was powered by a Chevy LS engine.  More than that, Musser's goal was to fabricate the engine and transmission setup in such a way that it would be a simple process to drop in-and-out of the Porsche chassis so that servicing, upgrading and (if needed) repairing the engine wouldn't be difficult.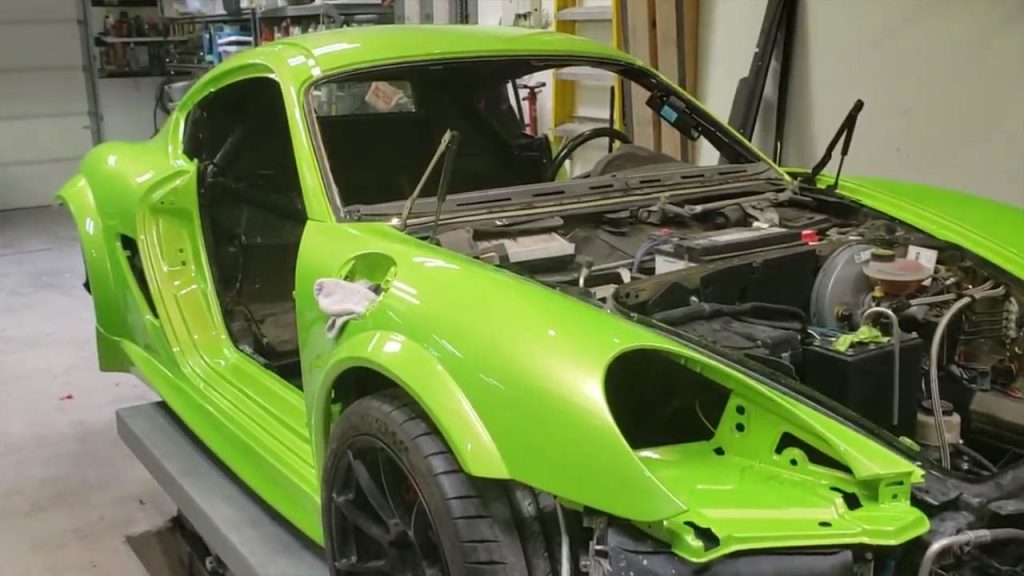 Musser considered starting with another Porsche 911 body for this new project.  In reality, he considered a number of alternatives including a Superlite Coupe kit car and a modernized second-generation Corvette before settling on another Porsche.  However, he'd already built a Porsche 911 and recognized that too many fabricators turned to the 911 because of its long history and immediate availability.  In short, a custom 911 was just too common.  It was also expensive.  He wanted a less-expensive alternative that would allow him big power on more of a budget.  Instead of a 911, Musser settled on a Porsche Cayman after learning of another fabricator who had successfully swapped a Ford Coyote V8 engine into one.  He immediately began working the logistics of installing an LS engine into a Cayman – and discovered (thanks to automotive enthusiasts on social media) that swapping an LS into a Cayman would pose a number of engineering challenges.
"From having to move the driver forward to axle problems, electric water pump problems and gearbox gearing being entirely incorrect for a V8…Not to mention the rear of the car is a strut and not multi-link, which makes it…well crap. " Musser wrote.   
Despite this – he accepted the challenge of pairing the LS powerplant with the Porsche Cayman.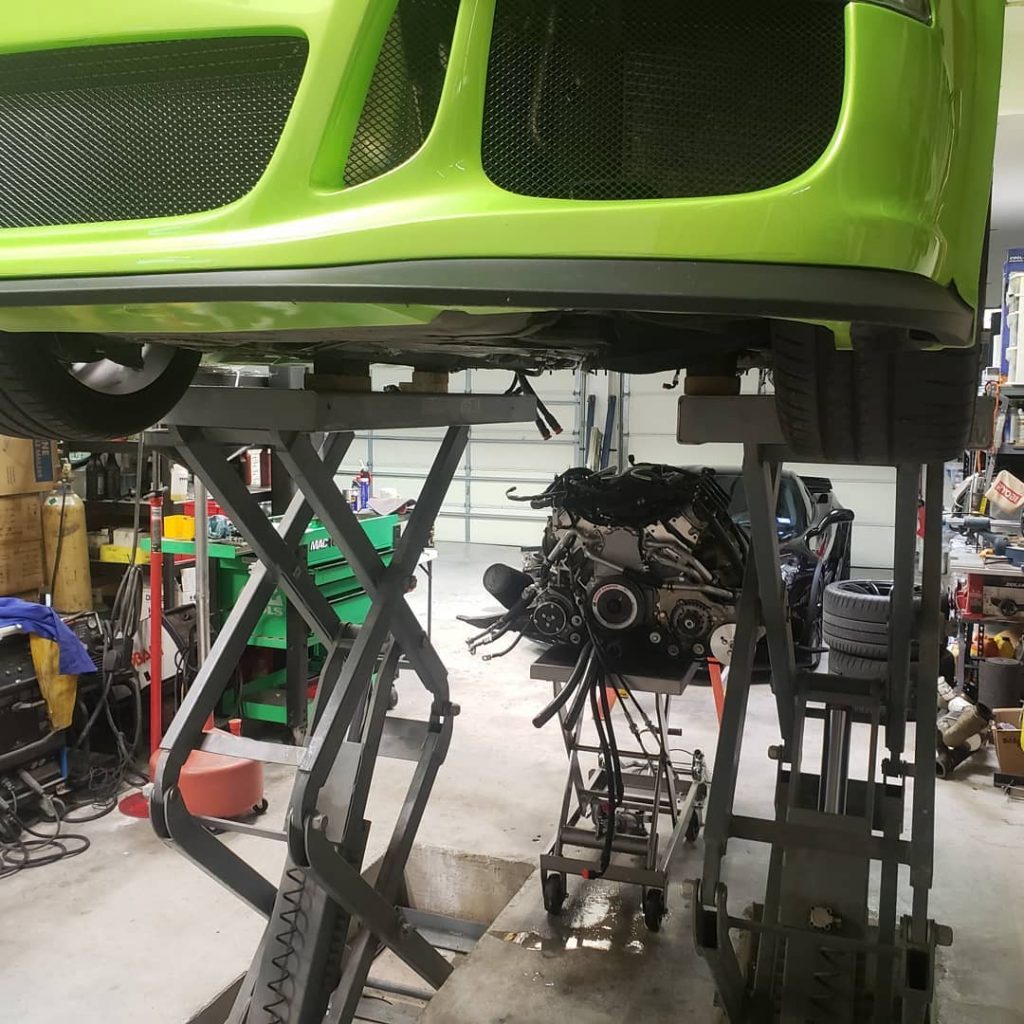 Musser purchased a 2007 Porsche Cayman S from an astronaut and fellow Porsche enthusiast in Texas.  The car's original six-cylinder engine would be removed and sold by Musser to help fund his build of the LS-swapped Cayman.  In addition to selling the engine, Musser also swapped the Cayman's transmission for a six-speed manual transmission which had been removed from a Lamborghini Gallardo.  The Lamborghini transmission featured a modified sixth-gear ratio which provided better driveability on the highway.  Additionally, Taylor Sims from Dallas Performance had tipped Musser off that the Gallardo's manual gearboxes were able to handle the power that Musser was expecting to produce from the LS engine.  While the Cayman's primary purpose was going to be driven on the open road, the transmission would provide the durability needed even when in-use during more competitive driving conditions.
Jordon Musser, who describes himself as an engineering executive as well as a racecar driver and fast car builder, set about starting the fabrication of his custom LS-powered Porsche Cayman.
To start, Musser installed a forged LSA V8 engine with ported heads and a custom cam from tuner Sam Miller.  The engine featured an LS3 dry sump crank to fit in the middle of the Cayman.  In order to get the engine fitment right while minimizing how much material had to be removed from the Cayman, Musser first mocked-up the engine install by using a blown LS engine that had been provided to him by a friend.
Now, with the engine in-place, the real work began.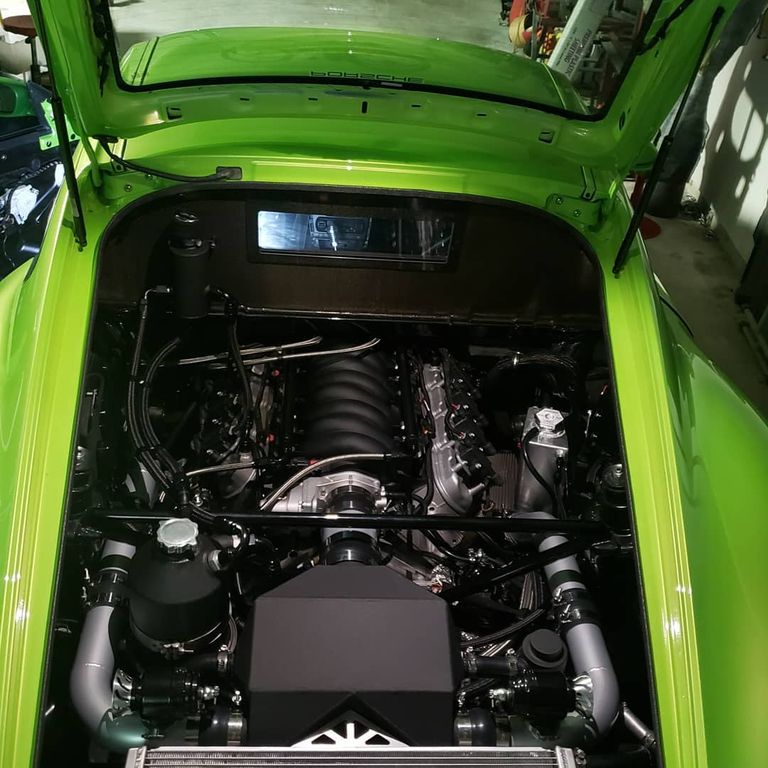 Musser had to fabricate a completely custom accessory drive to accommodate a custom 250-amp alternator as well as remote-mounted mechanical water pump that was designed to provide extreme cooling even during harsh driving conditions.
"I had to go to a remote mounted water pump which was pretty damn big, but was told it will cool a truck in the Baja 1000 at 800 horsepower at [wide-open throttle] for hours,"  Musser wrote, "Sold."
From the start, Musser had to focus on installing the engine as far back in the car as possible.  For one, keeping the engine placement towards the rear of the car reduced the awkward driveshaft angles that caused CV joints to fail in other LS-swapped Caymans (a fact he learned from his followers on social media.)   He also couldn't afford to move the car's firewall forward.  As Musser is 6'2″ tall, he needed all the room he could get in the car's cockpit.  The solution? Turn the entire rear interior compartment into a single, massive engine bay.  This provided the needed room for the engine and the added bonus of more efficient cooling thanks to the extra space to dissipate heat.   Despite this, the front firewall was moved forward a bit.  Fortunately, Musser's decision to install extremely thin carbon-fiber seats in the cockpit compensated for most of the lost space.
Essentially none of the stock engine and transmission mounts could be used during the setup.  As a result, Musser had to custom fabricate assemblies that would properly support both the engine and the Lamborghini transaxle in such a way that they'd not only be properly cradled, but that they'd endure all driving conditions – from the open road to the drag-strip to a racetrack.  As a benefit of fabricating these sub-assemblies, Musser was able to mount the transaxle in such a way that the axles were barely angled forward, which would virtually eliminate the change that they'd fail due to joint fatigue or stress.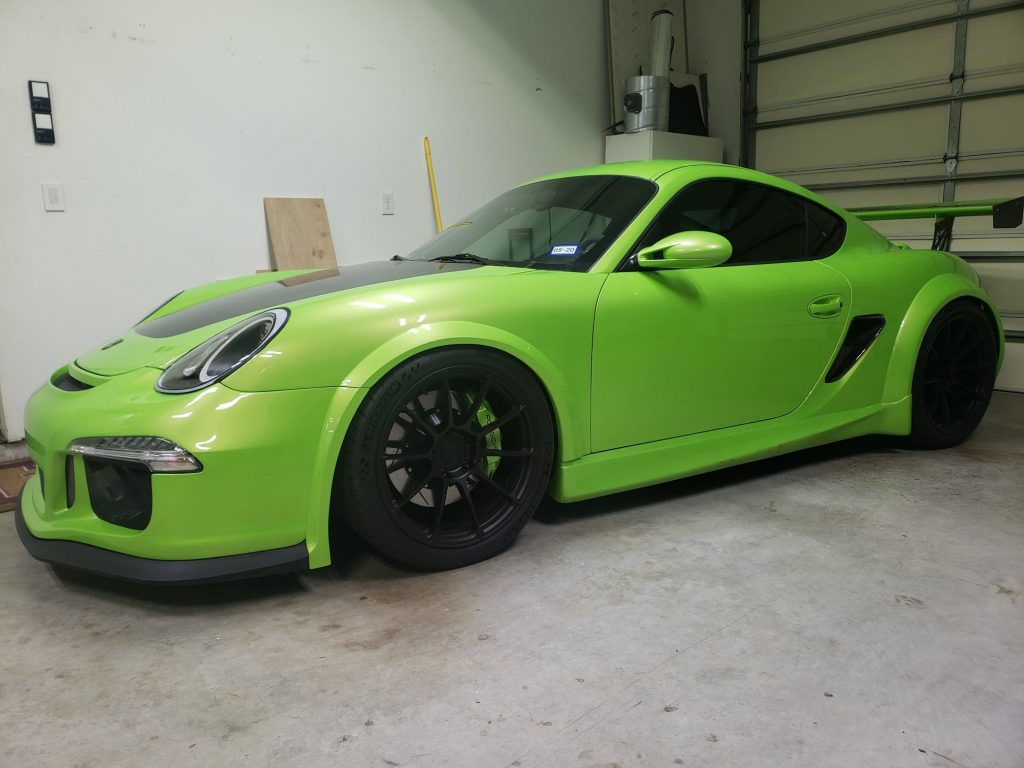 Musser also added twin turbochargers to the LSA engine setup.  These were installed at the bottom of the enlarged engine bay based on space availability.  By mounting them low, their placement improved the car's center of gravity.  Their placement also helped ensure that the engine (with turbos) and transmission could be lowered out of the car as a single unit for servicing and maintenance – just as Musser had originally intended from the very start.
"This was very important to me as I know that stuff will break," Musser explained.
While Musser did most of the assembly and fabrication work himself, the Cayman's bodywork – which was adapted from a 911 GT3 RS Precision Porsche Body Kit – was completed with help from fabricators Larry Spence and Casey Barclay.  The decision to use the 911 GT3 RS kit to fabricate the Cayman's body enabled Musser and his team to tuck the wider rear wheels underneath the car.  As part of the setup, the team was also able to integrate larger StopTech brakes to all four wheels, Ohlins coilover suspension and a number of other upgraded components to ensure that the car could endure the power that Musser packed into it.  Rounding out the build was the choice of paint color which, for this very special Porsche, was a color that normally belongs on a Lamborghini – Verde Ithaca – paint code 0077 (which is sometimes referred to as "Lamborghini Green".)  This one-of-a-kind build also features a license plate as unique as the car itself – POORSCH – a phonetic spelling of the common mispronunciation of the Porsche name (with "Por-shuh" being the correct pronunciation.)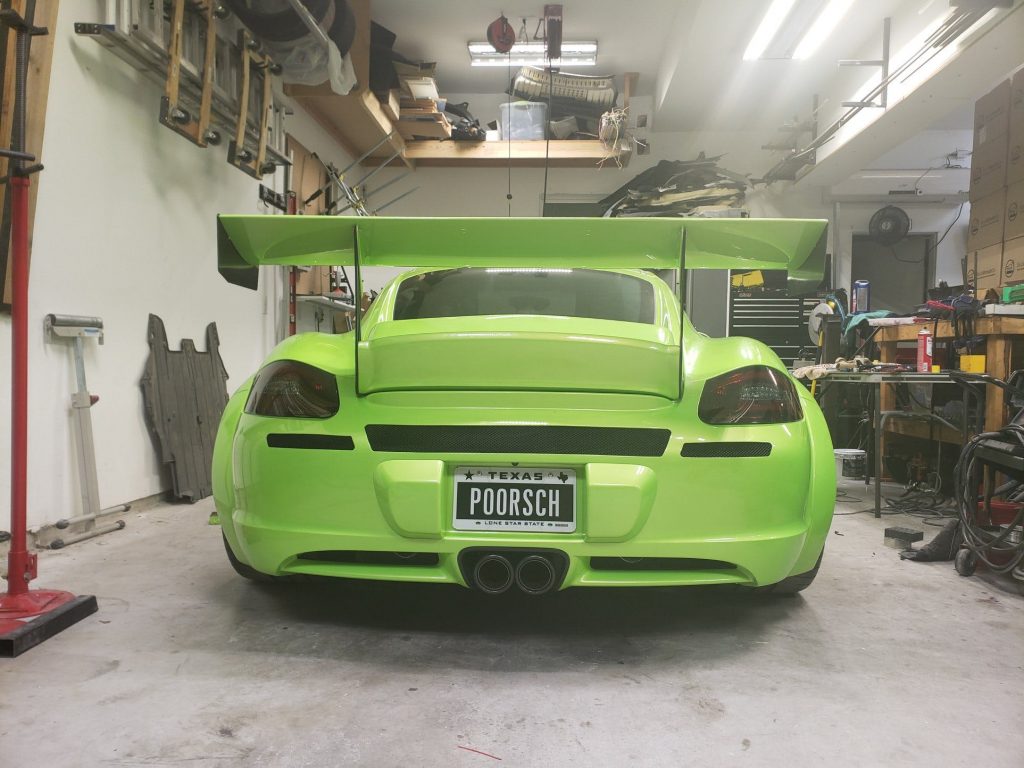 But what about the engine?
In the end, Musser's LSA engine was tuned to 1,210 horsepower and 959 pound-feet of torque!  Let that sink in a moment – over 1,200 horsepower out of an LS engine packed into a Porsche Cayman.
To say this thing is fast is an understatement.  Of course, numbers on a page is one thing – seeing the car in-action is another.  Fortunately for us, Jordon Musser has shared videos of his LS powered Porsche Cayman on his Instagram account, and we're only too happy to share those videos with you.  Enjoy!
This article is dedicated to Nick D., who has always dreamed of seeing a feature article about a Porsche on Corvsport.com!