The team of designers and engineers responsible for the decades-long evolution of the Corvette have never been known to rest on their laurels.
Since its introduction in 1953, pioneers like Harley Earl, Zora Arkus-Duntov, Bill Mitchell, Dave McLellan, John Cafaro, Jerry Palmer, Dave Hill, Tom Wallace, Tom Peters, and Tadge Juechter (along with hundreds of others) have re-imagined the Corvette time-and-again.  With each new iteration, the Corvette has evolved from a six-cylinder boulevard cruiser into a mid-engined supercar that rivals cars many times its price point.  In short, the Corvette has transcended design and engineering boundaries with each new generation, offering consumers the opportunity to embrace the latest automotive technologies in a sports car that is equally capable on a race track or the open road.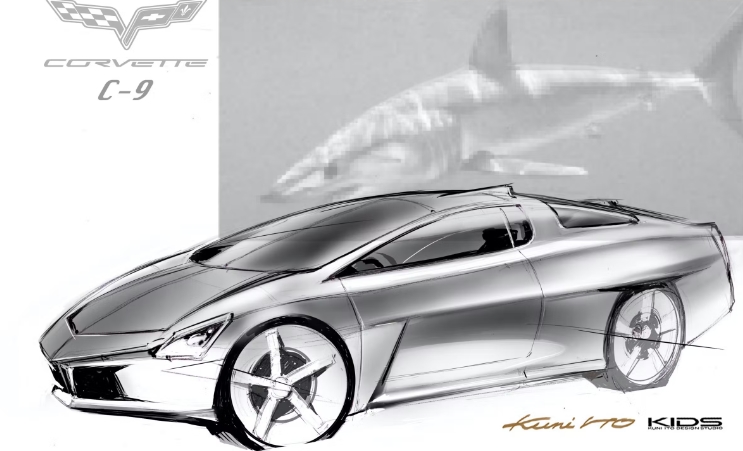 Even with the eighth-generation Corvette in full production, and with new iterations of the increasingly popular mid-engine car preparing to take flight, GM's design studios are once more at work imagining the future of the Corvette.  And just like each of its predecessors before it, the as-yet-unrealized C9 Corvette will once again present consumers with cutting-edge technologies never before introduced in the brand's 70+ year history…because the C9 will almost certainly utilize electric propulsion.
Consider this:
GM Chair Mary Barra has long touted the company's all-electric future. GM has $35 billion committed to the introduction of 30 BEVs by 2025, with hopes of selling a million electrics by 2030, with plans to convert even heavy-duty trucks to electric drive by 2035.

During a comprehensive overhaul of its product development group, most of the Corvette (and Camaro's) engineering team was reassigned to GM's Autonomous and Electric Vehicles organization.

Over the past year, President Joe Biden has presented the automotive industry with a directive that by 2030, 50% of all cars being manufactured in the United States will produce zero emissions.

Just recently, Chevrolet has started polling C8 Corvette owners to gauge their interest in an "electric sports vehicle."
Chevrolet has already announced that the eighth-generation, mid-engine Corvette Stingray will include a pair of hybrid models, including the thousand-horsepower Corvette Zora, which will use electric motors and a twin-turbo V8 engine to achieve that insane level of power.
Given all of that, it seems both plausible and unavoidable that the C9 Corvette will be an all-electric hypercar capable of producing power at levels previously unseen in any Corvette before it.
Corvette will follow in the footsteps of its lesser production counterparts.  Namely, it will shed its internal combustion engine in favor of battery packs and high-torque electric motors.  The question is when?  And perhaps who? Designer Kirk Bennion and Corvette Chief Engineer Tadge Juechter will almost certainly be retired before a next-generation e-Vette gets underway….unless, of course, they've already started development of an all-electric Corvette somewhere deep inside the hallowed halls of GM's Design Studios….maybe down in the gallows of the infamous Studio X?  One can only wonder…
Still, there's been no shortage of information – and MIS-information – circulating all over the internet.  We've seen it, we've even read and reported on some of it.  But at the end of the day, we simply don't know what we don't know, which makes reporting on this car at any level exceedingly speculative.  We do know that there will come a day when an all-electric Corvette will be unavoidable.  Afterall, the environmental impact of burning fossil fuels combined with the (assumed) impending shortages of oil around the globe leave us all speculating about the future of transportation – and electric cars certainly seem to be the emerging market leaders.  Also, if you've ever driven a Tesla (or similar), there's no denying that the massive torque and unprecedented acceleration does more than merely take your breath away.  It's exhilarating! Corvette owners could do a whole lot worse than to purchase a next-generation Stingray with a 0-60 time of less than two seconds!!
So here is what we KNOW.  What's published here is factually sound (based on the latest information available to us at the time this article was published.)  We've done everything we can to separate fact from opinion and present an unbiased view of Corvette's future.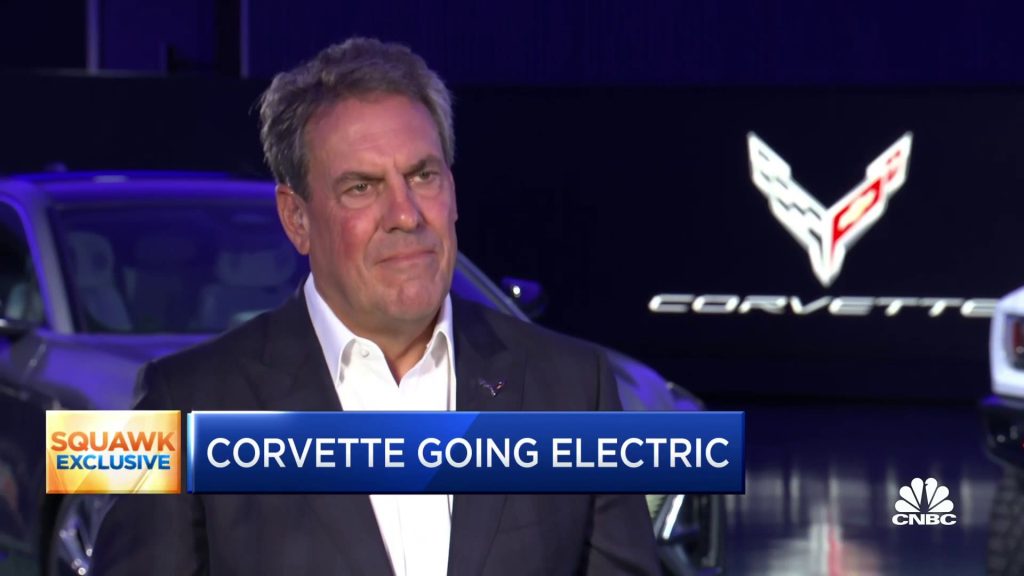 In April of this year, GM President Mark Reuss made the following statement about the electric Corvette program:
"Some time ago we moved the Corvette team into the EV space in Warren, Michigan, and when we revealed the new mid-engine Corvette, I said there would be "more to come." This morning I sat down with Phil LeBeau of CNBC and finally answered the question I've been asked countless times.
Yes, in addition to the amazing new Chevrolet Corvette Z06 and other gas-powered variants coming, we will offer an electrified and a fully electric, Ultium-based Corvette in the future. In fact, we will offer an electrified Corvette as early as next year. Details and names to come at a later date.

In addition, we also announced today Ultium Platform's energy recovery system, a patented onboard system that takes the heat generated by EV batteries and uses it to warm the cabin, create more efficient charging conditions, and even increase vehicle acceleration. And it can boost the vehicle's range by about 10%. It's a perfect example of how developing a ground-up EV platform like Ultium enables unique features not easily done with a retrofit."
In addition to Reuss's statement, Chevrolet released the following video, titled: "Corvette Electrified".  While it looks like a mid-engine Corvette wrapped in exotic camouflage,  we believe that the car may be little more than a current-generation test mule showing meant to test the underpinnings of an all-electric model.  While we don't know for certain, the large rear scoops make little sense if there's not an engine in the rear to cool….though it could be argued that the Ultium batteries may require cooling air during peak performance.
Beyond that, we don't know much else at this point.  The rumor mill remains thin, and we have to rely on the media at-large to share their combined insights on this subject.
You can bet that we're going to continue to monitor this situation and share all the latest news as it becomes available.   In the interim, we want to hear from you.  Good, bad, or ugly, please let us know your thoughts on an all-electric Corvette.