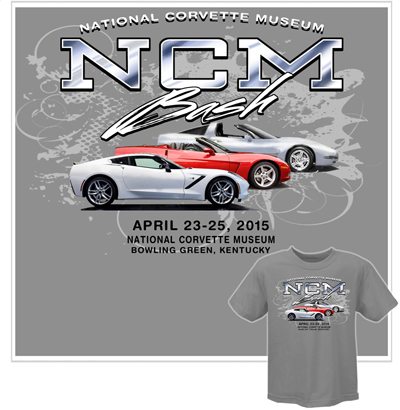 The kick off of the NCM on site event season the Bash traditionally marks the rollout of the next model year Corvette; the place where you can see them up close and in detail.  Bash 2015 will provide enthusiasts the chance to see the new 2016 Corvette Stingray up close as well as getting all the latest information about the all new 7th Generation Corvette.  Seminars will feature speakers discussing Chassis, Powertrain, Interior, and Design and Electronics.  As in past years there will be a large contingent of GM engineers and designer from Warren Tech Center, Milford Proving Ground and the Bowling Green Assembly Plant ready to answer your every question.
Returning activities include seminars by the C4/C5/C6 Specialist Paul Koerner, the Corvette race team members Doug Fehan, Corvette Driver Tommy Milner and Dan Binks. Enjoy a Corvette Store Fashion Show as well as some guided road tours, two celebrity choice car shows, the Ladies' Oasis, and the expanded Garage Party with women of the GM Corvette Team. The ladies will cover all aspects of Corvettes including maintenance, engineering and even high performance driving. Some returning activities include Golf with Corvette Racing & GM Team.
On-line registration closes at 5:00pm central time on Friday, April 11th. All activities are open to Event Registrants only. On-line registrants will receive a hardcard credential, lanyard, event pin and dash plaque. Lifetime registration is $15pp, member registration is $20pp and non-member registration is $30pp.
Click here to schedule your plant tour http://www.bowlinggreenassemblyplant.com/