Mechanically, the car remained very similar to the 1977 Corvette that had come before it.  A few changes were made, including a larger fuel tank, which now held 24 gallons of gas (versus the 17 gallon tank used on the previous year.)
Read More: 1978 Chevrolet Corvette Research Center
1978 Corvette Specifications
1978 Corvette Main Specs
MODEL:
1978 Chevrolet Corvette
BODY STYLE:
Two-door coupe, front engine, rear wheel drive
MANUFACTURING LOCATION:
St. Louis, Missouri
CONSTRUCTION:
Uniconstruction: fiberglass reinforced plastic (FRP or "fiberglass") body, backboned by a steel cage outlining the passenger compartment. Principal members – underbody, front and rear end assemblies, dash panel and hinge pillars are bonded, riveted, or bolted together and to each other. Hood is plastic with bonded plastic reinforcement. Coupe: two removable roof panels and removable rear window. Frame: all welded, full length, ladder construction with 5 crossmembers. Side Rails and intermediate crossmembers box section; front crossmember box girder section. Eight body-mounting points.
VEHICLE NUMBERS (VIN):

1Z87L8S400001 – 1Z87L8S440274 (Corvette Coupe)
1Z87L8S900001 – 1Z87L8S906502 (Corvette Pace Car)

ENGINE SUFFIX:
CHW: 350 CUBIC INCH, 185 HORSEPOWER, MANUAL TRANSMISSION
CLM: 350 CUBIC INCH, 185 HORSEPOWER, AUTOMATIC TRANSMISSION
CLR: 350 CUBIC INCH, 175 HORSEPOWER, AUTOMATIC TRANSMISSION, CALIFORNIA EMISSIONS
CLS: 350 CUBIC INCH, 175 HORSEPOWER, AUTOMATIC TRANSMISSION, HIGH ALTITUDE
CMR: 350 CUBIC INCH, 220 HORSEPOWER, MANUAL TRANSMISSION
CMS: 350 CUBIC INCH, 220 HORSEPOWER, AUTOMATIC TRANSMISSION
CUT: 350 CUBIC INCH, 185 HORSEPOWER, AUTOMATIC TRANSMISSION
ENGINE BLOCK NUMBER:
3970010: ALL
376450, 460703: UNCERTAIN USAGE
HEAD NUMBER:
462624: ALL
CARBURETOR NUMBERS:
ROCHESTER Q-jet #17058202: 350 C.I., 185HP, AUTOMATIC TRANS.
ROCHESTER Q-jet #17058203: 350 C.I., 185HP, MANUAL TRANS.
ROCHESTER Q-jet #17058204: 350 C.I., 185HP, AUTOMATIC TRANS., AIR COND., FIRST DESIGN
ROCHESTER Q-jet #17058206: 350 C.I., 185HP, AUTOMATIC TRANS., AIR COND., SECOND DESIGN
ROCHESTER Q-jet #17058210: 350 C.I., 220HP, AUTOMATIC TRANS.
ROCHESTER Q-jet #17058211: 350 C.I., 220HP, MANUAL TRANS.
ROCHESTER Q-jet #17058228: 350 C.I., 220HP, AUTOMATIC TRANS., AIRCON
ROCHESTER Q-jet #17058502: 350 C.I., 175HP, AUTOMATIC TRANS., CALIFORNIA EMISSIONS
ROCHESTER Q-jet #17058504: 350 C.I., 175HP, AUTOMATIC TRANS., AIRCON., CALIF. EMISSIONS
ROCHESTER Q-jet #17058582: 350 C.I., 175HP, AUTOMATIC TRANS., HIGH ALTITUDE
DISTRIBUTOR NUMBER:
1103285: 350 CUBIC INCH, 175HP, CALIFORNIA EMISSIONS
1103291: 350 CUBIC INCH, 220HP
1103337: 350 CUBIC INCH, 185HP, MANUAL TRANSMISSION
1103353: 350 CUBIC INCH, 185HP, AUTOMATIC TRANSMISSION
ALTERNATOR NUMBER:
1102474: 350 CUBIC INCH, AIRCON -OR- REAR DEFOGGER, EARLY PRODUCTION
1102484: 350 CUBIC INCH
1102908: 350 CUBIC INCH, AIRCON -OR- REAR DEFOGGER, LATE PRODUCTION
AXLE IDENTIFICATION NUMBER
OK: 3.08:1 RATIO
OM: 3.36:1 RATIO
OH: 3.55:1 RATIO
OJ: 3.70:1 RATIO
PRODUCTION ENDING VEHICLE:
SEP., 1977: 403186, OCT., 1977: 407401, NOV., 1977: 411316, DEC., 1977: 414695, JAN., 1978: 418154, FEB., 1978: 422503, MAR., 1978: 425280, APR., 1978: N/A, MAY., 1978: 428883, JUN., 1978: 433181, JUL., 1978: 436848, AUG., 1978: 440274, MAR., 1978: 901675, APR., 1978: 905766, MAY., 1978: 906502
1978 Corvette Powertrain Specifications
Order Code:

L48 (Standard Engine)

L82 (Optional Engine)

Engine Manufacturing Location

Flint, Michigan

Flint, Michigan

Type:

90 degree V, Overhead Valve

90 degree V, Overhead Valve

Number of Cylinders:

8
8

Pistons:

Cast Aluminum Alloy, Sump Head

Aluminum impact Extruded, Flat Head

Piston Weight:

21.33 oz.

20.38 oz.

Displacement (cid):

350
350

Fuel induction system:

4-Barrel Carburetor

4-Barrel Carburetor

Torque (net lbs.-ft. @ rpm)

280 @ 2,400

260 @ 3,600

Valves per cylinder:

2
2
 4.00 x 3.48

4.00 x 3.48

Compression ratio:

8.2:1

8.9:1

Valve Lifters

Hydraulic

Hydraulic

Total Dressed Engine Weight:

622.4lbs

640.7lbs

Firing Order:

1-8-4-3-6-5-7-2

1-8-4-3-6-5-7-2

Cylinder Number System (Left)

1-3-5-7
1-3-5-7

Cylinder Number System (Right)

2-4-6-8
2-4-6-8

 Recommended Fuel:

Premium

Premium

EPA – Automatic Transmission

City (mpg):

15
12
Highway (mpg):
21
17
Max cruising range
255 miles (avg.)
270 (avg.)
EPA – Manual Transmission
City (mpg):
14
12
Highway (mpg):
19
17

283 miles (avg.)

270 (avg.)
1978 Corvette Manual Transmission/Gear Ratios
Manual Transmission
Gear Ratios 

4-Speed (RPO MM4) (L48)

4-Speed (RPO MM4) (L82)

4-Speed Close Ratio (RPO M21)

1st Gear:

2.85:1

2.02:1

2.64:1

1.75:1

2.43:1

1.61:1

2nd Gear:

1.35:1

1.34:1

1.23:1

3rd Gear:

1.00:1

1.00:1

1.00:1

 2.85:1
 2.55:1
 2.35:1
Clutch
| | |
| --- | --- |
| Clutch | Stats |
| Type | Single Dry Disk Centrifugal |
| Spring Pressure (lbs) | 2,100 – 2,300 (for L48) / 2,450-2,750 (for L82) |
| Lining area (sq. in.) | 101.6 (for L48) / 123.7 (for L82) |
Turbo Hydra-Matic Automatic Transmission RPO M40/ Gear Ratios
| | | | | |
| --- | --- | --- | --- | --- |
| Gear | Drive | L2 | L1 | Reverse |
| 1st Gear | 2.52:1 | 2.52:1 | 2.52:1 | N/A |
| 2nd Gear | 1.52:1 | 1.52:1 | N/A | N/A |
| 3rd Gear | 1.00:1 | N/A | N/A | N/A |
| Reverse | N/A | N/A | N/A | 1.93 |
---
1978 Corvette Wheels, Suspension & Brakes
Suspension – Front
Type and Description: Independent, SLA type with coil springs with center mounted shock absorber.
Front Coil Springs
Make & Type
Link
Size
10.49 in. (coil height) x 3.80 in. (int.dia.); 133.83 in. (length) x .609 in. (dia. of coiled steel) *
Spring Rate:
295lbs. per inch *
Rate at Wheel
117.6lbs. per inch *
Front Stabilizer Bar
Type
Link
Material
Hot rolled steel
Diameter
.875
Suspension – Back
Type and Description: Full Independent rear suspension with fixed differential; transverse. Multi-leaf spring, lateral struts and universally jointed axle shafts. Drive and torque taken through torque control arms.
Rear Leaf Springs
Type
Multi-Leaf
Number of Leafs
10
Material
Chrome carbon steel
Length, width, height
48.60 in. (length) x 2.50 in. (width)
Spring Rate
198 lbs. per inch *
Rate at Wheel
151 lbs. per inch *
Rear Stabilizer
Type
Link (RPO FE7 Gymkhana Suspension Only)
Material
Hot rolled steel
Diameter
.440 in.
(*) For base equipped models, springs are computer selected by size and rate according to vehicle weight including optional equipment. Spring rates and shock absorber equipment may vary when engine, transmission or Gymkhana suspension options are used.
Brakes
Brake Specs
Type:
Caliper Disk – 4 Wheel Dual Hydraulic with Pressure Differential and Warning Light
Delco Moraine, vacuum power unit; integral
Disk Diameter, front (in.):
11.75 x 1.25
Disk Diameter, rear (in.):
11.75 x 1.25
Swept Drum Area Effective area:
249.14
Wheels & Tires
Wheels & Tires Specs
Wheel Type:
– Standard
Short spoke spider, welded steel
Wheels, size:
– Standard
15″ x 8.00
Tire, size:
– Standard
P225/70R15 — Steel Belted Radial (standard)
P225/60R15 – (optional.)
Side Wall
Blackwall (standard)
White Lettering (optional)
Inflation
– Front
28 lbs.
– Rear
32 lbs.
Space Rim
– Size
15 x 5.0 inch rim
– Lettering
Black Lettering (marked "SPARE.)
Steering
Steering Specs – Manual Steering
Type
– Standard
STANDARD – Energy absorbing steering column.
– Optional
OPTIONAL – Tilt and telescopic steering wheel; 2″ adjustment
Wheel Diameter (in.)
14.75 x 14.25
Turning Diameter
– Outside Front:
37.0 ft. (Curb to Curb (left & right)), 38.6 ft. (Wall to Wall (left and right))
– Inside Front:
10.5 ft. (Curb to Curb (left & right)), 11.4 ft. (Wall to Wall (left and right))
Power Steering
– Type
Linkage, power pump assisted
– Make
Saginaw Steering
Steering Gear
Semi-reversible, recirculating ballnut
– Steering Gear Ratio:
16.1:1
– Overall Ratio:
17.6:1
No. of Wheel Turns, Lock-to-Lock:
2.92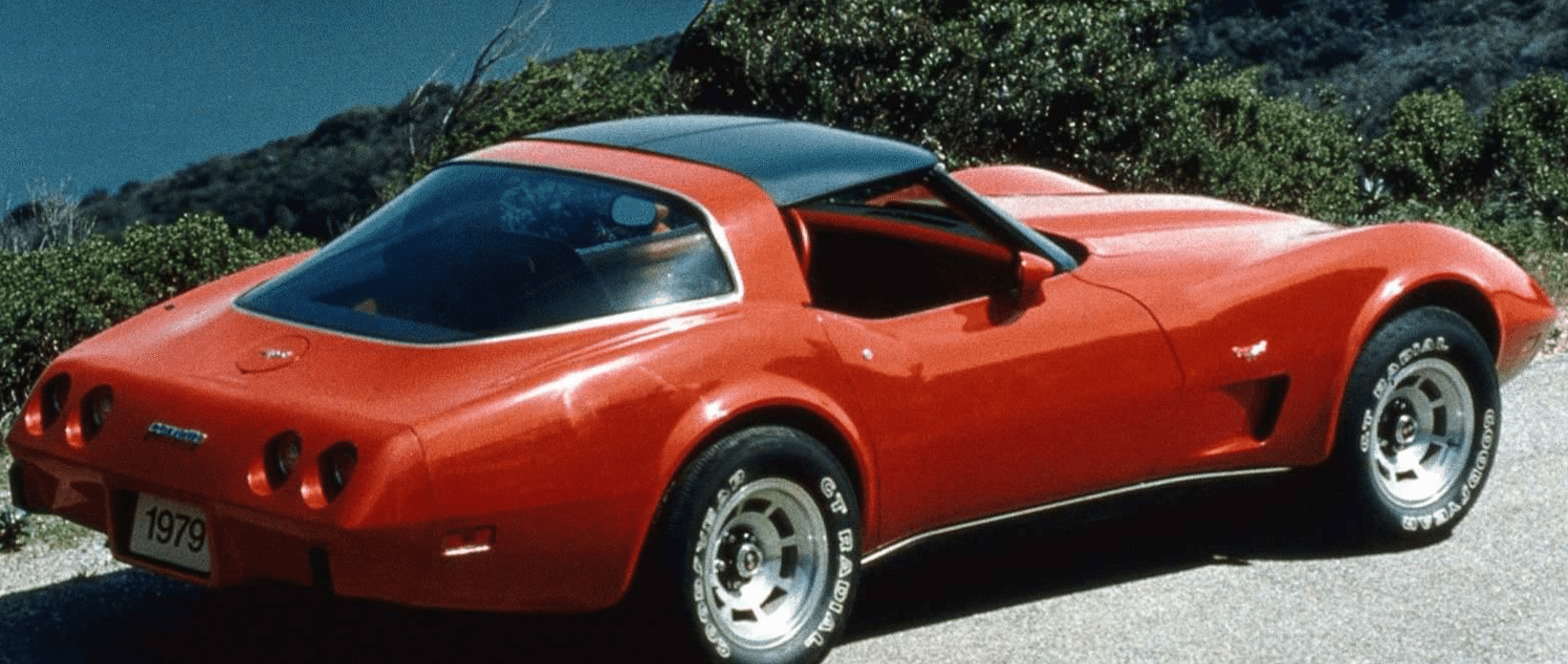 1978 Corvette Exterior Dimensions
Coupe Dimensions
Exterior Dimensions (Coupe)
Interior Dimensions (Coupe)
Wheelbase:
98.0 Inches
Headroom:
36.2 Inches
Overall Length:
185.2 Inches
Shoulder Room:
47.5 Inches
Total Body Width:
69.0 Inches
Hip Room:
49.9 Inches
Overall Height:
48.0 Inches
Leg Room:
42.1 Inches
Front Track Width:
58.7 Inches
Rear Track Width:
59.5 Inches
Min. Ground Clearance
4.3 Inches
Capacities
Capacities
Passenger Capacity
2 – Driver & Passenger
Curb Weight (lbs)
3,557
Interior Passenger Volume (cu. ft)
8.4
Interior Trunk Volume (cu. ft)
24 (approximately)
Fuel Capacity (gallons):
4.0 (capacity of crankcase less filter – refill)
4.5 (capacity of crankcase refill with filter change)
Coolant capacity without heater (qts.)
21.6
Battery:
12 Volt, 3,500 Watts
Generator Output:
14-22 Amps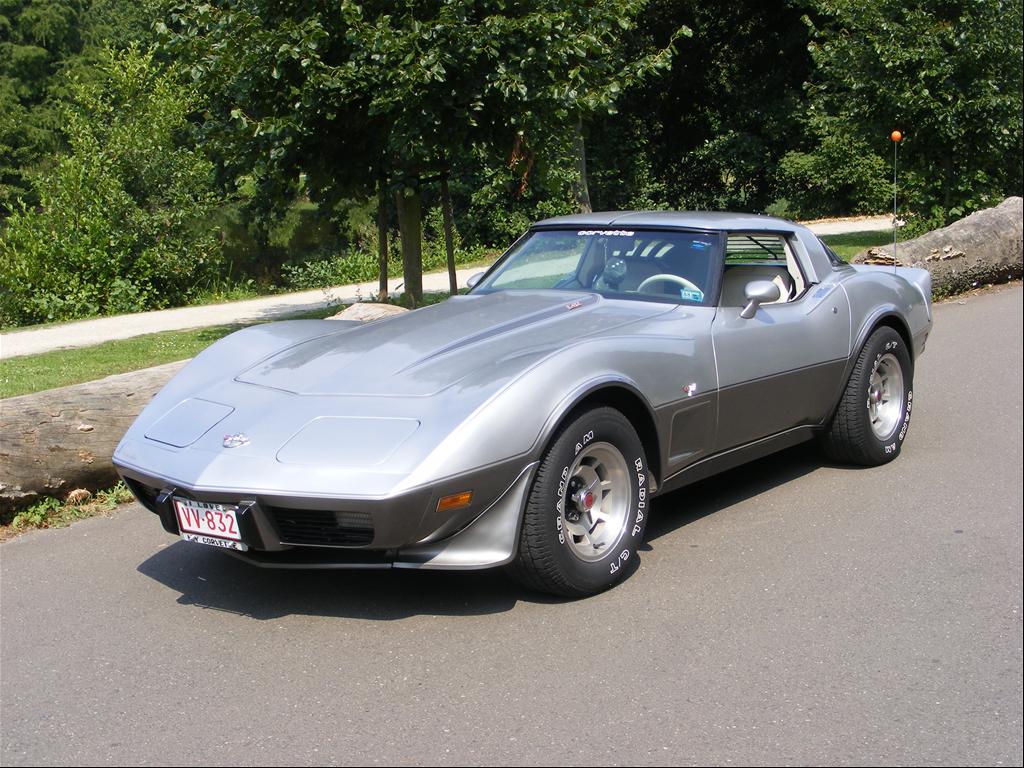 1978 Corvette Performance Results
| | | |
| --- | --- | --- |
| 4-Speed Transmission | Base | L82 |
| Performance weight (lbs.) | — | — |
| Pounds/net horsepower | — | — |
| Pounds/cu.in. piston displacement | — | — |
| Net horsepower/cu.in. displacement | — | — |
| Power displacement (cu.ft./mile) | — | — |
| Displacement factor (cu.ft./mile) | — | — |
| 0 – 60 mph (seconds) | 7.8 | 6.5 |
| Top Speed (mph) | 123 | 132 |
| Quarter Mile (secs @ mph) | — | 15.2 @ 95.0 |
| | | |
| --- | --- | --- |
| Turbo Hydra-Matic Automatic Transmission | Base | L82 |
| Performance weight (lbs.) | — | — |
| Pounds/net horsepower | — | — |
| Pounds/cu.in. piston displacement | — | — |
| Net horsepower/cu.in. displacement | — | — |
| Power displacement (cu.ft./mile) | — | — |
| Displacement factor (cu.ft./mile) | — | — |
| 0 – 60 mph (seconds) | 9.5 | — |
| Top Speed (mph) | 116 | — |
| Quarter Mile (secs @ mph) | — | — |