"Elkhart Lake Blue" and "Shadow Gray" Join the New Corvette Color Palette
On Friday, April 27, 2018, General Motors hosted their annual Corvette update seminar as one the highlight events of the Michelin NCM Bash at the Corvette Museum in Bowling Green, Kentucky.  While the Bash was held at the same date and time as in years past, Chevrolet's earlier decision to begin production of the 2019 Corvette in January meant that most of the more exciting details surrounding the new model were already common knowledge among Corvette enthusiasts.  However, in an effort to save something for the Bash, the team at Chevrolet held back one exciting bit of information for the annual event.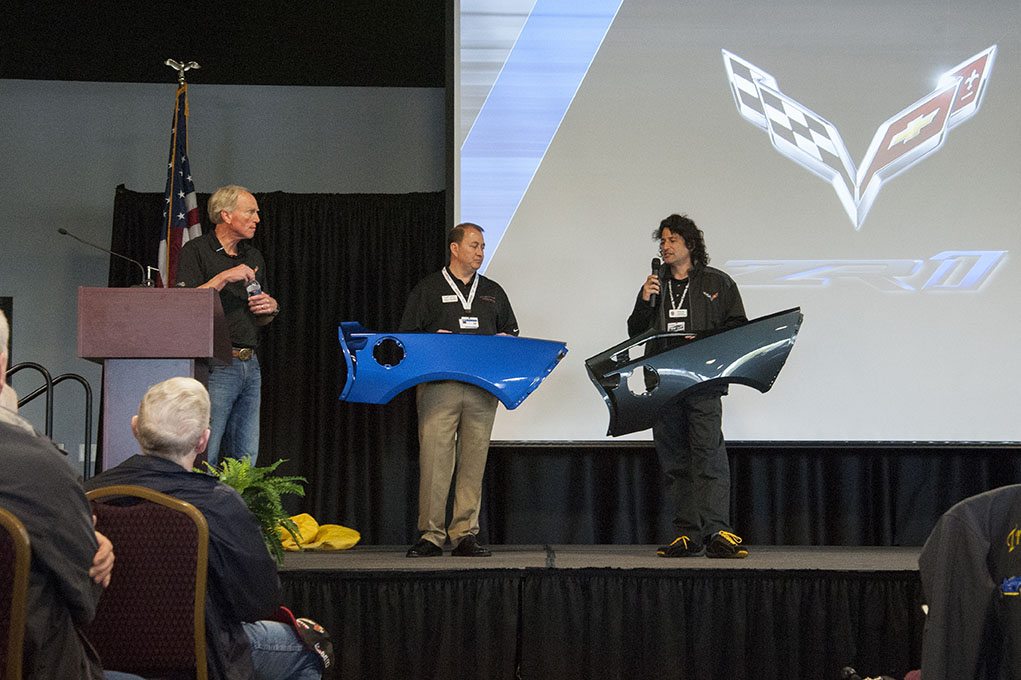 Corvette Chief Engineer Tadge Juechter and Corvette Product Marketing Manager Harlan Charles were joined on stage by GM Bowling Green Assembly Body and Paint Manager Chuck Valentini. Together, they announced that the 2019 Chevy Corvette would feature two new color choices.  The colors were then introduced when the trio unveiled two C7 Corvette rear quarter panels painted with the new paint selections.
For the 2019 model year, Elkhart Lake Blue will replace the outgoing Admiral Blue and Shadow Gray will replace Watkins Glen Gray.  The new shade of blue will have a more metallic finish to it than the Admiral Blue Metallic paint option, and the new gray metallic will be a lighter shade of gray than previous grays.  It will also have a bit of a green-ish hue to it.
GM's decision to replace Watkins Glen Gray with the Shadow Gray paint color was surprising to some, especially given that, as of April 3, 2018, Watkins Glen Gray was the third most popular color choice for the 2019 Corvette, accounting for 15% of total sales.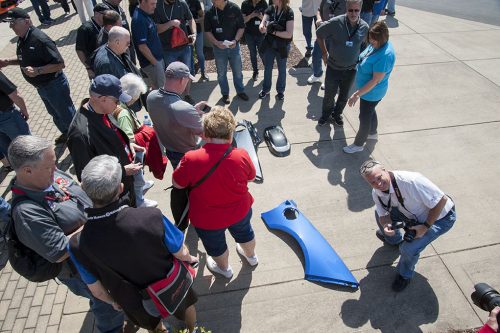 Although the announcement was made in late April, the actual timeline for the color change-over is as follows:
GJ1 Shadow Gray (replacing G7Q Watkins Glen Gray)
May 17: G7Q Watkins Glen Gray – Last Day to Order
June 18: Last Day of Production
June 28: GJ1 Shadow Gray – Available to Order
August 6: First Day of Production
There are no more allocations of Watkins Glen Gray for ZR1
GS7 Elkhart Lake Blue (replacing GTR Admiral Blue)
June 28: GTR Admiral Blue – Last Day to Order
August 13: Last Day of Production
August 30: GS7 Elkhart Lake Blue – Available to Order
October 1: First Day of Production
Content originally published by the National Corvette Museum