One of the top generations actually surprised me, but more on that in a moment. First, a few stats that may not surprise you, given the "provenance" of the iconic Monterey festivities, held at the Hyatt Regency Monterey Hotel and Spa – Del Monte Golf Course – August 17-19, 2023.
1) There were ZERO sales from the 4th to 7th generations
These 4 Corvettes all received bids, but did not sell, what Mecum labels as "The BID Goes On…"
2015 C7 Z06 Coupe, previously owned by IndyCar Champion Jimmy Vasser, with only 10k miles; no-sale/high bid $50,000
2017 C7 Z06 Callaway Coupe, with just 8k miles; no-sale/high bid $80,000
1998 C5 Pace Car Edition, with 37k miles; no high bid indicated
1988 C4 35th Anniversary Coupe, with 84k (yikes); no-sale/high bid $15,000
2) There were 8 no-sales sandwiched between 10th place and 1st
1966 C2 427ci L88 Race Car, campaigned by Alan Green Chevy; no-sale/high bid $500,000
1957 C1 283/283 HP Big Brake Airbox; no-sale/high bid $275,000
1962 C1 LS3/525 HP Restomod Convertible; no-sale/high bid $170,000
1957 C1 Fuel-injected 283ci Convertible; no-sale/high bid $160,000
1967 C2 427/430 HP 4-speed Convertible; no-sale/high bid $130,000
1958 C1 Supercharged LS6 Restomod Convertible; no-sale/high bid $115,000
1966 C2 427/425 HP Convertible; no-sale/high bid $100,000
1967 C2 LS7 6-speed Restomod Convertible; no-sale/high bid $100,000
The first thing that really jumps out is how many Restomods did not sell, and secondly, how many convertibles failed to hammer and go to a new owner. The answer to the Restomod riddle is fairly easy, as the ones noted above most likely cost (way more) to build than their high bids (thus the consignors declined to sell). I essentially have no answer for the high number of unsold convertibles, so perhaps one of our CorvSport readers can offer up an idea on our Facebook page. It's also interesting that these 8 no-sales were evenly split between the first and second generations.
Now, without further delay…
Mecum Monterey Top Ten Sales
#10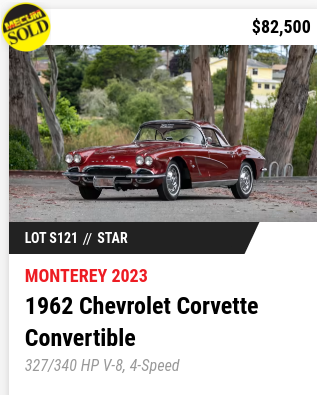 #9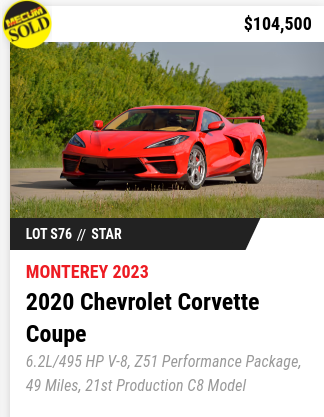 #8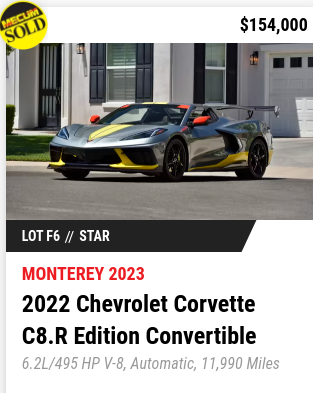 #7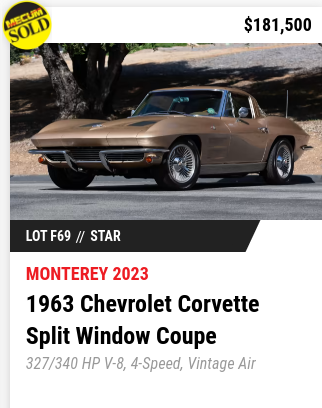 #6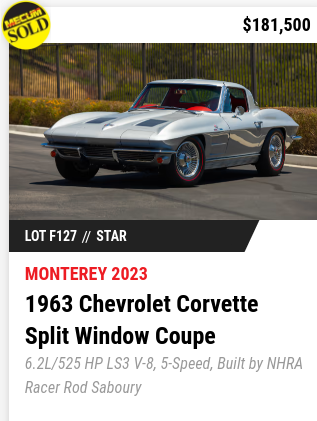 #5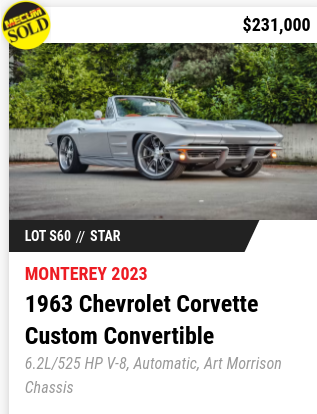 #4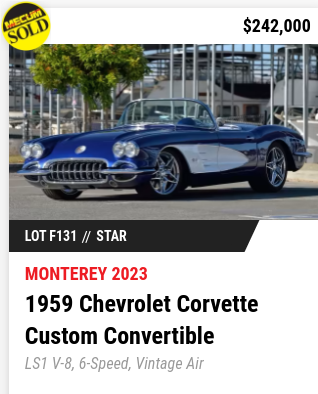 #3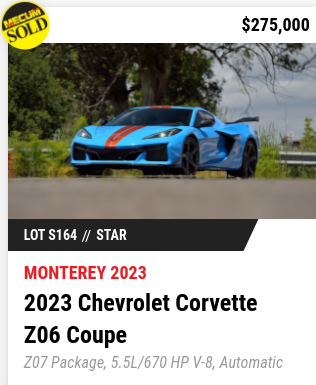 #2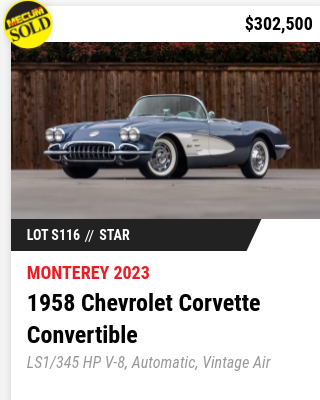 #1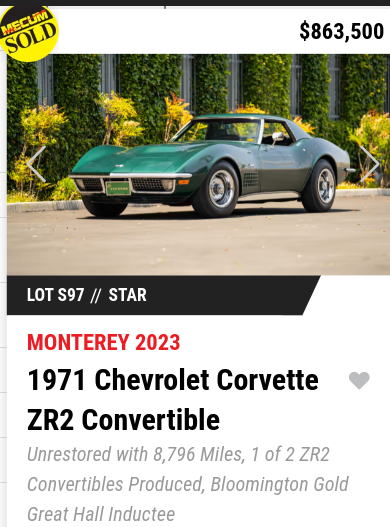 As you can see from the results, the revolutionary eighth-generation Corvette pulled in a highly-respectable three top-ten sales. This top ten also confirms what most enthusiasts know, which is that the 1963 Split-Window Coupe is still the over-achiever of all 70 model years (with 3 top ten sales). You'll also notice the Restomods didn't fall completely flat, it just took more money to get the two that sold. And we were SO close to hitting the million-dollar mark with that sweet 1971 ZR2!
What else do you see from the results that stand out? We have an active community on our Facebook page, with over 147,000 subscribers sharing their obsession for all things Corvette! I would love to see you there, Douglas B.
Click here to be directed to Mecum's results page (log-in may be required)